Playwright Marissa Chibas on 'Shelter'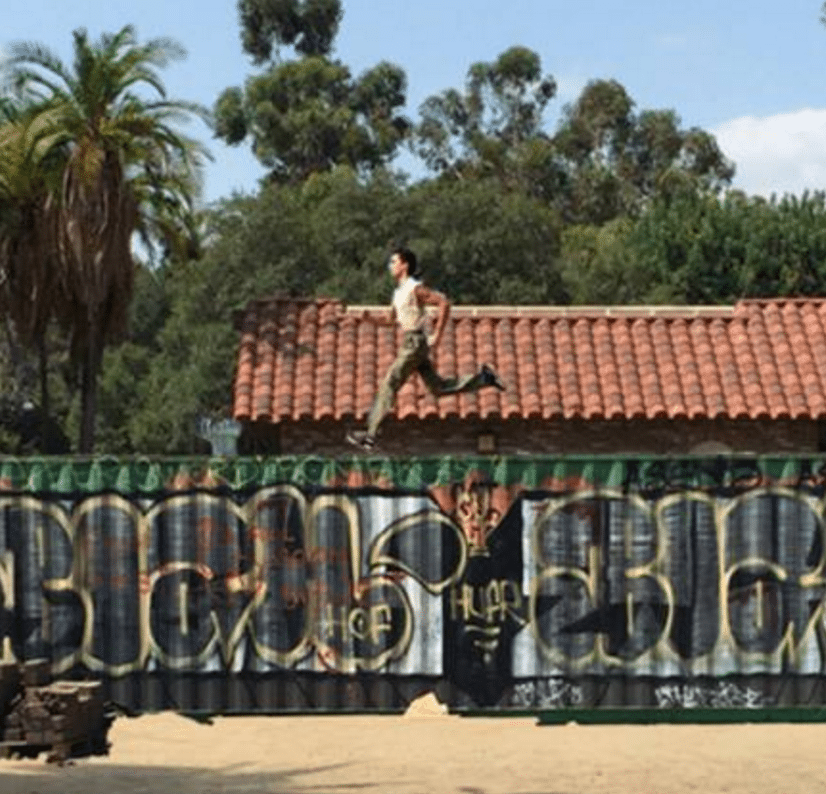 Immigration has never been more in the national spotlight, with Republican presidential candidates histrionically claiming most of those who cross the Mexican border are rapists and murderers, while calling for everything from mass deportations to the building of a massive wall with Mexico. Politicians and citizens are also debating how best to deal with Syrian refugees fleeing their war-torn country.
But there's a border story the majority of Americans are not hearing about.
Over the last two years, more than 100,000 unaccompanied minors — from those under 18 years old to as young as 6 — have crossed the border trying to escape the violence that plagues their home countries of El Salvador, Honduras and Guatemala. You won't find this mass exodus mentioned in stump speeches or discussed by pundits on the 24/7 news channels.
Herself the daughter of Cuban refugees, CalArts teacher/playwright Marissa Chibas is trying to do something about that. After two years of research and workshops, Chibas has conceived and written Shelter, a movement-based theatrical performance about the crisis. With CalArts students filling its seven primary roles (and additional adult and child parts), the 80-minute piece makes its world premiere this week in East Los Angeles' Lincoln Park. Chibas spoke to Capital & Main about her latest work and the crisis that inspired her to create it.
Capital & Main: What made you decide to tackle this particular subject?
Marissa Chibas: I had been reading some articles on the web about the number of unaccompanied minors and started to feel like this story needed to be told. There was an article in the New York Times over two years ago now, and there were two people quoted – Fulbright Scholar Elizabeth Kennedy and Susan Terrio, who at the time was in the process of writing Whose Child Am I? I immediately contacted both those women and heard back from them that same day and I was on my way.
What were the biggest revelations you had in researching and writing the play?
First, I didn't know how bad the crisis was, and second, just the strength of the kids — all of them have left somebody behind. One of the reasons why we are calling this Shelter is [because that's] very basic to what these kids are looking for. They are just really determined to have a better life. It's just the most basic thing. But they are terrified.
For the most part, do these kids want to leave?
I get the sense that if things were better in their home country they would not have left. Many who I spoke to said staying was just so dangerous. It became impossible. Some of them are as young as 6 years old [and have their information] pinned onto them. It's pretty extreme. People might ask, "What kind of mother lets their children do something like this?" [but] the question for me is, "What kind of desperation would you have to be in to put your child in this kind of danger?"
What is the journey like for them getting here?
Many take the system of trains called La Bestia [The Beast], where they ride on tops of the trains. They have to tie themselves to the tops of the trains because if they fall off they can get killed. They have to deal with the police coming onto the trains. Gangs coming on to rob them or rape them. Many end up falling and being killed, or they lose an arm or a leg. It's really about as horrific as you can imagine.
What happens if they get to the States?
If they are under 18 [and caught], they end up being detained. Now because of a law, if they are Mexican they have to be sent back within 24 hours, unless they prove that if they are sent back their life is in danger. Then they are taken to the Office of Refugee Resettlement, where they are screened and wherever there is a bed available, it could be anywhere in the United States, they are sent there. They have to have a family member here [in the States]. But because they are under age, they have to be taken care of. Then once they are here, they have an open case and many of them don't have representation. So you have underage kids going to court representing themselves. And those quite often will be sent back because they do not have the proper support.
With Donald Trump and others demonizing immigrants and speaking about mass deportations and building a huge wall, how important is it for you to put a human face on this crisis?
Oh yeah, that is a great motivator for us. There are a lot of generalizations and outright wrong information [being put out]. For instance, the immigrant communities and the refugees who are coming in have a lower crime rate than [the general public]. And these kids are actually fleeing criminals. El Salvador and Honduras [are among the deadliest countries] in the world. I mean they are fleeing war. It is a humanitarian issue. It would be nice to ignore it, but we can't. This is actually happening to tens of thousands of kids. In 2014 alone, it was over 60,000. And what you have to remember, those are the ones getting across. Then you have at least that number who are attempting to, and who are sent back — some to their deaths, because partly what they are fleeing is being forced into gangs and the cartels, so they are marked.
It's very easy to preach to the converted, so what do you hope people who have no idea about this situation or those how have preconceived pejorative notions will learn from the piece?
I'm interested in people coming away with a three-dimensional view of these kids and their stories, and not just some knee-jerk response. And I'm interested in creating space for conversations about this crisis and putting forth just how extreme the violence is back in Central America. And also that we had a strong hand in that violence: a) Who is buying the drugs that are giving this sort of power to the cartels? and b) The history that we have with destabilizing that region politically. I think it's very important that there is a claiming of that history and not convenient amnesia.
Is there a solution to this crisis?
No, I don't think there is an easy answer. Part of what we do as theater artists is to say, "Okay this is happening and we are sharing these stories." The last thing we want to do is be didactic. We want to provoke deep conversations about this and make sure people hear these voices and hear these stories that will lead to solving the problem. We need to acknowledge that these are kids. One of the things I'm really interested in is [helping to heal] the trauma. So that for people who see this, who have been through something like this, that there is a healing [for them].
Shelter: Conceived and written by Marissa Chibas; directed by Martin Acosta. A project of Duende CalArts, an initiative of the CalArts Center for New Performance to develop and produce innovative work emerging from Latino/a and Latin American sources. Where: Lincoln Park, N. Mission Rd. (at Alta St.), East Los Angeles When: Thurs.-Sat., 7:30 p.m. Sun., 2 p.m. Closes April 17. Admission: Free, reservations suggested: http://centerfornewperformance.org/project/shelter/[/box]
Alex Demyanenko has produced numerous television series and specials. Among his credits is the HBO documentary Bastards of the Party.

'Skeleton Crew' Is a Play With a Moral Spine
Set in a Detroit automobile outfitting plant, Dominique Morisseau's drama grabs you from the start with its focus on blue-collar men and women, and their struggle for dignity and self-respect.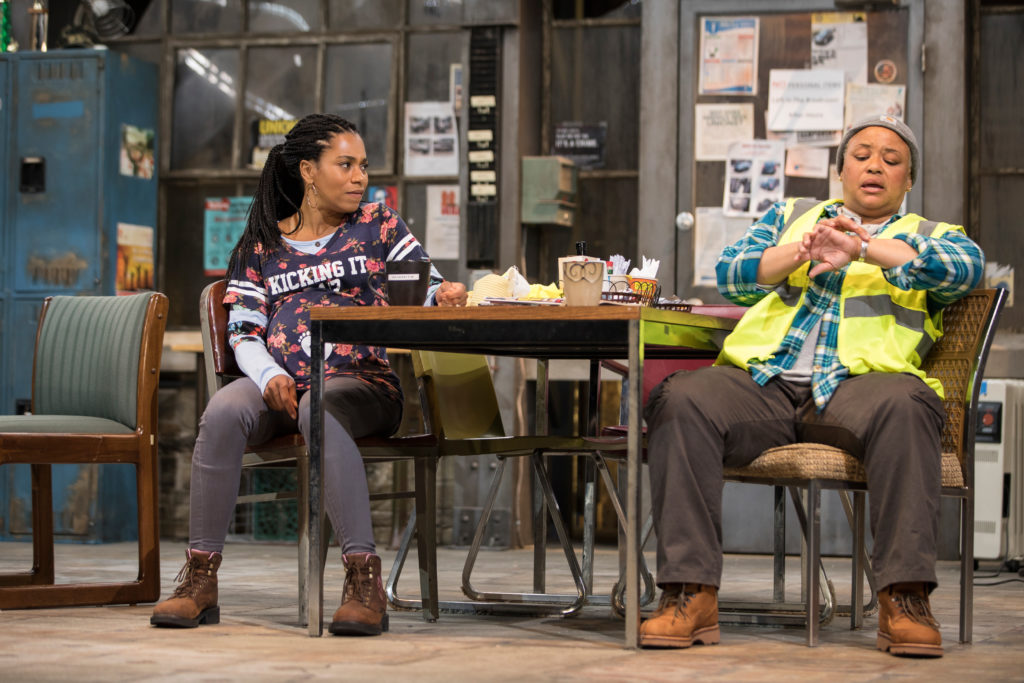 Working-class men and women of color are rarely front and center in today's media and, likewise, are presented all too occasionally on the American stage. So it's buoying to see that trend bucked in playwright Dominique Morisseau's percipient and well-crafted drama, Skeleton Crew. The play is the final installment in her Detroit  Project Trilogy; the first, Paradise Blue, is set in the 1940s amidst displacement caused by urban renewal and gentrification, while the second, Detroit '67, transpires on the eve of the 1967 Detroit riots sparked by a police action.
Directed by Patricia McGregor at Los Angeles' Geffen Playhouse, Skeleton Crew is a play with a moral spine. It takes place in 2008, when the shrinking U.S. auto industry is being further downsized. Morisseau's engaging quartet of characters — Faye (Caroline Stefanie Clay), Dez (Armari Cheatom), Shanita (Kelly McCreary) and Reggie (DB Woodside) – are employed at an automobile outfitting plant. Faye, Dez and Shanita are workers on the line while Reggie (who has a wife and kids, and has pulled himself together after a troubled youth) is their supervisor.
The first three customarily mingle in their break room (designer Rachel Myers' impressively cluttered, dingy and detailed set), trading the sort of familiar barbs and genuine concern for each other common among longtime co-workers. They also face off on philosophy: Upper-middle-aged Faye and the younger, pregnant Shanita take pride in their labor, while Dez, though a good worker, is a malcontent scornful of management and firm in the belief that everyone needs to watch out for himself. He's a thorn in Reggie's side, for while Reggie wants to be supportive of his workers, he must act at the behest of higher management. For his part, Dez resents Reggie's authority, and a palpable unease exists between them.
Besides this male matchup, we're made privy to Dez's attraction to Shanita, who mostly turns away his advances, but every now and then displays a hint of interest. Most poignant is Reggie's regard and affection for the lesbian Faye, which has roots in his boyhood when she loved, and lived, with his now-deceased mom.
These people's various predicaments intensify when rumors spread of the plant's shutdown — a disaster for all, but a particular calamity for the already near-broke Faye who, one year short of retirement, would lose her pension. The crisis forces each of these people to make a choice.
A sound piece of social realism, Skeleton Crew grabs you from the start in its focus on blue-collar men and women, and their struggle against odds for dignity and self-respect. Morisseau not only furnishes these characters a platform for their travails, she endows them with strong values, big hearts and the opportunity to choose between right and wrong.
Unfortunately, the performance I attended did not soar. Many exchanges lacked a fresh edge. The actors certainly had their characters down, but too often they appeared to be coasting on technique. (This seemed particularly true of Clay, who performed the role to great accolades in Washington, DC in 2017, also under McGregor's direction). Additionally, some of the stage movement was not entirely fluid; in confrontations, actors sometimes would just stand and face each other in an artificial way. And Cheatom's interpretation of Dez struck me as a bit overly churlish and depressive: I needed more glimpses of the intelligence and edge that would secretly attract the strong, self-directed Shanita.
The most compelling moments belong to Woodside, well-cast as a man trying his best in difficult circumstances to do the right thing.
---
Gil Cates Theater at the Geffen Playhouse, 10886 Le Conte Ave., Westwood Village; Tues.-Fri., 8 p.m.; Sat., 3 & 8 p.m. Sun., 2 & 7 p.m.; through July 8. (310) 208-5454 or www.geffenplayhouse.org