Playwright Explores the "Periphery" of Historical Change
Ed Simpson's play, Periphery, opened in L.A. in honor of Black History Month – but also on the same day that massive crowds of protesters flooded the streets in cities across the nation against the newly inaugurated President Trump.

Ben Michaels and William Warren. (Photo by Sammy Davis)
Periphery, by Ed Simpson, opened at the Hudson Backstage Theatre in honor of Black History Month – but also on the same day that massive crowds of protestors flooded the streets in cities across the nation and the world. The demonstrators made their voices heard in response to the newly inaugurated presidency of Donald Trump and the clear intent of his administration to quash women's rights, assail immigrants and minorities, abolish the Affordable Care Act and gut environmental protections.
The coincidence is notable because the theme of Periphery is the power of the individual to effect change. The script is a docudrama based on the 1960 sit-ins that took place at the Woolworth lunch counter in Greensboro, North Carolina. Four African-American freshmen from a local college sat down at the "whites only" counter and ordered cups of coffee. They were refused service and asked to leave, but remained seated until the store closed, and were joined the next day by other young people who followed suit. The sit-in action spread to other Southern cities — where some activists risked their lives at the hands of white mobs. Eventually, Woolworth's caved and five months after the sit-ins began, the café at the Greensboro store began serving blacks.
Simpson's narrative is a symbolic and streamlined version of historical events, and begins with the consolidation of the four original activists into one angry and outspoken Young Man (Etienne Maurice). On impulse, he decides to challenge the status quo, and takes his place at the counter, to the dismay of the waitresses and kitchen staff, including Margaret (Jennifer Jones) the cook and Billy (William Warren) the dishwasher, both long-term employees who are middle-aged and black.
News spreads, by word of mouth and on TV. Additional characters emerge: other young people who debate the Young Man's stance and whether they should follow his example, and their parents, both black and white, who are concerned for their kids and prefer the safety of the status quo, despite its ugly injustice. There's also a mean-mouthed racist dude named Jerry (Ben Michaels, in one of the evening's on-point, attention-grabbing performances), who agonizes over whether Elvis is black or white (he isn't sure) and stands in for every uneducated white male whose feelings of racial superiority buttress an invidious ego.
Directed by Lorey Hayes, and structured episodically to reflect the various points of view surrounding the main event (hence the title), Periphery is best experienced as the educational vehicle it was written to be. Production is barebones and the lighting (an equipment issue, I think) doesn't always serve the story. The good news is that the playwright has drawn the characters with skill, and many of the performances are solid. Of particular note is Sammie Wayne as Nate, the remonstrative father of an 18-year-old youth (Melvin S. Ward) who's considering joining the protest. Nate's a small businessman with a lot of personal dignity, who's avoided conflict by remaining on his side of the tracks. His dialogue about what it is to be a man is some of the playwright's best, and Wayne's beautifully understated rendering serves up the evening's highlight.
Other worthy performances include Ward as Nate's conflicted son, Eugene; Warren as an exasperated Billy, seething with anger at the Young Man's dangerous dare; and Jeff LeBeau as Nate's white counterpart, a worried dad who understands that things have to change — but isn't ready for it yet.
Hudson Backstage, 6539 Santa Monica Blvd., Hollywood; Fri.-Sat., 8 p.m.; Sun., 3 p.m. (323) 856-4249 or plays411.com; through February 26.

Two Cousins and a Magical Ice Cream Truck Figure in Leon Martell's New Play
Although not all of ICE's comedy clicks, Martell's story has both weight and charm. The production's overriding plus is its successful rendering, fashioned with humor and craft, of the difficulties immigrants face.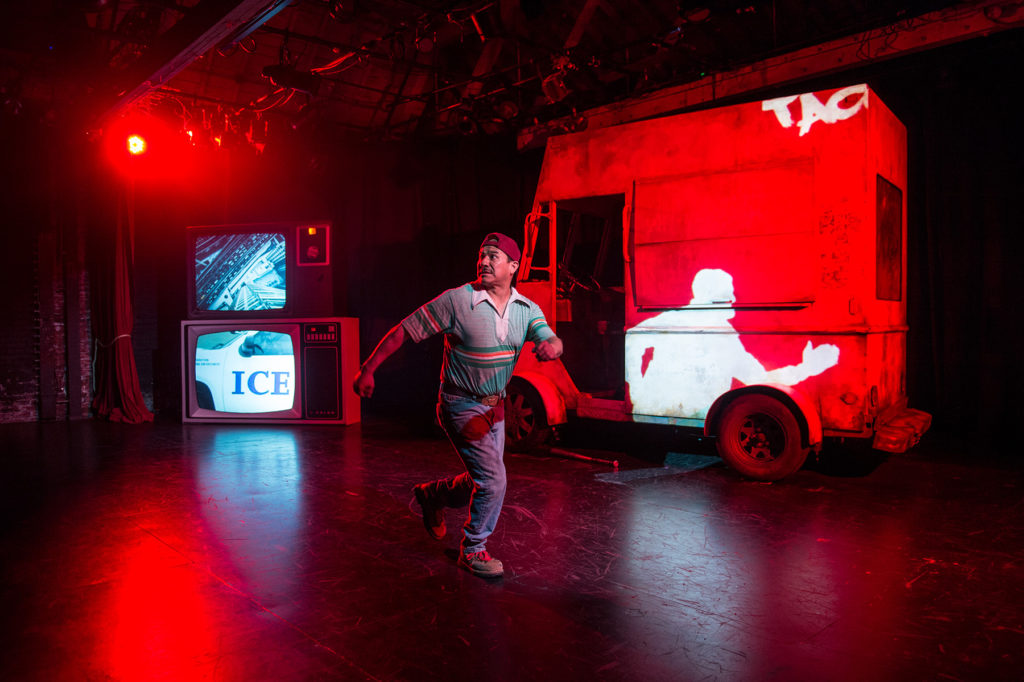 ICE, Leon Martell's family friendly play, takes place in 1988 and follows the misadventures of two undocumented immigrants: Chepe (Jesús Castaños-Chima), an avid baseball fan who dreams of making a fortune selling gourmet tacos; and his cousin Nacho (Tony Dúran), whom the beleaguered Chepe summons from Mexico to assist him in setting up his business. Directed by Debbie Devine at 24th Street Theatre, the show displays plenty of heart, not all of it realized in this premiere production. Despite this, there's enough political relevancy, moral truth and human comedy packed into the show's 65-minute time frame to overlook its shortcomings.
The core of the humor is the difference in personality between the two cousins. The ambitious Chepe is bitter and frustrated about his experience in America, where he's been cheated and lied to by bosses who exploit his labor and pay him next to nothing. Yet he's bought into the American Dream of money and fame, and to achieve that he's purchased a dilapidated old ice cream van to convert into a taco truck. It doesn't run, though, and the secret family salsa recipe is with his kin in Mexico. So, he phones home and implores his mechanic cousin to head north, bringing the salsa recipe as well as his skills.
Cousin Nacho, by contrast, is a sweet old-fashioned guy. He wants success too, but making money isn't the only thing he thinks about. He juggles tomatoes to make kids laugh and indignantly admonishes Chepe for his desperate inclination to do what it takes (steal tomatoes, for example) to score success.
Into the mix Martell tosses a blind, disgruntled priest (Davitt Felder), who plays guitar and wants to launch English classes for children in his parish (the archdiocese turns him down). Then there's Chepe's truck, which has opinions of its own. It breaks out in jingles at random intervals; later, it communicates with Nacho via blinking red letters that eerily appear on the side of the vehicle, furnishing the two men with simple directives and essential advice. When ICE (Immigration and Customs Enforcement) shows up, it alerts them to run.
Although not all of the comedy clicks, Martell's story has both weight and charm. The production's overriding plus is its successful rendering, fashioned with humor and craft, of the difficulties immigrants face. Its main weakness is Castaños-Chima's technically skilled but somewhat chilly depiction of his character, which leaves us wishing for more warmth and complexity. Felder appears awkward in his role of the blind priest, but proves versatile on video as Chepe's various nemeses. Dúran's naïve Nacho is a lovable presence from first to last.
Displayed on a monitor, Matthew G. Hill's video slides add historical and social perspective, and his backwall projections, in tandem with Dan Weingarten's lighting and Chris Moscatiello's sound, help conjure a magical aura to this parabolic piece.
24th Street Theatre, 1117 West 24th St., Los Angeles; Sat., 3 & 7:30 p.m.; Sun., 3 p.m.; through June 10, (213) 745-6516 or 24thstreet.org.
---
Copyright Capital & Main