Playwright Explores the "Periphery" of Historical Change
Ed Simpson's play, Periphery, opened in L.A. in honor of Black History Month – but also on the same day that massive crowds of protesters flooded the streets in cities across the nation against the newly inaugurated President Trump.

Ben Michaels and William Warren. (Photo by Sammy Davis)
Periphery, by Ed Simpson, opened at the Hudson Backstage Theatre in honor of Black History Month – but also on the same day that massive crowds of protestors flooded the streets in cities across the nation and the world. The demonstrators made their voices heard in response to the newly inaugurated presidency of Donald Trump and the clear intent of his administration to quash women's rights, assail immigrants and minorities, abolish the Affordable Care Act and gut environmental protections.
The coincidence is notable because the theme of Periphery is the power of the individual to effect change. The script is a docudrama based on the 1960 sit-ins that took place at the Woolworth lunch counter in Greensboro, North Carolina. Four African-American freshmen from a local college sat down at the "whites only" counter and ordered cups of coffee. They were refused service and asked to leave, but remained seated until the store closed, and were joined the next day by other young people who followed suit. The sit-in action spread to other Southern cities — where some activists risked their lives at the hands of white mobs. Eventually, Woolworth's caved and five months after the sit-ins began, the café at the Greensboro store began serving blacks.
Simpson's narrative is a symbolic and streamlined version of historical events, and begins with the consolidation of the four original activists into one angry and outspoken Young Man (Etienne Maurice). On impulse, he decides to challenge the status quo, and takes his place at the counter, to the dismay of the waitresses and kitchen staff, including Margaret (Jennifer Jones) the cook and Billy (William Warren) the dishwasher, both long-term employees who are middle-aged and black.
News spreads, by word of mouth and on TV. Additional characters emerge: other young people who debate the Young Man's stance and whether they should follow his example, and their parents, both black and white, who are concerned for their kids and prefer the safety of the status quo, despite its ugly injustice. There's also a mean-mouthed racist dude named Jerry (Ben Michaels, in one of the evening's on-point, attention-grabbing performances), who agonizes over whether Elvis is black or white (he isn't sure) and stands in for every uneducated white male whose feelings of racial superiority buttress an invidious ego.
Directed by Lorey Hayes, and structured episodically to reflect the various points of view surrounding the main event (hence the title), Periphery is best experienced as the educational vehicle it was written to be. Production is barebones and the lighting (an equipment issue, I think) doesn't always serve the story. The good news is that the playwright has drawn the characters with skill, and many of the performances are solid. Of particular note is Sammie Wayne as Nate, the remonstrative father of an 18-year-old youth (Melvin S. Ward) who's considering joining the protest. Nate's a small businessman with a lot of personal dignity, who's avoided conflict by remaining on his side of the tracks. His dialogue about what it is to be a man is some of the playwright's best, and Wayne's beautifully understated rendering serves up the evening's highlight.
Other worthy performances include Ward as Nate's conflicted son, Eugene; Warren as an exasperated Billy, seething with anger at the Young Man's dangerous dare; and Jeff LeBeau as Nate's white counterpart, a worried dad who understands that things have to change — but isn't ready for it yet.
Hudson Backstage, 6539 Santa Monica Blvd., Hollywood; Fri.-Sat., 8 p.m.; Sun., 3 p.m. (323) 856-4249 or plays411.com; through February 26.

'Skeleton Crew' Is a Play With a Moral Spine
Set in a Detroit automobile outfitting plant, Dominique Morisseau's drama grabs you from the start with its focus on blue-collar men and women, and their struggle for dignity and self-respect.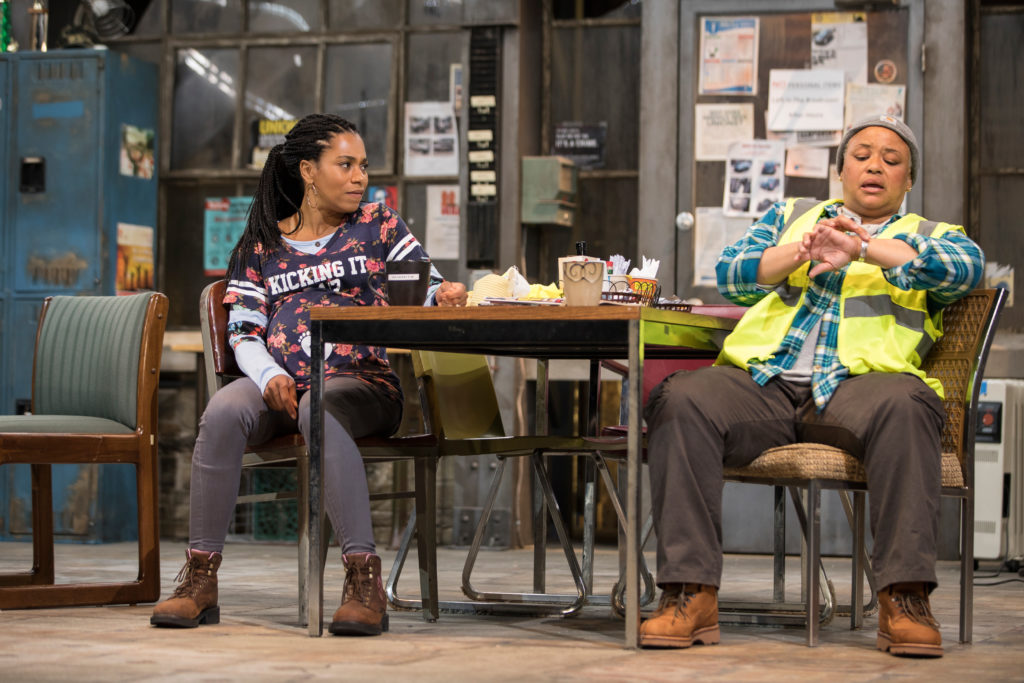 Working-class men and women of color are rarely front and center in today's media and, likewise, are presented all too occasionally on the American stage. So it's buoying to see that trend bucked in playwright Dominique Morisseau's percipient and well-crafted drama, Skeleton Crew. The play is the final installment in her Detroit  Project Trilogy; the first, Paradise Blue, is set in the 1940s amidst displacement caused by urban renewal and gentrification, while the second, Detroit '67, transpires on the eve of the 1967 Detroit riots sparked by a police action.
Directed by Patricia McGregor at Los Angeles' Geffen Playhouse, Skeleton Crew is a play with a moral spine. It takes place in 2008, when the shrinking U.S. auto industry is being further downsized. Morisseau's engaging quartet of characters — Faye (Caroline Stefanie Clay), Dez (Armari Cheatom), Shanita (Kelly McCreary) and Reggie (DB Woodside) – are employed at an automobile outfitting plant. Faye, Dez and Shanita are workers on the line while Reggie (who has a wife and kids, and has pulled himself together after a troubled youth) is their supervisor.
The first three customarily mingle in their break room (designer Rachel Myers' impressively cluttered, dingy and detailed set), trading the sort of familiar barbs and genuine concern for each other common among longtime co-workers. They also face off on philosophy: Upper-middle-aged Faye and the younger, pregnant Shanita take pride in their labor, while Dez, though a good worker, is a malcontent scornful of management and firm in the belief that everyone needs to watch out for himself. He's a thorn in Reggie's side, for while Reggie wants to be supportive of his workers, he must act at the behest of higher management. For his part, Dez resents Reggie's authority, and a palpable unease exists between them.
Besides this male matchup, we're made privy to Dez's attraction to Shanita, who mostly turns away his advances, but every now and then displays a hint of interest. Most poignant is Reggie's regard and affection for the lesbian Faye, which has roots in his boyhood when she loved, and lived, with his now-deceased mom.
These people's various predicaments intensify when rumors spread of the plant's shutdown — a disaster for all, but a particular calamity for the already near-broke Faye who, one year short of retirement, would lose her pension. The crisis forces each of these people to make a choice.
A sound piece of social realism, Skeleton Crew grabs you from the start in its focus on blue-collar men and women, and their struggle against odds for dignity and self-respect. Morisseau not only furnishes these characters a platform for their travails, she endows them with strong values, big hearts and the opportunity to choose between right and wrong.
Unfortunately, the performance I attended did not soar. Many exchanges lacked a fresh edge. The actors certainly had their characters down, but too often they appeared to be coasting on technique. (This seemed particularly true of Clay, who performed the role to great accolades in Washington, DC in 2017, also under McGregor's direction). Additionally, some of the stage movement was not entirely fluid; in confrontations, actors sometimes would just stand and face each other in an artificial way. And Cheatom's interpretation of Dez struck me as a bit overly churlish and depressive: I needed more glimpses of the intelligence and edge that would secretly attract the strong, self-directed Shanita.
The most compelling moments belong to Woodside, well-cast as a man trying his best in difficult circumstances to do the right thing.
---
Gil Cates Theater at the Geffen Playhouse, 10886 Le Conte Ave., Westwood Village; Tues.-Fri., 8 p.m.; Sat., 3 & 8 p.m. Sun., 2 & 7 p.m.; through July 8. (310) 208-5454 or www.geffenplayhouse.org