1992 Remembered: From Inglewood to Brentwood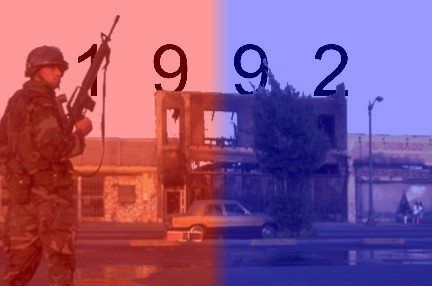 (Editor's Note: Frying Pan News continues its series about the 1992 unrest with this account told to us by Erin Aubry Kaplan.)
I was living in Inglewood in 1992. When the verdicts came in I was getting a facial — we were all really outraged in the salon. At that time I was teaching adult education courses — basic English and math for GED exams, plus ESL classes. I felt like I had to do something and a teacher friend and I heard there was a rally at the First AME Church. I was excited — I hadn't really seen this kind of energizing in L.A. before. But as we drove to FAME people were filling up the streets and the energy felt dangerous.
We never made it: This guy threw a trash can into the street and someone tried to stop a motorist. (My father also went to FAME and didn't make it inside because it was too crowded — but things got ugly and people started to leave. Some guys were ready to bust up my dad's car, but somebody he knew yelled at them, "He's okay, he's Larry Aubry, good people!" and they backed off.)
So we kept driving west to where the streets weren't filled and ended up in Brentwood at a bar – in the Hamburger Hamlet! The mostly white crowd there only wanted to watch the Lakers. My friend and I got mad at that too — we were the only two black people in Brentwood and we were scolding these white people for not caring about what was happening in South Central.
A fair amount of stuff happened in Inglewood that wasn't publicized – there was quite a lot of looting, and a curfew — which is why I didn't go out after the first night. My sister was working at the Auto Club near USC. From a distance she looks white and so she had to drive off through red lights a couple of times, because people were coming after her whenever she stopped.
I was mostly excited and expected something major to come out of this. A big tide was turning — I felt the iron curtain had lifted. At the same time there was a new jazz club on Crenshaw and King that got burned to the ground, and that really killed me.
For almost five years I had been sort of working with a small publication called Accent L.A., but the riots realigned my priorities. We pulled the issue we'd been working on and rewrote a new one to cover the unrest. We put together a pretty good issue and got it out.
Soon afterward the L.A. Times hired me — the official beginning of my journalism career. They had a crisis of conscience and started all these new sections I wrote for, covering the Crenshaw area for three years. The Times had a diversity committee for a while and that created some tension in the newsroom – they'd rounded up black and Latino reporters from the Valley or Orange County bureaus to cover South Central. People knew it was dangerous — they were cannon fodder.
Not nearly as much changed after the riots as I thought would. Stuff was cleaned up and the police have gotten better, but we didn't learn our lessons. We ended up with "retail justice" — all that black anger about inequality of justice got focused on Let's Build Some Stores – Krispy Kreme, a Home Depot. There's not a core economy, though — just stores that serve people who work elsewhere. Unemployment in the city is worse now. Twenty years later, look at that leveled land next to the Crenshaw Mall – that's all you need to know.
Click here for more 1992 Remembered stories.

Reports Say Mental Health Services Act Working, But a Few Changes Needed
Californians passed the Mental Health Services Act to transform and expand the reach of the state's mental health services. A problem, some mental health advocates say, is that the state doesn't give much guidance on how a county should spend its dollars.

There's good news and bad news to be found in a trio of recent reports on the effectiveness of California's Mental Health Services Act (MHSA). Experts in the field say the findings can be distilled down to this: Money is no longer the issue and the state needs some innovative outreach solutions and a more effective statewide leadership structure to scale up innovative outreach solutions from one county to the whole state.
Voters passed the MHSA, or Proposition 63, in 2004. Spearheaded by then-state Senator Darrell Steinberg, it imposed a one percent tax on Californians earning more than $1 million to transform and expand the reach of the state's mental health services, including psychiatric care, substance-abuse counseling and permanent supportive housing. MHSA mandates that counties spend 80 percent of the funds on community services for people in immediate mental health crisis and 20 percent on prevention and early intervention. But beyond the 80/20 split the state doesn't give much guidance on how a county should spend its dollars. And that's part of the problem, some mental health advocates say.
---
An audit found that counties had left $2.5 billion in MHSA funds on the table — of which $231 million should have been sent back to Sacramento in the 2015-2016 fiscal year.
---
The good news: A report released by RAND Health in March shows that at least one county is a success story for expanding access to care. Commissioned by Los Angeles County and covering a period from 2012 to 2016, it's the first independent analysis of the MHSA's effects at a county level. RAND found that nearly 130,000 young people – from birth to age 25 – had received MHSA-funded early intervention and prevention treatment by L.A. County. The study also showed that 88 percent of those people, who were determined to be "at risk" but showing no significant sign of mental illness before treatment, remained basically symptom-free in the year following treatment.
RAND also found that during the same period roughly 25,000 children and adults living with serious mental illness had benefited from treatment through full-service partnerships. The study showed that full-service partnerships significantly decreased the overall rates of homelessness.
Debbie Innes-Gomberg, deputy director for Los Angles County's Department of Mental Health, told Capital & Main, "For me, [the study] was heartening. Children were interacting more with their peers, they had better family relationships, they were doing better in schools. All of the markers that you'd want to obtain happened."
---
"There's also NIMBYism and stigma. I've been to hearings in different counties where constituents are yelling with passion about not allowing a crisis care unit in their neighborhood."
---
"One of the best features of the MHSA," she added, "is the money that goes to our Full Service Partnership programs, where there is a low-staff-to-client ratio and intensive outpatient services. People can be seen every day or in emergencies, and that includes people coming in and out of jail, [or who are] homeless, children, youth in juvenile justice and foster care."
The not-so-good news: A February audit found that California counties had left $2.5 billion in MHSA funds on the table. And of those unused funds, $231 million should have been sent back to Sacramento in the 2015-2016 fiscal year. The audit partly blamed the California Department of Health Care Services, which it said had "not developed a process" to recover the unspent MHSA funds.
The bad news: A March report published by the California Health Care Foundation (CHCF) found some serious gaps in the treatment of mental illness in the state. It concluded that a significant number of adolescents and adults at the lower end of the economic spectrum still don't receive the mental health treatment they need. and have poorer health outcomes.
---
"Bureaucracies by their nature are supposed to be stable. But in mental health care, some risks need to be taken."
---
Caroline Teare, associate director of High-Value Care at CHCF, said that her organization's report's findings did not indicate a failure of the MHSA, but rather a massive, long-term deficit in care for mental illness. "It's going to take a while to catch up," Teare said.
She pointed to another recent report compiled by CHCF that showed a behavioral health workforce poorly matched to the California populations in need. "We don't have enough psychiatrists, and not enough in the pipeline. And in big cities, psychiatrists are more likely to see patients on a cash basis. So you can have insurance and find it hard for anyone to take it."
Maggie Merritt, executive director at the Steinberg Institute, said the MHSA has been "a game changer" for mental health but that leadership and standardization were needed at the state level.
"L.A. is different than Mono County and they have different needs, so flexibility is good, but not 100 percent flexibility, especially in the area prevention."
Merritt, who worked with Darrell Steinberg on crafting Prop. 63, noted that "There's also NIMBYism and stigma. I've been to hearings in different counties where constituents are yelling with passion about not allowing a crisis care unit in their neighborhood."
Adrienne Shilton, the Steinberg Institute's government affairs director, agreed, and pointed to several possible legislative fixes in Sacramento, including Senate Bill 1004, which would mandate that counties spend a portion of prevention or early intervention funds on early psychosis and mood-detection programs, college mental health outreach, or childhood trauma prevention and early intervention.
Merritt said SB 1004 would provide some statewide strategy and guidance for spending the previously unused dollars. "The bulk of that [unspent money] fell into that prevention and early intervention innovation area," she said. "We know the need is there. But counties have struggled, and there isn't that statewide communication channel saying, 'Here is what the best practices are,' 'Here are the outcomes and here is what we can be doing.'"
Another bill in Sacramento, SB 1125, introduced by Toni Atkins (D-San Diego), would allow health clinics to bill Medi-Cal for physical and mental health treatments during one visit.
Shilton said SB 1125 was one way to address a bigger picture to make sure the "brain is treated with the same urgency as physical health."
Innes-Gomberg said the disparity of care outlined in the CHCF report could partly be solved through more innovative outreach efforts. "The opportunity exists to present mental health services as a mental wellness, or some way for people to not fear these services, and not fear the government, because these are government services."
To that end, Innes-Gomberg said L.A. County would be using the surplus dollars from MHSA to pay for outreach using technology and "culturally relevant solutions." That could mean paying for a community concierge in public schools, using volunteers or paid professionals as "cultural brokers" to get the word out about services in Latino communities.
Toby Ewing, executive director of the California Mental Health Services Oversight and Accountability Commission, also supports SB 1004 and says it and other possible legislative fixes should help the government perform a tricky balancing act between care standardization and the incentive to innovate.
"Bureaucracies by their nature are supposed to be stable," he said. "But in mental health care, some risks need to be taken."
---
Copyright Capital & Main