Peter Dreier's A-List of 20th Century Greats
Writer/professor Peter Dreier's new book is called The 100 Greatest Americans of the 20th Century, a nervy title that dares readers to take a poke at the author's chin. A corrective to Greatest Generation blather, Dreier's 100 profiles refract a century of progressive movements through the lives of leaders whose native radicalism helped push America toward a more humane vision of society.
Dreier's inclusions and omissions will thrill some and bewilder others: Roger Baldwin's here but not James Baldwin; there's Mother Jones but no LeRoi Jones. Playwright Tony Kushner ends the list on an intellectual note, yet there's no mention of a Philip Rahv or any Partisan Reviewers, Algonquin Tablemates, Beats or Bohemians.
Of course, provoking debate about who should be included in a "Social Justice Hall of Fame" (the book's subtitle) is a clever way to stir discussion about history and activism. For Dreier, the people who made (and make) the biggest differences in history were those who went door to door with petitions and pamphlets. These were movement-builders, the patient activists who, as Norman Mailer once wrote, were driven by "the solid-as-brickwork-logic-of-the-next-step."
We asked Dreier, chair of the Urban and Environmental Policy Department at Occidental College, about his honor roll. (Note: Dreier will speak at the main Vroman's Bookstore in Pasadena on Friday, July 6 at 7 p.m. On July 21 he appears in San Francisco at Modern Times Bookstore at 7 p.m.)
Frying Pan News: What got you fired up to put such a big project together?
Peter Dreier: I've been teaching for 30 years. What I usually do on the first day of class is give students a quiz on how much they know: How many people are in the House of Representatives? Is The Nation a liberal or conservative magazine? What was Joe McCarthy famous for? Most have no idea of the history of the American Left and take for granted the struggles and achievements of the past century. They don't realize that the Pell grants they have are a relatively recent development that had to be fought for.
FPN: Your students aren't exactly alone in their ignorance.
Dreier: So many people have no idea that the things we take for granted were once considered radical, crazy, utopian ideas. We live in a time when people are pretty cynical about politics and don't think there's anything they can do about it. But a handful of people have always said, "Something can be done about it."
FPN: How long did it take you to compile the list?
Dreier: It started as a cover story for The Nation in 2010 – "The Fifty Most Influential Progressives of the Twentieth Century" – which generated over a thousand comments to the magazine: "How dare you put this person in!" "Why did you leave that person off?" [Editor-publisher] Katrina Vanden Heuvel and I talked about making it a book. So I began writing it for Nation Books in January, 2011.
FPN: Who were you looking for in general?

Dreier: I had three main areas. The first included organizers and activists; a second grouped together writers, thinkers, musicians, scientists and theologians; the third group were politicians.

FPN: You make a point in your introduction of saying that the people on your list are heroes, not saints, that like any human beings they had personal flaws. Was there anyone about whom you thought twice about including?
Dreier: Alice Paul was an anti-Semite and a snob! But she was also a leader in the suffragette and peace movements. Supreme Court Justice William O. Douglas was in some ways an awful human being – today we'd call him a predator or sexual harasser. He was not collegial and he was kind of lazy. I would not spend my vacation with William. O. Douglas. And, on the one hand Teddy Roosevelt was a militarist and racist, but on the other he was one of the early conservationists and he was pro-union.
FPN: Reading your book, I'm struck by the presence of huge crowds in some of the key moments of drama. There's a scene in which 100,000 people are waiting in pouring rain for Eugene Debs to arrive in Chicago. I can't imagine that happening today, unless Debs was a new iPhone.
Dreier: But Occupy Wall Street was a version of that, as was the [2006] immigration march on Wilshire Boulevard.
FPN: I was impressed that a number of your subjects, like FDR's vice president, Henry Wallace, had started off as Republicans. So even in the 1920s Republicans were feeling alienated?
Dreier: There was room in the Republican Party for liberal progressives in Wallace's time – it was more eclectic. But eventually he saw the Republican Party had been captured by big corporations. He saw that what we call agribusiness had to be challenged.

FPN: The labor activist Harry Kelber explained to me once how, after World War II, the social nature of union life died out. He said before the war, workers had their own book clubs and libraries, sports leagues and schools. But after World War II came prosperity and the suburbs. Lawns had to be mowed, leaves raked.
Dreier: There's some truth to that and it's sad that that's no longer the case. It was easier when immigrants lived near each other – [labor leader] Sidney Hillman spoke about that as "social unionism." We're a more fragmented society today, but that doesn't mean it can't happen again.

'Skeleton Crew' Is a Play With a Moral Spine
Set in a Detroit automobile outfitting plant, Dominique Morisseau's drama grabs you from the start with its focus on blue-collar men and women, and their struggle for dignity and self-respect.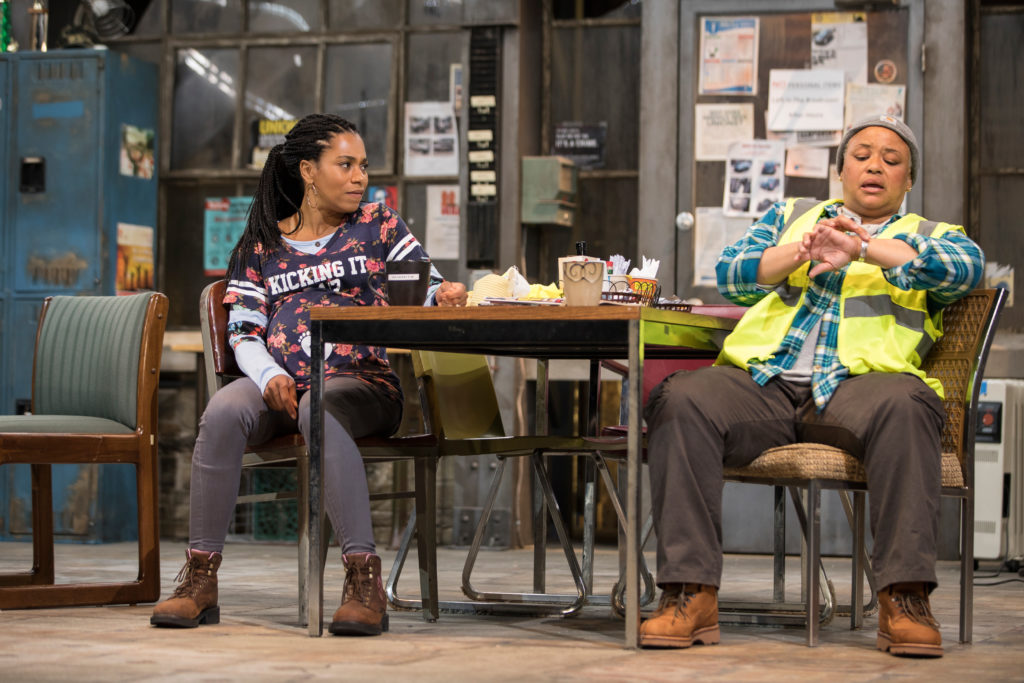 Working-class men and women of color are rarely front and center in today's media and, likewise, are presented all too occasionally on the American stage. So it's buoying to see that trend bucked in playwright Dominique Morisseau's percipient and well-crafted drama, Skeleton Crew. The play is the final installment in her Detroit  Project Trilogy; the first, Paradise Blue, is set in the 1940s amidst displacement caused by urban renewal and gentrification, while the second, Detroit '67, transpires on the eve of the 1967 Detroit riots sparked by a police action.
Directed by Patricia McGregor at Los Angeles' Geffen Playhouse, Skeleton Crew is a play with a moral spine. It takes place in 2008, when the shrinking U.S. auto industry is being further downsized. Morisseau's engaging quartet of characters — Faye (Caroline Stefanie Clay), Dez (Armari Cheatom), Shanita (Kelly McCreary) and Reggie (DB Woodside) – are employed at an automobile outfitting plant. Faye, Dez and Shanita are workers on the line while Reggie (who has a wife and kids, and has pulled himself together after a troubled youth) is their supervisor.
The first three customarily mingle in their break room (designer Rachel Myers' impressively cluttered, dingy and detailed set), trading the sort of familiar barbs and genuine concern for each other common among longtime co-workers. They also face off on philosophy: Upper-middle-aged Faye and the younger, pregnant Shanita take pride in their labor, while Dez, though a good worker, is a malcontent scornful of management and firm in the belief that everyone needs to watch out for himself. He's a thorn in Reggie's side, for while Reggie wants to be supportive of his workers, he must act at the behest of higher management. For his part, Dez resents Reggie's authority, and a palpable unease exists between them.
Besides this male matchup, we're made privy to Dez's attraction to Shanita, who mostly turns away his advances, but every now and then displays a hint of interest. Most poignant is Reggie's regard and affection for the lesbian Faye, which has roots in his boyhood when she loved, and lived, with his now-deceased mom.
These people's various predicaments intensify when rumors spread of the plant's shutdown — a disaster for all, but a particular calamity for the already near-broke Faye who, one year short of retirement, would lose her pension. The crisis forces each of these people to make a choice.
A sound piece of social realism, Skeleton Crew grabs you from the start in its focus on blue-collar men and women, and their struggle against odds for dignity and self-respect. Morisseau not only furnishes these characters a platform for their travails, she endows them with strong values, big hearts and the opportunity to choose between right and wrong.
Unfortunately, the performance I attended did not soar. Many exchanges lacked a fresh edge. The actors certainly had their characters down, but too often they appeared to be coasting on technique. (This seemed particularly true of Clay, who performed the role to great accolades in Washington, DC in 2017, also under McGregor's direction). Additionally, some of the stage movement was not entirely fluid; in confrontations, actors sometimes would just stand and face each other in an artificial way. And Cheatom's interpretation of Dez struck me as a bit overly churlish and depressive: I needed more glimpses of the intelligence and edge that would secretly attract the strong, self-directed Shanita.
The most compelling moments belong to Woodside, well-cast as a man trying his best in difficult circumstances to do the right thing.
---
Gil Cates Theater at the Geffen Playhouse, 10886 Le Conte Ave., Westwood Village; Tues.-Fri., 8 p.m.; Sat., 3 & 8 p.m. Sun., 2 & 7 p.m.; through July 8. (310) 208-5454 or www.geffenplayhouse.org