Peter Dreier's A-List of 20th Century Greats
Writer/professor Peter Dreier's new book is called The 100 Greatest Americans of the 20th Century, a nervy title that dares readers to take a poke at the author's chin. A corrective to Greatest Generation blather, Dreier's 100 profiles refract a century of progressive movements through the lives of leaders whose native radicalism helped push America toward a more humane vision of society.
Dreier's inclusions and omissions will thrill some and bewilder others: Roger Baldwin's here but not James Baldwin; there's Mother Jones but no LeRoi Jones. Playwright Tony Kushner ends the list on an intellectual note, yet there's no mention of a Philip Rahv or any Partisan Reviewers, Algonquin Tablemates, Beats or Bohemians.
Of course, provoking debate about who should be included in a "Social Justice Hall of Fame" (the book's subtitle) is a clever way to stir discussion about history and activism. For Dreier, the people who made (and make) the biggest differences in history were those who went door to door with petitions and pamphlets. These were movement-builders, the patient activists who, as Norman Mailer once wrote, were driven by "the solid-as-brickwork-logic-of-the-next-step."
We asked Dreier, chair of the Urban and Environmental Policy Department at Occidental College, about his honor roll. (Note: Dreier will speak at the main Vroman's Bookstore in Pasadena on Friday, July 6 at 7 p.m. On July 21 he appears in San Francisco at Modern Times Bookstore at 7 p.m.)
Frying Pan News: What got you fired up to put such a big project together?
Peter Dreier: I've been teaching for 30 years. What I usually do on the first day of class is give students a quiz on how much they know: How many people are in the House of Representatives? Is The Nation a liberal or conservative magazine? What was Joe McCarthy famous for? Most have no idea of the history of the American Left and take for granted the struggles and achievements of the past century. They don't realize that the Pell grants they have are a relatively recent development that had to be fought for.
FPN: Your students aren't exactly alone in their ignorance.
Dreier: So many people have no idea that the things we take for granted were once considered radical, crazy, utopian ideas. We live in a time when people are pretty cynical about politics and don't think there's anything they can do about it. But a handful of people have always said, "Something can be done about it."
FPN: How long did it take you to compile the list?
Dreier: It started as a cover story for The Nation in 2010 – "The Fifty Most Influential Progressives of the Twentieth Century" – which generated over a thousand comments to the magazine: "How dare you put this person in!" "Why did you leave that person off?" [Editor-publisher] Katrina Vanden Heuvel and I talked about making it a book. So I began writing it for Nation Books in January, 2011.
FPN: Who were you looking for in general?

Dreier: I had three main areas. The first included organizers and activists; a second grouped together writers, thinkers, musicians, scientists and theologians; the third group were politicians.

FPN: You make a point in your introduction of saying that the people on your list are heroes, not saints, that like any human beings they had personal flaws. Was there anyone about whom you thought twice about including?
Dreier: Alice Paul was an anti-Semite and a snob! But she was also a leader in the suffragette and peace movements. Supreme Court Justice William O. Douglas was in some ways an awful human being – today we'd call him a predator or sexual harasser. He was not collegial and he was kind of lazy. I would not spend my vacation with William. O. Douglas. And, on the one hand Teddy Roosevelt was a militarist and racist, but on the other he was one of the early conservationists and he was pro-union.
FPN: Reading your book, I'm struck by the presence of huge crowds in some of the key moments of drama. There's a scene in which 100,000 people are waiting in pouring rain for Eugene Debs to arrive in Chicago. I can't imagine that happening today, unless Debs was a new iPhone.
Dreier: But Occupy Wall Street was a version of that, as was the [2006] immigration march on Wilshire Boulevard.
FPN: I was impressed that a number of your subjects, like FDR's vice president, Henry Wallace, had started off as Republicans. So even in the 1920s Republicans were feeling alienated?
Dreier: There was room in the Republican Party for liberal progressives in Wallace's time – it was more eclectic. But eventually he saw the Republican Party had been captured by big corporations. He saw that what we call agribusiness had to be challenged.

FPN: The labor activist Harry Kelber explained to me once how, after World War II, the social nature of union life died out. He said before the war, workers had their own book clubs and libraries, sports leagues and schools. But after World War II came prosperity and the suburbs. Lawns had to be mowed, leaves raked.
Dreier: There's some truth to that and it's sad that that's no longer the case. It was easier when immigrants lived near each other – [labor leader] Sidney Hillman spoke about that as "social unionism." We're a more fragmented society today, but that doesn't mean it can't happen again.
The Power of the Poster
Carol Wells, the founder of the Center for the Study of Political Graphics in Los Angeles, talks to Capital & Main about the enduring power of political art.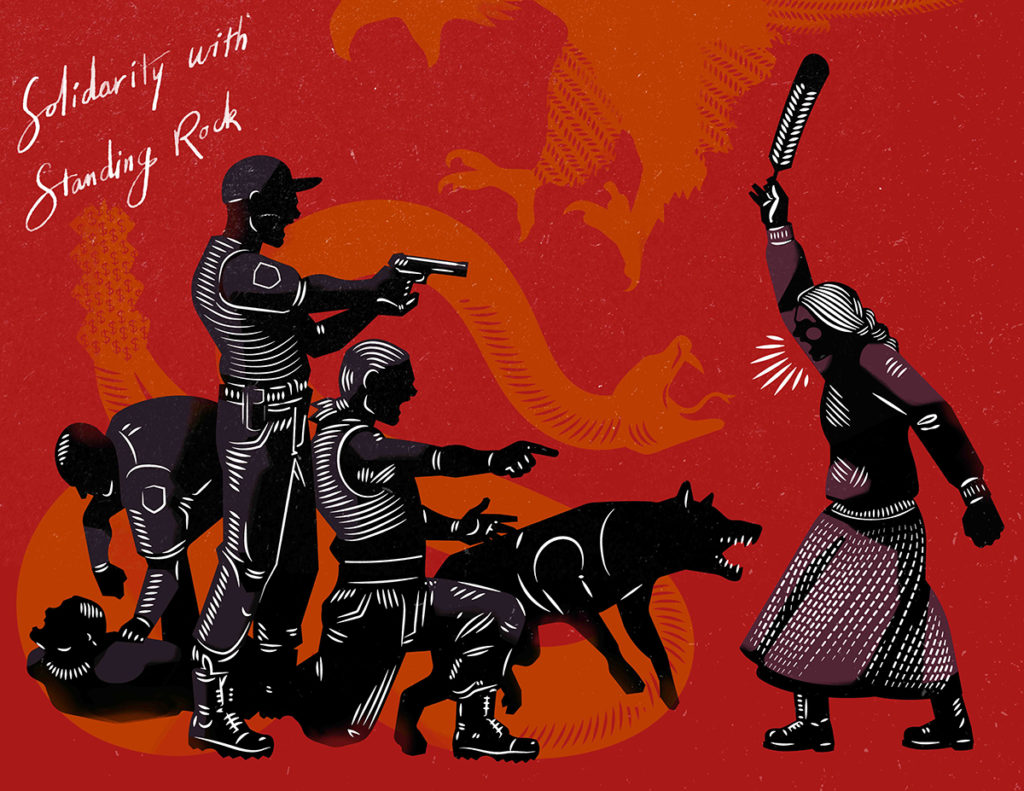 Carol Wells remembers the exact moment she discovered her calling. An art historian at the time, she was on a trip to Nicaragua with her friend David Kunzle, a UCLA art history professor, who was collecting political posters to add to his burgeoning collection. While staying with friends, Wells watched a neighbor's 8-year-old son approach a poster on the wall, stare at it intently, and then start to silently mouth the words. Wells was struck by how engaged the boy was. "In that moment I became obsessed with collecting posters."
Now over 40 years later, Wells is the founder and executive director of the Center for the Study of Political Graphics in Los Angeles. Wells has amassed approximately 90,000 posters, building one of the largest collections of its kind in the world. The Center shares its collection with the public in part through curated exhibits. This year the CSPG has produced Feminae: Typographic Voices of Women by Women and its latest is To Protect & Serve? Five Decades of Posters Protesting Police Violence, running through July 15 at the Mercado La Paloma in downtown Los Angeles.
Since that encounter in Nicaragua in 1981, Wells' obsession with collecting posters hasn't waned. In CSPG's nondescript West L.A. office space, Wells pulls out poster after poster, lecturing passionately on the backstory and cultural impact of each, including one that superimposes text from a New York Times interview with a shocking image of the My Lai massacre ("Q: And babies? A: And babies."). Recently, she managed to sit down with C&M to discuss her passion.
---
Capital & Main: So, you were an art history professor, you happen to see a kid on a trip, and suddenly your life was changed forever?
Carol Wells: Yeah, I'm in Nicaragua alone in the living room with this kid. He's looking around, and all of a sudden, he sees the poster. It was pretty big, bright green, a thick outlines of a woman holding a big basket of coffee beans. And the text in Spanish said, "In constructing the new country, we are becoming the new woman." I see him walk over to the poster and I'm watching him mouth the words. It was a pretty sophisticated concept, so I doubt he figured it out. But I literally had this epiphany: "Oh my God. That's how posters work." You're going about your daily life, and all of a sudden something breaks through the bubble, and it grabs your attention. It's the graphic, it's the color, it's the combination, and it pulls you out of your head and into that poster and it makes you ask a question. "Why is this here? What is this about? What does this mean?" And every time you ask a question, you're a different person than you were before you asked the question.
How many posters do you get a year?
We get between two to five thousand a year donated from all over the world. The bulk of our collection is [from] 1945 and later.
I assume technology has probably hurt the art form, but has it helped get the messages out?
Most people think that, and it's actually not true. Since the internet age started, there's actually a poster renaissance of works on paper. Because you can't walk with your computer monitor in a demonstration. You can't plant your monitor on your lawn.
And you can't put a laptop on the wall…
Exactly. You want to hear a really great story? Truthdig.org published a cartoon [made by] a political cartoonist named Mr. Fish. It was during the Arab spring, and he had superimposed Che Guevara with the stylized beard and King Tut's face, but it had Che's beret. And it [was titled], "Walk like an Egyptian." So, it was a reference to the music, but [it was also] a reference to what was going on the streets of Cairo. I sent it out as our poster of the week to 9,000 people. The very next day, somebody took a photograph on the street of Cairo, with somebody holding a piece of paper with that image on it. A poster can literally go around the world and people will print it out.
What struck me in viewing your exhibits is how many of these posters could still be used today, not only artistically but also, sadly, in the timeliness of their messages.
We had this fabulous poster by Yolanda Lopez, a Bay Area artist, which she first did in 1978. It depicts a young man in Aztec garb pointing a finger like Uncle Sam saying, "Who's the illegal alien, PILGRIM?" And it's a great poster, it's simple, not too many words, funny, provocative. So, we had an exhibit at UCLA in the mid '90s and there were 4 or 5 high school students standing around this poster saying, "Wow, you've got posters up to the minute." And I went over to them and I said, "Look at the date. This is before you were born."
Is that one of your goals with the exhibitions? To show the evergreen nature of this work?
Absolutely. I mean that's why we did the police abuse exhibition now. It basically goes back five decades. It's 50 years of posters protesting police abuse. Mainly in the United States, but also internationally.
What's the goal for CSPG?
Well the aim right now is really to digitize the collection and get it online. We have 10% of the collection digitized. But the mission is to collect and to document, because stories get lost. All the exhibitions, they're showing massacres, they're showing genocide, they're showing police abuse, they're showing all of these horrible things. And people often ask me, "How can you look at this stuff all day long?" I said, "Because the poster artists are optimists. They believe people can change if they have the information."
Yes, that's the reason why they're doing it, right?
That's why they're doing it, and that's why I'm doing this, because I believe that people can change if they knew the truth.
And what happens 20, 50 years from now?
Well, my goal is to stay independent, because the other option is to become part of the university. Universities, for all the fabulous things that they do, they also censor. We did an exhibition at USC in 1992 on the 500 years since Columbus, and how the legacy of racism and exploitation and genocide continues. And one of the board of trustees was Italian and took [the exhibit] as an affront to Columbus. It really wasn't about Columbus, it was about colonialism. And he ordered it down.
Do you have a favorite poster?
I'm always amazed at the creativity and vision of artists. Every week I'll say, "Oh my God, how do they think of that?" But it's always still going to be the poster I saw that kid trying to figure out. It has to be my favorite one because that one changed my life.
What makes a perfect poster?
The right balance between aesthetics and message. If you only rely on the corporate press, the New York Times and L.A. Times, for your information, you're not going to get the side from the street, from the movement, from the activists. The posters are primary historical documents that are recording the issues that were at the time, and the passions that were at the time, and the divisions that were at the time. You're not going to get it anyplace else.
---
Copyright Capital & Main