Pete Seeger Remembered: A Conversation With Lara Bergthold
Anthony Pepitone/Wikimedia
Lara Bergthold remembers the afternoon she and Norman Lear arrived at Pete Seeger's rustic home overlooking the Hudson River, a house Seeger and his wife Toshi had built themselves years before. Bergthold, a prominent political and communications strategist and former executive director of the Lear Family Foundation,  was the associate producer of Pete Seeger: The Power of Song, a 2007 documentary about the famed folksinger and social activist, and had recently brought Lear into the project. The two had been chauffeured from Manhattan in a Mercedes sedan and were eager to discuss ideas to improve the film that had so far been shot by director Jim Brown.
"When we pulled up to his house," says Bergthold, "Norman and I get out of the back, and Pete walked around us and to the driver and shook his hand and invited him to come in for salad. He considered the driver to be the person he should greet first and it didn't matter that the driver was a nameless person. That was not for show, that was just who he was."
When Seeger died Monday at the age of 94, he left behind a legacy of tolerance, optimism and an unbreakable faith in the common man. His career as a musician rode an arc familiar to many of his generation. He had embraced youthful radicalism and paid for it during the Red Scare when a rising career with the Weavers was shattered by the entertainment blacklist. But only temporarily. Despite a contempt citation issued by the House Un-American Activities Committee, Seeger was able to bounce back on the touring circuit, and his mastery of the banjo and guitar helped launch the folk music revival of the late 1950s and early 1960s. His renewed fame made him a forceful spokesman for the civil rights, antiwar and environmental movements.
For Bergthold, whose parents had been Peace Corps volunteers, folk music had been an integral part of her childhood, and she had been an early fan of Seeger's.
"There were so many songs I knew that he had written or sung," she says. "'If I Had a Hammer,' 'We Shall Overcome,' 'Waist Deep in the Big Muddy.' To Pete, music  wasn't something you buy, it was something that was about driving social change."
Bergthold fondly recalls her afternoon at Seeger's: how he sang a cappella for her and Lear and made them a salad for lunch. But above all she was struck by Seeger's humility.
"I never met someone who was so not about the commerce of the entertainment industry," she says. "I was told that when he signed his tax returns he put a piece of paper over that part [that showed his earnings], because he really didn't want to know – he didn't want to live and traffic in that world. He made all his business decisions based on his core values."
Despite his commercial successes, Seeger was content to live a simple life in Upstate New York, with no need to be plugged into the entertainment world.
"For somebody who had been such an inspiration to other musicians, he lived culturally way out of it," Bergthold says. "He wasn't fazed by any celebrity. After the documentary premiered we had a party in a penthouse in Tribeca and there were all these people there. But Pete was in the bedroom playing with his grandkids. There was nothing in his public life that you wouldn't have seen in private."
Seeger died a man without regrets for his commitment to spreading justice and equality in America. He outlived the blacklist and even, says Bergthold, "the accusation that probably dogged him most in his career, which was that he had cut Bob Dylan's electric cord with an axe at the Newport Folk Festival. He said it never happened."
Seeger leaves behind a country that grew up on his music and several generations of activists that carry on his work.
"He was an incredibly important figure for me," says Bergthold, "and if I had never met him I would have heard this news today and felt saddened that an era had passed. I have met people who heard Pete sing at their kid's camp and who grew up and went to law school because they wanted to make a difference. I have heard that over and over again. Those ripples are huge."

'Skeleton Crew' Is a Play With a Moral Spine
Set in a Detroit automobile outfitting plant, Dominique Morisseau's drama grabs you from the start with its focus on blue-collar men and women, and their struggle for dignity and self-respect.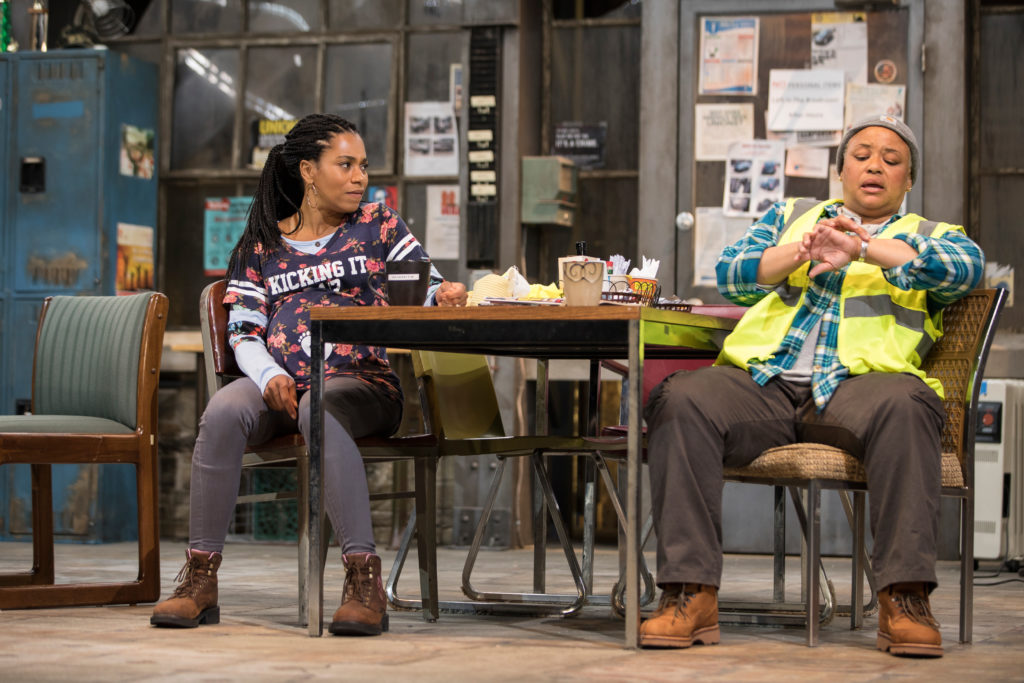 Working-class men and women of color are rarely front and center in today's media and, likewise, are presented all too occasionally on the American stage. So it's buoying to see that trend bucked in playwright Dominique Morisseau's percipient and well-crafted drama, Skeleton Crew. The play is the final installment in her Detroit  Project Trilogy; the first, Paradise Blue, is set in the 1940s amidst displacement caused by urban renewal and gentrification, while the second, Detroit '67, transpires on the eve of the 1967 Detroit riots sparked by a police action.
Directed by Patricia McGregor at Los Angeles' Geffen Playhouse, Skeleton Crew is a play with a moral spine. It takes place in 2008, when the shrinking U.S. auto industry is being further downsized. Morisseau's engaging quartet of characters — Faye (Caroline Stefanie Clay), Dez (Armari Cheatom), Shanita (Kelly McCreary) and Reggie (DB Woodside) – are employed at an automobile outfitting plant. Faye, Dez and Shanita are workers on the line while Reggie (who has a wife and kids, and has pulled himself together after a troubled youth) is their supervisor.
The first three customarily mingle in their break room (designer Rachel Myers' impressively cluttered, dingy and detailed set), trading the sort of familiar barbs and genuine concern for each other common among longtime co-workers. They also face off on philosophy: Upper-middle-aged Faye and the younger, pregnant Shanita take pride in their labor, while Dez, though a good worker, is a malcontent scornful of management and firm in the belief that everyone needs to watch out for himself. He's a thorn in Reggie's side, for while Reggie wants to be supportive of his workers, he must act at the behest of higher management. For his part, Dez resents Reggie's authority, and a palpable unease exists between them.
Besides this male matchup, we're made privy to Dez's attraction to Shanita, who mostly turns away his advances, but every now and then displays a hint of interest. Most poignant is Reggie's regard and affection for the lesbian Faye, which has roots in his boyhood when she loved, and lived, with his now-deceased mom.
These people's various predicaments intensify when rumors spread of the plant's shutdown — a disaster for all, but a particular calamity for the already near-broke Faye who, one year short of retirement, would lose her pension. The crisis forces each of these people to make a choice.
A sound piece of social realism, Skeleton Crew grabs you from the start in its focus on blue-collar men and women, and their struggle against odds for dignity and self-respect. Morisseau not only furnishes these characters a platform for their travails, she endows them with strong values, big hearts and the opportunity to choose between right and wrong.
Unfortunately, the performance I attended did not soar. Many exchanges lacked a fresh edge. The actors certainly had their characters down, but too often they appeared to be coasting on technique. (This seemed particularly true of Clay, who performed the role to great accolades in Washington, DC in 2017, also under McGregor's direction). Additionally, some of the stage movement was not entirely fluid; in confrontations, actors sometimes would just stand and face each other in an artificial way. And Cheatom's interpretation of Dez struck me as a bit overly churlish and depressive: I needed more glimpses of the intelligence and edge that would secretly attract the strong, self-directed Shanita.
The most compelling moments belong to Woodside, well-cast as a man trying his best in difficult circumstances to do the right thing.
---
Gil Cates Theater at the Geffen Playhouse, 10886 Le Conte Ave., Westwood Village; Tues.-Fri., 8 p.m.; Sat., 3 & 8 p.m. Sun., 2 & 7 p.m.; through July 8. (310) 208-5454 or www.geffenplayhouse.org