Perceptions Lie: Why Official Facts Don't Always Add Up
Things are seldom what they seem. Sometimes the distance between what we think we see and what is actually there is the result of personal prejudices. Sometimes it's influenced by a kind of factual gerrymandering created by official sources and reinforced by the media. Most vacationers, for example would choose Carnival-happy Brazil in a moment over drug war-scarred Mexico. Unless they knew that Mexico has only 11 homicides per 100,000 people while halcyon Brazil is a murder leader with 31 homicides per 100,000 – a fact that seldom appears on Rio brochures or on our own six o'clock news.
And so it is here in America, where our own perceptions of unemployment and poverty often clash with the facts. The official calculation for the number of people out of work puts it at a single-digit — nine percent — while in California it nips at the heels of 13 percent. At least, those jobless people are the ones who get counted. The government-supplied figure does not include citizens who have given up looking for work or those who fly under the radar completely and were never counted in the first place. And in selected demographics – say, African American males below the age of 30 – the unemployment rate in certain neighborhoods runs to 30 percent.
And what of the poor population? The L.A. Times and other newspapers recently pointed out that the just-released 2010 U.S. Census Bureau figures show that nearly one American in six lives below the federal poverty line, which is defined as an annual income of $22,314 for a family of four.
But that's not the perception anyone would get by watching TV, whose images almost uniformly reflect an American that is middle class or even upper-middle class. There, we are presented to ourselves as rich or rising. No characters in a sitcom or family drama are stuck in a dead-end job – or without a job, period. No families double up on housing (unless it is one of those exposé stories that always have a happy ending). Gossip Girls never go to school hungry.
Finally, what about officially-endorsed perceptions of the cost of living? We are told that there will be no Social Security cost of living bumps because, well, this recession is delivering no inflation. In fact – we're told again — we've just barely escaped deflation. Except that anyone who bought groceries recently or pumped gas in the car knows that the prices in both places aren't down.
So the reality is that it does cost us more to live in America. But the perception – created by officialdom and reinforced by what gets written in the press and shown to us on TV screens – is just the opposite. Just as Brazil is less safe than Mexico, so does poverty run deeper than acknowledged and unemployment is spiralling higher than announced.
Apparently, to know what is really happening requires reading not just between the lines, but behind the lines.

'Skeleton Crew' Is a Play With a Moral Spine
Set in a Detroit automobile outfitting plant, Dominique Morisseau's drama grabs you from the start with its focus on blue-collar men and women, and their struggle for dignity and self-respect.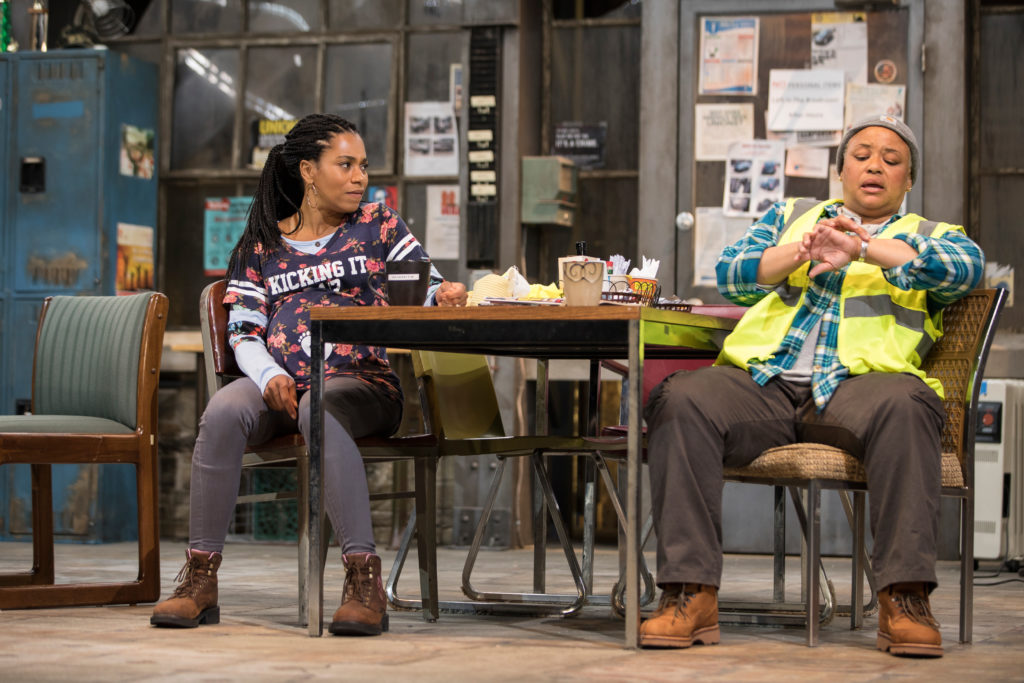 Working-class men and women of color are rarely front and center in today's media and, likewise, are presented all too occasionally on the American stage. So it's buoying to see that trend bucked in playwright Dominique Morisseau's percipient and well-crafted drama, Skeleton Crew. The play is the final installment in her Detroit  Project Trilogy; the first, Paradise Blue, is set in the 1940s amidst displacement caused by urban renewal and gentrification, while the second, Detroit '67, transpires on the eve of the 1967 Detroit riots sparked by a police action.
Directed by Patricia McGregor at Los Angeles' Geffen Playhouse, Skeleton Crew is a play with a moral spine. It takes place in 2008, when the shrinking U.S. auto industry is being further downsized. Morisseau's engaging quartet of characters — Faye (Caroline Stefanie Clay), Dez (Armari Cheatom), Shanita (Kelly McCreary) and Reggie (DB Woodside) – are employed at an automobile outfitting plant. Faye, Dez and Shanita are workers on the line while Reggie (who has a wife and kids, and has pulled himself together after a troubled youth) is their supervisor.
The first three customarily mingle in their break room (designer Rachel Myers' impressively cluttered, dingy and detailed set), trading the sort of familiar barbs and genuine concern for each other common among longtime co-workers. They also face off on philosophy: Upper-middle-aged Faye and the younger, pregnant Shanita take pride in their labor, while Dez, though a good worker, is a malcontent scornful of management and firm in the belief that everyone needs to watch out for himself. He's a thorn in Reggie's side, for while Reggie wants to be supportive of his workers, he must act at the behest of higher management. For his part, Dez resents Reggie's authority, and a palpable unease exists between them.
Besides this male matchup, we're made privy to Dez's attraction to Shanita, who mostly turns away his advances, but every now and then displays a hint of interest. Most poignant is Reggie's regard and affection for the lesbian Faye, which has roots in his boyhood when she loved, and lived, with his now-deceased mom.
These people's various predicaments intensify when rumors spread of the plant's shutdown — a disaster for all, but a particular calamity for the already near-broke Faye who, one year short of retirement, would lose her pension. The crisis forces each of these people to make a choice.
A sound piece of social realism, Skeleton Crew grabs you from the start in its focus on blue-collar men and women, and their struggle against odds for dignity and self-respect. Morisseau not only furnishes these characters a platform for their travails, she endows them with strong values, big hearts and the opportunity to choose between right and wrong.
Unfortunately, the performance I attended did not soar. Many exchanges lacked a fresh edge. The actors certainly had their characters down, but too often they appeared to be coasting on technique. (This seemed particularly true of Clay, who performed the role to great accolades in Washington, DC in 2017, also under McGregor's direction). Additionally, some of the stage movement was not entirely fluid; in confrontations, actors sometimes would just stand and face each other in an artificial way. And Cheatom's interpretation of Dez struck me as a bit overly churlish and depressive: I needed more glimpses of the intelligence and edge that would secretly attract the strong, self-directed Shanita.
The most compelling moments belong to Woodside, well-cast as a man trying his best in difficult circumstances to do the right thing.
---
Gil Cates Theater at the Geffen Playhouse, 10886 Le Conte Ave., Westwood Village; Tues.-Fri., 8 p.m.; Sat., 3 & 8 p.m. Sun., 2 & 7 p.m.; through July 8. (310) 208-5454 or www.geffenplayhouse.org