People Will Talk: An Intriguing Premise Can't Save This Dystopian Play
In Sam Steiner's futuristic play, a new law limits conversation between people to 140 words a day. How will they get around this ration?

Lemons Lemons Lemons Lemons Lemons

, Sam Steiner's 85-minute two-hander, comes packaged with an intriguing premise and the technical expertise of two of the L.A. theater community's most established artists. Unfortunately, that's not enough to compensate for an opaque, meandering script and uneven performances by actors understandably at sea with the flummoxing dialogue.
The play poses the question: What happens to relationships when a repressive government rations the number of words that can be spoken each day?
In the story, Oliver (Philip Asta) and Bernadette (Brynn Alexander) are two lovers who already have problems communicating even without the law's interference. We first meet them rendezvousing at a pet cemetery, concerned that their relationship will be discovered by others (although why this would imperil them remains unclear). Bernadette is a family lawyer, an attractive gal with attitude who is not fully cognizant of her sense of privilege. The more down-home Oliver adores her nonetheless, and mostly absorbs her putdowns. When he does challenge her, he does so falteringly lest his comment provoke more rejection.
Asta and Alexander. (Photo: Daniel J. Sliwa)
The play is structured as a series of short, cryptic interchanges, with transitions signaled by a loud startling sound (designer Cricket S. Meyers) and accompanying flashes of colored lights (designer Matt Richter) strategically embedded around the proscenium floor. At some point — but notably not at the beginning — the characters discuss an impending law that will limit conversation between themselves and with others to 140 words a day. They explore ways to get around this mandate: tapping on the floor using Morse code, for example, or consolidating two or more words into a single utterance. Other scenes portray Oliver confessing to Bernadette his involvement in anti-government protests, which she disapproves of, especially as they involve his contact with a former girlfriend.
These sequences furnish welcome, albeit scant, context to a piece that promises to be intellectually and/or politically involving but isn't. Steiner never bothers to supply background details about the oppressive regime his characters are valiantly trying to cope with, nor does he apply a comprehensible chronology to either the narrative's political thread or its personal one. The cryptic interaction between Oliver and Bernadette remains pretty much the same both before the law is implemented — somewhere in the middle of the script — and after. This makes for a frustrating evening at the theater, all the more disappointing as the basic idea here is so promising, given the current administration's predilections to stifle controversy and criticism.
Director Jen Bloom does a respectable job of engendering dynamic from the two characters' interaction, but it's not enough to sustain interest. Jessica J'aime's costumes enhance Bernadette's appeal as a come-hither-but-not-too-close kind of paramour. Her performance is satisfactory if a bit stilted. Asta brings a good deal more substance to the vulnerable working-class Oliver, and together they generate an appropriate chemistry.
Hudson Guild Theatre, 6539 Santa Monica Blvd., Hollywood; Fri.-Sat., 8 p.m.; Sun., 7 p.m.; through February 11. www.2centstheatre.com or (323) 960-4420.
---
Copyright Capital & Main

'Skeleton Crew' Is a Play With a Moral Spine
Set in a Detroit automobile outfitting plant, Dominique Morisseau's drama grabs you from the start with its focus on blue-collar men and women, and their struggle for dignity and self-respect.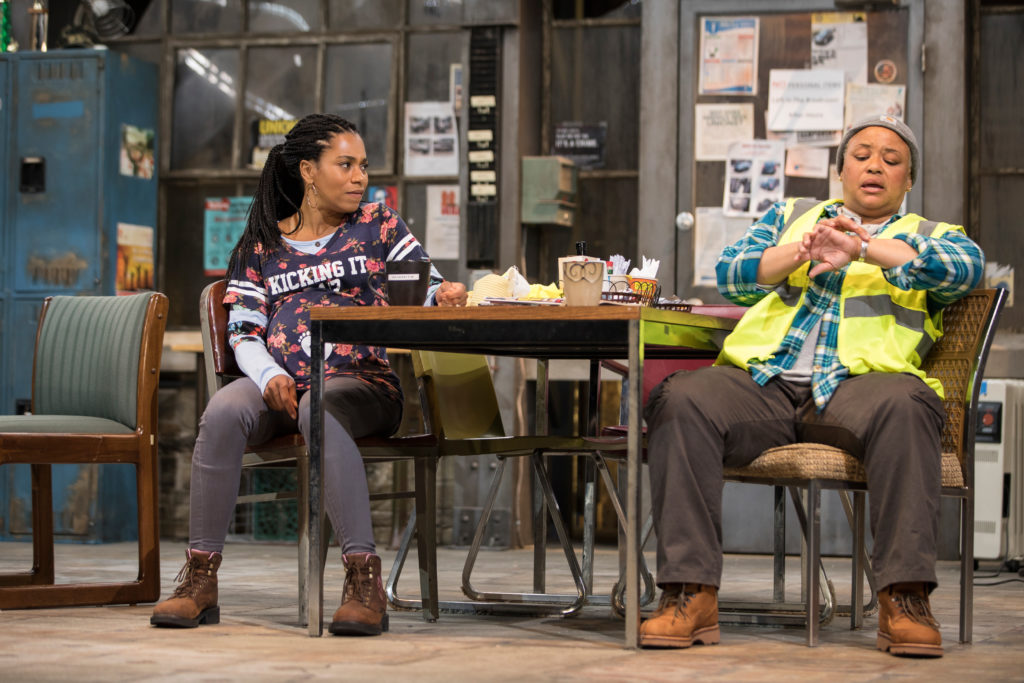 Working-class men and women of color are rarely front and center in today's media and, likewise, are presented all too occasionally on the American stage. So it's buoying to see that trend bucked in playwright Dominique Morisseau's percipient and well-crafted drama, Skeleton Crew. The play is the final installment in her Detroit  Project Trilogy; the first, Paradise Blue, is set in the 1940s amidst displacement caused by urban renewal and gentrification, while the second, Detroit '67, transpires on the eve of the 1967 Detroit riots sparked by a police action.
Directed by Patricia McGregor at Los Angeles' Geffen Playhouse, Skeleton Crew is a play with a moral spine. It takes place in 2008, when the shrinking U.S. auto industry is being further downsized. Morisseau's engaging quartet of characters — Faye (Caroline Stefanie Clay), Dez (Armari Cheatom), Shanita (Kelly McCreary) and Reggie (DB Woodside) – are employed at an automobile outfitting plant. Faye, Dez and Shanita are workers on the line while Reggie (who has a wife and kids, and has pulled himself together after a troubled youth) is their supervisor.
The first three customarily mingle in their break room (designer Rachel Myers' impressively cluttered, dingy and detailed set), trading the sort of familiar barbs and genuine concern for each other common among longtime co-workers. They also face off on philosophy: Upper-middle-aged Faye and the younger, pregnant Shanita take pride in their labor, while Dez, though a good worker, is a malcontent scornful of management and firm in the belief that everyone needs to watch out for himself. He's a thorn in Reggie's side, for while Reggie wants to be supportive of his workers, he must act at the behest of higher management. For his part, Dez resents Reggie's authority, and a palpable unease exists between them.
Besides this male matchup, we're made privy to Dez's attraction to Shanita, who mostly turns away his advances, but every now and then displays a hint of interest. Most poignant is Reggie's regard and affection for the lesbian Faye, which has roots in his boyhood when she loved, and lived, with his now-deceased mom.
These people's various predicaments intensify when rumors spread of the plant's shutdown — a disaster for all, but a particular calamity for the already near-broke Faye who, one year short of retirement, would lose her pension. The crisis forces each of these people to make a choice.
A sound piece of social realism, Skeleton Crew grabs you from the start in its focus on blue-collar men and women, and their struggle against odds for dignity and self-respect. Morisseau not only furnishes these characters a platform for their travails, she endows them with strong values, big hearts and the opportunity to choose between right and wrong.
Unfortunately, the performance I attended did not soar. Many exchanges lacked a fresh edge. The actors certainly had their characters down, but too often they appeared to be coasting on technique. (This seemed particularly true of Clay, who performed the role to great accolades in Washington, DC in 2017, also under McGregor's direction). Additionally, some of the stage movement was not entirely fluid; in confrontations, actors sometimes would just stand and face each other in an artificial way. And Cheatom's interpretation of Dez struck me as a bit overly churlish and depressive: I needed more glimpses of the intelligence and edge that would secretly attract the strong, self-directed Shanita.
The most compelling moments belong to Woodside, well-cast as a man trying his best in difficult circumstances to do the right thing.
---
Gil Cates Theater at the Geffen Playhouse, 10886 Le Conte Ave., Westwood Village; Tues.-Fri., 8 p.m.; Sat., 3 & 8 p.m. Sun., 2 & 7 p.m.; through July 8. (310) 208-5454 or www.geffenplayhouse.org