Pat Brown Documentary: Remembrance of California Past
(This post first appeared on California Progress Report.)
The movie California State of Mind: The Legacy of Pat Brown, which has been making the rounds of public TV channels, is a tender blend between a family memoir and a nostalgic look at a more hopeful era in California history. At times it makes you want to weep for what we once had and will probably never have again.
The producers, Hilary Armstrong and Sascha Rice, granddaughters of the man who was governor from 1958 to 1966, weren't troubled by the mix of the personal and the political, much of it in the form of old film clips. And in some ways the past forty years have been a sort of family history: two governors Brown, a treasurer Brown who also ran for governor, plus the half dozen lesser public offices those Browns held.
Much of the movie's history is familiar. Pat Brown, as much as any individual, was the builder of modern California:
The California Water Project, the result of a grand bargain that delivered flood control to the north and a steady flow of northern California to the farms of the Central Valley and the mushrooming developments of the south.
The California Master Plan for Higher Education, another grand bargain, dividing the turf between the University of California, the state colleges, and the community colleges and, along the way, promising every Californian a place somewhere in the system at little or no tuition.
The film doesn't tell you that the Master Plan was as much the work of U.C. President Clark Kerr, who wanted to protect U.C.'s exclusive authority to grant doctorate degrees, as it was Brown's. But low or no tuition was nonetheless an unprecedented commitment for any state to make.
The development and construction of countless new college and university campuses that underscored the Master Plan's promise. The construction of hundreds of new elementary and secondary schools to accommodate the state's booming population, what Brown called the greatest migration in the history of mankind.
The construction of hundreds of miles of new freeways – much of it supported by the Eisenhower-era interstate highway program.
Passage of the Rumford Fair Housing Act of 1964 that prohibited racial and religious discrimination in the sale and rental of homes and apartments. Not mentioned in the film but equally important was passage of the Unruh Civil Rights Act, which outlawed ethnic and gender discrimination not only in public accommodations but by most other businesses.
Some took a lot of doing. The Central Valley Project passed by a nose over the vehement opposition of northern California interest groups who resented southerners taking what they regarded as their water.
The Rumford Act, which passed only after a long political struggle, was overturned in a referendum that voters approved by a hefty majority. (Itself later overturned by the courts). In some respects the California of the golden 1960s was no more liberal than the California of the 21st Century.
In 1964, the same year that voters passed Proposition 14, overturning the Rumford Act, they also elected the right-wing demagogue Max Rafferty as the state's superintendent of public instruction. [Frying Pan News correction: Rafferty was actually elected in 1962.]
Nor does the movie tell you that in his first terms as governor, Pat's son Jerry spent a lot of energy disparaging what his father had done.
And yet, looking from the present, the two decades after World War seem like a special gift, not just for the things that the state accomplished but for the people it elected to high office – Brown and Goodwin Knight, the Republican who preceded him and Earl Warren who preceded Knight and Tom Kuchel, the moderate Republican who represented California in the U.S. Senate from 1953 to 1968.
Kuchel, a leader of the GOP minority in the Senate, was co-floor manager for the Civil Rights Act of 1964 and the Voting Rights Act of 1965. It's inconceivable that any Republican would do anything like that today. Defense Secretary Leon Panetta, then also a Republican, began his political career as Kuchel's legislative aide in Washington.
Unfortunately "California State of Mind", which runs just under 90 minutes, doesn't have time for those things, or for the even broader cultural and political world that, for all the hurdles he faced, allowed Brown to pursue his initiatives.
In 1962, when California surpassed New York as the largest state in the union, our population was overwhelmingly white – our "immigrants" came from Kansas and Iowa, not from Michoacán and Zacatecas. They had grown up during the Depression and World War II, when the country came together as it never had been before and would never be again. Many of them had first seen California when they were shipped through as GIs on their way to the war in the Pacific.
We believed in community and in what government could do – had to do – in creating the economic conditions, the infrastructure, the social security and the educational infrastructure that were essential to a great society.
The children in our schools were our children; the voters were the parents of those children, not an aging generation that was increasingly uncomfortable — if not altogether hostile to – the culture growing up around them. They did not fear the future; they welcomed it. To say it again, seeing that movie makes you want to cry.
Peter Schrag is the former editorial page editor and columnist of the Sacramento Bee.  His new book is Not Fit for Our Society: Nativism, Eugenics, Immigration.

'Skeleton Crew' Is a Play With a Moral Spine
Set in a Detroit automobile outfitting plant, Dominique Morisseau's drama grabs you from the start with its focus on blue-collar men and women, and their struggle for dignity and self-respect.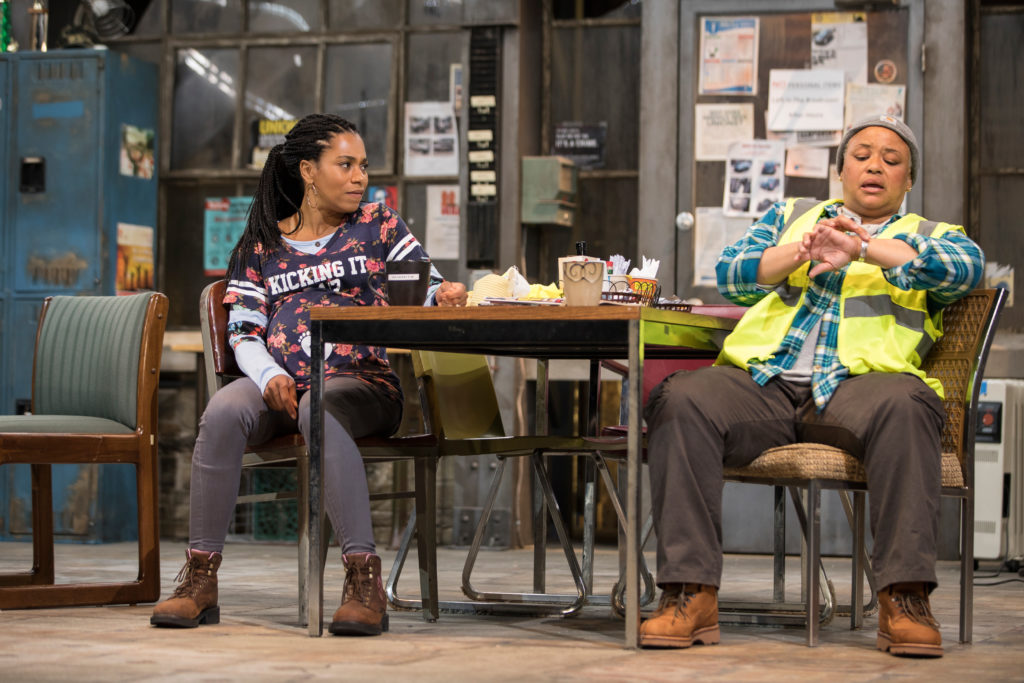 Working-class men and women of color are rarely front and center in today's media and, likewise, are presented all too occasionally on the American stage. So it's buoying to see that trend bucked in playwright Dominique Morisseau's percipient and well-crafted drama, Skeleton Crew. The play is the final installment in her Detroit  Project Trilogy; the first, Paradise Blue, is set in the 1940s amidst displacement caused by urban renewal and gentrification, while the second, Detroit '67, transpires on the eve of the 1967 Detroit riots sparked by a police action.
Directed by Patricia McGregor at Los Angeles' Geffen Playhouse, Skeleton Crew is a play with a moral spine. It takes place in 2008, when the shrinking U.S. auto industry is being further downsized. Morisseau's engaging quartet of characters — Faye (Caroline Stefanie Clay), Dez (Armari Cheatom), Shanita (Kelly McCreary) and Reggie (DB Woodside) – are employed at an automobile outfitting plant. Faye, Dez and Shanita are workers on the line while Reggie (who has a wife and kids, and has pulled himself together after a troubled youth) is their supervisor.
The first three customarily mingle in their break room (designer Rachel Myers' impressively cluttered, dingy and detailed set), trading the sort of familiar barbs and genuine concern for each other common among longtime co-workers. They also face off on philosophy: Upper-middle-aged Faye and the younger, pregnant Shanita take pride in their labor, while Dez, though a good worker, is a malcontent scornful of management and firm in the belief that everyone needs to watch out for himself. He's a thorn in Reggie's side, for while Reggie wants to be supportive of his workers, he must act at the behest of higher management. For his part, Dez resents Reggie's authority, and a palpable unease exists between them.
Besides this male matchup, we're made privy to Dez's attraction to Shanita, who mostly turns away his advances, but every now and then displays a hint of interest. Most poignant is Reggie's regard and affection for the lesbian Faye, which has roots in his boyhood when she loved, and lived, with his now-deceased mom.
These people's various predicaments intensify when rumors spread of the plant's shutdown — a disaster for all, but a particular calamity for the already near-broke Faye who, one year short of retirement, would lose her pension. The crisis forces each of these people to make a choice.
A sound piece of social realism, Skeleton Crew grabs you from the start in its focus on blue-collar men and women, and their struggle against odds for dignity and self-respect. Morisseau not only furnishes these characters a platform for their travails, she endows them with strong values, big hearts and the opportunity to choose between right and wrong.
Unfortunately, the performance I attended did not soar. Many exchanges lacked a fresh edge. The actors certainly had their characters down, but too often they appeared to be coasting on technique. (This seemed particularly true of Clay, who performed the role to great accolades in Washington, DC in 2017, also under McGregor's direction). Additionally, some of the stage movement was not entirely fluid; in confrontations, actors sometimes would just stand and face each other in an artificial way. And Cheatom's interpretation of Dez struck me as a bit overly churlish and depressive: I needed more glimpses of the intelligence and edge that would secretly attract the strong, self-directed Shanita.
The most compelling moments belong to Woodside, well-cast as a man trying his best in difficult circumstances to do the right thing.
---
Gil Cates Theater at the Geffen Playhouse, 10886 Le Conte Ave., Westwood Village; Tues.-Fri., 8 p.m.; Sat., 3 & 8 p.m. Sun., 2 & 7 p.m.; through July 8. (310) 208-5454 or www.geffenplayhouse.org