Paroling the Mind: A College Program Opens New Doors for Former Convicts
Romarilyn Ralston's life became a dramatic example of redemption after being convicted of murder when she was 24.

Project Rebound's Romarilyn Ralston. (Photo by Christian Cook)
Founded by a formerly incarcerated man in 1967, Project Rebound has grown from one school, San Francisco State University, to eight other Cal State campuses.
---
As fires blazed across California last month, killing 43 people, scorching more than 210,000 acres and causing $3.3 billion in damage, about 250 female inmates were sent to the front lines to battle the flames.
"Who doesn't want to get out of a prison?" asks Romarilyn Ralston, program coordinator for Project Rebound at California State University, Fullerton, an effort aimed at helping former inmates gain access to higher education. Fighting fires while incarcerated is a coerced choice, she adds, with wages capped at a couple of dollars a day.
"You go through a couple weeks of training and then you're sent off to fire camp to go protect other people's lives and property at the expense of your own. And you do that because you want to prove to yourself and your family that you're not the worst thing that you have ever done in your life — that your life is redeemable."
Ralston's life became a dramatic example of that redemption after being convicted of murder when she was 24. "I was involved with drugs," she says, seated at her desk in a cozy two-person office on campus. "I shot a woman, and she died." Now in her 50s, her long dark hair pulled back to reveal gold hoop earrings, she says she does not define herself by her crime. She spent 23 years in prison before she was paroled in 2011 and has earned a bachelor's degree from Pitzer College in Claremont and a master's from Washington University in St. Louis.
"Education is something
people cannot take away from you."
Ralston is now program coordinator for Project Rebound at Cal State Fullerton, helping other former inmates get the education she believes saved her life. That can mean helping people behind bars apply to take part in the program that advertises in the San Quentin News. Once they are released, the program gives them access to financial aid, money for books and food, counseling, health care, academic and career advice, tutoring, legal assistance and a community of formerly incarcerated people who have made it out of the same traumatic experience.
"I believe that change is possible," Ralston says. "Redemption, reconciliation, forgiveness, rehabilitation. All those things happen."
By the time she was released, Ralston had spent half of her life in prison. "Am I always going to be viewed by the crime I committed 30 years ago?" she asks. "Should it negate the rest of my life?" There had always been the chance of Ralston writing another chapter. "I wasn't sentenced to life without parole," she says. "So that was one thing. I knew at some point I might have a chance to go home."
Growing up, she had wanted to be an astronaut. Instead, she found herself "going into the system — and it was the first time I had ever been arrested. That trauma was so severe to me that I thought, 'It's not going to happen to me again.' Of all the things I wanted to be in life, prisoner number W32881 was not one of them. And so I had to look at some of the things that had put me on that path, and then reconnect with the things that I wanted to be as a child."
She never made it to outer space but, this being the 1980s, she was able to make it to a classroom, with a real-life instructor, inside the California Institution for Women. That was before the 1994 federal crime bill passed by a Republican Congress and signed into law by President Bill Clinton, a Democrat. That measure took away the grants that had subsidized (and in most cases, made possible) in-person, university-level courses for incarcerated students.
The impact of depriving human beings of the ability to better themselves is predictable enough. Nearly half of those released from prisons in California are locked up again within three years, according to the state Department of Corrections and Rehabilitation. And that's progress. A little over a decade ago, two-thirds of those released were back in a cell 36 months later. Part of that is due to "tough on crime" policies from the '90s slowly giving way to less punitive approaches to a law enforcement — some imposed by voters, like Proposition 47, which reduced many drug felonies to simple misdemeanors, and some imposed by courts, like the federal mandate that California release prisoners to address severe overcrowding.
A RAND Institute study found that incarcerated people who participate in educational programs are 43 times less likely to recidivate within the next three years.
These reforms have meant fewer people being put in cells in the first place, and fewer people being sent back to them for minor parole violations. But despite renewed interest in rehabilitating those inside, a prison is a prison.
"
Prison is not a place where most people can rehabilitate themselves," Ralston says. "The majority of folks who enter prison are coming from a place of severe trauma. "It's not a supportive environment where people come to heal and become their best selves. Prison is overcrowded. There's a lot of abuse and violence, and it can be a place where folks learn to check out." Those conditions can lead to dulling the senses with drugs, or even acting out, as it were, so as to experience sensory deprivation in solitary confinement. "A lot of times folks just don't want to deal with it," Ralston says.
And when they get out? Not even those who fought fires for pennies an hour have much to bank on. The vast majority, like the vast majority of other prisoners, walk out poor and unemployed. Some make it, but the system that treats them like numbers does not put them in a position to succeed. That system, says Ralston, is "why we see a lot of people leaving prison worse off."
"That's the beauty of Project Rebound," Ralston says. "We actually walk people out of being an incarcerated student to being a CSU student." Founded by a formerly incarcerated man in 1967, the program expanded last fall from one school, San Francisco State University, to eight other Cal State campuses, from San Diego to Fresno.
The key, in Ralston's experience, is giving people more than just the narrow technical skills to survive financially, but the language to describe their own experiences as well.
"Education is that transformative practice that people can own and have agency," Ralston says. "Education is something people cannot take away from you. At some point within your education, the more education you have the less likely you are to recidivate. It opens up new pathways, new career opportunities. But education also helps to change the way that you see yourself in the world. That's what it did for me. The more education I gained, I saw myself doing other things — different things, better things. I found myself in spaces with people that had no clue I had spent 23 years in prison and still don't have a clue that I spent 23 years in prison."
Twelve Fullerton students are now enrolled in Project Rebound, ranging in age from 23 to 54. Some have served just a few months in a county jail and others a couple decades in a state prison. There are many more who would like to participate. There is no lack of ex-prisoners in a state that imprisons roughly 130,000 people on any given day. Many are non-violent drug offenders, and many others committed property crimes. But there are also those who committed violent crimes. It's no excuse for what they did to note that rehabilitation, of which education is a vital component, is in the interests of all — perpetrators, victims and neighbors.
A RAND Institute study found that incarcerated people who participate in educational programs are 43 times less likely to recidivate within the next three years. "This study demonstrates that education programs can help adults get back on their feet upon release from prison," they wrote. Project Rebound encourages and enables that participation to continue, with internal data showing "only three percent of its students return to prison," the Los Angeles Times reported.
"People don't know there's more people like me who have incarceration experiences in the community than folks like they see on television," Ralston says. "Ninety-five percent of the folks that go into an institution come out. We're everywhere. We're serving your food, we're riding in that Uber with you if you're Uber Pooling. We're flying on airplanes. We're in classrooms with you. We're everywhere."
---
Copyright Capital & Main

No Walk in the Garden for the Urban Homeless
Throughout Los Angeles, landscaping is put to aggressive use, functioning as a weapon of anti-homelessness under the guise of beautification.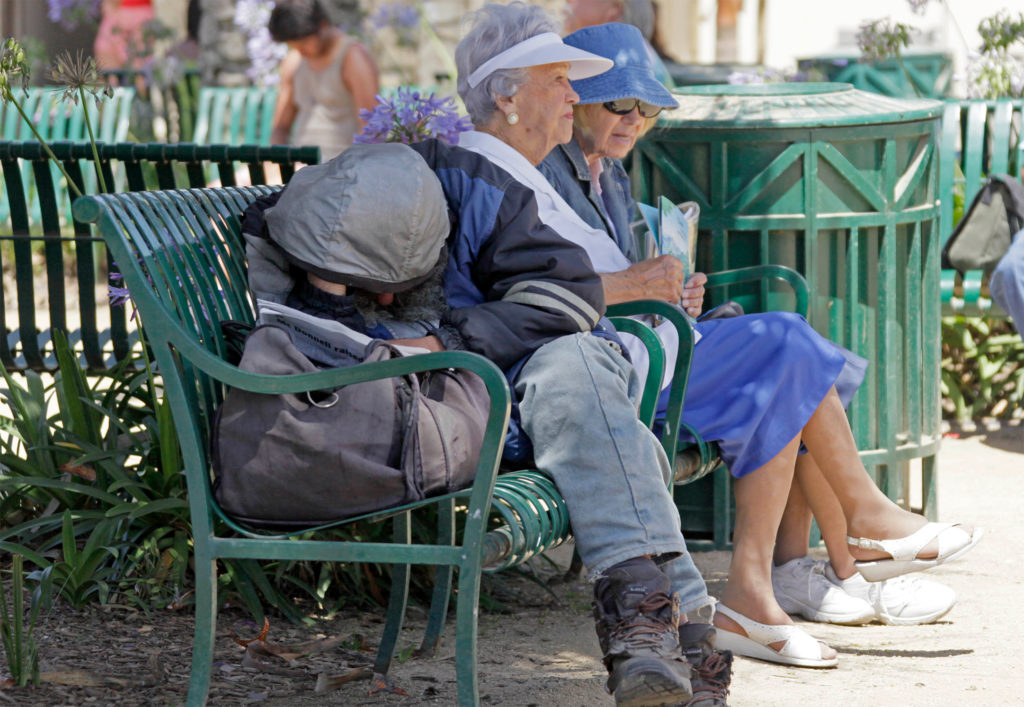 ---
The phenomenon of hostile landscaping in Los Angeles has further marginalized a swelling unhoused population.
---
Last May, in Los Angeles' coastal Venice neighborhood, Adam Smith noticed a series of planter boxes in the middle of a familiar sidewalk. Affixed near the intersection of Third and Sunset avenues, mere blocks from a Google campus and a suite of oceanside cafes, the standalone planters ran roughly the length of a wall delineating a parking lot behind a luxury condo complex.
Previously, Smith told Capital & Main, a group of six to 10 homeless people had regularly slept in tents on that block, favoring it for its relatively plentiful street light. A volunteer for the Culver-Palms Burrito Project, which prepares and serves the titular food to the unhoused of West Los Angeles, he'd become acquainted with individuals living there over the course of several years.
Once the planters were installed, however, the sidewalk was clear. "That next day, after I saw [the planter boxes] for the first time, I went there to look around because I figured they were sleeping somewhere else," Smith said. "I found people up around the corner, just, like, a block away."
---
Companies are privatizing public space to create more "landscape" for their businesses.
---
Throughout Los Angeles, landscaping is put to aggressive use, functioning as a weapon of anti-homelessness under the guise of beautification. Just as both public and private architectural design throttle space available to the unhoused internationally — via, among other examples, spikes on ledges and bars on benches to discourage sitting and lying down — and cities such as San Francisco arrange boulders to deter homeless encampments, the phenomenon of hostile landscaping in Los Angeles has further marginalized a swelling unhoused population.
Nearly 20 miles from Venice, a Los Feliz traffic median at the intersection of Vermont and Prospect avenues, and Hollywood Blvd., has regularly seen encampments arranged on its concrete ground, abutting a raised patch of desert landscaping and sycamore trees.
Christened "Vermont Triangle," the median's first redesign occurred in 2008, when the now-defunct Community Redevelopment Agency spearheaded a project to "improv[e] the pedestrian amenities" and "enhanc[e] the physical appearance of the existing median park." According to the Los Angeles Times, this yielded seating areas, lampposts to echo those at nearby Barnsdall Art Park, and the sycamores. Eventually, unhoused people began to pitch tents, availing themselves of the median's modest stretches of open public space.
Now, due to pressure from local business owners, Vermont Triangle is in flux. City Councilmember David Ryu's office, the Times noted, plans to invest $18,000 in another redesign, following a 2013 re-landscape. The 2013 update was financed in part by the Hollywood Hotel and Kaiser Permanente, according to Jeff Zarrinnam, who serves on the board of governors of the East Hollywood Business Improvement District. (Ryu's office couldn't be reached for comment.) Current proposals range from adding art installations and neighborhood signs, which Zarrinnam said the Los Feliz Neighborhood Council and East Hollywood Neighborhood Council have floated, to putting in planters.
Zarrinnam said he supports "bridge housing," a term the municipal government, neighborhood councils and local businesses use to favorably denote temporary homeless shelters and transitional housing. Yet reports indicate that the current state of temporary housing for many homeless people in Los Angeles County — who, as of May, numbered approximately 53,000 — is nothing short of abysmal. A recent investigation by radio station KPCC found infestations, harassment and medical negligence, among other scourges at various facilities throughout Los Angeles County, including those funded by the Los Angeles Homeless Services Authority (LAHSA), which conducts the county's annual homeless census.
Steve Diaz, an organizer for Los Angeles Community Action Network (LA CAN) who works with unhoused populations in downtown and South L.A., calls hostile landscaping of public space "the next level of criminalization" of homelessness. He alluded to an industrial neighborhood overlapping Skid Row, whose business owners call "The North Sea": a cluster of converted seafood warehouses and factories painted the same hues of oceanic blue — complete with landscaped sidewalks.
"They started breaking the concrete and taking away from the sidewalk to place different types of flowers, whatever garden they were putting in," Diaz said. "You have a major street [on] Skid Row that, at one point, was home to a lot of homeless folks now being gated off, and then the concrete being broken to start using these gardening pockets within the space to eliminate sidewalk access." (Miguel Nelson, a North Sea business owner involved in the area's marketing efforts, declined to respond publicly.)
As private property owners adopt guerrilla tactics to thwart homeless encampments, legal issues arise. Skid Row activist General Jeff Page has observed that, while property owners are permitted to control up to three feet of sidewalk extending from their buildings, "The North Sea is taking upwards of five to 10 feet of sidewalk, allowing only for ADA (Americans with Disabilities Act) compliance and zero space for homeless tents and/or encampments." (The Los Angeles Department of Public Works stated that the North Sea sidewalk landscaping is currently under investigation and thus couldn't comment further on the matter.)
What's more, business owners in South L.A. have illegally installed fences around their property, which, according to Diaz, will eventually give way to sidewalk landscaping. Relatedly, Adam Smith has been corresponding with city officials to ascertain the permit status of the Venice planters. The West L.A. office of the Bureau of Engineering, which issues revocable permits, told Capital & Main that it did not have a permit on file for the planters. Without one, according to the bureau, "no portion of the public right-of-way, including sidewalk, is allowed for private use."
Nevertheless, the planters remain and, according to Smith, have multiplied. Additional boxes, he said, are now ensconced in the sidewalk around the corner, to where the previously ousted people had first moved.
"For some people, [landscaping] sounds like a great idea," Diaz said. "But you're literally privatizing public space to create more 'landscape' for your business."
---
Copyright Capital & Main