Open House: Danish Film Explores Communal Living
The Commune a drama by film director Thomas Vinterberg, who himself grew up in a communal house in Denmark, explores the fun and sometimes nightmare of building a sustaining community of unrelated adults and kids.

Trine Dyrholm and Ulrich Thomsen in The Commune (Kollektivet). Photo: Ola Kjelbye/Zentropa
The idea of living communally makes a lot of sense to some people, especially in places where housing is scarce and expensive.  Others living in nuclear families, or on their own, may be hungry for the day-to-day intimacy of collective life.  And  for families raising children and needing help with childcare, communal living can offer significant relief.
In the optimistic and idealistic years of the 1970s, communal houses were established all over the U.S. and Western Europe. Often the impulse to live collectively originated in a political commitment to live on less, to go back to the land or to challenge traditional gender norms.
My commune in Chicago, which considered itself an activist as well as a living collective, included seven adults and two children. We bought a large, old house together, shared our incomes, decided together how the money would be spent and took equal responsibility for the kids and the household. Amazingly, we nine people lived on about $24,000 a year — very modestly, but comfortably. We were mostly in our 20s and felt we didn't need much.
Film director Thomas Vinterberg, who himself grew up in a communal house in Denmark, recently released The Commune, a drama that explores the fun and sometimes nightmare of building a sustaining community of unrelated adults and kids.
There's a lot of humor in the film as a motley crew of people is recruited to live in a large, suburban house, and little thought is put into the finances or emotional stability of the potential residents. Most of the energy for the enterprise comes from Anna (Trine Dyrholm), a middle-aged TV broadcaster who explains her motivation for group living this way: "I need to hear someone else speak. Otherwise I'll go mad." Her husband, Erik (Ulrich Thomsen), who just inherited the house from his father, is unenthusiastic. You can sense disaster in the making. Or at least I could, having lived through a similar dynamic.
Erik, feeling ignored by his wife, and not joining in the communal comradery, takes up with a student from the college where he teaches. And there the whole enterprise starts to founder.
Anna believes deeply in freedom, while at the same time she wants to preserve her marriage. In service of her goals, she suggests her husband's new girlfriend move into the commune. Soon jealousy and insecurity undermine her emotional stability, leaving her, the formerly strong center of the house, an emotional wreck. The clash between Anna's utopian beliefs and her genuine feelings reflects a common obstacle to successful commune life, where sometimes relationships are communalized along with living space and household chores.
The feminist movement of the 1970s did an excellent job critiquing the contemporary American nuclear family, which often exists without the support of other family members living nearby. Today the burden of housework and child-raising, added to the demands of full-time work, routine for even the mothers of infants, can be unbearable. Even a totally supportive husband, who himself may be struggling to make a good living at a full-time job, does not make life easy. Something has to give.
In the 1970s we thought that collective living might be a solution and, for some people, it ended up working well, although my commune was racked by some of the same tensions as the one in Vinterberg's film. However, if we ever hope to develop alternative family arrangements, we need to know what worked and what didn't.
Thanks goes to Vinterberg for resurrecting the promise and pitfalls of these communal living experiments, and hinting at how they could have worked out better.

A Spiritual Mystery Play Fails to Enlighten
Yusuf Toropov's drama, set in a contaminated, cancer-ridden community, involves a publisher and his brother — a priest struggling against the local archdiocese.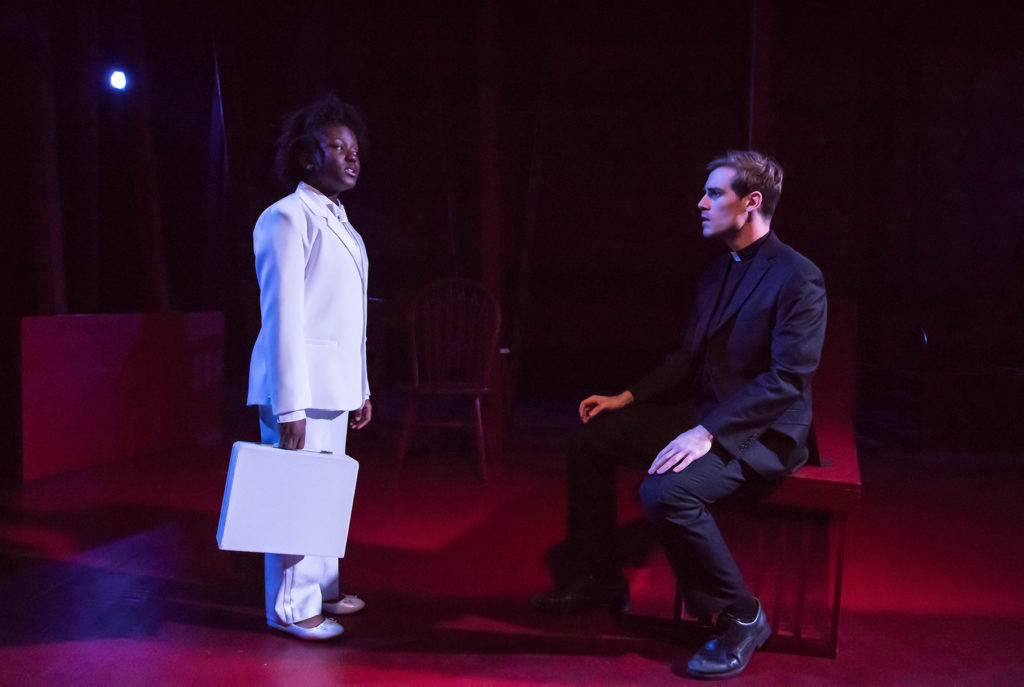 Directed by Chris Fields, Yusuf Toropov's An Undivided Heart, co-produced by the Echo Theater Company and the Circle X Theatre Co., is an aspiring work that aims to be deep but doesn't get there.
The play, running at the Atwater Village Theatre, unfolds on several levels. First, it tells the story of a young Catholic priest who must decide whether or not to publicly expose the pedophiles among his fellow clerics. Second, the work deals with our human struggle to understand why bad things happen with seeming random cruelty (a conundrum whose answers are regularly dispensed by spiritual leaders of all faiths, not very satisfactorily). On yet a third level, the play seeks to express the paradoxical wonder and mystery of life, with an assist from the supernatural.
That's a lot to cover in a little over two hours and, while the production is handsomely staged, its ambitious narrative is diminished by dangling threads, one major improbable setup near the end and too many bits of opaque dialogue.
Tim Wright, Alison Martin and Alana Dietze.
The setting is Holbrook, Massachusetts — a community whose residents have been exposed to contaminants, so cancer is rampant — in the summer of 1992. The story revolves around two brothers, both good guys: Mike (Matthew Gallenstein), a local priest who's written a revelatory book that his superiors want him not to publish, and Max (Tim Wright), an editor, who'd like to help his brother proceed.
When Max arrives at some sort of civic facility (the background particulars of this scene are unclear), he promptly tangles with an angry pregnant clerk named Lynne (Alana Dietz). A few minutes into their altercation, she goes into premature labor, and he rushes her to the hospital — the beginning of a nurturing romance.
Mike, meanwhile, is having strange dreams involving a burning typewriter and a cryptic little girl (Ann'Jewel Lee) who appears to him brandishing a dead cat. The same young person manifests in the dreams of Janice (Tracey A. Leigh, alternating with Jennifer A. Skinner), Max's Buddhism teacher, who is fond of posing riddles. Her favorite: If I am preparing to slice a cat in two, how would you prevent me from doing it?
The narrative shifts between Mike's struggle with his archdiocese, personified by its Cardinal (John Getz, alternating with William Salyers) and Lynne's problems with her dying mom Ruth (Alison Martin, alternating with Sigute Miller), a devout Catholic still in denial over her son's abuse by a priest when he was a youth.
These two storylines are interposed with the baffling dream sequences and Max's (and later Mike's) sessions with the inscrutably smiling Janice and her eschatological brain teasers. One crucial scene that leads to the dramatic climax has Mike looking to entrap an abusive priest (Jeff Alan-Lee, alternating with Jesse Bush) by attending confession with him and pretending to be a pedophile himself. The interchange, in which the priest probes for salacious details, is awkwardly plotted and escalates into over-the-top melodrama.
Cricket Myers' superlative sound design hints at the depth and scope that the playwright himself perhaps had in mind but was unable to attain. Amanda Knehans' set is an effective arrangement of wooden beams, tables and chairs that lighting designer Rose Malone smartly shades with a reddish-orange chroma, like the hues of hell. Elsewhere, she spotlights the players well.
Wright's warm and empathetic Max is highly likable, and he keeps you interested in the scenes he's involved with. Getz is appropriately unctuous as the Cardinal, and Martin draws a richly textured portrait of a not terribly educated housewife, who, buffeted by adversity, still clings to her faith. Michael Sturgis steals the limelight as a singing, simpering cleric. A couple of the other lead performances need refining.
Atwater Village Theatre, 3269 Casitas Ave., Los Angeles; Mon., 8 p.m.; Fri.- Sat., 8 p.m.; Sun., 4 p.m.; through April 22. www.EchoTheaterCompany.com
---
Copyright Capital & Main