One World Trade Center: More Than Ground Zero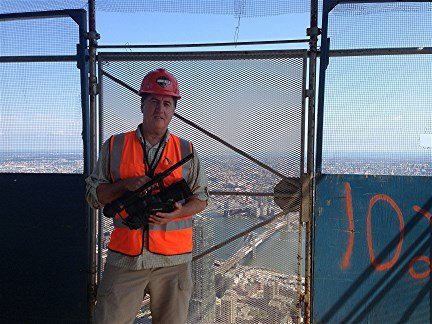 The author, 104 floors high.
The construction elevator of One World Trade Center in Lower Manhattan is attached to the outside of the 104-story tower. From the ground it looks like a giant zipper, moving slowly up and down as the car, filled with workers and their tools, makes the six-minute, 1,776-foot journey from ground level to the top. (The building's height was purposefully designed to match our year of independence.)
Riding up in that elevator to the 103rd floor recently, I kept myself a safe distance from the steel gates that protect you but also, unfortunately, allow you to see how high up you are hanging in space. I had to "man up" just to step into the metal box.
Phil English, a shop steward at the tower for LIUNA (Laborers' International Union of North America), one of several unions that have members working to complete the tower, rode up with me. (See LIUNA World Trade Center videos here.) He laughed when he said he wanted to ride on the window-washing contraption attached to the outside of the top floor.
"I just want to go on it once," he tells me. "To look down from that height and see how it feels to be hanging on the outside of the building." I inched away from the elevator doors and thought of Bruce Springsteen. The title song from his album, The Rising, captures the tragedy and pathos of what happened 12 years ago on September 11 better than any speech I have heard about that day:
Sky of blackness and sorrow
Sky of love, sky of tears . . .
Sky of memory and shadow
Your burnin' wind fills my arms tonight
Sky of longing and emptiness
Sky of fullness, sky of blessed life
A great song called forth from a great tragedy. If your commemorations demand something more than silence – which is my preference – then it's not a bad choice.
I've been on many construction sites over the years and for various reasons. But I've never been on one where there was such a palpable sense of enthusiasm and pride. The workers I spoke with over three days on the site had no confusion about the importance of what they were doing. Each one of them felt as though they were contributing to something historic.
"Even the people on the street thank us for doing this when we go on coffee break," Laborers' Local 731 member Marcos Goncalves said during an interview. "I say it's our job but I am proud of it."
Clint Jones, another Laborers' Union member, and who is from Guyana, came to Ground Zero three weeks after the Twin Towers fell to work on the cleanup operation.
"There was the smell of death," he said. "But we had to get the job done." Jones expresses a common feeling that the rebuilding is a sign of resilience and strength: "We are letting the world know we are back."
The experiences and emotions of Goncalves and Jones are common ones. The building of "Freedom Tower," as it was known before being "officially" designated as the more symbolically benign One World Trade Center, has been a repository for people's desires, belief systems, emotions and politics ever since the discussion began about what would replace the Twin Towers.
While everyone in the debate agreed that the "sacred space" of Ground Zero should be neutral and apolitical, that belief itself generated fierce conflicts over what counted as political. As Elizabeth Greenspan points out in her new book, Battle for Ground Zero: Inside the Political Struggle to Rebuild the World Trade Center, the site quickly became a loud public square that everyone felt they owned a piece of.
If the story of what ultimately ensued at the 16-acre site is about the resilience and power of the owners of some very valuable corporate real estate, the story is also about democracy and what happens when people without a leasehold on property feel that they are nonetheless entitled to determine its function and meaning.
The tension between private and public, capitalism and democracy, is all the more relevant in the case of Ground Zero, given the site's history. The original World Trade Center was the product of a public-private partnership largely initiated by banker David Rockefeller, who had a vision of an expanded international financial center in Lower Manhattan. He needed government assistance and got it.
Legislation drafted by his brother, New York Governor Nelson Rockefeller, united the interests of the World Trade Center project with a plan to revitalize the Hudson and Manhattan Railroad, an aging line that still carried 30 million passengers from New Jersey to New York yearly.
What was unique about the deal that was crafted with the Port Authority was that the Authority was granted the power to raise capital by selling bonds. This publicly backed corporation was a government guarantee that attracted investors to projects that they would have otherwise shunned as too risky.
In 1972, Governor Rockefeller helped out again by leasing the entire South Tower for state government offices. New Yorkers took to calling the Twin Towers "David and Nelson."
So from the beginning, the history of the Twin Towers and the building that followed their destruction has involved some of the central issues of government, politics and the economy. If the government is going to help the private sector, what community benefit should be extracted? What should the community role in planning be and when should the "technicians" and "experts" be provided a professional cushion from the variety of public voices?
According to Greenspan, "It wasn't long before the list of things for Ground Zero to house reflected a host of irreconcilable desires: revenge, rebirth, peace, power, empathy, the latest in green design, a park, commercial space, and last but not least, affordable housing."  If you are in favor of public participation, just exactly who counts as the public: People who show up at meetings? Particular interest groups? Those closest to the building site? The families of those who lost their lives? What democratic structures and processes are best fitted to the complexities of rebuilding in the aftermath of 9/11?
My experience at the World Trade Center was mostly spent interacting with workers who were building the tower. One was from Guyana, another was born in Argentina. Vasilka Benn-Williams, whose fellow workers call her "Silky Love" on the job, lives in Brooklyn but was brought up in Trinidad. They were diverse in their backgrounds, thoughtful about their colleagues and union, and proud of their work. This should surprise no one who has bothered to talk to, or take a more rigorous look at, the lives and political beliefs of building trades workers.
Admittedly, my visit to the new World Trade Center was brief, and I only spoke to a handful of building trades workers. But the ones I did speak to displayed a keen understanding of the pressures that buffeted their lives and the union that was attempting to protect them. They understood that the forces that would like that institution to disappear are powerful and are not going away any time soon.
I signed my name on a concrete wall of the 90th floor of the new tower, for those who displayed a courage 12 years ago that the vast majority of us will never be called upon to summon. It will be covered up as soon as the building nears completion. From a southern facing window I could see the Statue of Liberty. A Staten Island ferry sailed slowly past it.
Earlier that morning "Silky Love" had pointed to her favorite sticker on the hard hat she wears, depicting the statue. She provided her own interpretation of liberty, reinforcing for me at least, that the idea cannot be the sole property of the political right. "Freedom for me is the ability to work any way you wish," she said. "Equal opportunity, equal rights for women on construction sites, for minorities. This sticker stands for that type of freedom."
(Kelly Candaele is a writer, filmmaker, teacher and has served as a trustee for the Los Angeles Community College District.)
The Power of the Poster
Carol Wells, the founder of the Center for the Study of Political Graphics in Los Angeles, talks to Capital & Main about the enduring power of political art.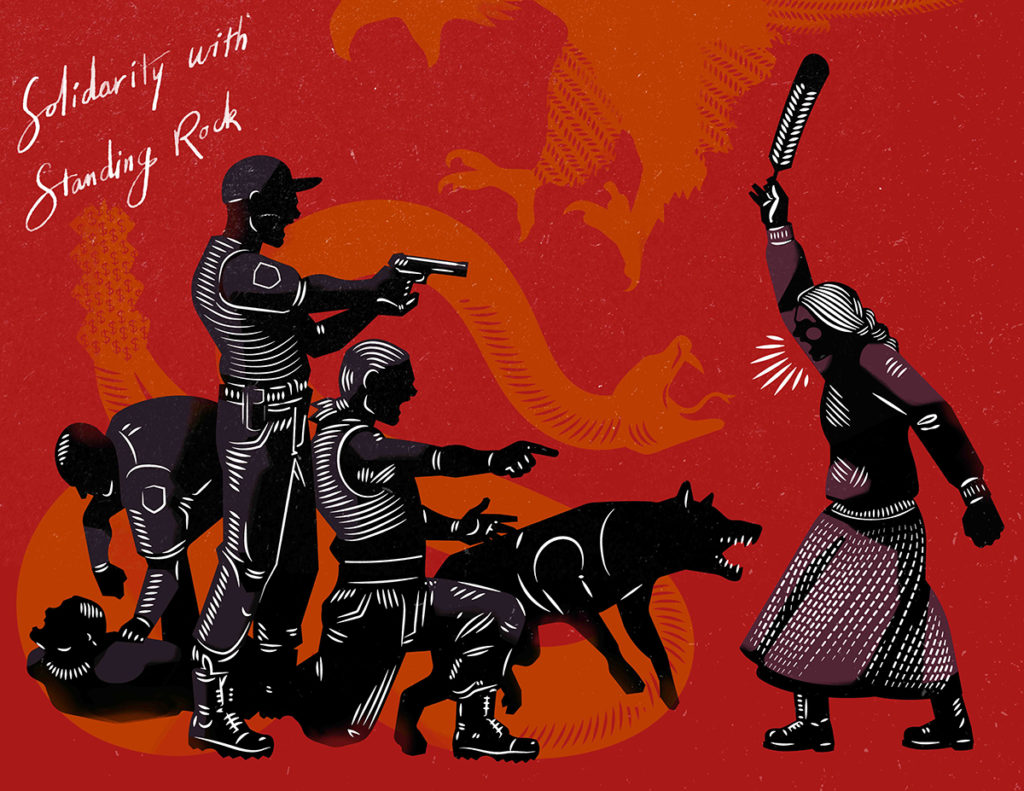 Carol Wells remembers the exact moment she discovered her calling. An art historian at the time, she was on a trip to Nicaragua with her friend David Kunzle, a UCLA art history professor, who was collecting political posters to add to his burgeoning collection. While staying with friends, Wells watched a neighbor's 8-year-old son approach a poster on the wall, stare at it intently, and then start to silently mouth the words. Wells was struck by how engaged the boy was. "In that moment I became obsessed with collecting posters."
Now over 40 years later, Wells is the founder and executive director of the Center for the Study of Political Graphics in Los Angeles. Wells has amassed approximately 90,000 posters, building one of the largest collections of its kind in the world. The Center shares its collection with the public in part through curated exhibits. This year the CSPG has produced Feminae: Typographic Voices of Women by Women and its latest is To Protect & Serve? Five Decades of Posters Protesting Police Violence, running through July 15 at the Mercado La Paloma in downtown Los Angeles.
Since that encounter in Nicaragua in 1981, Wells' obsession with collecting posters hasn't waned. In CSPG's nondescript West L.A. office space, Wells pulls out poster after poster, lecturing passionately on the backstory and cultural impact of each, including one that superimposes text from a New York Times interview with a shocking image of the My Lai massacre ("Q: And babies? A: And babies."). Recently, she managed to sit down with C&M to discuss her passion.
---
Capital & Main: So, you were an art history professor, you happen to see a kid on a trip, and suddenly your life was changed forever?
Carol Wells: Yeah, I'm in Nicaragua alone in the living room with this kid. He's looking around, and all of a sudden, he sees the poster. It was pretty big, bright green, a thick outlines of a woman holding a big basket of coffee beans. And the text in Spanish said, "In constructing the new country, we are becoming the new woman." I see him walk over to the poster and I'm watching him mouth the words. It was a pretty sophisticated concept, so I doubt he figured it out. But I literally had this epiphany: "Oh my God. That's how posters work." You're going about your daily life, and all of a sudden something breaks through the bubble, and it grabs your attention. It's the graphic, it's the color, it's the combination, and it pulls you out of your head and into that poster and it makes you ask a question. "Why is this here? What is this about? What does this mean?" And every time you ask a question, you're a different person than you were before you asked the question.
How many posters do you get a year?
We get between two to five thousand a year donated from all over the world. The bulk of our collection is [from] 1945 and later.
I assume technology has probably hurt the art form, but has it helped get the messages out?
Most people think that, and it's actually not true. Since the internet age started, there's actually a poster renaissance of works on paper. Because you can't walk with your computer monitor in a demonstration. You can't plant your monitor on your lawn.
And you can't put a laptop on the wall…
Exactly. You want to hear a really great story? Truthdig.org published a cartoon [made by] a political cartoonist named Mr. Fish. It was during the Arab spring, and he had superimposed Che Guevara with the stylized beard and King Tut's face, but it had Che's beret. And it [was titled], "Walk like an Egyptian." So, it was a reference to the music, but [it was also] a reference to what was going on the streets of Cairo. I sent it out as our poster of the week to 9,000 people. The very next day, somebody took a photograph on the street of Cairo, with somebody holding a piece of paper with that image on it. A poster can literally go around the world and people will print it out.
What struck me in viewing your exhibits is how many of these posters could still be used today, not only artistically but also, sadly, in the timeliness of their messages.
We had this fabulous poster by Yolanda Lopez, a Bay Area artist, which she first did in 1978. It depicts a young man in Aztec garb pointing a finger like Uncle Sam saying, "Who's the illegal alien, PILGRIM?" And it's a great poster, it's simple, not too many words, funny, provocative. So, we had an exhibit at UCLA in the mid '90s and there were 4 or 5 high school students standing around this poster saying, "Wow, you've got posters up to the minute." And I went over to them and I said, "Look at the date. This is before you were born."
Is that one of your goals with the exhibitions? To show the evergreen nature of this work?
Absolutely. I mean that's why we did the police abuse exhibition now. It basically goes back five decades. It's 50 years of posters protesting police abuse. Mainly in the United States, but also internationally.
What's the goal for CSPG?
Well the aim right now is really to digitize the collection and get it online. We have 10% of the collection digitized. But the mission is to collect and to document, because stories get lost. All the exhibitions, they're showing massacres, they're showing genocide, they're showing police abuse, they're showing all of these horrible things. And people often ask me, "How can you look at this stuff all day long?" I said, "Because the poster artists are optimists. They believe people can change if they have the information."
Yes, that's the reason why they're doing it, right?
That's why they're doing it, and that's why I'm doing this, because I believe that people can change if they knew the truth.
And what happens 20, 50 years from now?
Well, my goal is to stay independent, because the other option is to become part of the university. Universities, for all the fabulous things that they do, they also censor. We did an exhibition at USC in 1992 on the 500 years since Columbus, and how the legacy of racism and exploitation and genocide continues. And one of the board of trustees was Italian and took [the exhibit] as an affront to Columbus. It really wasn't about Columbus, it was about colonialism. And he ordered it down.
Do you have a favorite poster?
I'm always amazed at the creativity and vision of artists. Every week I'll say, "Oh my God, how do they think of that?" But it's always still going to be the poster I saw that kid trying to figure out. It has to be my favorite one because that one changed my life.
What makes a perfect poster?
The right balance between aesthetics and message. If you only rely on the corporate press, the New York Times and L.A. Times, for your information, you're not going to get the side from the street, from the movement, from the activists. The posters are primary historical documents that are recording the issues that were at the time, and the passions that were at the time, and the divisions that were at the time. You're not going to get it anyplace else.
---
Copyright Capital & Main