One-Man Show Chronicles an Undocumented Immigrant's Long Quest for Legal Status
A new one-man show by Alex Alpharaoh chronicles the challenges he faced growing up as an undocumented immigrant in California, and his continuing quest to attain legal status in the United States.

Alex Alpharaoh in WET: A DACAmented Journey. (Photo by Youthana Yuos)
---
Like millions of other undocumented people, writer/performer Alex Alpharaoh was a child when he arrived in the United States. Born Anner Alexander Alfaro Cividanis in Guatemala, he traveled most of the hazardous journey across Mexico in the arms of his 15-year-old mother. When she grew exhausted and he fell ill, she entrusted her baby to a solicitous coyote, who promised to smuggle the 3-month-old infant across the border, concealed in the back seat of his car. The coyote made good on his promise, and Alpharaoh's mom made it too.
So began Alex Alpharaoh's life in the U.S., one outwardly typical of his younger brothers and sisters except that he, unlike his siblings, lacked papers, and would spend years — despite his achievements as a student, social worker, poet, performer and parent — in a labyrinthine dodge of ICE and the system at large.
WET: A DACAmented Journey is Alpharaoh's autobiographical account of life as a DREAMer, from his elementary school days when a visit to Sea World was verboten, lest it entail tangling with the border patrol in San Clemente, up through his recent byzantine experience traveling back to Guatemala in order to re-enter this country as a legal immigrant. The one-person show was produced by Ensemble Studio Theatre/LA as part of their True Story program, which encourages people to create solo works out of their own true experience.
In his script, Alpharaoh (his professional name) alternates between several personas: Alpharaoh, spoken wordsmith and poet, who voices the fear, conflict and inner chaos common to many undocumented immigrants living a fractured existence; Alex, a down-to-earth guy you might have met anywhere — coffee house, metro, theater — who openly shares some of the Kafkaesque episodes he's endured as he fights to remain in the only country he's ever known; and Anner, Alex's reactive self, whose understandable rage sometimes subverts his reason.
As Alex tells it, his life flowed (if not smoothly, then without threatening incident) until he blew the whistle on an elder abuser at his workplace, and a follow-up request that he testify in court led to the DOJ's discovery of his status. With the help of a lawyer, he navigated the crisis with fines and public service. Then, in 2012, he found new hope in the Deferred Action for Childhood Arrivals (DACA) policy sponsored by President Obama that offered temporary deportation amnesty to undocumented immigrants who entered the country as children. That hope was shattered last November when the 45th U.S. president (Alpharaoh never refers to him by name) was elected.
Significant and compelling in outline, WET occasionally bogs down in the recounting of bureaucratic events not inherently dramatic yet part of the chronology of Alpharaoh's quest for legal status. An alternate thread involving Alex's father — and the feelings of betrayal and abandonment he engendered when he left his family — might be stronger were it integrated into the narrative earlier. And though sound, some finessing might undo the snarls in this inaugural version of a fundamentally engaging script.
Under Kevin Comartin's direction, the production's strongest component is Alpharaoh's theatrically adept performance. The immediacy with which he addresses his audience, his skillful use of mimicry in portraying minor characters, and his intense energy and commitment invite empathy while illuminating the problems that weigh on our undocumented friends and neighbors.
---
Ensemble Studio Theatre at Atwater Village Theatre, 3269 Casitas Avenue, Los Angeles. Fri.-Sat., 8 p.m.; Sun., 2 p.m.; through August 27. http://brownpapertickets.com/event/3050680 or (818) 839-1197.

Two Cousins and a Magical Ice Cream Truck Figure in Leon Martell's New Play
Although not all of ICE's comedy clicks, Martell's story has both weight and charm. The production's overriding plus is its successful rendering, fashioned with humor and craft, of the difficulties immigrants face.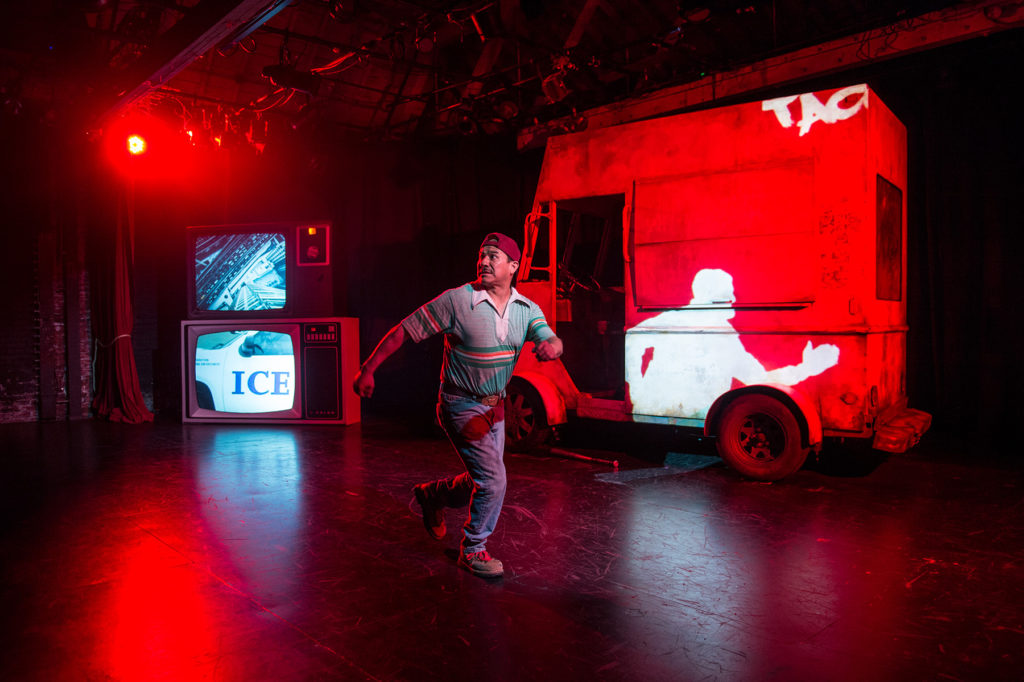 ICE, Leon Martell's family friendly play, takes place in 1988 and follows the misadventures of two undocumented immigrants: Chepe (Jesús Castaños-Chima), an avid baseball fan who dreams of making a fortune selling gourmet tacos; and his cousin Nacho (Tony Dúran), whom the beleaguered Chepe summons from Mexico to assist him in setting up his business. Directed by Debbie Devine at 24th Street Theatre, the show displays plenty of heart, not all of it realized in this premiere production. Despite this, there's enough political relevancy, moral truth and human comedy packed into the show's 65-minute time frame to overlook its shortcomings.
The core of the humor is the difference in personality between the two cousins. The ambitious Chepe is bitter and frustrated about his experience in America, where he's been cheated and lied to by bosses who exploit his labor and pay him next to nothing. Yet he's bought into the American Dream of money and fame, and to achieve that he's purchased a dilapidated old ice cream van to convert into a taco truck. It doesn't run, though, and the secret family salsa recipe is with his kin in Mexico. So, he phones home and implores his mechanic cousin to head north, bringing the salsa recipe as well as his skills.
Cousin Nacho, by contrast, is a sweet old-fashioned guy. He wants success too, but making money isn't the only thing he thinks about. He juggles tomatoes to make kids laugh and indignantly admonishes Chepe for his desperate inclination to do what it takes (steal tomatoes, for example) to score success.
Into the mix Martell tosses a blind, disgruntled priest (Davitt Felder), who plays guitar and wants to launch English classes for children in his parish (the archdiocese turns him down). Then there's Chepe's truck, which has opinions of its own. It breaks out in jingles at random intervals; later, it communicates with Nacho via blinking red letters that eerily appear on the side of the vehicle, furnishing the two men with simple directives and essential advice. When ICE (Immigration and Customs Enforcement) shows up, it alerts them to run.
Although not all of the comedy clicks, Martell's story has both weight and charm. The production's overriding plus is its successful rendering, fashioned with humor and craft, of the difficulties immigrants face. Its main weakness is Castaños-Chima's technically skilled but somewhat chilly depiction of his character, which leaves us wishing for more warmth and complexity. Felder appears awkward in his role of the blind priest, but proves versatile on video as Chepe's various nemeses. Dúran's naïve Nacho is a lovable presence from first to last.
Displayed on a monitor, Matthew G. Hill's video slides add historical and social perspective, and his backwall projections, in tandem with Dan Weingarten's lighting and Chris Moscatiello's sound, help conjure a magical aura to this parabolic piece.
24th Street Theatre, 1117 West 24th St., Los Angeles; Sat., 3 & 7:30 p.m.; Sun., 3 p.m.; through June 10, (213) 745-6516 or 24thstreet.org.
---
Copyright Capital & Main