One-Man Show Chronicles an Undocumented Immigrant's Long Quest for Legal Status
A new one-man show by Alex Alpharaoh chronicles the challenges he faced growing up as an undocumented immigrant in California, and his continuing quest to attain legal status in the United States.

Alex Alpharaoh in WET: A DACAmented Journey. (Photo by Youthana Yuos)
---
Like millions of other undocumented people, writer/performer Alex Alpharaoh was a child when he arrived in the United States. Born Anner Alexander Alfaro Cividanis in Guatemala, he traveled most of the hazardous journey across Mexico in the arms of his 15-year-old mother. When she grew exhausted and he fell ill, she entrusted her baby to a solicitous coyote, who promised to smuggle the 3-month-old infant across the border, concealed in the back seat of his car. The coyote made good on his promise, and Alpharaoh's mom made it too.
So began Alex Alpharaoh's life in the U.S., one outwardly typical of his younger brothers and sisters except that he, unlike his siblings, lacked papers, and would spend years — despite his achievements as a student, social worker, poet, performer and parent — in a labyrinthine dodge of ICE and the system at large.
WET: A DACAmented Journey is Alpharaoh's autobiographical account of life as a DREAMer, from his elementary school days when a visit to Sea World was verboten, lest it entail tangling with the border patrol in San Clemente, up through his recent byzantine experience traveling back to Guatemala in order to re-enter this country as a legal immigrant. The one-person show was produced by Ensemble Studio Theatre/LA as part of their True Story program, which encourages people to create solo works out of their own true experience.
In his script, Alpharaoh (his professional name) alternates between several personas: Alpharaoh, spoken wordsmith and poet, who voices the fear, conflict and inner chaos common to many undocumented immigrants living a fractured existence; Alex, a down-to-earth guy you might have met anywhere — coffee house, metro, theater — who openly shares some of the Kafkaesque episodes he's endured as he fights to remain in the only country he's ever known; and Anner, Alex's reactive self, whose understandable rage sometimes subverts his reason.
As Alex tells it, his life flowed (if not smoothly, then without threatening incident) until he blew the whistle on an elder abuser at his workplace, and a follow-up request that he testify in court led to the DOJ's discovery of his status. With the help of a lawyer, he navigated the crisis with fines and public service. Then, in 2012, he found new hope in the Deferred Action for Childhood Arrivals (DACA) policy sponsored by President Obama that offered temporary deportation amnesty to undocumented immigrants who entered the country as children. That hope was shattered last November when the 45th U.S. president (Alpharaoh never refers to him by name) was elected.
Significant and compelling in outline, WET occasionally bogs down in the recounting of bureaucratic events not inherently dramatic yet part of the chronology of Alpharaoh's quest for legal status. An alternate thread involving Alex's father — and the feelings of betrayal and abandonment he engendered when he left his family — might be stronger were it integrated into the narrative earlier. And though sound, some finessing might undo the snarls in this inaugural version of a fundamentally engaging script.
Under Kevin Comartin's direction, the production's strongest component is Alpharaoh's theatrically adept performance. The immediacy with which he addresses his audience, his skillful use of mimicry in portraying minor characters, and his intense energy and commitment invite empathy while illuminating the problems that weigh on our undocumented friends and neighbors.
---
Ensemble Studio Theatre at Atwater Village Theatre, 3269 Casitas Avenue, Los Angeles. Fri.-Sat., 8 p.m.; Sun., 2 p.m.; through August 27. http://brownpapertickets.com/event/3050680 or (818) 839-1197.

'Skeleton Crew' Is a Play With a Moral Spine
Set in a Detroit automobile outfitting plant, Dominique Morisseau's drama grabs you from the start with its focus on blue-collar men and women, and their struggle for dignity and self-respect.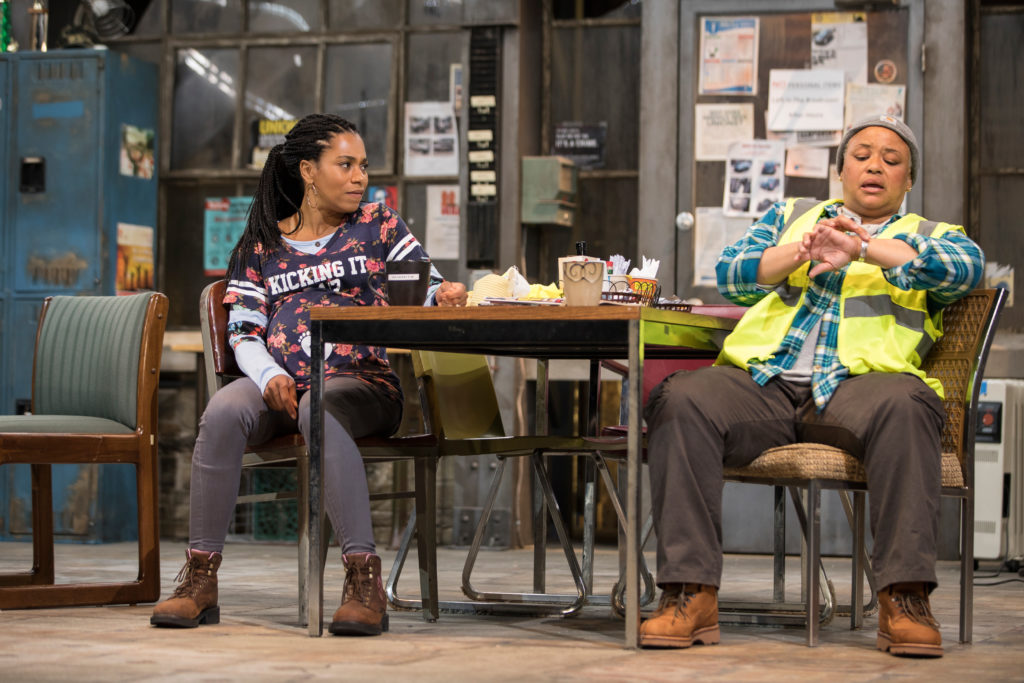 Working-class men and women of color are rarely front and center in today's media and, likewise, are presented all too occasionally on the American stage. So it's buoying to see that trend bucked in playwright Dominique Morisseau's percipient and well-crafted drama, Skeleton Crew. The play is the final installment in her Detroit  Project Trilogy; the first, Paradise Blue, is set in the 1940s amidst displacement caused by urban renewal and gentrification, while the second, Detroit '67, transpires on the eve of the 1967 Detroit riots sparked by a police action.
Directed by Patricia McGregor at Los Angeles' Geffen Playhouse, Skeleton Crew is a play with a moral spine. It takes place in 2008, when the shrinking U.S. auto industry is being further downsized. Morisseau's engaging quartet of characters — Faye (Caroline Stefanie Clay), Dez (Armari Cheatom), Shanita (Kelly McCreary) and Reggie (DB Woodside) – are employed at an automobile outfitting plant. Faye, Dez and Shanita are workers on the line while Reggie (who has a wife and kids, and has pulled himself together after a troubled youth) is their supervisor.
The first three customarily mingle in their break room (designer Rachel Myers' impressively cluttered, dingy and detailed set), trading the sort of familiar barbs and genuine concern for each other common among longtime co-workers. They also face off on philosophy: Upper-middle-aged Faye and the younger, pregnant Shanita take pride in their labor, while Dez, though a good worker, is a malcontent scornful of management and firm in the belief that everyone needs to watch out for himself. He's a thorn in Reggie's side, for while Reggie wants to be supportive of his workers, he must act at the behest of higher management. For his part, Dez resents Reggie's authority, and a palpable unease exists between them.
Besides this male matchup, we're made privy to Dez's attraction to Shanita, who mostly turns away his advances, but every now and then displays a hint of interest. Most poignant is Reggie's regard and affection for the lesbian Faye, which has roots in his boyhood when she loved, and lived, with his now-deceased mom.
These people's various predicaments intensify when rumors spread of the plant's shutdown — a disaster for all, but a particular calamity for the already near-broke Faye who, one year short of retirement, would lose her pension. The crisis forces each of these people to make a choice.
A sound piece of social realism, Skeleton Crew grabs you from the start in its focus on blue-collar men and women, and their struggle against odds for dignity and self-respect. Morisseau not only furnishes these characters a platform for their travails, she endows them with strong values, big hearts and the opportunity to choose between right and wrong.
Unfortunately, the performance I attended did not soar. Many exchanges lacked a fresh edge. The actors certainly had their characters down, but too often they appeared to be coasting on technique. (This seemed particularly true of Clay, who performed the role to great accolades in Washington, DC in 2017, also under McGregor's direction). Additionally, some of the stage movement was not entirely fluid; in confrontations, actors sometimes would just stand and face each other in an artificial way. And Cheatom's interpretation of Dez struck me as a bit overly churlish and depressive: I needed more glimpses of the intelligence and edge that would secretly attract the strong, self-directed Shanita.
The most compelling moments belong to Woodside, well-cast as a man trying his best in difficult circumstances to do the right thing.
---
Gil Cates Theater at the Geffen Playhouse, 10886 Le Conte Ave., Westwood Village; Tues.-Fri., 8 p.m.; Sat., 3 & 8 p.m. Sun., 2 & 7 p.m.; through July 8. (310) 208-5454 or www.geffenplayhouse.org