On the Front Lines of "Reopen America"
Trumpers, conspiracists and anti-vaxxers attack shelter-in-place orders: "I can't just work, work, work and watch Netflix!"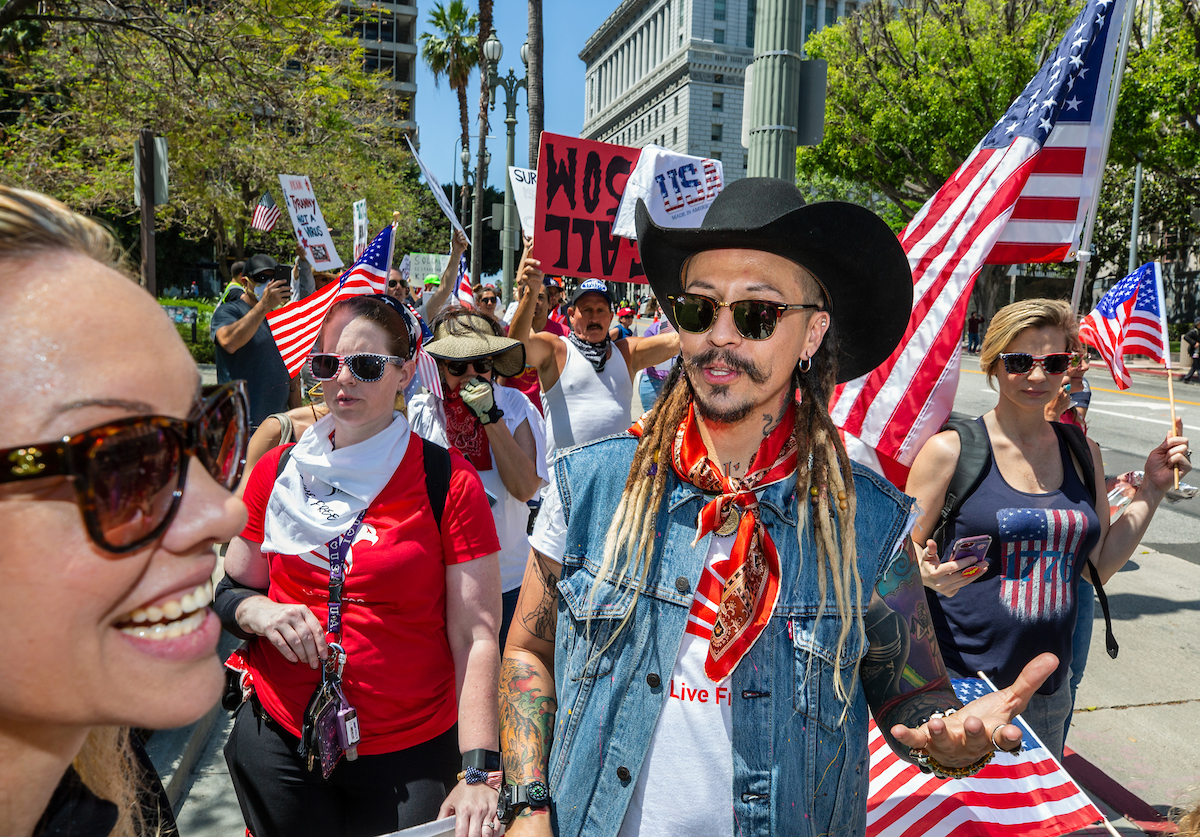 All photos by Steve Appleford
---
 
The skies above downtown Los Angeles were smogless and blue on May 1, as a parade of truckers rolled their massive cabs past City Hall, blasting their air horns at up to 152 decibels. The ground shook and a crowd of protesters carrying signs and American flags cheered every ear-shattering honk. And no one was more energized than Erik Rodriguez, marching along the sidewalk in dreadlocks, D'Artagnan mustache and goatee, raising a megaphone.
As the trucks roared once again, he shouted into the mic: "Let it be heard! Let it be heard! Let it be heeeeard!"
Rodriguez, 35, was the unlikely organizer behind a May Day protest against California's shelter-in-place order and the mandated shutdown of all nonessential business in response to the COVID-19 pandemic. He's normally disengaged from politics, is only an occasional voter, and still hasn't filled out his U.S. Census form. But he still managed to gather a crowd of several hundred on the steps of City Hall, and an accompanying long line of protesters in cars and big trucks, circling for hours with horns blaring.
Clad in a black cowboy hat and sleeveless denim jacket, Rodriguez wore no mask or gloves, and practiced none of the recommended social distancing protections as he stopped to shake hands and chat with demonstrators. "I eat well, drink a lot of water, exercise and nothing in my world has changed," he said with an upbeat air of invulnerability, a tattoo of Leonardo da Vinci's spread-eagled "Vitruvian Man" on his right bicep.
That Rodriguez, who lives a county away in Anaheim, found himself the instigator behind L.A.'s largest protest yet against the coronavirus shutdown was the accidental result of a single Facebook post three weeks earlier. He'd merely stated online that he'd like to see a peaceful demonstration soon, "because something needs to happen," and within 24 hours got 161 shares. Rodriguez had watched friends suffer from the state economic shutdown, which began March 19. And as the weeks went on, he became increasingly frustrated with the interruption to his active lifestyle: his usual runs along Newport Beach or kicking a soccer ball at the park, his nights out for pizza and beer, concerts and cover bands with his girlfriend.
"I can't just work, work, work and watch Netflix," said Rodriguez, a self-employed accountant based out of his home. "Shit gets old, dude. You have to live, and we live in one of the most beautiful places in the world."
*   *   *
Rodriguez connected online with Josh Ellis, a home remodeler and handyman in Naperville, Illinois, who decided to coordinate May 1 protests across all 50 states. Another political neophyte, Ellis, 40, calls the nation's many state-mandated stay-at-home orders illegal under the U.S. Constitution, regardless of how severe a threat the virus may be to public health.
"It would have been a horrible tragedy if half of the population of the United States died, but it still wouldn't have been okay, per the Constitution," insisted Ellis, who spent his day of protest at the Chicago demonstration. That might sound dangerously absolutist to some supporters of his movement, but Ellis aims to be far less divisive than the Trumpsters wearing "Fuck Your Feelings" T-shirts.
Under his American Revolution 2.0 banner, Ellis says his mission is to create a lasting movement with appeal beyond the farthest of the far right, a new Tea Party minus a distracting Sarah Palin cult of personality. For Ellis, confiscating May Day, the traditional workers' holiday, for a libertarian day of protest was just a start.
"This is a continuing fight," Ellis said. "It's not a one-and-done for us. This is a movement. I plan on continuing into a complete restoration of the Constitution."
In early April, from his suburban home outside Chicago, Ellis called on the protest groups to focus on a national May Day event, and to avoid extreme messages and overt Trump worship that could turn away potential allies among moderates, independents and even Democrats frustrated by the shutdown. He knew the MAGA crowd was already with them.
"In order to effect change, you have to have the moderates with you," Ellis said. "You're not going to get the moderates if all they see in the media is you're a bunch of white nationalist, racist, bigoted Trump-supporting rednecks. Then they're going to go, 'Well, you guys are nuts.'"
He voted for Trump in 2016 and almost certainly will again this year, but Ellis calls himself generally apathetic politically, only a sometime voter: "I see crookedness on both sides and have for a long time."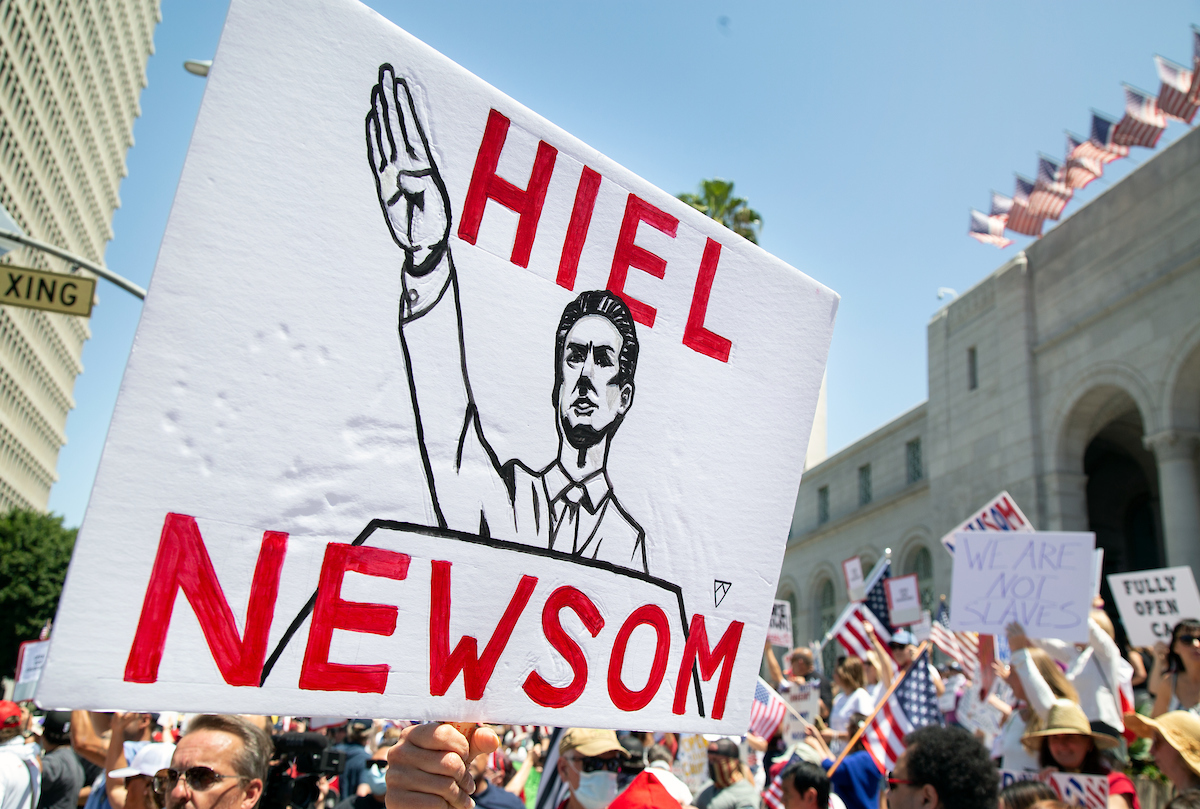 Ellis helped guide local organizers across the country to create 53 May Day rallies, including ones in Los Angeles and Sacramento. He eased out of leadership positions some people with extreme "weirdnesses that are irrelevant, quite frankly." That has meant navigating among apolitical volunteers, Trump fanatics, QAnon conspiracy cultists, gun rights exhibitionists and anti-vaccination activists. Long-active anti-vaxxers are a fast-rising presence at the demonstrations.
*   *   *
In Los Angeles, one bright orange sign declared: "Our body. Our choice. No forced vaccination." In the same crowd was a nutritionist and holistic health consultant who practices under the name Julie E. Health. "We don't mind coming out in public," she said, wearing no mask or gloves, and surrounded by marchers. "You get a choice when you live in a free country, and all of these people are not afraid of the virus. We're way more afraid of the government overreach."
Joe Collins, a 34-year-old Navy vet and Republican running a longshot bid to unseat Democrat Maxine Waters in California's 43rd U.S. Congressional District, argued, "In South Los Angeles, we have things that kill people in our district worse than coronavirus: homelessness, domestic violence, gang violence, gun violence." (Within his district, Inglewood alone has seen 378 cases of COVID-19 infection, according to the L.A. County Department of Public Health. Inglewood Police counted 16 homicides in 2018.)
Most of the events connected to AR 2.0 unfolded peacefully at statehouses and other government offices, with notable exceptions. The Sacramento protest of about 1,000 led by the female-fronted anti-vaccine group Freedom Angels melted down when they refused to disperse from the Capitol steps under orders of the California Highway Patrol. During the four-hour protest, 32 were arrested, including Heidi Munoz Gleisner of the Freedom Angels. (The activist group did not respond to requests for comment.)
*   *   *
The demonstrations followed a week of high-profile cracks in the shutdown, with American flags and Trump banners lifted by protesters who presidential economic adviser Stephen Moore has compared to civil rights icon Rosa Parks. On April 28, Elon Musk tweeted: "FREE AMERICA NOW," and in a later call to Tesla investors described the stay-at-home response as "fascist" and "an outrage."
Even California Gov. Gavin Newsom announced on Monday a gradual loosening of the restrictions, just as new reports emerged that White House models are predicting an alarming rise in coronavirus cases in states that have announced a coming end of their shelter-in-place orders.
While 63 percent of Americans now fear lifting restrictions too quickly, as the nation hits 1.2 million coronavirus cases, many protesters share a sense of outrage and panic at the financial costs. A Bloomberg survey of U.S. economists predicts an unprecedented 21.5 million job losses by this Friday. Newly unemployed workers face unpaid bills and the real prospect of losing their homes, while parents grapple with school closures and kids are trapped indoors.
After Trump tweeted a demand that supporters "LIBERATE" the swing states of Michigan, Minnesota and Virginia from quarantine, armed protesters entered the Michigan state capital on April 30. Another armed group marched through Raleigh, North Carolina, last Friday morning, looking less like demonstrators than a combat squad on patrol.
While the armed groups arguably did as much damage to their cause as draw attention to the costs of the shutdown, Trump later described them as "very good people," echoing his response to torch-bearing white supremacists in Charlottesville, Virginia, in 2017. (Even Sean Hannity of Fox News criticized the carrying of long guns to intimidate opponents.)
In Los Angeles, there were no arrests, and the protests were generally user-friendly and sometimes comical. The convoy circling City Hall included a car blasting the national anthem while a passenger stood up through the sunroof with a sign reading: "Let my people go!" One young long-haired dude raised a sign stuck to his skateboard: "I drink bleach for free speech."
The gathering landed at the end of a week that marked 23,230 total cases of COVID-19 in Los Angeles County, according to an ongoing tally by Johns Hopkins University. The protest began with several moments of political gridlock. Hundreds of anti-shutdown demonstrators arrived to find an ongoing protest advocating for rent forgiveness during the pandemic. And the parade of cars and trucks was blocked near Second and Spring streets by a crowd of counterprotesters from the Revolutionary Communist Party, its members holding up a wall-sized banner crossing out "America First" and replacing it with "Humanity First."
On the City Hall steps was David Vaysukh, 62, waving a large "Keep America Great" flag, an official Trump campaign mask hanging loosely over his mouth. An immigrant from the former Soviet Union, he called the shutdown "liberal insanity," though several Republican governors have declared similar orders, including in Ohio and Maryland. "I never thought that so many years later I'd be fighting against socialism or fascism in America."
*   *   *
A much larger turnout of nearly 3,000 happened at the boardwalk of Huntington Beach, at the crossroads of Pacific Coast Highway and Main Street, after overcrowding forced the governor to close Orange County beaches days earlier. One man in a motorcycle helmet raised a surfboard painted with a message: "Surfing is not a crime! Newsom is a kook." They were pushed off the streets by cops on motorcycles and horseback.
A week before, a much smaller, hardcore group of protesters under the name "Operation Gridlock" rallied midday around L.A.'s City Hall. They too were confronted by communist counterprotesters in black, but there was as much tension with a swarm of journalists and photographers, after a week of news reports from across the country showed some demonstrators carrying the Confederate stars-and-bars, guns and the occasional swastika.
"Frankly, we're sick of being bundled all together and called all kinds of names," said Elizabeth Crawford, who arrived from Encino in a dress, hat and face mask of red, white and blue. "There's no crypto, alt-right radical freaking Nazi group. I'm an American and I'm sick to my stomach after what I see these people do — convenient crisis after convenient crisis. You don't need to be a conspiracy theorist. You need to pay attention."
This wasn't her first protest or political rally, but the times have radicalized her into the MAGA column. "I'm 61 years old and I voted Democrat all my freaking life," she said. "The Democrats lost me. The Republicans did not gain me. Trump gained me."
For Ellis, guiding events in L.A. and across America from Illinois, the encouraging numbers that turned out in most states on May 1 have set things up for the next step in his movement: escalation. Last week's protests were largely meant to be upbeat and compliant. On Memorial Day, his comrades will mobilize across several states with plans for increasing civil disobedience. (In Los Angeles, Rodriguez and his team are planning to stage their next protest Saturday at the mayor's residence.)
"This one is going to be a no-back-down event: Don't pick a fight but don't back down either," Ellis promised. "It's going to be similar to chaining yourself to a tree type of thing. Where it's peaceful, but you're not going to get us to budge."
---
Copyright 2020 Capital & Main