Aaron Swartz: A gratifyingly noisy champion. (Photo: Jacob Appelbaum)
"[T]he ruling elite […] have created societal institutions that have subdued young Americans and broken their spirit of resistance to domination." So claimed psychologist Bruce E. Levine in his article "8 Reasons Young Americans Don't Fight Back," which appeared on AlterNet last July.
The author of Get Up, Stand Up: Uniting Populists, Energizing the Defeated, and Battling the Corporate Elite cited a 2010 Gallup poll that asked American workers, "Do you think the Social Security system will be able to pay you a benefit when you retire?" Seventy-six percent of 18 to 34-year-olds responded "No."  These young workers are currently paying Social Security taxes yet expect no return on their money.
For Levine, their evident acquiescence to this shafting is a strong indication that the "ruling elites" have succeeded in breaking the spirit of young Americans.
Burdened with student loans, overmedicated with anti-depressants and battered into consumerist passivity  — young people, according to Levine, have had their brains turned to tapioca and rendered unable even to conceive of their own rights, let alone fight for them.
The 300-plus comments that greeted Levine's piece revealed a wide range of reactions, the most striking being those from the many Millennials who pointed out that they are indeed angry, and that they have demonstrated, for example, against the Iraq war — yet their participation went unnoticed by the media. It's not that they're passive, it's that they feel gagged. Others, such as commenter Bailey Socha, disagreed still more forcefully:
"This young American witnessed and blogged live coverage of the Rutgers Sit-In, and it seems that in light of the sweetly stinging rash of American University activists standing up against austerity measures and oppressive domestic regimes, they've only sharpened their chops."
To this I would add that anyone choosing to be such a cane-shaking grump as Levine, after having witnessed the ordeal of WikiLeaks suspect Bradley Manning (who was all of 22 when tossed into the Marine Corps brig at Quantico) is most certainly misreading the writing on the wall.
What we lack, what we need, is a path to participation that can energize progressives of all ages. Instead of making a case for futility and proving the ineptitude of our young people, middle-aged dissidents such as Levine should be building that path. To unify and focus progressive political campaigns requires the kind of cat-herding patience that older activists have traditionally passed down to the young.
There are many hopeful signs. Take Aaron Swartz, the 24-year-old founder of Demand Progress. Swartz is a committed and gratifyingly noisy champion of the free Internet and open access movements who has motivated and helped to engage tens of thousands of young people. This information activist and computer prodigy was recently indicted for surreptitiously copying nearly 5 million articles from JSTOR, a nonprofit database of academic journals. His high-profile case will help determine the fate of open access and, to a certain degree, how the Internet can be used on behalf of progressive change.
Swartz was mentored by Lawrence Lessig, the Harvard law professor who co-founded Creative Commons, a project Swartz worked on (as metadata designer) starting from the age of fourteen. Lessig's championing of open access and copyright reform is echoed in  Swartz's current work. Their longstanding association already illustrates what can happen when strong relationships are forged between older and younger activists. As the 2012 elections draw nearer, the development of intergenerational bonds like these is as urgent as any of the tasks we face.

'Skeleton Crew' Is a Play With a Moral Spine
Set in a Detroit automobile outfitting plant, Dominique Morisseau's drama grabs you from the start with its focus on blue-collar men and women, and their struggle for dignity and self-respect.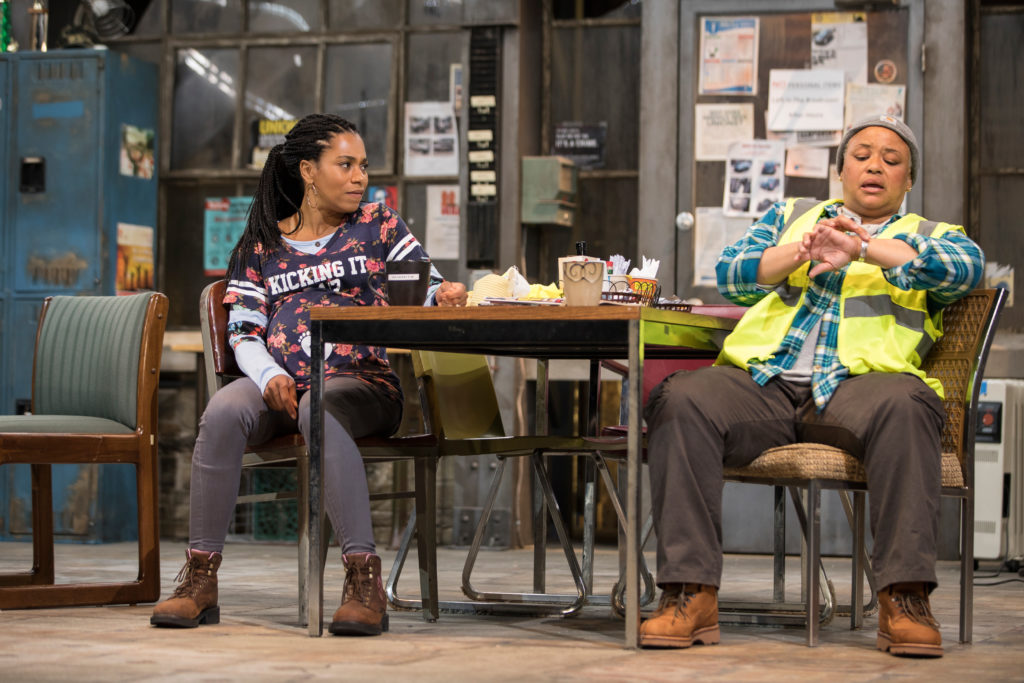 Working-class men and women of color are rarely front and center in today's media and, likewise, are presented all too occasionally on the American stage. So it's buoying to see that trend bucked in playwright Dominique Morisseau's percipient and well-crafted drama, Skeleton Crew. The play is the final installment in her Detroit  Project Trilogy; the first, Paradise Blue, is set in the 1940s amidst displacement caused by urban renewal and gentrification, while the second, Detroit '67, transpires on the eve of the 1967 Detroit riots sparked by a police action.
Directed by Patricia McGregor at Los Angeles' Geffen Playhouse, Skeleton Crew is a play with a moral spine. It takes place in 2008, when the shrinking U.S. auto industry is being further downsized. Morisseau's engaging quartet of characters — Faye (Caroline Stefanie Clay), Dez (Armari Cheatom), Shanita (Kelly McCreary) and Reggie (DB Woodside) – are employed at an automobile outfitting plant. Faye, Dez and Shanita are workers on the line while Reggie (who has a wife and kids, and has pulled himself together after a troubled youth) is their supervisor.
The first three customarily mingle in their break room (designer Rachel Myers' impressively cluttered, dingy and detailed set), trading the sort of familiar barbs and genuine concern for each other common among longtime co-workers. They also face off on philosophy: Upper-middle-aged Faye and the younger, pregnant Shanita take pride in their labor, while Dez, though a good worker, is a malcontent scornful of management and firm in the belief that everyone needs to watch out for himself. He's a thorn in Reggie's side, for while Reggie wants to be supportive of his workers, he must act at the behest of higher management. For his part, Dez resents Reggie's authority, and a palpable unease exists between them.
Besides this male matchup, we're made privy to Dez's attraction to Shanita, who mostly turns away his advances, but every now and then displays a hint of interest. Most poignant is Reggie's regard and affection for the lesbian Faye, which has roots in his boyhood when she loved, and lived, with his now-deceased mom.
These people's various predicaments intensify when rumors spread of the plant's shutdown — a disaster for all, but a particular calamity for the already near-broke Faye who, one year short of retirement, would lose her pension. The crisis forces each of these people to make a choice.
A sound piece of social realism, Skeleton Crew grabs you from the start in its focus on blue-collar men and women, and their struggle against odds for dignity and self-respect. Morisseau not only furnishes these characters a platform for their travails, she endows them with strong values, big hearts and the opportunity to choose between right and wrong.
Unfortunately, the performance I attended did not soar. Many exchanges lacked a fresh edge. The actors certainly had their characters down, but too often they appeared to be coasting on technique. (This seemed particularly true of Clay, who performed the role to great accolades in Washington, DC in 2017, also under McGregor's direction). Additionally, some of the stage movement was not entirely fluid; in confrontations, actors sometimes would just stand and face each other in an artificial way. And Cheatom's interpretation of Dez struck me as a bit overly churlish and depressive: I needed more glimpses of the intelligence and edge that would secretly attract the strong, self-directed Shanita.
The most compelling moments belong to Woodside, well-cast as a man trying his best in difficult circumstances to do the right thing.
---
Gil Cates Theater at the Geffen Playhouse, 10886 Le Conte Ave., Westwood Village; Tues.-Fri., 8 p.m.; Sat., 3 & 8 p.m. Sun., 2 & 7 p.m.; through July 8. (310) 208-5454 or www.geffenplayhouse.org