I am just a girl who can't say "no." In my youth this was actually a fun quality, but now it means that I spend a lot of time manning concession booths, volunteering in Sunday school classrooms, and doing whatever else the local Uber Mom has tasked me with. But make no mistake, I am not the Uber Mom. The Uber Mom is the mom who is always in charge. She knows everyone, runs every volunteer effort, and cooks absolutely everything from scratch.
One thing I have noticed about these moms, whose astounding accomplishments are both impressive and deeply annoying (homemade marshmallows? really?), is that they are not dispersed evenly through society. This became particularly apparent to me when my own children moved from a private and rather expensive pre-school to a public school in LAUSD. Overnight we went (as my husband likes to point out) from being young, poor parents to being old, rich parents. In addition to suddenly aging, the battery of Uber Moms disappeared. There were no more lavender-infused, castle-shaped, poppy-seed cakes at our bake sales.
To be honest, I have not experienced this as a huge emotional loss, but I do have to say that the Uber Moms contribute a lot more to a school than fancy baked goods. Surplussed from the labor force by their husbands' success and the ridiculous but very real class-based needs of their children, the Uber Moms are usually well- educated and experienced professionals. They provide a steady stream of high-grade free labor, cultural cachet and (either directly or through their efforts) donations and attention. They can do this largely because they have immense resources behind them, often in the form of a husband's income that can support not only themselves but several servants to take care of the more mundane domestic chores that might otherwise distract them from extensive volunteering.
With schools in such dire straits, the efforts of these Uber Moms are crucial, but the benefits of their considerable capabilities are confined to a very small number of schools and children's organizations. Most schools, like the one my kids go to, have to get along with distracted, working schlubs like me or with parents who — however, willing and hopeful for their children's future — are too busy, stressed, poor or overwhelmed to provide the same level of help.
Do children benefit from the presence of Uber Moms? Absolutely. There is no doubt in my mind that their work pays off, not only in material benefits but in the sense of community that parental engagement can create. But as is often the case in the U.S. these days, those benefits are not equitably distributed. L.A. is a city with high rates of endemic poverty, and women with children are particularly hard hit.
As public divestment in social infrastructure continues, only some kids have the kinds of moms (which really means the kind of family resources) who can shelter them from the pernicious effects of social abandonment. And as the spatial gaps between the wealthy and poor widen, kids from these different families are less and less likely to mix.
So a reliance on moms, at least in the context of a school community, has started to seem like a rather fraught situation. There is an ever-greater need for parental involvement, but that's more likely to happen at wealthy schools where parents have the means to fill in the gap left by a de-funded education system. And that's why I think it's such a sad, sad thing to point the finger at parents for failing to be involved when in reality we should be pointing the finger at much bigger and stronger social forces. Bigger, even, than moms. (Really, more powerful than Mom. I just wrote that! Don't tell my kids.)

A Woman's Art Is Never Done: The Feminae Exhibition
A striking juxtaposition between the past and present courses throughout the small gallery. Celia Blomberg's "International Women's Day March 8" can't help but make one think of 2017's Women's March, which occurred 37 years after the print's first appearance.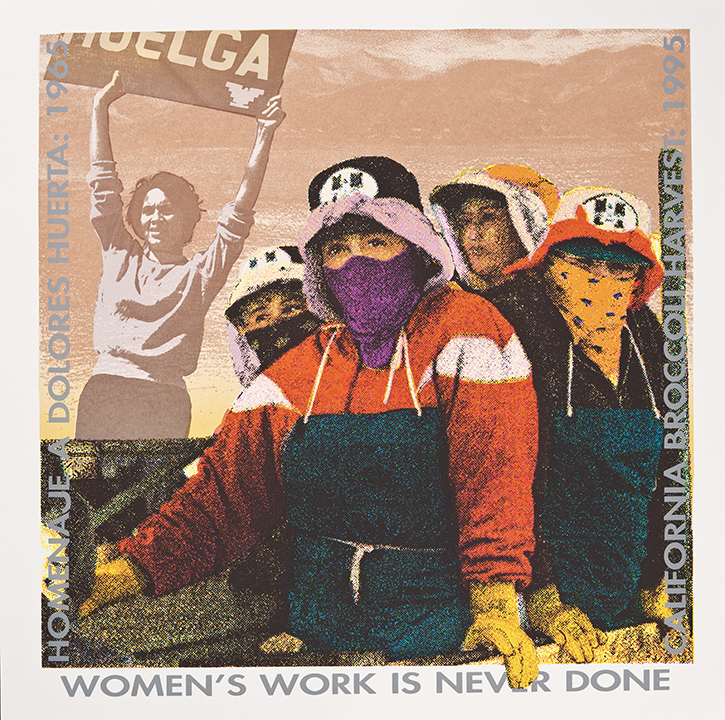 Among the 50-plus works in the Feminae: Typographic Voices of Women By Women exhibit is Yolanda Lopez's "Women's Work is Never Done." Lopez's title is particularly ironic, given the exhibit's gender-based subject matter. The show spans work from the past 50 years, making it easy to understand how much society is still grappling with its themes of gender inequality. Culled from the archives of the Center for the Study of Political Graphics, the graphic images of protest, persuasion and empowerment are truly works of art in their own right.
However, political posters aren't made to merely spruce up walls, but to help figuratively bring barriers down as well.
Two silkscreens from the 1970s, Liliana Porter and John Schneider's "This Woman is Vietnamese" and See Red Woman's Workshop's "So Long As Women Are Not Free People Are Not Free," are particularly powerful, underscoring, as they do, the fact that the subjugation and persecution of women crosses borders and cultures as an unfortunate shared global experience. These two pieces' stark simplicity exemplifies most of the work in the exhibit. In the former, a New York Times photo of a distraught Vietnamese woman with a gun held to her head is centered above these basic words typed out in a typewriter font: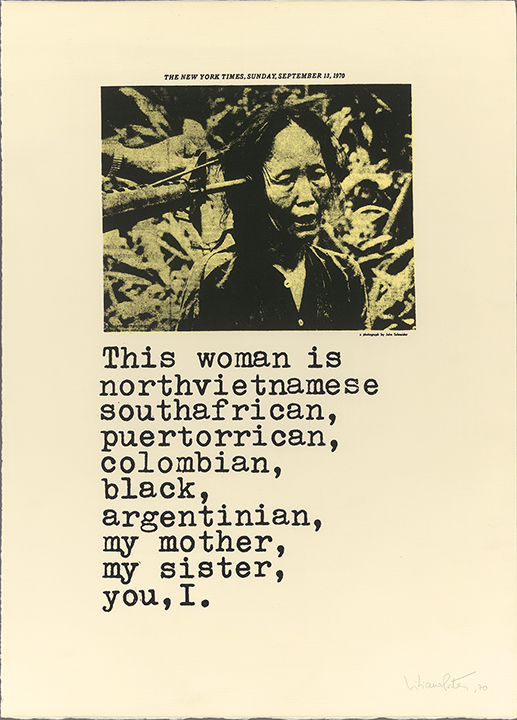 This woman is
northvietnamese
southafrican
puertorrican,
colombian,
black,
argentinian,
my mother,
my sister,
you, I.
By juxtaposing the photo with these words, the creators take the plight of this woman and immediately globalize her pain. In the latter, three female demonstrators are silkscreened in red onto a yellow background. They are marginalized by being stuck in the lower left third of the poster, but two of them are raising their fists skyward and their mouths are open, screaming in defiance. Its non-serif, eponymous type reads: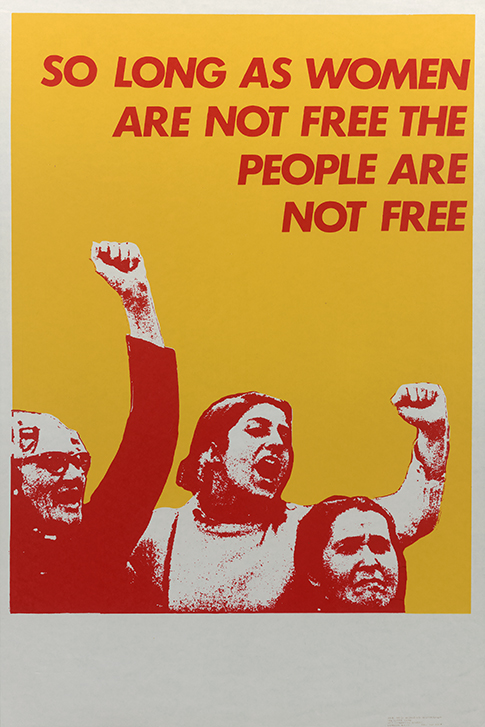 SO LONG AS WOMEN
ARE NOT FREE THE
PEOPLE ARE
NOT FREE
This piece's message takes the global message even farther, making the plight of women a human one — a common theme in the exhibition.
There is also a striking juxtaposition between the past and present that seethes throughout the small gallery. Celia Blomberg's "International Women's Day March 8" can't help but make one think of 2017's Women's March that would take place 37 years later. See Red Woman's Workshop's 1977 "Black Women Will Not Be Intimidated" could easily be repurposed to address the recent spate of blue-on-black brutality. Notable works by Barbara Kruger, Sister Corita Kent and the Guerilla Girls are also included.
Ironically , while it can be surmised that most of these works were made as populist posters to be distributed at the time as banners of protest, their beautiful simplicity and nostalgic elegance probably have resulted in the originals (mostly now found in art museums) sporting hefty vintage-resale prices.
But it is not just the art that has stood the test of time. The fact that the issues addressed in the show — feminism, choice, gender equality, war, immigration, police brutality or violence against women — are all issues at the forefront of debate in 2018 ultimately engenders conflicting feelings.
On one the hand, it is inspiring to see a vibrant exhibit that showcases such diversity in artistic styles, no doubt spawned by the diversity of the artists' own backgrounds. On the other hand, there is a realization that while there has been some progress over the past half century, there is so much work to be done.
Art Center's Hoffmitz Milken Center for Typography, 950 South Raymond Ave., Pasadena; through May 15.
---
Copyright Capital & Main