I am just a girl who can't say "no." In my youth this was actually a fun quality, but now it means that I spend a lot of time manning concession booths, volunteering in Sunday school classrooms, and doing whatever else the local Uber Mom has tasked me with. But make no mistake, I am not the Uber Mom. The Uber Mom is the mom who is always in charge. She knows everyone, runs every volunteer effort, and cooks absolutely everything from scratch.
One thing I have noticed about these moms, whose astounding accomplishments are both impressive and deeply annoying (homemade marshmallows? really?), is that they are not dispersed evenly through society. This became particularly apparent to me when my own children moved from a private and rather expensive pre-school to a public school in LAUSD. Overnight we went (as my husband likes to point out) from being young, poor parents to being old, rich parents. In addition to suddenly aging, the battery of Uber Moms disappeared. There were no more lavender-infused, castle-shaped, poppy-seed cakes at our bake sales.
To be honest, I have not experienced this as a huge emotional loss, but I do have to say that the Uber Moms contribute a lot more to a school than fancy baked goods. Surplussed from the labor force by their husbands' success and the ridiculous but very real class-based needs of their children, the Uber Moms are usually well- educated and experienced professionals. They provide a steady stream of high-grade free labor, cultural cachet and (either directly or through their efforts) donations and attention. They can do this largely because they have immense resources behind them, often in the form of a husband's income that can support not only themselves but several servants to take care of the more mundane domestic chores that might otherwise distract them from extensive volunteering.
With schools in such dire straits, the efforts of these Uber Moms are crucial, but the benefits of their considerable capabilities are confined to a very small number of schools and children's organizations. Most schools, like the one my kids go to, have to get along with distracted, working schlubs like me or with parents who — however, willing and hopeful for their children's future — are too busy, stressed, poor or overwhelmed to provide the same level of help.
Do children benefit from the presence of Uber Moms? Absolutely. There is no doubt in my mind that their work pays off, not only in material benefits but in the sense of community that parental engagement can create. But as is often the case in the U.S. these days, those benefits are not equitably distributed. L.A. is a city with high rates of endemic poverty, and women with children are particularly hard hit.
As public divestment in social infrastructure continues, only some kids have the kinds of moms (which really means the kind of family resources) who can shelter them from the pernicious effects of social abandonment. And as the spatial gaps between the wealthy and poor widen, kids from these different families are less and less likely to mix.
So a reliance on moms, at least in the context of a school community, has started to seem like a rather fraught situation. There is an ever-greater need for parental involvement, but that's more likely to happen at wealthy schools where parents have the means to fill in the gap left by a de-funded education system. And that's why I think it's such a sad, sad thing to point the finger at parents for failing to be involved when in reality we should be pointing the finger at much bigger and stronger social forces. Bigger, even, than moms. (Really, more powerful than Mom. I just wrote that! Don't tell my kids.)

'Skeleton Crew' Is a Play With a Moral Spine
Set in a Detroit automobile outfitting plant, Dominique Morisseau's drama grabs you from the start with its focus on blue-collar men and women, and their struggle for dignity and self-respect.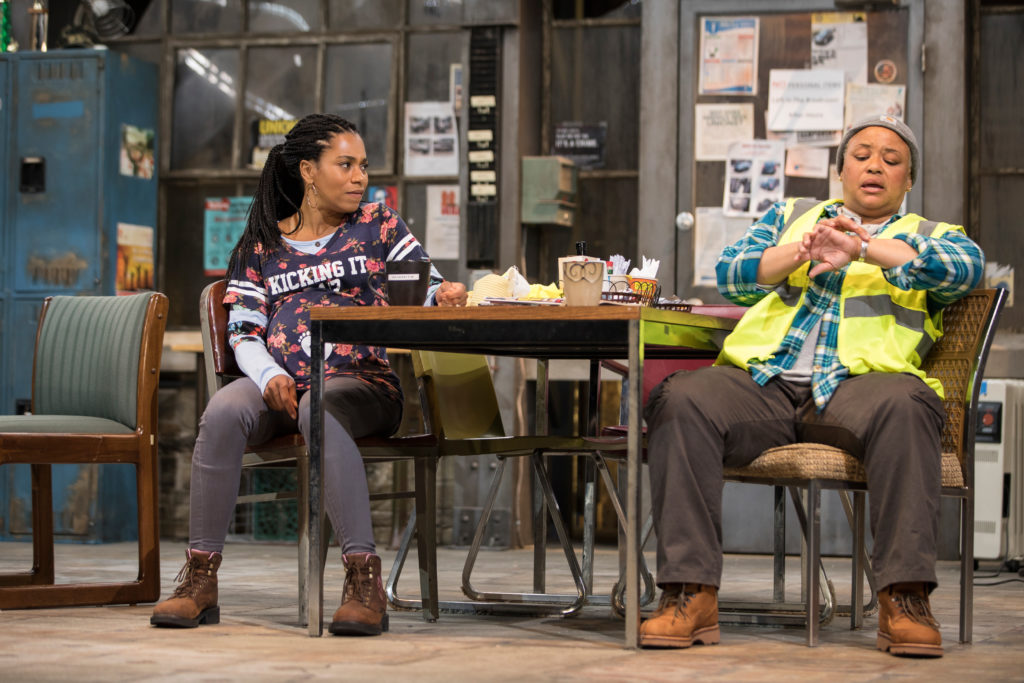 Working-class men and women of color are rarely front and center in today's media and, likewise, are presented all too occasionally on the American stage. So it's buoying to see that trend bucked in playwright Dominique Morisseau's percipient and well-crafted drama, Skeleton Crew. The play is the final installment in her Detroit  Project Trilogy; the first, Paradise Blue, is set in the 1940s amidst displacement caused by urban renewal and gentrification, while the second, Detroit '67, transpires on the eve of the 1967 Detroit riots sparked by a police action.
Directed by Patricia McGregor at Los Angeles' Geffen Playhouse, Skeleton Crew is a play with a moral spine. It takes place in 2008, when the shrinking U.S. auto industry is being further downsized. Morisseau's engaging quartet of characters — Faye (Caroline Stefanie Clay), Dez (Armari Cheatom), Shanita (Kelly McCreary) and Reggie (DB Woodside) – are employed at an automobile outfitting plant. Faye, Dez and Shanita are workers on the line while Reggie (who has a wife and kids, and has pulled himself together after a troubled youth) is their supervisor.
The first three customarily mingle in their break room (designer Rachel Myers' impressively cluttered, dingy and detailed set), trading the sort of familiar barbs and genuine concern for each other common among longtime co-workers. They also face off on philosophy: Upper-middle-aged Faye and the younger, pregnant Shanita take pride in their labor, while Dez, though a good worker, is a malcontent scornful of management and firm in the belief that everyone needs to watch out for himself. He's a thorn in Reggie's side, for while Reggie wants to be supportive of his workers, he must act at the behest of higher management. For his part, Dez resents Reggie's authority, and a palpable unease exists between them.
Besides this male matchup, we're made privy to Dez's attraction to Shanita, who mostly turns away his advances, but every now and then displays a hint of interest. Most poignant is Reggie's regard and affection for the lesbian Faye, which has roots in his boyhood when she loved, and lived, with his now-deceased mom.
These people's various predicaments intensify when rumors spread of the plant's shutdown — a disaster for all, but a particular calamity for the already near-broke Faye who, one year short of retirement, would lose her pension. The crisis forces each of these people to make a choice.
A sound piece of social realism, Skeleton Crew grabs you from the start in its focus on blue-collar men and women, and their struggle against odds for dignity and self-respect. Morisseau not only furnishes these characters a platform for their travails, she endows them with strong values, big hearts and the opportunity to choose between right and wrong.
Unfortunately, the performance I attended did not soar. Many exchanges lacked a fresh edge. The actors certainly had their characters down, but too often they appeared to be coasting on technique. (This seemed particularly true of Clay, who performed the role to great accolades in Washington, DC in 2017, also under McGregor's direction). Additionally, some of the stage movement was not entirely fluid; in confrontations, actors sometimes would just stand and face each other in an artificial way. And Cheatom's interpretation of Dez struck me as a bit overly churlish and depressive: I needed more glimpses of the intelligence and edge that would secretly attract the strong, self-directed Shanita.
The most compelling moments belong to Woodside, well-cast as a man trying his best in difficult circumstances to do the right thing.
---
Gil Cates Theater at the Geffen Playhouse, 10886 Le Conte Ave., Westwood Village; Tues.-Fri., 8 p.m.; Sat., 3 & 8 p.m. Sun., 2 & 7 p.m.; through July 8. (310) 208-5454 or www.geffenplayhouse.org