Occupy's Obligatory Leaders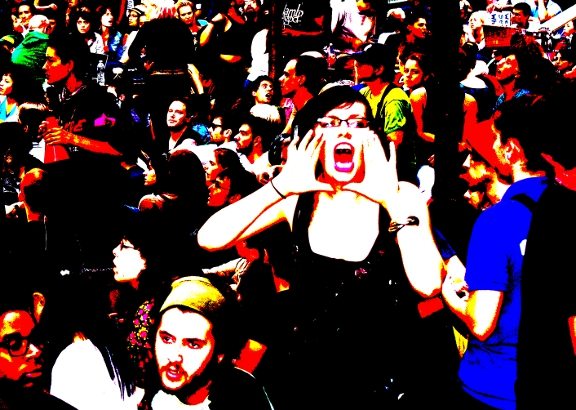 David Shankbone/Wikimedia
It seems inevitable that national coverage of the Occupy movement has been dying down. The sporadic stories I read are of arrests of occupiers in different cities, but I surmise that this too will eventually become old hat in the media and we will soon settle our attentions wholeheartedly on the presidential election, which in my opinion is a real shame.
I've grown weary of our gerrymandered elections. For a country that holds freedom of choice so dear to American life, I find it odd and disheartening that we are really only given two parties to choose from. The consumer in me gets depressed every election cycle. It's akin to going to Ben and Jerry's and being told that you can only have chocolate or vanilla.
My sincere hope is that this year the narrative is different. I am pinning my hopes on the Occupy movement to resurrect itself to the national news media and overshadow our fixed-choice election for the presidency. What the movement needs is a fresh news cycle designed from a place of strategic thinking.
I once took a playwriting course where the instructor taught the class about the importance of the obligatory scene. The obligatory scene goes something like this. A man makes a statement towards the beginning of the play with a line of dialogue. "I will never shoot a gun." It suggests a reverse psychological opening in the mind of the audience, a leap forward in time where everyone knows that before this play is over that man will most certainly be shooting a gun. He has to for drama's sake. Anything else would be robbing the audience of the obligatory scene.
The occupiers may not realize they've done this, but they've created an obligatory scene in the mind of the public. By professing to be leader-averse, they've left us wondering — when will there be representatives of the group as a whole? When will the movement start speaking in a few chosen voices rather than the discordant and sometimes conflicting ramblings of rightly irritated Americans?
It's a tricky question for a bottom-to-top movement whose members are especially wary of being co-opted by other groups, but I would argue that it's more likely to be co-opted if they don't choose representatives of the movement. Chaos breeds opportunity. The Democrats are practically waiting in the wings with their arms wide open.
There are wonderful, natural leaders who have come out of the Occupy movement. Jesse Lagreca has become a great example of someone who occupiers respect. He is nimble of mind and has shown his composure amazingly well in countless television interviews including a smack down of a Fox news reporter that went viral on YouTube. Jesse knows the issues. I believe he would be an extremely important asset regarding leadership of the movement. I suggest the general assembly in New York take a vote on him and make him a delegate that represents their keenest minds and best ideas.
Closer to home, I have witnessed Mario Brito become an amazingly articulate spokesperson for Occupy L.A. He must be effective because many right-wing blogs have already tried to tar him as a communist. Apparently it's easy for the right to confuse union activist with communist.
I've personally seen Mario speak at a number of rallies and general assemblies. The occupiers in Los Angeles respect Mario's natural leadership. I suggest the general assembly here in Los Angeles take a vote on him and make him our delegate on the West Coast.
My point is that we have plenty of leaders worthy of being voted on from all over the country and all over the world for that matter. The general assemblies must put their natural leaders to a purpose not only for its own psychological development of seeing itself progress, but for the sheer survival of the movement itself. Giving the movement representable leaders would show that we're not entirely cynical and that we can trust a chosen few to do the will of the rest of us. Our platforms are already clear. Our leadership isn't.
Let's vote. Let's send our delegates to a Philadelphia-style convention. Let's get a fresh news cycle that isn't about arrests, but about the Occupy movement rising to a new level. Let's overshadow the Presidential election with a new narrative.
It's an obligatory scene that I'm dying to see.

'Skeleton Crew' Is a Play With a Moral Spine
Set in a Detroit automobile outfitting plant, Dominique Morisseau's drama grabs you from the start with its focus on blue-collar men and women, and their struggle for dignity and self-respect.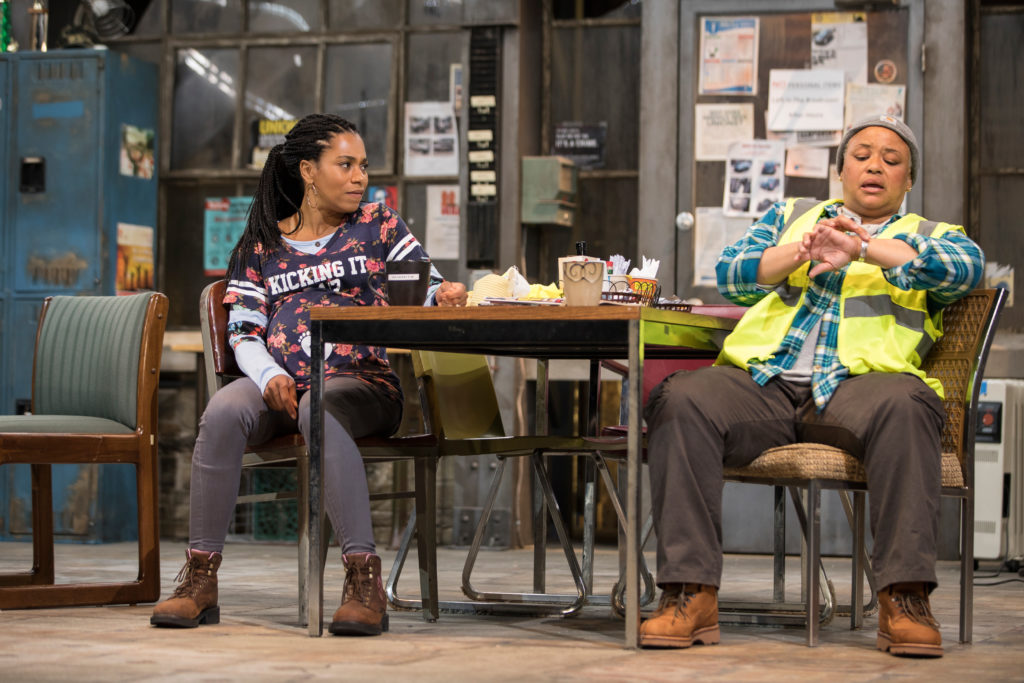 Working-class men and women of color are rarely front and center in today's media and, likewise, are presented all too occasionally on the American stage. So it's buoying to see that trend bucked in playwright Dominique Morisseau's percipient and well-crafted drama, Skeleton Crew. The play is the final installment in her Detroit  Project Trilogy; the first, Paradise Blue, is set in the 1940s amidst displacement caused by urban renewal and gentrification, while the second, Detroit '67, transpires on the eve of the 1967 Detroit riots sparked by a police action.
Directed by Patricia McGregor at Los Angeles' Geffen Playhouse, Skeleton Crew is a play with a moral spine. It takes place in 2008, when the shrinking U.S. auto industry is being further downsized. Morisseau's engaging quartet of characters — Faye (Caroline Stefanie Clay), Dez (Armari Cheatom), Shanita (Kelly McCreary) and Reggie (DB Woodside) – are employed at an automobile outfitting plant. Faye, Dez and Shanita are workers on the line while Reggie (who has a wife and kids, and has pulled himself together after a troubled youth) is their supervisor.
The first three customarily mingle in their break room (designer Rachel Myers' impressively cluttered, dingy and detailed set), trading the sort of familiar barbs and genuine concern for each other common among longtime co-workers. They also face off on philosophy: Upper-middle-aged Faye and the younger, pregnant Shanita take pride in their labor, while Dez, though a good worker, is a malcontent scornful of management and firm in the belief that everyone needs to watch out for himself. He's a thorn in Reggie's side, for while Reggie wants to be supportive of his workers, he must act at the behest of higher management. For his part, Dez resents Reggie's authority, and a palpable unease exists between them.
Besides this male matchup, we're made privy to Dez's attraction to Shanita, who mostly turns away his advances, but every now and then displays a hint of interest. Most poignant is Reggie's regard and affection for the lesbian Faye, which has roots in his boyhood when she loved, and lived, with his now-deceased mom.
These people's various predicaments intensify when rumors spread of the plant's shutdown — a disaster for all, but a particular calamity for the already near-broke Faye who, one year short of retirement, would lose her pension. The crisis forces each of these people to make a choice.
A sound piece of social realism, Skeleton Crew grabs you from the start in its focus on blue-collar men and women, and their struggle against odds for dignity and self-respect. Morisseau not only furnishes these characters a platform for their travails, she endows them with strong values, big hearts and the opportunity to choose between right and wrong.
Unfortunately, the performance I attended did not soar. Many exchanges lacked a fresh edge. The actors certainly had their characters down, but too often they appeared to be coasting on technique. (This seemed particularly true of Clay, who performed the role to great accolades in Washington, DC in 2017, also under McGregor's direction). Additionally, some of the stage movement was not entirely fluid; in confrontations, actors sometimes would just stand and face each other in an artificial way. And Cheatom's interpretation of Dez struck me as a bit overly churlish and depressive: I needed more glimpses of the intelligence and edge that would secretly attract the strong, self-directed Shanita.
The most compelling moments belong to Woodside, well-cast as a man trying his best in difficult circumstances to do the right thing.
---
Gil Cates Theater at the Geffen Playhouse, 10886 Le Conte Ave., Westwood Village; Tues.-Fri., 8 p.m.; Sat., 3 & 8 p.m. Sun., 2 & 7 p.m.; through July 8. (310) 208-5454 or www.geffenplayhouse.org