Occupy's Obligatory Leaders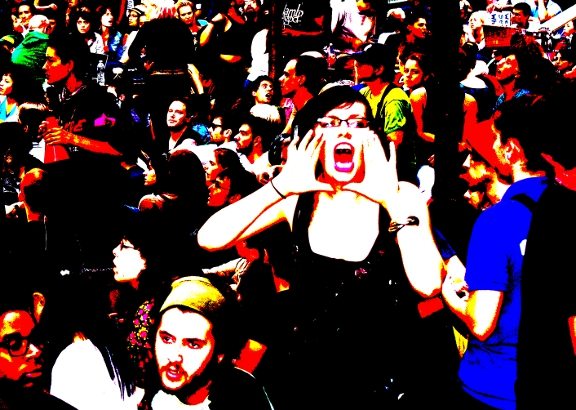 David Shankbone/Wikimedia
It seems inevitable that national coverage of the Occupy movement has been dying down. The sporadic stories I read are of arrests of occupiers in different cities, but I surmise that this too will eventually become old hat in the media and we will soon settle our attentions wholeheartedly on the presidential election, which in my opinion is a real shame.
I've grown weary of our gerrymandered elections. For a country that holds freedom of choice so dear to American life, I find it odd and disheartening that we are really only given two parties to choose from. The consumer in me gets depressed every election cycle. It's akin to going to Ben and Jerry's and being told that you can only have chocolate or vanilla.
My sincere hope is that this year the narrative is different. I am pinning my hopes on the Occupy movement to resurrect itself to the national news media and overshadow our fixed-choice election for the presidency. What the movement needs is a fresh news cycle designed from a place of strategic thinking.
I once took a playwriting course where the instructor taught the class about the importance of the obligatory scene. The obligatory scene goes something like this. A man makes a statement towards the beginning of the play with a line of dialogue. "I will never shoot a gun." It suggests a reverse psychological opening in the mind of the audience, a leap forward in time where everyone knows that before this play is over that man will most certainly be shooting a gun. He has to for drama's sake. Anything else would be robbing the audience of the obligatory scene.
The occupiers may not realize they've done this, but they've created an obligatory scene in the mind of the public. By professing to be leader-averse, they've left us wondering — when will there be representatives of the group as a whole? When will the movement start speaking in a few chosen voices rather than the discordant and sometimes conflicting ramblings of rightly irritated Americans?
It's a tricky question for a bottom-to-top movement whose members are especially wary of being co-opted by other groups, but I would argue that it's more likely to be co-opted if they don't choose representatives of the movement. Chaos breeds opportunity. The Democrats are practically waiting in the wings with their arms wide open.
There are wonderful, natural leaders who have come out of the Occupy movement. Jesse Lagreca has become a great example of someone who occupiers respect. He is nimble of mind and has shown his composure amazingly well in countless television interviews including a smack down of a Fox news reporter that went viral on YouTube. Jesse knows the issues. I believe he would be an extremely important asset regarding leadership of the movement. I suggest the general assembly in New York take a vote on him and make him a delegate that represents their keenest minds and best ideas.
Closer to home, I have witnessed Mario Brito become an amazingly articulate spokesperson for Occupy L.A. He must be effective because many right-wing blogs have already tried to tar him as a communist. Apparently it's easy for the right to confuse union activist with communist.
I've personally seen Mario speak at a number of rallies and general assemblies. The occupiers in Los Angeles respect Mario's natural leadership. I suggest the general assembly here in Los Angeles take a vote on him and make him our delegate on the West Coast.
My point is that we have plenty of leaders worthy of being voted on from all over the country and all over the world for that matter. The general assemblies must put their natural leaders to a purpose not only for its own psychological development of seeing itself progress, but for the sheer survival of the movement itself. Giving the movement representable leaders would show that we're not entirely cynical and that we can trust a chosen few to do the will of the rest of us. Our platforms are already clear. Our leadership isn't.
Let's vote. Let's send our delegates to a Philadelphia-style convention. Let's get a fresh news cycle that isn't about arrests, but about the Occupy movement rising to a new level. Let's overshadow the Presidential election with a new narrative.
It's an obligatory scene that I'm dying to see.

A Woman's Art Is Never Done: The Feminae Exhibition
A striking juxtaposition between the past and present courses throughout the small gallery. Celia Blomberg's "International Women's Day March 8" can't help but make one think of 2017's Women's March, which occurred 37 years after the print's first appearance.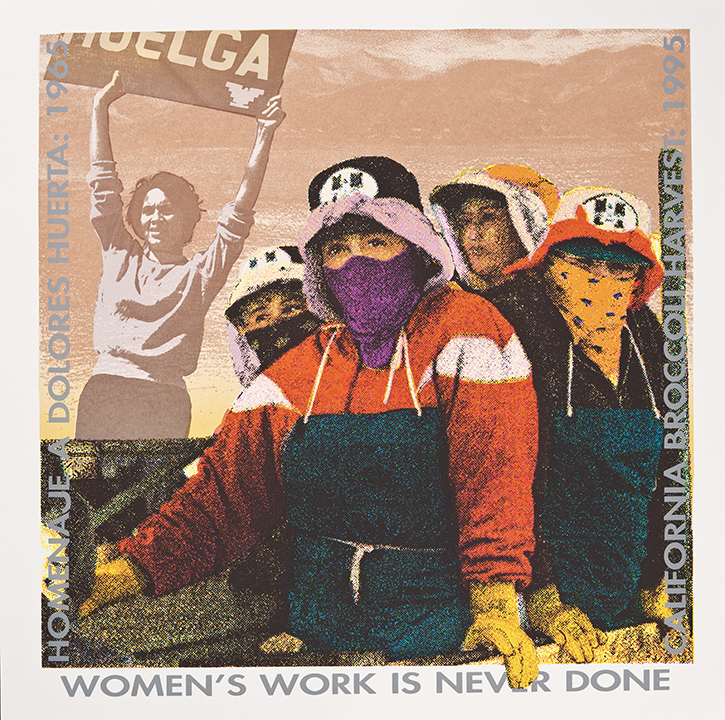 Among the 50-plus works in the Feminae: Typographic Voices of Women By Women exhibit is Yolanda Lopez's "Women's Work is Never Done." Lopez's title is particularly ironic, given the exhibit's gender-based subject matter. The show spans work from the past 50 years, making it easy to understand how much society is still grappling with its themes of gender inequality. Culled from the archives of the Center for the Study of Political Graphics, the graphic images of protest, persuasion and empowerment are truly works of art in their own right.
However, political posters aren't made to merely spruce up walls, but to help figuratively bring barriers down as well.
Two silkscreens from the 1970s, Liliana Porter and John Schneider's "This Woman is Vietnamese" and See Red Woman's Workshop's "So Long As Women Are Not Free People Are Not Free," are particularly powerful, underscoring, as they do, the fact that the subjugation and persecution of women crosses borders and cultures as an unfortunate shared global experience. These two pieces' stark simplicity exemplifies most of the work in the exhibit. In the former, a New York Times photo of a distraught Vietnamese woman with a gun held to her head is centered above these basic words typed out in a typewriter font: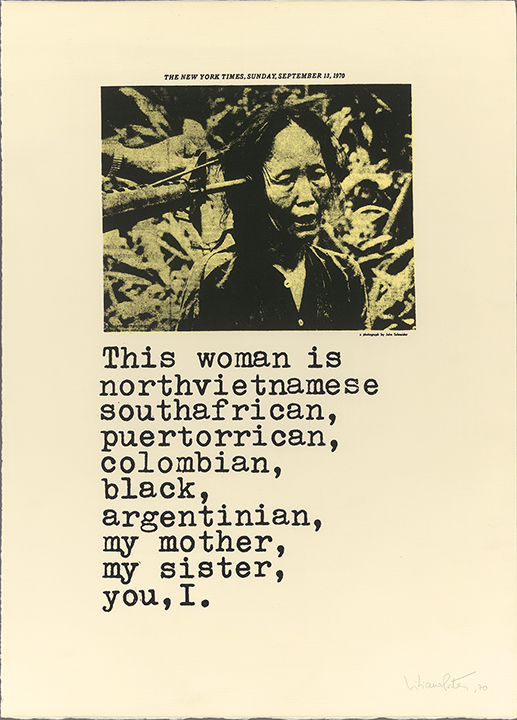 This woman is
northvietnamese
southafrican
puertorrican,
colombian,
black,
argentinian,
my mother,
my sister,
you, I.
By juxtaposing the photo with these words, the creators take the plight of this woman and immediately globalize her pain. In the latter, three female demonstrators are silkscreened in red onto a yellow background. They are marginalized by being stuck in the lower left third of the poster, but two of them are raising their fists skyward and their mouths are open, screaming in defiance. Its non-serif, eponymous type reads: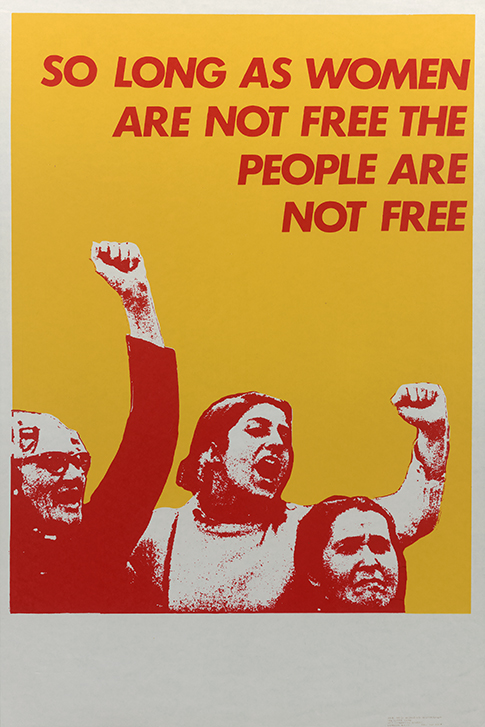 SO LONG AS WOMEN
ARE NOT FREE THE
PEOPLE ARE
NOT FREE
This piece's message takes the global message even farther, making the plight of women a human one — a common theme in the exhibition.
There is also a striking juxtaposition between the past and present that seethes throughout the small gallery. Celia Blomberg's "International Women's Day March 8" can't help but make one think of 2017's Women's March that would take place 37 years later. See Red Woman's Workshop's 1977 "Black Women Will Not Be Intimidated" could easily be repurposed to address the recent spate of blue-on-black brutality. Notable works by Barbara Kruger, Sister Corita Kent and the Guerilla Girls are also included.
Ironically , while it can be surmised that most of these works were made as populist posters to be distributed at the time as banners of protest, their beautiful simplicity and nostalgic elegance probably have resulted in the originals (mostly now found in art museums) sporting hefty vintage-resale prices.
But it is not just the art that has stood the test of time. The fact that the issues addressed in the show — feminism, choice, gender equality, war, immigration, police brutality or violence against women — are all issues at the forefront of debate in 2018 ultimately engenders conflicting feelings.
On one the hand, it is inspiring to see a vibrant exhibit that showcases such diversity in artistic styles, no doubt spawned by the diversity of the artists' own backgrounds. On the other hand, there is a realization that while there has been some progress over the past half century, there is so much work to be done.
Art Center's Hoffmitz Milken Center for Typography, 950 South Raymond Ave., Pasadena; through May 15.
---
Copyright Capital & Main