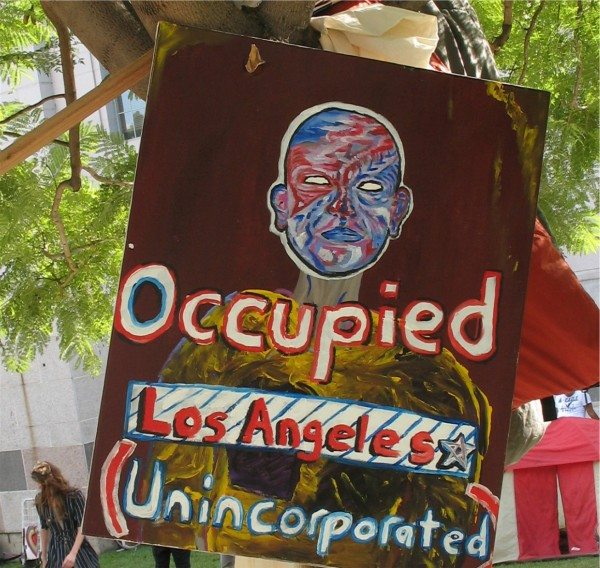 On Tuesday the Occupy L.A. encampment on City Hall's narrow north lawn along Temple St. entered its fourth day. The camp first arose on the large commons on the hall's First St. side, but like nearly all things in the city had to give way to the filming of a movie. That film, Gangster Squad, is about racket busters in the Los Angeles of the 1940s and '50s, an era with almost nothing in common with the present city – except its growing popular dissatisfaction with the direction of the economy.
Some of the hundred or so participants this late, gray afternoon stood on sidewalks with signs ("Restore Glass-Steagall"), while engaging passersby – some from the Conrad Murray trial up the block — or taking the salute of car drivers honking their horns. Others debated among themselves on the lawn, while some kicked back in their small nylon tents. There's no evidence of the usual sectarian cliques encountered at other political Woodstocks, certainly none of what Normal Mailer once called the "sound-as-brickwork-logic-of-the-next-step" professional progressives. Here everything is ad hoc, off the cuff – like the birth of the movement itself.
"It actually did begin spontaneously — no one knew each other," says Clark Davis, one of the bivouac's organizers. "After 10 days of G.A.s (general assemblies) in Pershing Square we were ready to march to City Hall. The City Council totally supports our movement and the police have our back. Today council members came out here to visit us. Richard Alarcon said that if anyone is arrested here, he'll be the first one."
For now the only thing anyone in this well-behaved group could be busted for is sleeping in a city park at night. (The north lawn that runs between Spring and Main is considered park land.)  At present the protesters must strike camp by 10:30 each night and reset their tents on the sidewalk, where they can remain until 6 a.m.
"It's amazing how everybody comes in with different issues but finds common threads," said a 30-year-old Culver City man named Juan. "I'm here because of a spiritual commitment to support humanity – we've lost touch with who we are from sitting on our asses watching TV for hours and hours."
The main focus of the national media, of course, is on Occupy Wall Street, the Adbusters-inspired campaign whose participants began swarming into New York's financial district September 17.
"Our message is that the top one percent of Americans owns America," said Karen Avizur, who added that she is out of work after receiving a BA in film making. (She also stated she was only speaking for herself and not for Occupy L.A.) When I asked why Los Angeles' tent city had not been placed in front of a financial institution such as the Pacific Stock Exchange, Avizur noted that several downtown banks have been the scenes of Occupy L.A. rallies.
At present the camp has a food distribution tent, a media center and recycling point. Clark Davis, a professional carpenter and cabinet maker, said talks are underway with the city to allow campers to remain overnight on the south lawn – he even hopes to be able to move everyone back on the big commons, once Gangster Squad leaves.