Occupy America: The Right's Newest Reality TV Show
By now it's obvious that Occupy Wall Street's sophomore month is spawning a spin-off sideshow – a kind of reality TV moment in which conservative media apologists for the "one percent" alight from taxis and wade into crowds of protesters who are wearing hoodies and black bandanas. Into the belly of the collectivist beast, as it were. The pundits then vigorously articulate their grievances against the 20thCentury to the Occupiers and the merely curious who have gathered round.
The trail for these adventurers was blazed by Fox News eminence grise Geraldo Rivera, whose tumultuous forays into Ziccotti Park have made him a martyr to tax-paying "53 Percenters" from Montauk Point to Santa Clarita.
Last week Reason TV, an arm of the libertarian magazine Reason, produced a video in which radical free-marketeer Peter Schiff made a similar pilgrimage into the lion's den. As an assistant held a sign proclaiming "I Am the 1% — Let's Talk," Schiff, a familiar talking head on Fox and CNBC, and owner of the Euro Pacific Capital investment group, pleaded for the downtrodden of the world – meaning Walmart and the late Steve Jobs. He seemed genuinely taken aback when the crowd declined to embrace his Dickensian brand of raw, untreated capitalism.
In a way, Reason TV has helped the Occupiers by providing reports and videos that defend an indefensible status quo, while singing a tune that might be called, "This Land Is My Land." The thrust of Reason's other OWS coverage, like that of much of the corporate media, seems to be that the protesters are not really suffering and so have no right to complain.
Hardly a day goes by without mention of the pretty tents the protesters have pitched at "REI-ville," as OWS has been called, along with numbers proving that the tenters are secretly happy campers because of their education and economic backgrounds. One complainer, who had apparently not watched the Schiff video, with its multi-ethnic Occupiers, told The Caller that the protesters are mostly "white kids."
Unsurprisingly, almost from the Occupy movement's start, the right has been harping on anything hinting of discord among the tents – focusing on isolated anti-Semitic comments of participants, conflicts over pot smoking, the presence of conspiracists or the fact that Michael Moore supports OWS. (Moore's mere arrival on the scene, the right assumes, is enough to allow conservatives to rest their case against OWS.)
But what Reason.com and others don't seem to realize is that videos of their heroes "debating" Occupiers only boomerang on the right. When one Occupier brought up Walmart's "sweatshop-type conditions," Schiff asked of its employees, "Why don't they quit? Walmart's not holding a gun to their heads." He stepped back and  waited in vain for an anticipated round of applause to his Let Them Eat Biscotti comment.
Locally, we've been treated to the shenanigans of frightwing radio jocks Ken and John. The pair, fresh from their coup of feeding the personal phone numbers of an immigrant rights activist to their violently xenophobic listeners, appeared at Occupy L.A. The pair smugly commented on the tent city at City Hall, protected, according to an L.A. Times blog account, by four security guards and half a dozen cops – a stunt that clearly burned up some of the tax dollars the pair are forever braying about on KFI.
The Times piece noted that it all went swimmingly for the pair until an octogenarian Korean War vet angrily asked, "Have you served your country?"
Bummer. All John Kobylt could muster in reply, in the unforgettable manner of mobster Frank Costello, was that he paid his taxes.
Where does this impulse for the wealthy and their media caddies to confront the Occupy rabble come from? The closest historical precedent may have been Richard Nixon's strange, pre-dawn conversations with students at the Lincoln Memorial in the wake of the Kent State shootings.
More likely, the current culture-war safaris stem either from vestigial memories of frat house dares or from genuine outrage of the pundits at the idea that anyone would challenge their flat-earth views of history and the economy, which they have been pouring out with impunity for 20 years. If the latter is the case, then another big bubble of self-delusion is about to burst.

'Skeleton Crew' Is a Play With a Moral Spine
Set in a Detroit automobile outfitting plant, Dominique Morisseau's drama grabs you from the start with its focus on blue-collar men and women, and their struggle for dignity and self-respect.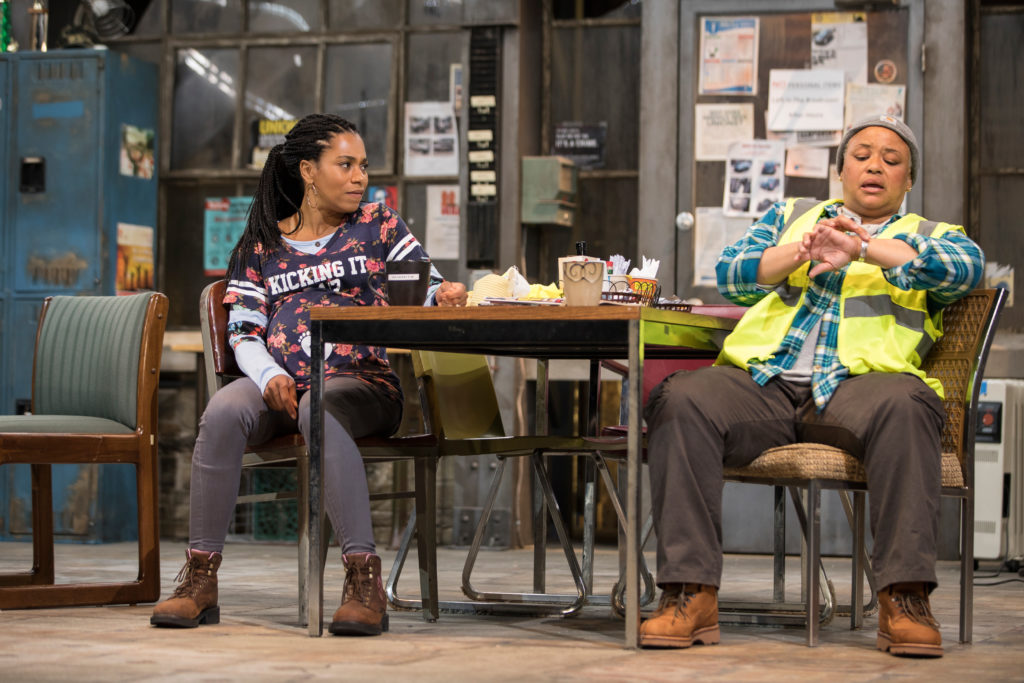 Working-class men and women of color are rarely front and center in today's media and, likewise, are presented all too occasionally on the American stage. So it's buoying to see that trend bucked in playwright Dominique Morisseau's percipient and well-crafted drama, Skeleton Crew. The play is the final installment in her Detroit  Project Trilogy; the first, Paradise Blue, is set in the 1940s amidst displacement caused by urban renewal and gentrification, while the second, Detroit '67, transpires on the eve of the 1967 Detroit riots sparked by a police action.
Directed by Patricia McGregor at Los Angeles' Geffen Playhouse, Skeleton Crew is a play with a moral spine. It takes place in 2008, when the shrinking U.S. auto industry is being further downsized. Morisseau's engaging quartet of characters — Faye (Caroline Stefanie Clay), Dez (Armari Cheatom), Shanita (Kelly McCreary) and Reggie (DB Woodside) – are employed at an automobile outfitting plant. Faye, Dez and Shanita are workers on the line while Reggie (who has a wife and kids, and has pulled himself together after a troubled youth) is their supervisor.
The first three customarily mingle in their break room (designer Rachel Myers' impressively cluttered, dingy and detailed set), trading the sort of familiar barbs and genuine concern for each other common among longtime co-workers. They also face off on philosophy: Upper-middle-aged Faye and the younger, pregnant Shanita take pride in their labor, while Dez, though a good worker, is a malcontent scornful of management and firm in the belief that everyone needs to watch out for himself. He's a thorn in Reggie's side, for while Reggie wants to be supportive of his workers, he must act at the behest of higher management. For his part, Dez resents Reggie's authority, and a palpable unease exists between them.
Besides this male matchup, we're made privy to Dez's attraction to Shanita, who mostly turns away his advances, but every now and then displays a hint of interest. Most poignant is Reggie's regard and affection for the lesbian Faye, which has roots in his boyhood when she loved, and lived, with his now-deceased mom.
These people's various predicaments intensify when rumors spread of the plant's shutdown — a disaster for all, but a particular calamity for the already near-broke Faye who, one year short of retirement, would lose her pension. The crisis forces each of these people to make a choice.
A sound piece of social realism, Skeleton Crew grabs you from the start in its focus on blue-collar men and women, and their struggle against odds for dignity and self-respect. Morisseau not only furnishes these characters a platform for their travails, she endows them with strong values, big hearts and the opportunity to choose between right and wrong.
Unfortunately, the performance I attended did not soar. Many exchanges lacked a fresh edge. The actors certainly had their characters down, but too often they appeared to be coasting on technique. (This seemed particularly true of Clay, who performed the role to great accolades in Washington, DC in 2017, also under McGregor's direction). Additionally, some of the stage movement was not entirely fluid; in confrontations, actors sometimes would just stand and face each other in an artificial way. And Cheatom's interpretation of Dez struck me as a bit overly churlish and depressive: I needed more glimpses of the intelligence and edge that would secretly attract the strong, self-directed Shanita.
The most compelling moments belong to Woodside, well-cast as a man trying his best in difficult circumstances to do the right thing.
---
Gil Cates Theater at the Geffen Playhouse, 10886 Le Conte Ave., Westwood Village; Tues.-Fri., 8 p.m.; Sat., 3 & 8 p.m. Sun., 2 & 7 p.m.; through July 8. (310) 208-5454 or www.geffenplayhouse.org