Occupy America: The Right's Newest Reality TV Show
By now it's obvious that Occupy Wall Street's sophomore month is spawning a spin-off sideshow – a kind of reality TV moment in which conservative media apologists for the "one percent" alight from taxis and wade into crowds of protesters who are wearing hoodies and black bandanas. Into the belly of the collectivist beast, as it were. The pundits then vigorously articulate their grievances against the 20thCentury to the Occupiers and the merely curious who have gathered round.
The trail for these adventurers was blazed by Fox News eminence grise Geraldo Rivera, whose tumultuous forays into Ziccotti Park have made him a martyr to tax-paying "53 Percenters" from Montauk Point to Santa Clarita.
Last week Reason TV, an arm of the libertarian magazine Reason, produced a video in which radical free-marketeer Peter Schiff made a similar pilgrimage into the lion's den. As an assistant held a sign proclaiming "I Am the 1% — Let's Talk," Schiff, a familiar talking head on Fox and CNBC, and owner of the Euro Pacific Capital investment group, pleaded for the downtrodden of the world – meaning Walmart and the late Steve Jobs. He seemed genuinely taken aback when the crowd declined to embrace his Dickensian brand of raw, untreated capitalism.
In a way, Reason TV has helped the Occupiers by providing reports and videos that defend an indefensible status quo, while singing a tune that might be called, "This Land Is My Land." The thrust of Reason's other OWS coverage, like that of much of the corporate media, seems to be that the protesters are not really suffering and so have no right to complain.
Hardly a day goes by without mention of the pretty tents the protesters have pitched at "REI-ville," as OWS has been called, along with numbers proving that the tenters are secretly happy campers because of their education and economic backgrounds. One complainer, who had apparently not watched the Schiff video, with its multi-ethnic Occupiers, told The Caller that the protesters are mostly "white kids."
Unsurprisingly, almost from the Occupy movement's start, the right has been harping on anything hinting of discord among the tents – focusing on isolated anti-Semitic comments of participants, conflicts over pot smoking, the presence of conspiracists or the fact that Michael Moore supports OWS. (Moore's mere arrival on the scene, the right assumes, is enough to allow conservatives to rest their case against OWS.)
But what Reason.com and others don't seem to realize is that videos of their heroes "debating" Occupiers only boomerang on the right. When one Occupier brought up Walmart's "sweatshop-type conditions," Schiff asked of its employees, "Why don't they quit? Walmart's not holding a gun to their heads." He stepped back and  waited in vain for an anticipated round of applause to his Let Them Eat Biscotti comment.
Locally, we've been treated to the shenanigans of frightwing radio jocks Ken and John. The pair, fresh from their coup of feeding the personal phone numbers of an immigrant rights activist to their violently xenophobic listeners, appeared at Occupy L.A. The pair smugly commented on the tent city at City Hall, protected, according to an L.A. Times blog account, by four security guards and half a dozen cops – a stunt that clearly burned up some of the tax dollars the pair are forever braying about on KFI.
The Times piece noted that it all went swimmingly for the pair until an octogenarian Korean War vet angrily asked, "Have you served your country?"
Bummer. All John Kobylt could muster in reply, in the unforgettable manner of mobster Frank Costello, was that he paid his taxes.
Where does this impulse for the wealthy and their media caddies to confront the Occupy rabble come from? The closest historical precedent may have been Richard Nixon's strange, pre-dawn conversations with students at the Lincoln Memorial in the wake of the Kent State shootings.
More likely, the current culture-war safaris stem either from vestigial memories of frat house dares or from genuine outrage of the pundits at the idea that anyone would challenge their flat-earth views of history and the economy, which they have been pouring out with impunity for 20 years. If the latter is the case, then another big bubble of self-delusion is about to burst.
Filmmaker Adam McKay Talks About Dick Cheney and the Imperial Presidency
"Our democracy at its root is about the throne," says the creator of Vice. "But what Cheney tried to do was bring the power back to one person on that throne."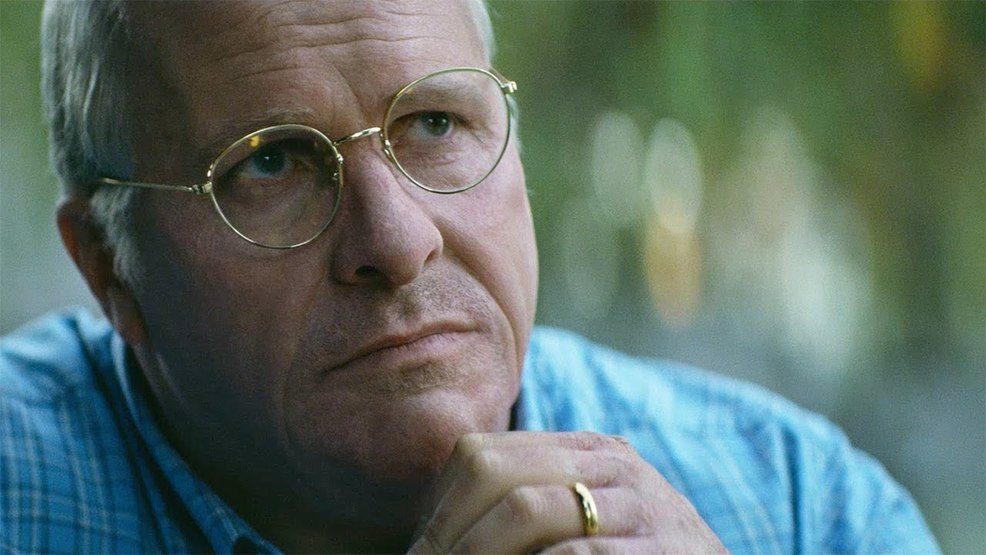 Vice President Dick Cheney quickly faded into the background after leaving the Bush White House in 2009. But while many may not remember the ins and outs of Cheney's record, the recent film Vice argues that he was one of the most powerful and influential architects of the current world, and that Cheney intensified the emergencies facing America today.
Capital & Main reporter David Sirota spoke with Vice screenwriter and director Adam McKay, who had taken on the project after winning an Academy Award for screenwriting on his previous movie, The Big Short.
Vice has been nominated for eight Oscars, including Best Picture — but has also generated its share of controversy. McKay discusses some of the criticism of the film here, along with the twists and turns of the life of Cheney, who rose to become arguably the most potent vice president in American history. The following interview excerpt has been edited for concision and clarity.
---
David Sirota: Do you believe that we are today living in the world that Dick Cheney created?
Adam McKay: Without a doubt, yeah. Trump is a force of charisma, but not in a good way. He's perfect for the 24-hour news cycle — no one knows how to dominate it better than him.
But the actual structural changes that happen to our government, to regulations, to the way we view democracy, to the way the American people interact with government … those changes happened under the hand [of] a grand master of bureaucratic knowledge, Dick Cheney. You look at the Middle East. You look into visions that were widened. I'd definitely go to that period and I say at the center of it, expanding executive power, was Dick Cheney.
There's a scene in the movie where a young Cheney is depicted as not all that partisan — it almost made it seem like him choosing a job with a Democratic or Republican lawmaker was completely random. Is that true to life?
It's not that far off. Cheney's dad was an FDR Democrat. [Dick Cheney] had no interest in politics at all through high school…The first time he really started getting any taste for feet-on-the-floor politics was when he was getting [his] master's up in the University of Wisconsin. He did intern for a Republican, handed out buttons and stuff. We interviewed some people from his early days. He was not an ideologically driven guy.
What he knew was that when he went to D.C. he needed a rocket ship. He needed to get something going. Lynne wasn't entirely happy about him taking this fellowship. She wanted him to get a Ph.D. and become a professor. That was what she always pictured that they would do. So he had to get something going quick when he got to D.C. because he wasn't making any money. And if you wanna get something going quick in the late '60s in Washington, D.C., Donald Rumsfeld was your guy.
What do you think radicalized Dick Cheney and made him such an ideologue?
The first radicalization was just the environment he kind of came of age in, which was the Nixon White House and the Ford White House, which were all about executive power — the imperial presidency. And then his conversation about the unitary executive theory with a young [Antonin] Scalia, who was a lawyer in the Justice Department.
Everything that I found with Cheney goes back to the unitary executive theory. You look at his minority opinion that he wrote on the Iran-Contra affair with David Addington. They actually have several lines in it where they say the president has monarchical-like powers.
The radicalization of Cheney, to me, is two steps. Number one is the political environment he grew up in, [and then] introduction to the unitary executive — [which] was weaponized by 9/11. Especially when he said, "Give me all the unfiltered intelligence." A lot of Washington insiders said, "Anyone who would do that — [it] would drive them crazy." One guy described it as like "listening to Led Zeppelin full volume, 24 hours a day."
So I think he was already an extreme right-winger who then came into collision course with this very traumatic event, 9/11.
Your movie depicts Cheney as motivated by the acquisition of power — but do you believe he had specific policy goals beyond that?
As far as policy goals go, war is the key to being able to use these sorts of unparalleled powers. Some legal scholars would call [these] insane powers. So I always felt like Cheney was putting together these pieces of power to expand his own power … which I do believe made him a power addict … His wife's desire for power, and by extension, America's desire for power, which did fit neatly with the neocons.
But I also think invading Iraq did two things. It activated the unitary executive theory — [if] writings from the DOJ [Department of Justice] that came about at that time were filled with references to the unitary executive theory.
And yes, the oil too, was a part of it. Cheney also is an oil guy. He grew up in an oil state, Wyoming That was his whole life. All his friends are oil guys. I always look at Cheney as a right-hand man, and I think that he serves power: Sometimes that power is oil barons, other times that power is a presidency — the notion of a powerful presidency.
So I think Iraq was sort of a mishmash of ideas. I think it was unitary executive and I think it was definitely oil, and I think it was most of all expansion of executive power and a show of force to the world.
What are the most significant and lasting parts of Cheney's legacy?
I would just say in general, those eight years of Bush and Cheney were so dispiriting that they made a lot of people kind of give up on government. And the fact that we can't fix something that really can be improved pretty easily and pretty quickly, like the opioid epidemic or like gun safety laws. Those are things that 30, 40 years ago we would've had bills passed on the issue. We would've seen fewer deaths within a year, within two years. Even the assault weapon ban, you saw deaths go down after that…
Then, obviously, the Middle East is just a wreck. Our friend, Adam Davidson, had a friend of his, a journalist, go to Iraq recently and come back and just say, "It's awful. It's completely undone." And obviously, with what happened in Syria, ISIS, all that kind of stuff. Those are the clear, kind of bad effects of Cheney and I would say the rise of this particular form of the Republican Party.
Much of your film resurrects events that have been forgotten in the American psyche, because we have this tendency to venerate leaders the moment they leave office. It's as if presidents and their administrations suddenly get immunity from retrospective scrutiny. Why do you think that is?
I feel a lot of this goes back to the pardoning of Nixon. That's a bad, bad thing. I think he should've done some time. I think it's important to not imbue these leaders with king-like mystical properties. Do you remember Jerry Lewis saying, "We should never criticize the president"?
I think we just like the idea of powerful people. We like the idea of a king. We like the idea of these celebrities that get treated like kings. Why did the Bushes keep getting elected to office? Why did the Kennedys keep getting elected to office after several of them did pretty terrible things? We just like that idea. We like the idea that some people's blood is more special than ours. I don't know why. It's really deranged…
Our democracy at its root is about the throne. What they tried to do with the Constitution, the original people that wrote it, was break up the power so you don't have one crazy guy sitting in the throne. But what Cheney tried to do was bring the power back to one person on that throne…
I guess my answer is democracy is still really new, and clearly it's not going well right now. And I think we're going to have to have a whole moment where we look at it and fix a bunch of stuff because parts of it aren't working too well.
Many people say Donald Trump's administration is the worst in American history. After doing a movie on Cheney and the Bush administration, do you agree?
Everyone wants things to be ranked and compared to each other. The real answer is that there is a safe that was filled with diamonds that represent our democracy and checks and balances. They couldn't get a goon like Donald Trump to go in and crack the safe because he doesn't even read books. Like he's not an educated guy.
So they had to go get an expert like Dick Cheney to go in there. Dick Cheney went in, he cracked the safe, he took all the jewels out of the safe, he exited the store, he left the front door wide open. Then after an hour some stray dogs wandered into the store and started crapping all over the place and peeing everywhere. And then when the owner went in, one of the dogs bit him and he said, "These dogs are the worst."
That, to me, is Cheney versus Trump. Yeah. Cheney cracked the safe, Trump is the strange bizarre dude who wandered in (and) took a crap in the store…The police arrest the street guy because look, he took a crap. He's in the store. Meanwhile, Cheney is across town giving W. Bush one diamond while he takes the other 99 and W. Bush is delighted with the one diamond.
---