Obamacare Repeal Showdown Continues
This week could be decisive in determining how many of the over 20 million Americans and five million Californians who gained health insurance under the Affordable Care Act will be allowed to keep it.

T
his week could be decisive in determining how many of the over 20.4 million Americans and five million Californians who gained health insurance under the Affordable Care Act (ACA, or "Obamacare") will be allowed to keep it.
In back-to-back votes Tuesday, Senate Republicans took the first steps in what only last week had seemed impossible — restarting their effort to repeal and replace Obamacare. In the afternoon, Senate Majority Leader Mitch McConnell (R-KY) had corralled enough recalcitrant Republicans to pass a key procedural hurdle that allowed debate on three possible alternatives, each potentially capable of either repealing or repealing and replacing elements of the ACA.
The motion to proceed passed 51-50, but that momentum seemed to falter later, when nine Republicans sided with Democrats to defeat a Tuesday evening vote on the Better Care Reconciliation Act, a modified repeal-and-replace measure that the Congressional Budget Office (CBO) had estimated would throw 22 million Americans off the insurance rolls. That vote, which needed 60 votes to pass, was shot down 57-43.
There are at least two more options remaining to be considered and just three more days for what will likely be a last effort at repeal this year.
Wednesday
The Senate finishes its 20 hours of debate in legislative time.
The Obamacare Repeal Reconciliation Act (ORRA) is scheduled for an afternoon vote. The CBO has estimated that ORRA, a retread of a 2015 repeal-only bill without a replacement, could deprive as many as 32 million Americans of health insurance. It's expected to fail.
Thursday Night Through Friday Morning
A series of votes on amendments to the House health care legislation from both parties along with the possibility of the introduction of other health care legislation.
A vote on the "skinny repeal" of only the ACA's individual mandate and its medical device tax, but whose real purpose would be to trigger a conference committee that would buy time for Senate and House Republicans to rewrite the bill into a passable repeal-and-replace bill.
To get a rough idea of what the Republicans might still have in store, Capital & Main spoke to Richard Kirsch, a senior adviser to the progressive grassroots coalition Health Care for America Now.
Capital & Main: What happened in the Senate Tuesday?
Richard Kirsch: McConnell pulled out every political chit to argue the Republican senators into at least having a motion to discuss the bill, even if there is no majority support for passing any of the things that have actually been proposed.
Which of the two remaining proposals has the best chance of getting passed?
Kirsch: The skinny repeal, [which would] fundamentally get rid of the employer individual mandate and eliminate a tax on medical devices. The individual mandate is generally unpopular with Republicans, and the medical device tax is something which that industry has lobbied really hard against. It's the lowest common denominator that can be agreed on. By doing that, they pass something and then it can go to a conference committee with the House.
What could we see emerge after Labor Day?
Kirsch: We have no idea. It's still possible that they'll pull something out of the Senate that would go to the House. However, even that might have to go to conference. … But what that will be is very hard to tell, because it's going to reflect all of the huge difficulties that Republicans have had in reconciling their far-right wing and their regular right wing. The key thing is, they're going to keep pushing — they're desperate to do that. They still don't have an agreement amongst themselves in the Senate, and they're unlikely to get it, but they're still going to try to find a way to keep the thing going.
Should Obamacare get repealed, do you see the Democrats simply restoring ACA by a similar repeal-and-replace effort whenever they return to power?
Kirsch: Actually, we would expect if there is a Democratic Congress and President, they would certainly reverse what the Republicans are going to try to do. But I think they would go beyond the Affordable Care Act to make some larger changes in the system that would make health care more affordable and more reliable — less reliant on the private insurance industry. You could open up Medicare to everyone in the country, but also continue to offer people the choice of employer coverage as well. …This is all [speculation]. We're still in a big fight, because they're still going to try to pull something out of the Senate, and they're still going to try to pull something out of conference. Even though they're having huge problems, it's still not over.

State Senator Predicts "Sledgehammer Time" If GOP Tax Bill Passes
Holly Mitchell, a leading legislative advocate for children and low-income Californians, says the state may return to the days of budget cutting if the current Congressional Republican tax plan becomes law.

State Senator Holly Mitchell (All photos by Joanne Kim)
Holly Mitchell, the state Senator who represents Los Angeles' heavily blue-collar 30th District, has been called by one colleague the "social conscience of the entire Senate." A personable policy wonk whose career included a stint as chief executive of Crystal Stairs, a child development nonprofit, Mitchell chairs the Senate Budget Committee — the first African-American woman to do so. She recently sat down in Pico-Fairfax with Capital & Main at the Paper and Plastik Cafe to talk about the possible effects of the Republican tax bill on California's poor.
---
Capital & Main: Taking the temperature between now and New Year's, what's your prognosis for the House and Senate tax bills?
Senator Mitchell: The GOP tax plan is a redistribution of wealth from the poor to the rich or semi-rich. It gambles away the health care of poor people and this is unacceptable.
I'm so disappointed with the work of the [U.S.] Senate Budget Committee. I can't imagine being a legislator, getting a report from the Congressional Budget Office that says the things it says about these bills — and voting to pass it. Did they ignore it? Did they not care?
One Senator, when interviewed, expressed concern about the bill's potential to make the deficit skyrocket. When asked if that was enough to make him not vote for it he said, "I'm not sure. I'm still working on it."
Senator Mitchell: The whole point of having the support of fiscal analysts and the Congressional Budget Office, with their independent status, is to provide you with critical data to help you make a decision. How can you say, "Oh yeah, that's bad, but I'm not sure if I'm going to go forward on this or not"? Politics is continuing to trump — lowercase T—what's best.
Is Sacramento concerned?
Senator Mitchell: Am I concerned? Yes! But I think what I'm more concerned about now is the Healthy Families Program.
This is the entitlement for California families who aren't poor enough for Medi-Cal — but don't earn enough to have private insurance.
Senator Mitchell: It provides care for about two million kids [and] requires federal reauthorization. And [Congress] has not reauthorized it. That could have immediate impacts on California's budget. It's a separate process [from the federal tax bills] but they have already missed the deadline.
It's also been said that the tax proposals could undermine affordable housing construction in California because they would affect the credits and tax breaks that developers receive.
Senator Mitchell: Yes, which are critical for developments to pencil out. Given how far behind we are in terms of our housing-unit need, it would be devastating. L.A. County has done amazing things — voters have said yes to Prop M, yes to Prop HHH. All of that could be compromised — this delicate balance where developers can come in, get these credits to build affordable units. We're already behind the eight ball in terms of our need. This would be yet another blow.
Defenders of the tax bill say everybody will get their taxes cut initially. Then by 2027, according to the Congressional Budget Office, middle- and low-income people will experience a net loss.
Senator Mitchell: They claim that they're protecting "the middle class" — folks who make $100,000 and over. But that's not how we define the middle class in California—here the salary threshold is much lower. What they claim is good news, I think, masks the bad news. And they're rushing it through the process.
What steps are needed to analyze and create a response for a new federal tax plan's effect on California?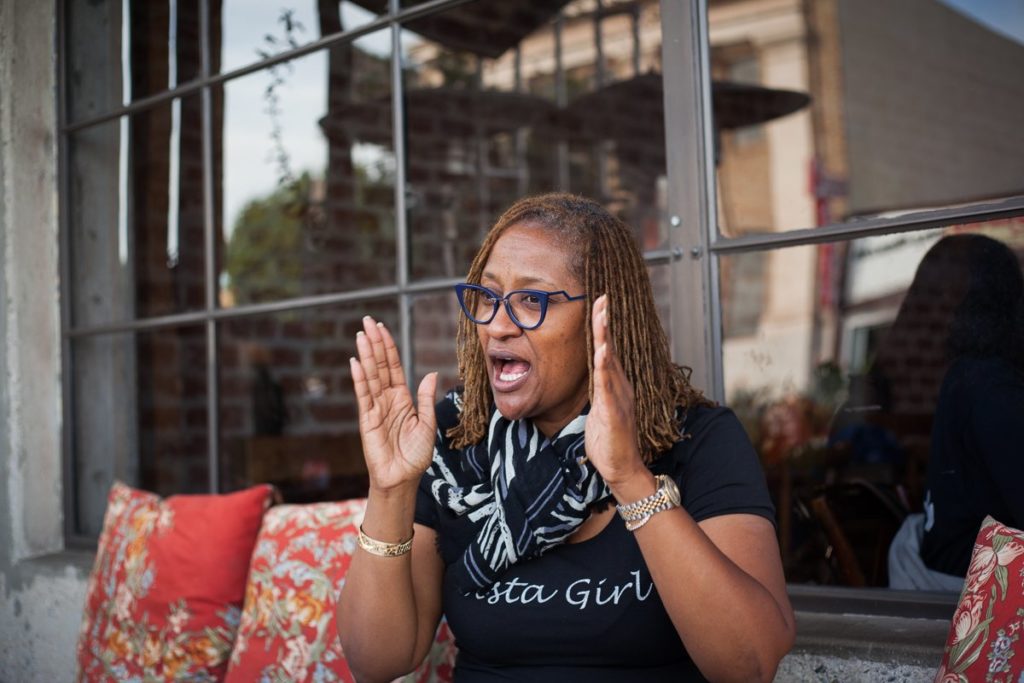 Senator Mitchell: It will be a process. Unlike [the U.S. Senate], I will rely on our Department of Finance, the Legislative Analyst's Office, the Senate Budget Committee staff to have discussions, to have a full budget hearing.
What's your sense of the tax proposals' potential effect on the state's economic health?
Senator Mitchell: How we earn income as a state government could be severely impacted. We are socking money away into rainy-day funds to try to prepare for the time at which our recovery will slow down — [but] we couldn't save enough to prepare for these [federal] proposals and the kind of hole they could blow in the state's general fund.
What's your plan if California does take a financial hit?
Senator Mitchell: As budget chair, I would be forced, as painful as that would be, to go back to the days of cutting. We may not be able to use a scalpel. It may be sledgehammer time — it would be devastating. In terms of the trend we've experienced with investments in K through 12, early education, the investments we have made in the last couple of years in the University of California and Cal State University systems — all these investments that we've made to expand access to services, would be impacted.
We fund Opti-Cal and Dental-Cal [for eye and dental care] — those are the kinds of core, basic human services that we could potentially have to roll back again. Medi-Cal funding helps undergird and support our overall health-care delivery system. If that went away, everything would be compromised.
---
Copyright Capital & Main