Nuns on the Bus Tour to Reach San Francisco Today
A group of nuns began their 6,500-mile bus journey late last month in New Jersey with a view of Ellis Island. Since then, their brightly-decorated blue bus with images of hands raised — to show support for families and immigration reform — has rolled for more than 5,000 miles down Eastern Seaboard roads and into the South. This week marks the California leg of the "Nuns on the Bus" tour supported by NETWORK, a national Catholic social justice group. The nuns' goal during this 15-state, 40-city whirlwind event which ends on June 18: "Standing with immigrants, faith-filled activists, and Catholic Sisters who serve immigrant communities."
Last Wednesday, the nuns were scheduled to speak with community groups in Nogales, Arizona and federal lawmakers in Phoenix. After the meeting with government leaders in Phoenix, they joined immigration groups to discuss the tour, the importance of family unity and citizenship for 11 million undocumented immigrants in the country, organizers said.
The "Nuns on the Bus" tour is another sign of the coalition of grassroots, labor and religious groups that is willing to speak about families who want better lives, said James Garcia, spokesman for Promise Arizona, an organization that supports immigrants.
"The first thing is that this speaks to the faith community's involvement in this issue. We've heard in recent months of support from evangelicals and the Jewish community. Recently, the Catholic Church issued a statement of support," he said.
"We, as immigrant rights organizations here (in Arizona), may have felt like a minority voice a year or two ago. Now, we feel like we're part of that majority voice."
Gina Sanchez, an immigrant from Mexico who volunteers with Promise Arizona, called the nuns' visit inspiring and said it is the right time to fix what she views as a flawed immigration system.
On their regularly-updated blog, the intrepid group of nuns is filing dispatches about meeting deferred-action students, refugees, labor leaders and fellow members of the faith community. During their tour stops, the nuns are talking about an immigration policy that reflects "our values, not our fears."
Sister Elaine Betoncourt posted a June 4 blog post about the thoughts that flooded her mind when the tour visited Birmingham, Alabama. She walked through Kelly Ingram Park, near the site of the 16th Street Baptist Church bombing in 1963, in which four children died during the civil rights movement.
Also that year, in the park, was a mass demonstration in which police and firefighters attacked people standing up for their civil rights.
"Reading the accounts in the park of the horrendous actions that happened here in 1963 brought the feeling of walking on holy ground, the sacred place where on May 2, 1963, 600 children crusaders were savagely hauled off to jail for protesting segregation and standing for justice," Betoncourt writes.
She quickly makes a parallel to this year's immigration effort and push by activists and community groups to stop the estimated 1,100 daily deportations of undocumented immigrants from the country.
"We hear repeated stories of children living daily in fear of their parents being stolen away by ICE (Immigration and Customs Enforcement) and more deportations taking place than in past years," she writes.
Earlier, the nuns were in Texas and New Mexico. And Arizona has been no stranger to the issue of immigration in recent years – and recent weeks.
In late May, a federal judge ruled that Maricopa County Sheriff Joe Arpaio and his deputies singled out Latinos during law enforcement actions, especially in regards to immigration. Grassroots immigration groups, such as Promise Arizona, called Arpaio's actions "racial profiling."
From Arizona, the nuns take their tour to California. Just as they are ending, another tour highlighting immigration will start.
Grassroots activists affiliated with Border Network for Human Rights and Reform Immigration for Texas Alliance are launching a bus trip – which will cover 3,000 miles and include 16 cities in Texas. That caravan starts on June 17 and ends on June 27.
As the bus tour activists travel the country, similar to caravans earlier this year, lawmakers in Congress will continue to debate changes to what would become — if approved — the most sweeping immigration reform bill in more than 25 years.
(Brad Wong is assistant news editor for Equal Voice News, where this story first appeared. Reposted with permission; some slight edits reflecting schedule updates have been made.)

The Tests Facing California's New Governor
Gavin Newsom now leads the state with the nation's biggest economy and largest population — and one riven by economic inequality. What will be his most important challenges?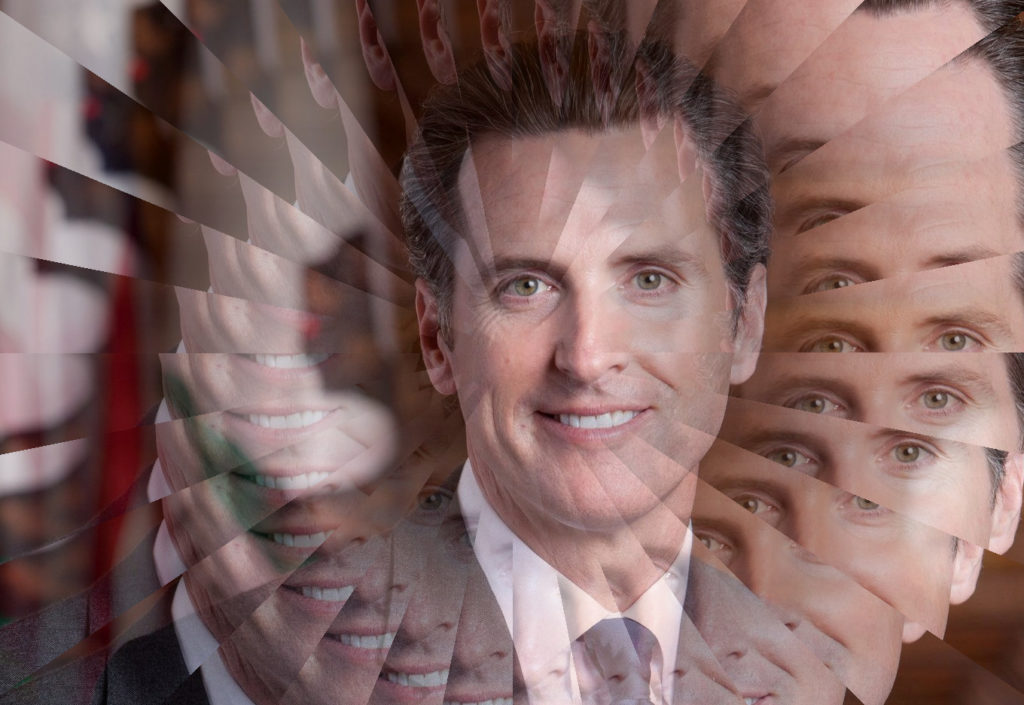 Gavin Newsom inherits a state that should be any governor's dream: A California that is the cradle of the tech revolution and brims with prosperity, a one-party state with supermajorities in both chambers for Newsom's Democrats. But there are clouds darkening the horizon: Daily prophecies tell of coming economic storms; legislative initiatives taken on behalf of immigrants, retirement security and the stemming of global warming are increasingly thwarted by a bellicose White House. And that Democratic Party monopoly in Sacramento masks a deepening ideological fault line dividing pro-business moderates and progressives – the latter of which have largely chafed for the last 16 years under the thrifty administrations of Jerry Brown and Arnold Schwarzenegger, and are eager to burst out with far-reaching (if pricey) legislation.
Then, there are memories of three high-riding liberal governors (Pat and Jerry Brown, and Gray Davis) whose programs or careers were derailed by resentful taxpayers. There are more recent memories, too: Of an impulsive, hard-partying San Francisco mayor whose blunted ambitions led him to spend eight years in the ceremonial wilderness of the lieutenant governor's office. Newsom is said to have matured into a more circumspect, pragmatic politician, although some of the old doubts were fanned back to life by an unflattering New Yorker profile that appeared shortly before his landslide victory November 6.
Perhaps overriding all these auguries is the undeniable fact that despite its enviable economy, its abundance of billionaires-in-residence and laudable array of social services, California still has the highest poverty rate in the U.S., nearly half of its children live in poverty or near-poverty, and merely finding an affordable place to live has become an existential challenge for many. These and similar factors superimpose on the state another kind of fault line, that of economic inequality. Most of the new governor's time will be spent wrangling crises that spring from this disparity. Which is why the following Capital & Main stories primarily focus on the inequality that separates so many Californians from one another.
Affordable Housing, by Jessica Goodheart.
Single-Payer Health Care, by Gabriel Thompson.
Climate Change and Big Oil, by Judith Lewis Mernit.
Inequality Interviews with Manuel Pastor, Ann Huff Stevens and David Grusky.
Early Childhood Education, by Bill Raden.
Inequality in California: Six Takeaways.
---
Copyright Capital & Main