Now More Than Ever: 'We the People'
After about 90 minutes of copying the U.S. Constitution by hand, we all seemed to have one experience in common: writer's cramp.

I think of the Constitution's Preamble as a kind of national mission statement.
---

Some Americans recently noted a day most of us haven't even heard of:  Constitution Day. This year marks the document's 230th year – but the commemoration hardly matches the Fourth of July. Nevertheless, a few people paid attention in a most intimate way. 
Their inspiration began months ago in New York City, where artist Morgan O'Hara had invited a few friends to the New York Public Library to hand copy the Constitution. Frustrated and distraught by Donald J. Trump's impending inauguration, O'Hara wanted a way to calm down, contemplate the future of our country and think. And she didn't want to do it alone.
She put together a bag of pens, several types of paper for writing, staked out a table, and started. Others joined her. Some were invited friends. Others just saw what was happening and joined them. Eventually, O'Hara wrote about it in the New York Times.
Friends of mine in Venice saw the newspaper piece, went to the local librarian and made arrangements for a similar experience in another Los Angeles library. So on a Thursday afternoon a dozen of us – some of us friends, others who just showed up – gathered at the library. Staff provided supplies, several kinds of pens for writing, some felt-tipped with a spectrum of colors, plus a variety of paper choices as well as copies of the Constitution. After an introduction of a few sentences, we started writing, silently.
That's when a woman walked in rather brusquely, sat down in the seat next to me and whispered, "So what are we doing?"
I said, "Copying the Constitution."
"Just copying it?" she asked, with a bit of an edge. "No discussion?"
"No discussion," I affirmed. "Just writing it down."
Apparently, she had her talking points lined up, whatever they might have been, but joined the silence like the rest of us and wrote.
I started at the beginning because the Preamble to the Constitution is my favorite part:
We the People of the United States, in Order to form a more perfect Union, establish Justice, insure domestic Tranquility, provide for the common defence, promote the general Welfare, and secure the Blessings of Liberty to ourselves and our Posterity, do ordain and establish this Constitution for the United States of America.
It embodies "the core values of our country" as one of the New York participants noted. I think of it as a kind of national mission statement or declaration of purpose.
Others copied the Bill of Rights, the first 10 Amendments that were adopted following the ratification of the Constitution itself. Still others began at some random point. But after about 90 minutes we all seemed to have one experience in common: writer's cramp. Those fingers just wouldn't keep holding a pen much longer, and after writing a bit more, we stopped.
Someone asked what struck us most by copying it down. "There's no mention of God," my friend who had organized this experience said. She's right, of course. God is not even mentioned in the U.S. President's oath of office (located verbatim in Article II, Section 1).
Then a couple of young men who had joined us showed their work, done in a graceful script, in multiples of colors. We all acknowledged the beauty. Then we left.
Later I asked a few of the people I knew how they viewed the experience with some days' perspective. One remarked on the "concision" of the document – how many details were included in such a brief space. Another thought it was a nice meditation that could have been done at home, but which felt even better in a group. Another said it focused him on the document for the first time in very many years. Someone else pointed to words like "emolument," which feels archaic, except it is finding usefulness again in connection with the Trump administration. Another wondered if the experience felt particularly "meaningful" because she's a writer.
As for the librarian, she's planning to repeat the experiment, this time on the date this year that Constitution Day will be observed, Monday, September 18th. No discussion. Just writing it down. Abbot Kinney Memorial Branch Library, 501 S. Venice Boulevard, Venice; 4-6 p.m. (310) 821-1769.
---
Copyright Capital & Main

State Senator Predicts "Sledgehammer Time" If GOP Tax Bill Passes
Holly Mitchell, a leading legislative advocate for children and low-income Californians, says the state may return to the days of budget cutting if the current Congressional Republican tax plan becomes law.

State Senator Holly Mitchell (All photos by Joanne Kim)
Holly Mitchell, the state Senator who represents Los Angeles' heavily blue-collar 30th District, has been called by one colleague the "social conscience of the entire Senate." A personable policy wonk whose career included a stint as chief executive of Crystal Stairs, a child development nonprofit, Mitchell chairs the Senate Budget Committee — the first African-American woman to do so. She recently sat down in Pico-Fairfax with Capital & Main at the Paper and Plastik Cafe to talk about the possible effects of the Republican tax bill on California's poor.
---
Capital & Main: Taking the temperature between now and New Year's, what's your prognosis for the House and Senate tax bills?
Senator Mitchell: The GOP tax plan is a redistribution of wealth from the poor to the rich or semi-rich. It gambles away the health care of poor people and this is unacceptable.
I'm so disappointed with the work of the [U.S.] Senate Budget Committee. I can't imagine being a legislator, getting a report from the Congressional Budget Office that says the things it says about these bills — and voting to pass it. Did they ignore it? Did they not care?
One Senator, when interviewed, expressed concern about the bill's potential to make the deficit skyrocket. When asked if that was enough to make him not vote for it he said, "I'm not sure. I'm still working on it."
Senator Mitchell: The whole point of having the support of fiscal analysts and the Congressional Budget Office, with their independent status, is to provide you with critical data to help you make a decision. How can you say, "Oh yeah, that's bad, but I'm not sure if I'm going to go forward on this or not"? Politics is continuing to trump — lowercase T—what's best.
Is Sacramento concerned?
Senator Mitchell: Am I concerned? Yes! But I think what I'm more concerned about now is the Healthy Families Program.
This is the entitlement for California families who aren't poor enough for Medi-Cal — but don't earn enough to have private insurance.
Senator Mitchell: It provides care for about two million kids [and] requires federal reauthorization. And [Congress] has not reauthorized it. That could have immediate impacts on California's budget. It's a separate process [from the federal tax bills] but they have already missed the deadline.
It's also been said that the tax proposals could undermine affordable housing construction in California because they would affect the credits and tax breaks that developers receive.
Senator Mitchell: Yes, which are critical for developments to pencil out. Given how far behind we are in terms of our housing-unit need, it would be devastating. L.A. County has done amazing things — voters have said yes to Prop M, yes to Prop HHH. All of that could be compromised — this delicate balance where developers can come in, get these credits to build affordable units. We're already behind the eight ball in terms of our need. This would be yet another blow.
Defenders of the tax bill say everybody will get their taxes cut initially. Then by 2027, according to the Congressional Budget Office, middle- and low-income people will experience a net loss.
Senator Mitchell: They claim that they're protecting "the middle class" — folks who make $100,000 and over. But that's not how we define the middle class in California—here the salary threshold is much lower. What they claim is good news, I think, masks the bad news. And they're rushing it through the process.
What steps are needed to analyze and create a response for a new federal tax plan's effect on California?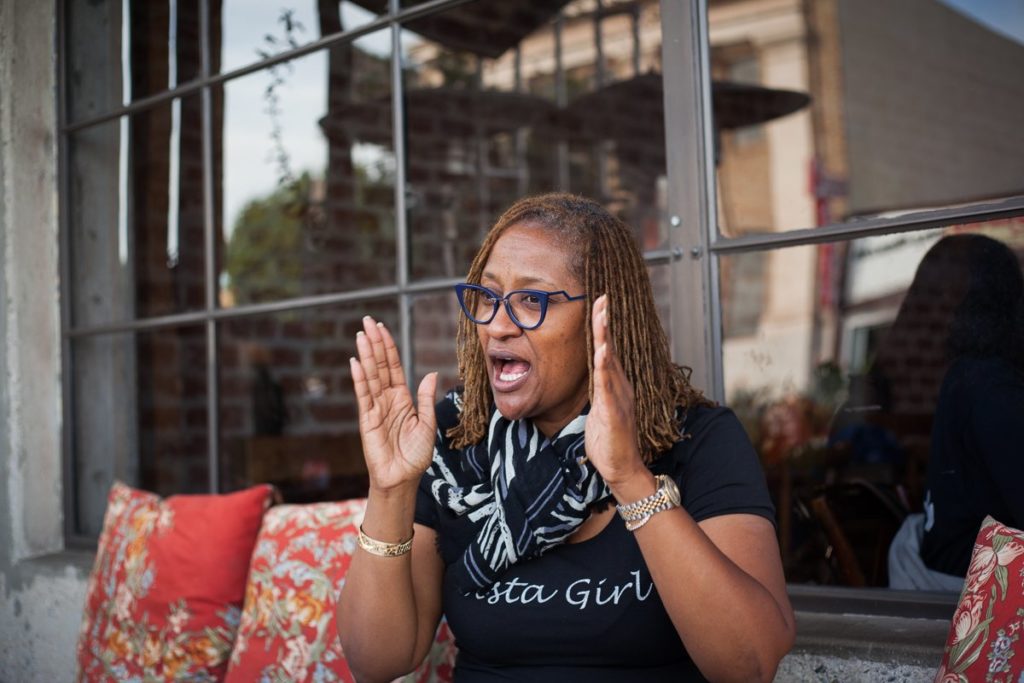 Senator Mitchell: It will be a process. Unlike [the U.S. Senate], I will rely on our Department of Finance, the Legislative Analyst's Office, the Senate Budget Committee staff to have discussions, to have a full budget hearing.
What's your sense of the tax proposals' potential effect on the state's economic health?
Senator Mitchell: How we earn income as a state government could be severely impacted. We are socking money away into rainy-day funds to try to prepare for the time at which our recovery will slow down — [but] we couldn't save enough to prepare for these [federal] proposals and the kind of hole they could blow in the state's general fund.
What's your plan if California does take a financial hit?
Senator Mitchell: As budget chair, I would be forced, as painful as that would be, to go back to the days of cutting. We may not be able to use a scalpel. It may be sledgehammer time — it would be devastating. In terms of the trend we've experienced with investments in K through 12, early education, the investments we have made in the last couple of years in the University of California and Cal State University systems — all these investments that we've made to expand access to services, would be impacted.
We fund Opti-Cal and Dental-Cal [for eye and dental care] — those are the kinds of core, basic human services that we could potentially have to roll back again. Medi-Cal funding helps undergird and support our overall health-care delivery system. If that went away, everything would be compromised.
---
Copyright Capital & Main