No Man Is an iPhone: In Search of the Wild Country
When my wife Susan and I walk down our neighborhood's sidewalks, we often face the specter of some much younger person so focused on their cell phone, they almost run into us. Of course, we are old, so invisible. But usually they are oblivious to us because they are texting, and we avoid collisions with our fellow pedestrians because we step out of the way or interrupt these people's concentration with a cheery "Hello."
Nevertheless, it was still shocking to see that the same week Time magazine used several pages to map out our compulsive use of technological tools, The Week popped the question: Are we addicted? The answer, apparently, isYes we are.
Some 29 percent of Americans say their mobile devices are the first thing they look at in the morning and the last at night. And 68 percent acknowledge that it goes by the bed every night. And we aren't even the worst. Americans run a good 15 points below the average of the rest of the world in the incessant use of our tools. In South Korea, 48 percent say they spend too much time looking at their mobile devices and not enough looking at the world around them.
So are we addicted? The operational definition of addiction is anything that replaces our sense of self. That's why 12 Step programs are so focused on getting down to something at the core of our being. Instead of a self, addicted people substitute alcohol, drugs, sex, food, work, fame, wealth, rage, greed, busy-ness or buying stuff – just to name some obvious things. Journalist Chris Hedges says he was addicted to the adrenalin high of reporting from war zones. I know people who are "political junkies," people who are only focused on issues or political campaigns. I've been there myself.
Okay, so are we all addicted – to something? Well, yes, in this country and others too, I guess, a person has to develop a serious strategy to stay centered in a deeper place of self. Without a quiet place within which we can go, we risk circumscribing ourselves into one-dimensionality, a life flat and void of feeling. Even our relationships become mechanical, calendar-driven shells of their potential.
Which is why we need to put the technological tools aside from time to time and retrieve a sense of awe. It is why working people added vacations to their demands for decent working conditions and more than a day off a week. Wallace Stegner wrote, "Something will have gone out of us as a people if we ever let the remaining wilderness be destroyed…We simply need that wild country available to us, even if we never do more than drive to its edge and look in."
To remain in touch with our humanness, we need to see it.
I also think it matters to have a sense of purpose about life. When psychoanalyst Viktor Frankl reflected on his experiences in German concentration camps, he realized it was the people who had a clear sense of purpose who made life endurable, even if they ended up losing their own. It also turned out they were the most likely to survive. I am a great fan of purpose statements, and I have one that I say to myself every morning to remind myself what my life is about, so I don't forget or find myself distracted and off track.
It also helps to feel my life as part of a web of other lives. Networks of relationships make for a healthier life. Not just family – immediate and at a distance – but people who I know and trust and care about in my work life and in fulfilling my commitments to justice in the world outside of myself. A community holds me to my commitments and keeps me faithful to my self, reins me in when I get off course, pulls me back from ragged edges of excess, and sustains me over the long haul.
Which is why I try to use technology rather than have it use me. I do not want a "thing" to be the substance of my life or a substitute for my life. I want to live in touch with the felt-life experience that roils up from within the core of myself. When I live that way, I can actually give myself to a cause or a person, because there is something there to give. And really, it helps a lot to look up from the screen.

'Skeleton Crew' Is a Play With a Moral Spine
Set in a Detroit automobile outfitting plant, Dominique Morisseau's drama grabs you from the start with its focus on blue-collar men and women, and their struggle for dignity and self-respect.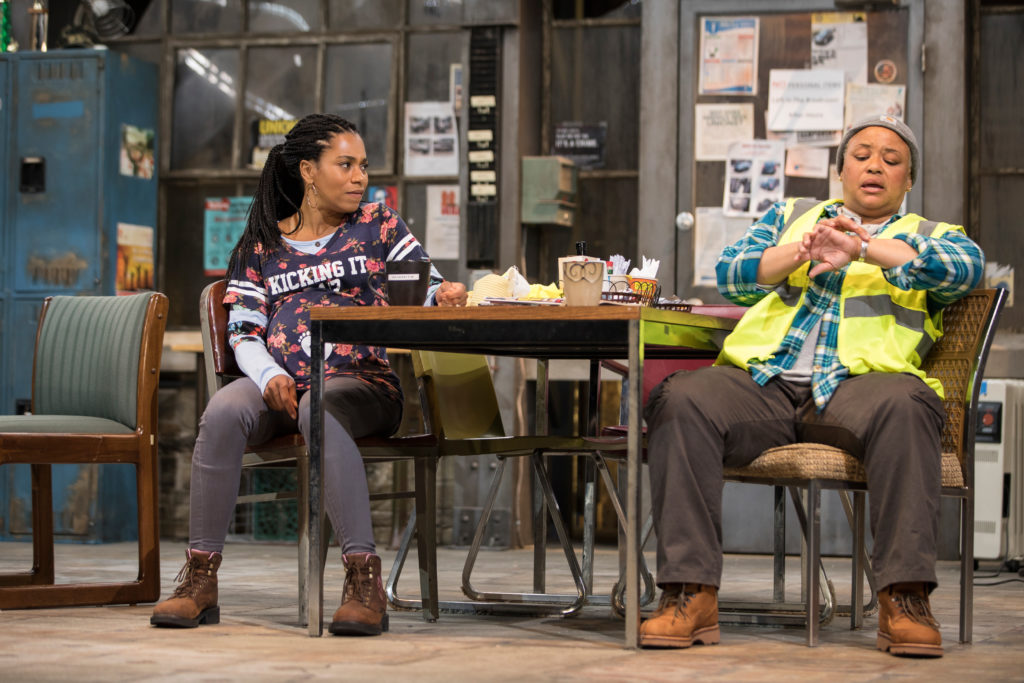 Working-class men and women of color are rarely front and center in today's media and, likewise, are presented all too occasionally on the American stage. So it's buoying to see that trend bucked in playwright Dominique Morisseau's percipient and well-crafted drama, Skeleton Crew. The play is the final installment in her Detroit  Project Trilogy; the first, Paradise Blue, is set in the 1940s amidst displacement caused by urban renewal and gentrification, while the second, Detroit '67, transpires on the eve of the 1967 Detroit riots sparked by a police action.
Directed by Patricia McGregor at Los Angeles' Geffen Playhouse, Skeleton Crew is a play with a moral spine. It takes place in 2008, when the shrinking U.S. auto industry is being further downsized. Morisseau's engaging quartet of characters — Faye (Caroline Stefanie Clay), Dez (Armari Cheatom), Shanita (Kelly McCreary) and Reggie (DB Woodside) – are employed at an automobile outfitting plant. Faye, Dez and Shanita are workers on the line while Reggie (who has a wife and kids, and has pulled himself together after a troubled youth) is their supervisor.
The first three customarily mingle in their break room (designer Rachel Myers' impressively cluttered, dingy and detailed set), trading the sort of familiar barbs and genuine concern for each other common among longtime co-workers. They also face off on philosophy: Upper-middle-aged Faye and the younger, pregnant Shanita take pride in their labor, while Dez, though a good worker, is a malcontent scornful of management and firm in the belief that everyone needs to watch out for himself. He's a thorn in Reggie's side, for while Reggie wants to be supportive of his workers, he must act at the behest of higher management. For his part, Dez resents Reggie's authority, and a palpable unease exists between them.
Besides this male matchup, we're made privy to Dez's attraction to Shanita, who mostly turns away his advances, but every now and then displays a hint of interest. Most poignant is Reggie's regard and affection for the lesbian Faye, which has roots in his boyhood when she loved, and lived, with his now-deceased mom.
These people's various predicaments intensify when rumors spread of the plant's shutdown — a disaster for all, but a particular calamity for the already near-broke Faye who, one year short of retirement, would lose her pension. The crisis forces each of these people to make a choice.
A sound piece of social realism, Skeleton Crew grabs you from the start in its focus on blue-collar men and women, and their struggle against odds for dignity and self-respect. Morisseau not only furnishes these characters a platform for their travails, she endows them with strong values, big hearts and the opportunity to choose between right and wrong.
Unfortunately, the performance I attended did not soar. Many exchanges lacked a fresh edge. The actors certainly had their characters down, but too often they appeared to be coasting on technique. (This seemed particularly true of Clay, who performed the role to great accolades in Washington, DC in 2017, also under McGregor's direction). Additionally, some of the stage movement was not entirely fluid; in confrontations, actors sometimes would just stand and face each other in an artificial way. And Cheatom's interpretation of Dez struck me as a bit overly churlish and depressive: I needed more glimpses of the intelligence and edge that would secretly attract the strong, self-directed Shanita.
The most compelling moments belong to Woodside, well-cast as a man trying his best in difficult circumstances to do the right thing.
---
Gil Cates Theater at the Geffen Playhouse, 10886 Le Conte Ave., Westwood Village; Tues.-Fri., 8 p.m.; Sat., 3 & 8 p.m. Sun., 2 & 7 p.m.; through July 8. (310) 208-5454 or www.geffenplayhouse.org