NFL's DeMaurice Smith on Everyday Work and Ordinary People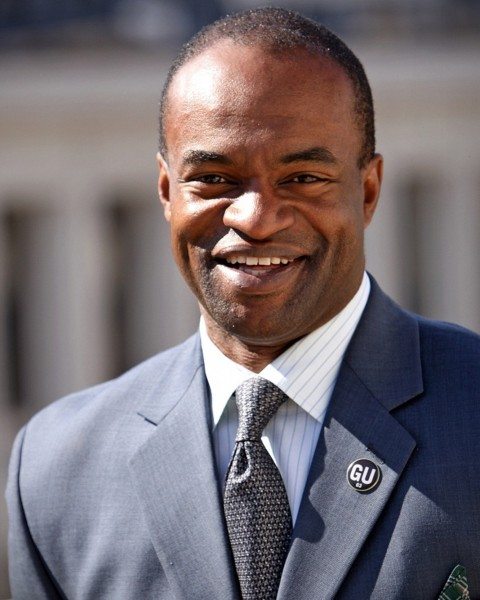 Part One of a two-part interview  
I stole DeMaurice Smith. That is, I grabbed 20 minutes with the executive director of the NFL Players Association, between poses in front of the step-and-repeat and shaking hands with enthusiastic dinner guests. Smith and the association were honorees at the December 8, LAANE City of Justice Awards Dinner, along with Culture Clash and the main guest of honor, Madeline Janis, at the Beverly Hilton. Later, Smith gave a rousing speech to a packed ballroom without looking at a single note.  Just sayin'.
I wanted to know more about the guy I saw on TV during the first half of 2011 who brought all of the football players into a huddle — not to call out plays on the field, but to talk organizing strategy and give pep talks on contract negotiations. I was also interested in Smith's take on how the NFL lockout played into the larger labor and economic struggles that marked 2011.
Caroline O'Connor: What was the path that brought you to leading the NFL Players Association?
DeMaurice Smith: I've had three of the best jobs you could possibly have in your life. I was a prosecutor at the U.S.  Attorney's Office in D.C. for more than 10 years — homicide division, sex offenses and terrorism. After that I went into private practice.  I was there 11 years and then got a call from a search committee for the Players Association.
CO: You seem to have an unlikely background for the job. Not having played in the NFL, have you ever felt any sort of disconnect with the players?
SMITH: My job isn't to catch passes from Drew Brees or Tom Brady.  And it's certainly not to avoid being tackled by Ray Lewis. I let them know, "If you're looking for a leader that is going to push the rock up the hill by himself, by all means, pick someone else.  But if you believe that it is time for you as a group of men to stand up, to fight for your families, to fight for players who are going to come after you, to fight for players who came before you, then I'll do that with you."
CO: You sound a lot like a union organizer.
SMITH: You know, I don't come from the labor side, but I've always believed, whether I was playing in college or high school, in the importance of team. There is nothing more of an anathema to me than people who are on the same team fighting amongst each other. I do know that when you surround yourself with people who are fighting for a common cause, especially when that cause is righteous, that there is something truly beautiful about the way people work together.
CO: What is your response to the people who characterized the NFL lockout as a fight between millionaires and billionaires?
SMITH: The reality was there were more than 100,000 people who worked in our stadiums. Thirty-one men were going to decide that 100,000 people lose their jobs . None of those folks are millionaires. Every restaurant owner, waitress, bartender who relied on football for revenues — they would have been out. All of those people stood to lose if the owners were successful in perpetrating a lockout against the players.
CO: How did your fight fit into the larger attack on working people in this country?
SMITH: To me, it's a reminder. This country relies on the everyday work of normal people to keep it going, when the focus shifts off of the people working every day, getting their hands dirty, punching a clock — when we lose sight of that being the most critical part of our infrastructure, we start taking steps backwards as a country.  To me that's what has happened over the last decade. We've watched things unfold on Wall Street as if they don't have an impact on ordinary Americans. We've watched Congress [be] frozen and unable to respond to the everyday needs of the American people. To me, all of that is a symptom of a much larger problem, the failure to focus on the fact that it's ordinary men and women that made this country great.
Tomorrow: Part 2, The Power of the Football Wife.