NY Times Writer Recycles Old Ideas About Waste and Landfills
L.A. County's Puente Hills Landfill (Photo: Britta Gustafson)
You have to hand it to libertarian writer John Tierney. He doesn't give up easily. His long-winded 1996 article, "Recycling Is Garbage," allegedly smashed the New York Times Magazine's hate-mail record. It covered the same ground as his recent New York Times op-ed, "The Reign of Recycling," stating: "Recycling may be the most wasteful activity in modern America: a waste of time and money, a waste of human and natural resources."
Is recycling really "the most wasteful activity in modern America?" That's quite a charge. (What about all that Kardashian coverage?) But it may be true that it would be cheaper to put all our waste in a hole someplace and forget about it. Assuming, as Tierney does, that there are enough conveniently located holes. It would be even cheaper to use the medieval method of tossing it in the street.
But that's not the way most people think these days. The consensus is that there are limits, both on the amount of land you can dump in, and the amount of materials you can waste.
In any case, no one seems to have listened to Tierney.
Recycling has come a long way. Particularly in the city of Los Angeles. In his recent op-ed, Tierney pessimistically states that recycling "is stuck [at] around 34 percent'' of America's trash without sourcing his figure. He quotes a former Environmental Protection Agency official who says going beyond that is impractical.
You wonder when the official said that.
According the State of California, the City of L.A. has achieved a landfill diversion rate of 76.4 percent – the highest of any of the nation's 10 largest cities, and higher than the statewide 75 percent urban goal set for 2020. And it's not just Los Angeles City. California's sanitation officials portray recycling as a state success story, with most of its communities recycling 50 percent of the waste that used to go into landfills — with many recycling as much as 65 percent. According to County Sanitation Districts' official Nick Morell, an onslaught of new technologies has made it easier to recycle food and other difficult wastes.
"We're really mining the waste stream," he told Capital & Main. To encourage recycling, the state is raising landfill dumping fees from around a dollar to $4 a ton. (Tierney also seems to favor an even higher "landfill tax.") "We like the carrot and stick approach," Morell added. Now that more manufacturers are actually making their products easier to recycle (even a new BMW is designed to be recycled after a few hundred thousand miles) and recycling techniques advance, fewer materials end up in landfills. According to Morell, this has helped L.A. County avoid a landfill shortage.
Tierney seems to allow that only recycling paper and metal can be cost-effective, but he notes that demand for such materials is highly variable. He also accuses "politicians" of pushing the recycling of yucky materials like food wastes, which he claims are cheaper to landfill than to compost.
But composting isn't the last word here. After April 1, many if not most California businesses, including state agencies, will have to recycle their organic waste. Morell says in addition to composting, the county is introducing reactors that will ferment such waste to yield methane that can fuel electric generators, just as it does at some conventional landfills. Morell also cites wet food waste as a useful water source. Tierney, who writes a New York Times science column, seems ignorant of the fast-moving technology of recycling. Further, while alleging that recycling raw materials costs jobs, he ignores the tens of thousands of new jobs emerging in the recycling industry.
Meanwhile, as Morell notes, recycling is now so well-established that even landfill operators do it themselves to make some extra money and save precious landfill space. That Tierney doesn't believe such land is precious is something we shall deal with momentarily.
There is obviously room for improvement and there's no doubt that, in particular, recyclable exports have suffered as importing nations have demanded higher quality products and scrap metal prices have sagged. Yet there's lots of evidence that recycling just keeps moving ahead, even if it has lately hit a speed bump, with California officials stating that goals of 90 percent recycling are now in reach.
Tierney could not agree less. He maintains that "to public officials, recycling is a question of morality, not cost-benefit analysis." While to its enthusiasts, he claims, it's a middle-class religion. He notes that, due to falling oil prices, recycling household waste is much less profitable. No one wants food composting next door, he also claims, citing a case in Delaware. He believes: "[C]ities have been burying garbage for thousands of years and it's still the easiest and cheapest solution for trash." He seems personally affronted that, as a 2013 survey found, "82 percent of Americans feel a sense of pride when they recycle."
Environmentalists argue that there's a good reason for this.
In their online rebuttal to Tierney, enviros Richard Fuller and Magdalene Sims note that if you bury all the trash, you are burying paper and metals – materials that Tierney agrees produce "more than 90 percent'' of all the greenhouse benefits of recycling. They claim that most experts agree that $40 a barrel oil prices are certain to soar. And they add: "Today, there are many more people on the earth generating an exponentially greater amount of garbage, including a lot more toxic trash than ever before. Simply putting all that into the ground is not a forward-looking solution."
Tierney's big stumbling block is his blind insistence that landfills are better than recycling. He provides no data for this, adding an unsubstantiated assertion that "[T]hey have been welcomed in rural communities that reap large economic benefits." He also makes a rather weird generalization about landfill availability. In his 1996 article, he "found that all the trash generated by Americans for the next 1,000 years would fit on one-tenth of one percent of the land available for grazing.'' According to Department of Agriculture figures, that boils down to about 58,000 acres. Ted Turner has ranches far larger than that.
But this is grazing land that tends to be located hundreds, or even thousands of miles from the large waste-producing cities. So even if the city fathers of Yankton, S.D. agreed to accept urban waste from Seattle 1,500 miles away, it would not pencil out. Assuming Yankton wanted it. I would not assume that. Even counties abutting L.A. County are restricting L.A. dumping.
They are not alone. Maybe it's my luck, but in nearly 40 years of municipal reporting in small and large communities in New York, New Jersey, Pennsylvania and California, I never heard of any place that "welcomed" landfills. In every community that had one, the key conversation was how to get rid of it or prevent its expansion. These landfill communities' leaders had been told, as Tierney states, that there was enough greenery around to "buffer residents from the sights and smells."
The reality was usually a countryside permeated by the reek of unsorted raw garbage arriving in an unending stream of dripping, two-lane-blacktop-busting, diesel-belching, five-ton trucks. What's more, in the 19 years since Tierney first made his case, much of the "rural" landscape located a drivable distance from refuse-exuding cities like New York and Los Angeles has become densely developed.
So now you have to sell landfills to the affluent, property-value-obsessed burghers of places like Diamond Bar or Morristown, N.J. Or even the not-so-affluent people of Kern County, who have already filed suits against Los Angeles' waste dumping. L.A. County's landfill alternative is a tract purchased back in 2000 that is 200 miles away and which would cost twice as much to use as the facilities it would replace.
Jackie Cornejo, who guides the Los Angeles Alliance for a New Economy's Don't Waste LA project, which has resulted in laws repurposing the city's waste flow, explains the landfill health problems untouched by Tierney. (Disclosure: LAANE is a sponsor of Capital & Main.)
"Pollution from landfills and diesel-powered collection vehicles harms public health, increasing hospitalization and leading to missed school and work," she said. "[It] increases rates of cancer, heart and respiratory diseases, and contributes to premature death.''
There's an even more important issue. Landfill gases from organic wastes include methane, much of which escapes to boost global warming far more than do equivalent amounts of carbon dioxide. As Mariel Vilella, Zero Waste Europe's associate director, recently stated:
"For far too long the climate impact of waste management has been overlooked. Now it's clear that waste prevention, reuse and recycling are climate change solutions that need to be fully integrated into a low carbon economy."
Tierney's thesis reflects the classic right-wing credo that natural resources, whether they are the materials in plastic bottles or the land in which to dump them, are infinite. But as our current pope put it, "[T]he lie that there is an infinite supply of the earth's goods…leads to the planet being squeezed dry beyond every limit."
If that's religious thinking, so be it.
---
Marc Haefele is a commentator on KPCC's Off Ramp program and has written for the
New York Times
and
Los Angeles Times
.
Michael Mann Says This Summer Is a Big Warning About Climate Change
Many scientists assert that this summer's intense weather is being fueled by climate change. One of the most prominent is Penn State climatologist Michael Mann, who says the connection between the two is like "the link between smoking cigarettes and lung cancer."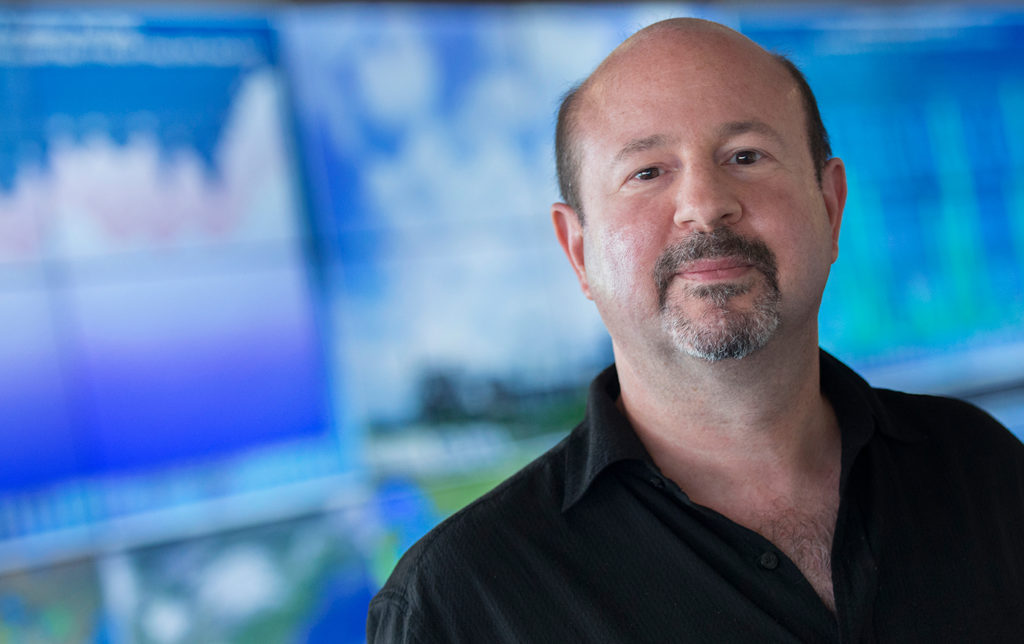 In late July, a CNN story summed up what was becoming a watershed moment. The cable TV outlet reported that "the summer of temperature extremes just keeps going, with record heat waves this month on all four continents that occupy the Northern Hemisphere."
And yet for all the heat and wildfires, relatively little media coverage has contextualized the situation with a mention of climate change. The watchdog group Media Matters reported: "Over a two-week period from late June to early July, ABC, CBS, and NBC aired a combined 127 segments or weathercasts that discussed the heat wave, but only one segment, on CBS This Morning, mentioned climate change."
Despite the media blackout, many scientists assert that the intense weather is being fueled by climate change. One of the most prominent is Penn State climatologist Michael Mann, the author of the books The Madhouse Effect and The Hockey Stick and the Climate Wars. In a new podcast, Capital & Main recently spoke with Mann about why he believes this summer is a turning point in the battle over climate change.
What follows is an lightly edited excerpt of the podcast interview. Podcast subscribers can click here to hear the full discussion.
---
David Sirota: What do you say to those who argue that there is no definitive proof that climate change is directly responsible for intense weather systems like the ones we've seen this summer?
Michael Mann: It's sort of in the domain of the link between smoking cigarettes and lung cancer. We don't question that link. You know, smoking cigarettes leads to lung cancer and other diseases, because it increases the likelihood of those afflictions by such a large amount that we basically equate it with a causal relationship…
We would not be seeing this in the absence of climate change, so the signal of climate change as expressed in extreme weather is now undeniable…We are talking about floods, droughts, heat waves, wildfires and superstorms, you name it. We have seen unprecedented events in each of those categories over the last year that we would not have seen in the absence of climate change.
When I say that, I don't literally mean that the underlying weather event might not have occurred. What I'm saying is the extreme nature of that event would not have been observed…What would have been a bad drought becomes a record drought, becomes an unprecedented drought. What would have been a bad wildfire becomes the largest wildfire in California history…
Wildfires aren't supposed to happen in the winter in California, and what that tells us is that we've now evolved into a state where there isn't a fire season in California anymore, there's a perpetual fire season.
Which areas of the United States do you think are facing the most extreme and intense consequences of climate change?
Everywhere essentially along the coast of the United States you have increasing coastal threats because of climate change impacts on sea level rise, hurricanes. As you go inland, you look around, you can't find a region of the country that hadn't dealt with a thousand-year flood within the last couple of years…
The wildfires in the west, not just California. Essentially the entire Western U.S. has been afflicted with massive wildfires, drought, and a drought in California that's now the worst in at least 1,200 years, as far back as the paleoclimate scientists are able to go, and heat waves that have basically crossed the entire country this summer. There's no region of the country that hasn't dealt with a record or near-record heat wave this summer.
You would be hard pressed to find a region in the country that hasn't been impacted by one of those extreme weather events, and of course that's just the U.S. We can say that now about essentially the entire globe. This is the summer where climate change showed its hand.
If the weather and wildfires that we're experiencing aren't a wake-up call to the political system about climate change, what will be?
What more do people need to see? We've had what I sometimes call the Cuyahoga River moment, that critical moment when a river caught on fire and that captured the public imagination. It led to Richard Nixon establishing the EPA, the Clean Air Acts, the Clean Water Acts. What is that moment in the climate change debate? How many do we need to have?
This summer, many of us who work in this space think that we've finally reached the point where it's impossible for anybody to credibly deny not just that climate change is happening, not just that it's caused by burning of fossil fuels and the elevation of greenhouse gases, but that it is already a problem.
We are already suffering the consequences. It's already costing us far more. The cost of inaction is already so much greater than the cost of taking action. What's playing out in California of course is sort of Exhibit A in that argument. We are now suffering the consequences, toll on infrastructure, human lives and our economy, frankly. What will it take?
The opponents of dealing with climate change seem to prey on people's fear of change – they portray aggressive action as so radical that it will completely disrupt and destroy everyone's lives. Are the changes we need to make really that radical and scary?
Not nearly as radical or scary as the critics would like people to believe. It's going to require change. Remaking the global energy economy, shifting away from a two-century-long reliance on fossil fuels to new sources of energy? Yeah, that's going to take action. It's going to require some sort of market incentives, a price on carbon.
We pay a little bit more right now here in Central Pennsylvania to elect to get all of our power from renewables, from wind, and we're happy to do that. Most people won't do that just because it's the right thing to do, and that's why you need market incentives to guide people in the right direction.
The irony is that there's a great degree of projection in that sort of argument from the critics, this idea that we have to make great sacrifice, that it's going to [harm the economy]. They said that when we acted on acid rain, they said that when we acted on ozone depletion. At every juncture, they said, "This is going to destroy the economy," and the reality is it didn't destroy the economy. Instead, it actually saved our environment. At every juncture, they've made that argument, and it's always been proven to be false.
The reason I say it's projection and misdirection is that they don't want people to focus on the fact that we are making a huge sacrifice right now. If you look at California, if you look at Houston, if you look at Puerto Rico, if you look at Miami Beach, we are making a huge sacrifice right now in terms of the toll that climate inaction is taking, and they don't want people to notice that. They want to turn it around on its head, to somehow argue that the steps that we need to take to mitigate that damage and risk are somehow the costly scenario, when the costly scenario is not acting on this problem.
I think many people accept that climate change is happening and that it's a really dangerous thing, but I also think lots of people feel like since it's already happening, there's nothing that can be done to combat it. What do you say to folks like that?
I think there are people of good will, who mean well, who really are frightened and really think that we may be close to if not past of the point no return, and are expressing genuine frustration and genuine fear. That having been said, I think they have been happily co-opted by the forces of inaction, by the forces of denial…This sort of despair and this argument, this defeatist notion that it's too late to do anything, is in some ways every bit as dangerous and paralyzing as outright denial of the problem itself, because it leads us down the same path of inaction.
Ultimately for that reason, it has been convenient for the forces of denial, who are looking to divide the public, to actually amplify those arguments in a cynical way and provide a voice to those arguments that, "Hey, there's nothing we can do about it, so why enact any policies to deal with the problem?" I do think that it's dangerous. I don't think that those making the argument are cynics or have themselves been co-opted, but I do think that the forces of inaction and denial have happily capitalized on this, and have used it as a way to divide the community of people who do care about this problem and do want to solve it.
A recent study raised the prospect of so-called "Hothouse Earth" – or runaway climate change that is far more extreme than anyone predicts. Do you think that's a possibility?
James Hansen has been making this argument for a number of years, I think with some credibility. These authors, to me it was just sort of recasting that basic way of looking at the problem. I think it just happened to get a lot of media attention, in part through a provocative headline. It's real, the threat is real. We have to think about these worst-case scenarios, and if this is true…then it means that not only do we have to stop emitting carbon into the atmosphere, we are going to need to find ways to draw it back down, to bring it back out of the atmosphere over a longer time frame, over many decades, if we want to mitigate the higher-end risk here.
What are the most positive things happening in the effort to address climate change?
Probably first and foremost to me, the re-energization of our youth, the fact that the youth of this country are re-engaging with politics. We saw that in the wake of the Parkland High School shooting, but that seems to have taken. We seem to be going through sort of a tipping point now where the youth of this country have recognized that if they want to protect their future, they have to be involved in the political process. I think that could be a game-changer. To that extent, there is room for political progress here if we see younger folks re-engaged with our politics coming out to vote in this midterm election. That could really make a difference.
Then separately from that is just stepping back and taking a very high-level view of what's going on here. The world is moving on. We moved on in the 19th century from whale oil. We recognized that something better had come along when it comes to providing energy, fossil fuels, and now we've gone through that next transition where we realize the dangers and the risks of our dependence on fossil fuels, and something better has come along in the form of renewable energy and the world is moving on…
There's an exponential trajectory that we're on right now. We'd like to see the growth even faster, but it is exponential. We're moving away from a global fossil fuel-driven economy towards a new renewable energy economy, and I believe there's nothing that can stop that transition.
Now, the problem of course is here in the United States, we have gone from a position of leadership, relative leadership on this issue under the past administration, to a political landscape where the United States is essentially the only holdout in the global community. Trump has threatened to withdraw from the Paris Accord, and if we were to do that, we would be the only country now in the world that's not committed to Paris.
To some extent the only decision that we will be able to make here in the United States isn't does the world move on, it's do we get left behind in that transition. That's the only thing that we can actually do.
What does our world look like 20 or 30 years in the future, if we are doing what needs to be done to seriously addressing climate change?
I think we can envision a future just in terms of the trends that we see under way, not necessarily just towards electric vehicles. At least in urban locations, we may see the elimination of personally-owned vehicles. We will have a more advanced transportation system, streets filled with Lyft and Uber and automated vehicles potentially.
There are studies that show that if we do that, if we move towards automated vehicles, that sort of system, then that shrinks the footprint of a city down tremendously, because it's so much area. Take New York. You know how much surface area is used for parking of vehicles. If we can get rid of that, then the populations condense. There's a smaller spatial footprint. That means less resource depletion…
We will have renewably-driven microgrids. There's a real question as to whether we will have the sorts of continental-scale power grids that we have today. We may see more decentralized sources of electricity generation. We may all live off the grid, in the sense that we're not part of a continental-scale grid.
Our food choices, I think we're going to be healthier in our food choices. I think there's a movement in that direction.
There are many possible futures, and one can certainly imagine a dystopian future where none of that happens, where we double down on the trends that are under way in the era of Trump, and one can envision a dystopian future like Mad Max, Soylent Green, The Road or Hunger Games. One can't rule that out, but one can also imagine a utopian future that's more like the one that I just laid out.
I don't pretend to know. Predictions are hard, especially about the future, as Niels Bohr once famously said. It turns out it's not Yogi Berra, it's actually Niels Bohr, the physicist, who said that. The choice is ours to make, and I'm convinced of that.
---