New Play Reaches for Big Themes in Northern California Milieu
Set in Northern California, Dorothy Fortenberry's Species Native to California is an ambitious effort that embraces Chekhovian themes and magical realism, but the effort comes off as more contrived than organic.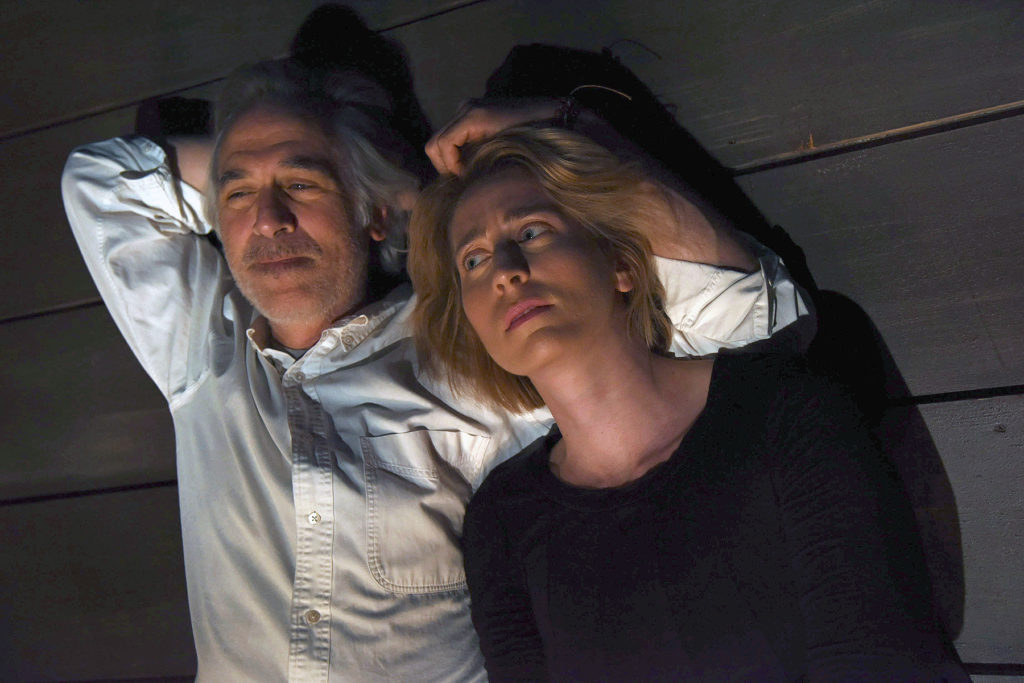 Melissa Stephens, Tim Rock and Eileen Galindo. (Photo: Dean Cechvala)
Dorothy Fortenberry's Species Native to California takes place in Northern California in 2016, prior to the election of Donald Trump, and revolves around a man and his daughters who own vast beautiful acreage that they are about to lose to the bank. The script is an ambitious effort that embraces Chekhovian themes, magical realism and a metaphorical construct in which the fate of the characters is reflected in the health and happiness, or lack thereof, of the plants around them. But Fortenberry's attempt to meld these ideas into a persuasive narrative comes off as more contrived than organic, and missteps in the direction and the performances render the production unsatisfying.
The play opens with a homecoming: Mara (Margaux Susi), who has been living and working at a tech company in San Francisco, returns to the family estate with Jeff (Tim Rock), her significant other, in tow. Greeting Mara are her space cadet dad Skip (Tom Amandes), a 60-something ex-hippie type who blathers about karma, and her younger sister Zo (Melissa Stephens), an ingenuous person who, at 30, has never strayed far from the homestead. On hand also are the salt-of-the-earth Gloria (Eileen Galindo), an undocumented immigrant from Mexico who resides in a cottage on the estate, and her teenage son Victor (Tonatiuh Elizarraraz), who is savvy about flora and (we learn later) surreptitiously tending a collection of cannabis plants for possible future sale.
For various reasons, this becomes significant when it emerges that the estate, an inheritance belonging to Skip's wife, who now lives in India, is about to be foreclosed on; the bank has been trying to apprise Skip of this for some time, but its letters have gone unopened. Now, with the situation dire, Mara has returned at her father's request to, wishfully, save the day. She also hopes, in the back of her mind, that she can persuade the financially successful Jeff to cough up the money they would need.
At some point, La Llorona (Murielle Zuker) — a figure from Latin American folklore who drowned her children after their father betrayed her, then was transformed into a wandering wailing specter — is injected into the narrative. She subsequently appears (visible to us but not to the characters on stage, except for Gloria) in various scenes: Skip's sudden collapse, a monologue by Gloria about her secret lost child, an argument between Jeff and Mara about the disposition of the land, a carnal exchange between Mara and Victor. But it's never quite clear why this ghost has chosen to haunt this particular family, other than "just because," and her incorporation into the narrative seems forced and artificial.
As to the production, director Eli Gonda's staging — with the audience on two sides and the proscenium in the middle — is problematic; it means that most of the action is observed in profile, which effectively dilutes the drama. And there are times when characters call to each other from opposite ends of the playing area, so audience members must keep pivoting their heads to follow the dialogue.
David Maurer's scenic design— foliage positioned around and throughout the playing area — is also inadequate for the story being told. The property in question is, after all, supposed to be 3,000 acres of breathtaking beauty — hard to capture in this humble Atwater venue, granted, but attractive videography could have done the trick.
But the constraints of the set would have mattered less had the performances been more persuasive. Most of the characters lack sufficient inner life, so even junctures where the play might have worked are without poignancy. This is especially true of Susi's Mara, whose character is so central to the story; watching her, one's disbelief is never suspended. As Jeff, an outsider, Rock starts out on a firm footing, but loses steam with no one solid to play off of. Galindo, a skilled and seasoned performer, is quite good and manages to be effective nonetheless.
---
Atwater Village Theatre, 3269 Casitas Ave., Atwater Village; Thurs.-Sat., 8 p.m.; Sun., 7 p.m.; through June 11. (323) 380-8843 iamatheatre.com.