New Play Brings Trump Campaign Rhetoric to Life
A new political drama from Pulitzer Prize-winning playwright Robert Schenkkan imagines a not-too-distant future where Trump's anti-immigration policies have upended the lives of millions.
Playwright Robert Schenkkan
It was in the midst of the presidential debates of 2016, and Robert Schenkkan was alarmed. Though both the pundits and the polls seemed to assure that Hillary Clinton would soon become the 45th president of the United States, the Pulitzer Prize-winning dramatist felt that the rabidly racist, anti-immigrant cant that spewed from the mouth of the Republican nominee had already brought familiar if discredited ideologies, supposedly long ago settled by war and safely consigned to the past, harrowingly close to the highest office in the land.
So Schenkkan, perhaps best known for The Kentucky Cycle, his epic nine-play saga of three Appalachian families' violent and avaricious quest for the American Dream, sat down to write. One week later, he had the first draft of Building the Wall. The playwright believed that his taut political suspense drama, which fast-forwards Trump's immigration policy of mass arrests and deportations to the incarceration of several million detainees, would be merely a dark cautionary tale of dystopian fiction, a national bullet narrowly averted. With November's electoral upset, however, Schenkkan's speculative chiller had suddenly taken a leap towards becoming real.
Building the Wall, which is set in the meeting room of a maximum-security federal prison in the Fall of 2019, tells the story of an encounter between two characters: Rick, a middle-aged, white manager of a private immigration prison who's been convicted of an unspecified atrocity and is awaiting sentencing; and Gloria, an African-American history professor, who's trying to understand what exactly happened to Rick and why.
With its opening on March 18 at Los Angeles' Fountain Theatre, the first of a five-production, five-city rollout by the National New Play Network, Building the Wall will mark the American theater's first literary response to Trump's polarizing and divisive presidency. Capital & Main spoke by phone to the New York playwright about his hopes for the play and its place in the growing cultural resistance to the Trump agenda.
Capital & Main: What was the germ of Building the Wall?
Robert Schenkkan: I was focused on Trump's comments, his commentary about border security, immigration, and the implicit and sometimes explicit or racist demagoguery implying in all the above. I had read, months earlier, quite by accident, a rather extraordinary book called, Into That Darkness about several interviews with an individual who was high up in the Nazi death camp mechanism. And I was very struck by the story that was relayed there, and so I sat down, and what I did was take Trump's rhetoric and extend it in quite a logical, and rational way, with an eye towards how might this not work out so well.
C&M: You wrote Building the Wall in a single week in October, which seems both extraordinarily quick as well as remarkably prescient. Did you at that moment expect Trump to be president?
Schenkkan: You know, I was nervous about it, but I thought that even if the election turned out in the way in which I had hoped and in which so many of the so-called experts had predicted, I thought the damage that he had done to the political environment —the operating rules under which we have functioned as a representative democracy for almost 200 years — was so extraordinary that it needed to be spoken to. We've been down this road before in this country, and certainly internationally, we've seen this before. The authoritarian playbook is pretty well established. And I think this play would be relevant even had he not won. Now that he has, it becomes more relevant and critical every day.
C&M: How much time do you usually spend on a play text?
Schenkkan: Well, typically, my plays require a fair amount of research and then there's a great deal of sort of introspection and just sort of mulling it over. And then I sit down and it takes anywhere from three months to four or five months to knock out a first draft. In this instance there was almost no research, really.
C&M: What happened after November 8? Did you have to do a rewrite?
Schenkkan: I absolutely continued to revise the script. Structurally it's virtually the same, but I continued to refine within those parameters. I'm very fortunate that the very first production out of the box with the rolling world premieres is the Fountain Theater in Los Angeles. We've got a fantastic cast and a wonderful director; it's a great theater to be working in, lots of smart people. So I'm doing what I would always do in a situation like that, which is just respond to what we're discovering in rehearsal, what the actors are bringing in, what the director's observing.
C&M: What do you hope that audiences will take away from the piece that they might not have considered before seeing the play?
Schenkkan: The next 18 months are critical in the history of our republic. I think we are really at a crisis point and everybody — and I mean every body — has a part to play in this. You may feel helpless or isolated, impotent, without power, that's not in fact the case. And everybody will be making critical decisions to act or not act, to speak or not speak. What I hope the play provokes is the recognition that we need to be very conscious about the decisions we make, and we need to make these decisions from a moral perspective. These may feel like very small choices that you make. They're not. Cumulatively, they're huge.
If the theater is going to remain relevant, if we are going to actually have this critical national conversation that we must be having, if we're going to be a part of history and not just curate history, then theater needs to become much more flexible, much more rapid in its response. This play and the production of this play, the way it's rolling out, is creating a new paradigm that other artists, theater artists certainly, but all other artists can potentially emulate.
C&M: So in a sense, Building the Wall is a rallying call to fellow playwrights?
Schenkkan: Yes, absolutely, it's a rallying call to citizens, regardless of who they are and what they do, but certainly it's also a rallying call to my colleagues and the art form that I love and have been a part of for 40 years. This is not a time to be silent. This is a time, especially, when storytellers, when playwrights, screenwriters, television writers, writers of all kinds need to speak up, because what we're fighting over is the narrative, we're fighting over the story of who we are as a people.
C&M: Much of Trump's electoral victory has been attributed to his narratives of race, fear and economic despair that masked another narrative of extreme neoliberalism that, arguably, will be a disaster. Do you think that artists can address those kinds of underlying narratives in a way that journalists were unable to?
Schenkkan: I think we have to. Trump is a shrewd politician, who is for certain, with very conservable skills in terms of his ability to message. The populist tide that he correctly observed and astutely managed is driven by real economic and sociological issues that the experts from both parties have been ignoring for 20 or 30 years. It's finally caught up with us and it has bit us in the ass in a very big way. What I'm saying is that those who supported our current president did so not because they were horrible racists, although some of them share feelings that you would describe as racist, but largely out of what they perceived to be their own economic interests and their own considerable frustration. I think that's on us; certainly it's on Democrats who have prided themselves on being the voice of the workingman. We took our eye off the ball, and we're going to pay a terrible price for that.
C&M: Will Building the Wall be your last word on Trump?
Schenkkan: Oh no. And I have another new play that I was just working at on at Denver at the Summit Theater Festival called Hanussen, which deals with the Erik Jan Hanussen, who was the leading headliner on the Berlin stage in the last days of the Weimar Republic. It's a wonderfully, theatrical, entertaining and very cautionary tale about the dangers of avoidance and denial … that's expressing itself certainly in our presidential politics, but also in our politics regarding the most important issue facing the world, which is, of course, global warming.
C&M: Currently there are five theaters in the National New Play Network rollout of Building the Wall. Will more be added to that list?
Schenkkan: We put up a website just after the New York Times article dropped, and we've had over 200 requests for the play from the widest possible range of theaters — small theaters, big theaters, community theaters, political action groups — across the United States, but also internationally, from Canada, Mexico City, Belgium, Germany, Austria, France. So we have begun licensing all of those requests. I've put no [production] holds on the play, which again is unheard of. In other words if you want to produce this play, I'm going to say, "Fine, go produce it."
Filmmaker Adam McKay Talks About Dick Cheney and the Imperial Presidency
"Our democracy at its root is about the throne," says the creator of Vice. "But what Cheney tried to do was bring the power back to one person on that throne."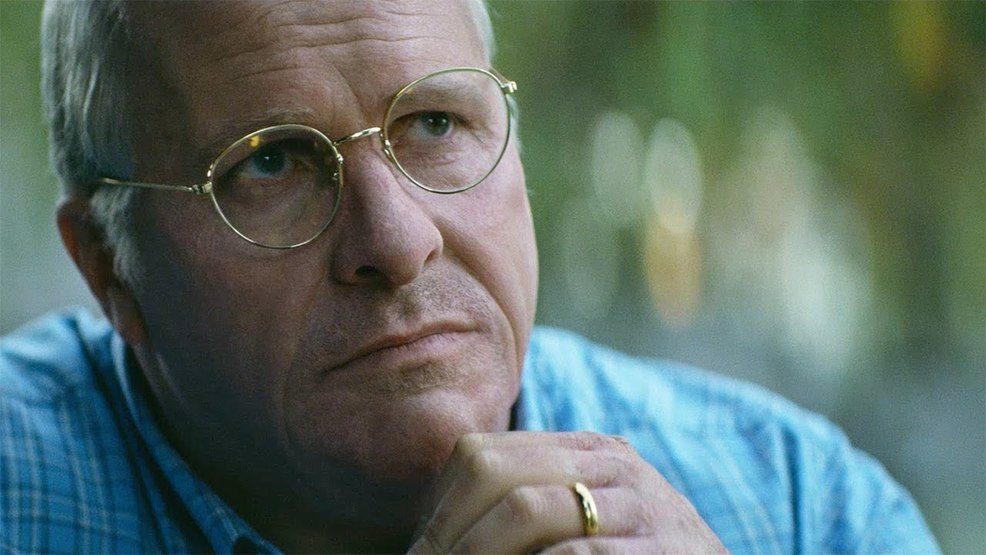 Vice President Dick Cheney quickly faded into the background after leaving the Bush White House in 2009. But while many may not remember the ins and outs of Cheney's record, the recent film Vice argues that he was one of the most powerful and influential architects of the current world, and that Cheney intensified the emergencies facing America today.
Capital & Main reporter David Sirota spoke with Vice screenwriter and director Adam McKay, who had taken on the project after winning an Academy Award for screenwriting on his previous movie, The Big Short.
Vice has been nominated for eight Oscars, including Best Picture — but has also generated its share of controversy. McKay discusses some of the criticism of the film here, along with the twists and turns of the life of Cheney, who rose to become arguably the most potent vice president in American history. The following interview excerpt has been edited for concision and clarity.
---
David Sirota: Do you believe that we are today living in the world that Dick Cheney created?
Adam McKay: Without a doubt, yeah. Trump is a force of charisma, but not in a good way. He's perfect for the 24-hour news cycle — no one knows how to dominate it better than him.
But the actual structural changes that happen to our government, to regulations, to the way we view democracy, to the way the American people interact with government … those changes happened under the hand [of] a grand master of bureaucratic knowledge, Dick Cheney. You look at the Middle East. You look into visions that were widened. I'd definitely go to that period and I say at the center of it, expanding executive power, was Dick Cheney.
There's a scene in the movie where a young Cheney is depicted as not all that partisan — it almost made it seem like him choosing a job with a Democratic or Republican lawmaker was completely random. Is that true to life?
It's not that far off. Cheney's dad was an FDR Democrat. [Dick Cheney] had no interest in politics at all through high school…The first time he really started getting any taste for feet-on-the-floor politics was when he was getting [his] master's up in the University of Wisconsin. He did intern for a Republican, handed out buttons and stuff. We interviewed some people from his early days. He was not an ideologically driven guy.
What he knew was that when he went to D.C. he needed a rocket ship. He needed to get something going. Lynne wasn't entirely happy about him taking this fellowship. She wanted him to get a Ph.D. and become a professor. That was what she always pictured that they would do. So he had to get something going quick when he got to D.C. because he wasn't making any money. And if you wanna get something going quick in the late '60s in Washington, D.C., Donald Rumsfeld was your guy.
What do you think radicalized Dick Cheney and made him such an ideologue?
The first radicalization was just the environment he kind of came of age in, which was the Nixon White House and the Ford White House, which were all about executive power — the imperial presidency. And then his conversation about the unitary executive theory with a young [Antonin] Scalia, who was a lawyer in the Justice Department.
Everything that I found with Cheney goes back to the unitary executive theory. You look at his minority opinion that he wrote on the Iran-Contra affair with David Addington. They actually have several lines in it where they say the president has monarchical-like powers.
The radicalization of Cheney, to me, is two steps. Number one is the political environment he grew up in, [and then] introduction to the unitary executive — [which] was weaponized by 9/11. Especially when he said, "Give me all the unfiltered intelligence." A lot of Washington insiders said, "Anyone who would do that — [it] would drive them crazy." One guy described it as like "listening to Led Zeppelin full volume, 24 hours a day."
So I think he was already an extreme right-winger who then came into collision course with this very traumatic event, 9/11.
Your movie depicts Cheney as motivated by the acquisition of power — but do you believe he had specific policy goals beyond that?
As far as policy goals go, war is the key to being able to use these sorts of unparalleled powers. Some legal scholars would call [these] insane powers. So I always felt like Cheney was putting together these pieces of power to expand his own power … which I do believe made him a power addict … His wife's desire for power, and by extension, America's desire for power, which did fit neatly with the neocons.
But I also think invading Iraq did two things. It activated the unitary executive theory — [if] writings from the DOJ [Department of Justice] that came about at that time were filled with references to the unitary executive theory.
And yes, the oil too, was a part of it. Cheney also is an oil guy. He grew up in an oil state, Wyoming That was his whole life. All his friends are oil guys. I always look at Cheney as a right-hand man, and I think that he serves power: Sometimes that power is oil barons, other times that power is a presidency — the notion of a powerful presidency.
So I think Iraq was sort of a mishmash of ideas. I think it was unitary executive and I think it was definitely oil, and I think it was most of all expansion of executive power and a show of force to the world.
What are the most significant and lasting parts of Cheney's legacy?
I would just say in general, those eight years of Bush and Cheney were so dispiriting that they made a lot of people kind of give up on government. And the fact that we can't fix something that really can be improved pretty easily and pretty quickly, like the opioid epidemic or like gun safety laws. Those are things that 30, 40 years ago we would've had bills passed on the issue. We would've seen fewer deaths within a year, within two years. Even the assault weapon ban, you saw deaths go down after that…
Then, obviously, the Middle East is just a wreck. Our friend, Adam Davidson, had a friend of his, a journalist, go to Iraq recently and come back and just say, "It's awful. It's completely undone." And obviously, with what happened in Syria, ISIS, all that kind of stuff. Those are the clear, kind of bad effects of Cheney and I would say the rise of this particular form of the Republican Party.
Much of your film resurrects events that have been forgotten in the American psyche, because we have this tendency to venerate leaders the moment they leave office. It's as if presidents and their administrations suddenly get immunity from retrospective scrutiny. Why do you think that is?
I feel a lot of this goes back to the pardoning of Nixon. That's a bad, bad thing. I think he should've done some time. I think it's important to not imbue these leaders with king-like mystical properties. Do you remember Jerry Lewis saying, "We should never criticize the president"?
I think we just like the idea of powerful people. We like the idea of a king. We like the idea of these celebrities that get treated like kings. Why did the Bushes keep getting elected to office? Why did the Kennedys keep getting elected to office after several of them did pretty terrible things? We just like that idea. We like the idea that some people's blood is more special than ours. I don't know why. It's really deranged…
Our democracy at its root is about the throne. What they tried to do with the Constitution, the original people that wrote it, was break up the power so you don't have one crazy guy sitting in the throne. But what Cheney tried to do was bring the power back to one person on that throne…
I guess my answer is democracy is still really new, and clearly it's not going well right now. And I think we're going to have to have a whole moment where we look at it and fix a bunch of stuff because parts of it aren't working too well.
Many people say Donald Trump's administration is the worst in American history. After doing a movie on Cheney and the Bush administration, do you agree?
Everyone wants things to be ranked and compared to each other. The real answer is that there is a safe that was filled with diamonds that represent our democracy and checks and balances. They couldn't get a goon like Donald Trump to go in and crack the safe because he doesn't even read books. Like he's not an educated guy.
So they had to go get an expert like Dick Cheney to go in there. Dick Cheney went in, he cracked the safe, he took all the jewels out of the safe, he exited the store, he left the front door wide open. Then after an hour some stray dogs wandered into the store and started crapping all over the place and peeing everywhere. And then when the owner went in, one of the dogs bit him and he said, "These dogs are the worst."
That, to me, is Cheney versus Trump. Yeah. Cheney cracked the safe, Trump is the strange bizarre dude who wandered in (and) took a crap in the store…The police arrest the street guy because look, he took a crap. He's in the store. Meanwhile, Cheney is across town giving W. Bush one diamond while he takes the other 99 and W. Bush is delighted with the one diamond.
---