New Play Brings Trump Campaign Rhetoric to Life
A new political drama from Pulitzer Prize-winning playwright Robert Schenkkan imagines a not-too-distant future where Trump's anti-immigration policies have upended the lives of millions.

Playwright Robert Schenkkan
It was in the midst of the presidential debates of 2016, and Robert Schenkkan was alarmed. Though both the pundits and the polls seemed to assure that Hillary Clinton would soon become the 45th president of the United States, the Pulitzer Prize-winning dramatist felt that the rabidly racist, anti-immigrant cant that spewed from the mouth of the Republican nominee had already brought familiar if discredited ideologies, supposedly long ago settled by war and safely consigned to the past, harrowingly close to the highest office in the land.
So Schenkkan, perhaps best known for The Kentucky Cycle, his epic nine-play saga of three Appalachian families' violent and avaricious quest for the American Dream, sat down to write. One week later, he had the first draft of Building the Wall. The playwright believed that his taut political suspense drama, which fast-forwards Trump's immigration policy of mass arrests and deportations to the incarceration of several million detainees, would be merely a dark cautionary tale of dystopian fiction, a national bullet narrowly averted. With November's electoral upset, however, Schenkkan's speculative chiller had suddenly taken a leap towards becoming real.
Building the Wall, which is set in the meeting room of a maximum-security federal prison in the Fall of 2019, tells the story of an encounter between two characters: Rick, a middle-aged, white manager of a private immigration prison who's been convicted of an unspecified atrocity and is awaiting sentencing; and Gloria, an African-American history professor, who's trying to understand what exactly happened to Rick and why.
With its opening on March 18 at Los Angeles' Fountain Theatre, the first of a five-production, five-city rollout by the National New Play Network, Building the Wall will mark the American theater's first literary response to Trump's polarizing and divisive presidency. Capital & Main spoke by phone to the New York playwright about his hopes for the play and its place in the growing cultural resistance to the Trump agenda.
Capital & Main: What was the germ of Building the Wall?
Robert Schenkkan: I was focused on Trump's comments, his commentary about border security, immigration, and the implicit and sometimes explicit or racist demagoguery implying in all the above. I had read, months earlier, quite by accident, a rather extraordinary book called, Into That Darkness about several interviews with an individual who was high up in the Nazi death camp mechanism. And I was very struck by the story that was relayed there, and so I sat down, and what I did was take Trump's rhetoric and extend it in quite a logical, and rational way, with an eye towards how might this not work out so well.
C&M: You wrote Building the Wall in a single week in October, which seems both extraordinarily quick as well as remarkably prescient. Did you at that moment expect Trump to be president?
Schenkkan: You know, I was nervous about it, but I thought that even if the election turned out in the way in which I had hoped and in which so many of the so-called experts had predicted, I thought the damage that he had done to the political environment —the operating rules under which we have functioned as a representative democracy for almost 200 years — was so extraordinary that it needed to be spoken to. We've been down this road before in this country, and certainly internationally, we've seen this before. The authoritarian playbook is pretty well established. And I think this play would be relevant even had he not won. Now that he has, it becomes more relevant and critical every day.
C&M: How much time do you usually spend on a play text?
Schenkkan: Well, typically, my plays require a fair amount of research and then there's a great deal of sort of introspection and just sort of mulling it over. And then I sit down and it takes anywhere from three months to four or five months to knock out a first draft. In this instance there was almost no research, really.
C&M: What happened after November 8? Did you have to do a rewrite?
Schenkkan: I absolutely continued to revise the script. Structurally it's virtually the same, but I continued to refine within those parameters. I'm very fortunate that the very first production out of the box with the rolling world premieres is the Fountain Theater in Los Angeles. We've got a fantastic cast and a wonderful director; it's a great theater to be working in, lots of smart people. So I'm doing what I would always do in a situation like that, which is just respond to what we're discovering in rehearsal, what the actors are bringing in, what the director's observing.
C&M: What do you hope that audiences will take away from the piece that they might not have considered before seeing the play?
Schenkkan: The next 18 months are critical in the history of our republic. I think we are really at a crisis point and everybody — and I mean every body — has a part to play in this. You may feel helpless or isolated, impotent, without power, that's not in fact the case. And everybody will be making critical decisions to act or not act, to speak or not speak. What I hope the play provokes is the recognition that we need to be very conscious about the decisions we make, and we need to make these decisions from a moral perspective. These may feel like very small choices that you make. They're not. Cumulatively, they're huge.
If the theater is going to remain relevant, if we are going to actually have this critical national conversation that we must be having, if we're going to be a part of history and not just curate history, then theater needs to become much more flexible, much more rapid in its response. This play and the production of this play, the way it's rolling out, is creating a new paradigm that other artists, theater artists certainly, but all other artists can potentially emulate.
C&M: So in a sense, Building the Wall is a rallying call to fellow playwrights?
Schenkkan: Yes, absolutely, it's a rallying call to citizens, regardless of who they are and what they do, but certainly it's also a rallying call to my colleagues and the art form that I love and have been a part of for 40 years. This is not a time to be silent. This is a time, especially, when storytellers, when playwrights, screenwriters, television writers, writers of all kinds need to speak up, because what we're fighting over is the narrative, we're fighting over the story of who we are as a people.
C&M: Much of Trump's electoral victory has been attributed to his narratives of race, fear and economic despair that masked another narrative of extreme neoliberalism that, arguably, will be a disaster. Do you think that artists can address those kinds of underlying narratives in a way that journalists were unable to?
Schenkkan: I think we have to. Trump is a shrewd politician, who is for certain, with very conservable skills in terms of his ability to message. The populist tide that he correctly observed and astutely managed is driven by real economic and sociological issues that the experts from both parties have been ignoring for 20 or 30 years. It's finally caught up with us and it has bit us in the ass in a very big way. What I'm saying is that those who supported our current president did so not because they were horrible racists, although some of them share feelings that you would describe as racist, but largely out of what they perceived to be their own economic interests and their own considerable frustration. I think that's on us; certainly it's on Democrats who have prided themselves on being the voice of the workingman. We took our eye off the ball, and we're going to pay a terrible price for that.
C&M: Will Building the Wall be your last word on Trump?
Schenkkan: Oh no. And I have another new play that I was just working at on at Denver at the Summit Theater Festival called Hanussen, which deals with the Erik Jan Hanussen, who was the leading headliner on the Berlin stage in the last days of the Weimar Republic. It's a wonderfully, theatrical, entertaining and very cautionary tale about the dangers of avoidance and denial … that's expressing itself certainly in our presidential politics, but also in our politics regarding the most important issue facing the world, which is, of course, global warming.
C&M: Currently there are five theaters in the National New Play Network rollout of Building the Wall. Will more be added to that list?
Schenkkan: We put up a website just after the New York Times article dropped, and we've had over 200 requests for the play from the widest possible range of theaters — small theaters, big theaters, community theaters, political action groups — across the United States, but also internationally, from Canada, Mexico City, Belgium, Germany, Austria, France. So we have begun licensing all of those requests. I've put no [production] holds on the play, which again is unheard of. In other words if you want to produce this play, I'm going to say, "Fine, go produce it."

'Skeleton Crew' Is a Play With a Moral Spine
Set in a Detroit automobile outfitting plant, Dominique Morisseau's drama grabs you from the start with its focus on blue-collar men and women, and their struggle for dignity and self-respect.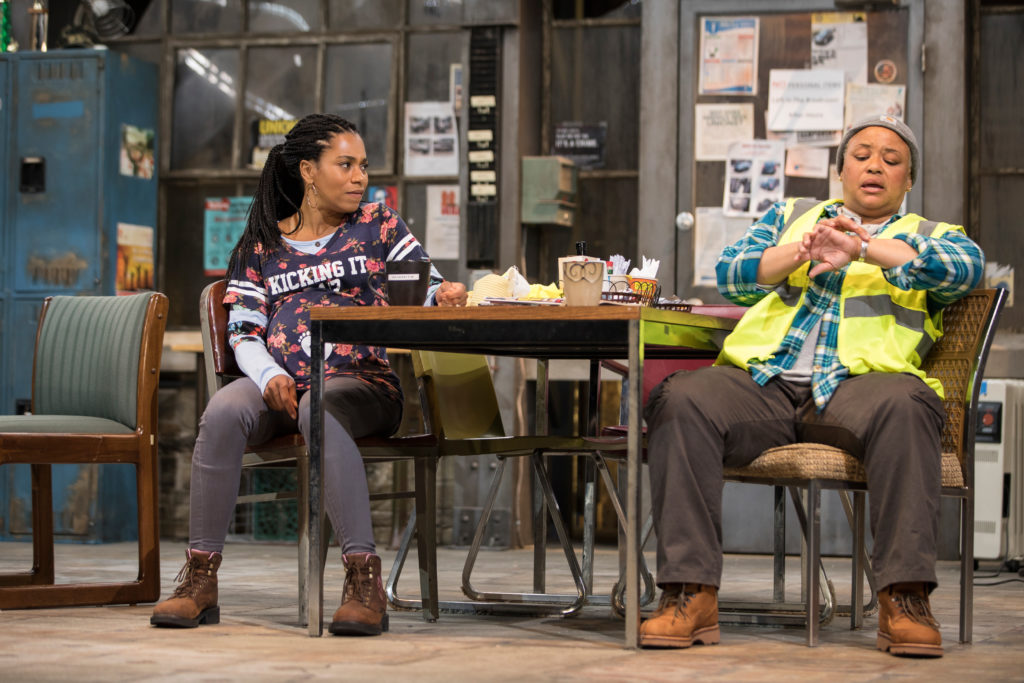 Working-class men and women of color are rarely front and center in today's media and, likewise, are presented all too occasionally on the American stage. So it's buoying to see that trend bucked in playwright Dominique Morisseau's percipient and well-crafted drama, Skeleton Crew. The play is the final installment in her Detroit  Project Trilogy; the first, Paradise Blue, is set in the 1940s amidst displacement caused by urban renewal and gentrification, while the second, Detroit '67, transpires on the eve of the 1967 Detroit riots sparked by a police action.
Directed by Patricia McGregor at Los Angeles' Geffen Playhouse, Skeleton Crew is a play with a moral spine. It takes place in 2008, when the shrinking U.S. auto industry is being further downsized. Morisseau's engaging quartet of characters — Faye (Caroline Stefanie Clay), Dez (Armari Cheatom), Shanita (Kelly McCreary) and Reggie (DB Woodside) – are employed at an automobile outfitting plant. Faye, Dez and Shanita are workers on the line while Reggie (who has a wife and kids, and has pulled himself together after a troubled youth) is their supervisor.
The first three customarily mingle in their break room (designer Rachel Myers' impressively cluttered, dingy and detailed set), trading the sort of familiar barbs and genuine concern for each other common among longtime co-workers. They also face off on philosophy: Upper-middle-aged Faye and the younger, pregnant Shanita take pride in their labor, while Dez, though a good worker, is a malcontent scornful of management and firm in the belief that everyone needs to watch out for himself. He's a thorn in Reggie's side, for while Reggie wants to be supportive of his workers, he must act at the behest of higher management. For his part, Dez resents Reggie's authority, and a palpable unease exists between them.
Besides this male matchup, we're made privy to Dez's attraction to Shanita, who mostly turns away his advances, but every now and then displays a hint of interest. Most poignant is Reggie's regard and affection for the lesbian Faye, which has roots in his boyhood when she loved, and lived, with his now-deceased mom.
These people's various predicaments intensify when rumors spread of the plant's shutdown — a disaster for all, but a particular calamity for the already near-broke Faye who, one year short of retirement, would lose her pension. The crisis forces each of these people to make a choice.
A sound piece of social realism, Skeleton Crew grabs you from the start in its focus on blue-collar men and women, and their struggle against odds for dignity and self-respect. Morisseau not only furnishes these characters a platform for their travails, she endows them with strong values, big hearts and the opportunity to choose between right and wrong.
Unfortunately, the performance I attended did not soar. Many exchanges lacked a fresh edge. The actors certainly had their characters down, but too often they appeared to be coasting on technique. (This seemed particularly true of Clay, who performed the role to great accolades in Washington, DC in 2017, also under McGregor's direction). Additionally, some of the stage movement was not entirely fluid; in confrontations, actors sometimes would just stand and face each other in an artificial way. And Cheatom's interpretation of Dez struck me as a bit overly churlish and depressive: I needed more glimpses of the intelligence and edge that would secretly attract the strong, self-directed Shanita.
The most compelling moments belong to Woodside, well-cast as a man trying his best in difficult circumstances to do the right thing.
---
Gil Cates Theater at the Geffen Playhouse, 10886 Le Conte Ave., Westwood Village; Tues.-Fri., 8 p.m.; Sat., 3 & 8 p.m. Sun., 2 & 7 p.m.; through July 8. (310) 208-5454 or www.geffenplayhouse.org