New Law to Inform Californians of Dangerous Chemicals in Furniture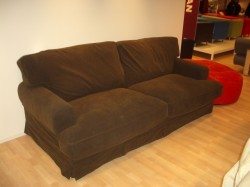 The state took an important step for consumer rights and against corporate misinformation today. Governor Jerry Brown signed Senate Bill 1019, authored by Senator Mark Leno (D-San Francisco), which requires furniture labels to include information about flame retardant chemicals.
Experts found that the chemicals had serious health and environmental impacts, despite making no real difference in fire safety. Consumer rights, health, environmental, and labor groups all joined in support of the bill.
"For us, the evidence is increasingly clear that flame-retardant chemicals do little to inhibit catastrophic fires, but pose a real threat to the health and safety of firefighters and the people we serve," said Lou Paulson, president of California Professional Firefighters, in applauding the Governor's signing of SB 1019. (Disclosure: The union is a financial backer of Capital & Main.)
The chemical industry launched an intense fight against the bill, in a campaign that Capital & Main's Gary Cohn recently wrote was "reminiscent of Big Tobacco's fight against government controls." After Leno accepted an amendment clarifying the definition of flame retardants, furniture manufacturers gave SB 1019 a critical boost by splitting with the chemical industry and supporting the bill.
"Today's action by the Governor is a huge victory for California consumers who have long demanded the right to know what chemicals are in the furniture they purchase for their homes and families," Leno said as Governor Brown signed the bill into law.