New Book Uncovers California's Labor History
"My impulse was to bring history up to the present," says Fred Glass about his new book, From Mission to Microchip: A History of the California Labor Movement.

"My impulse was to bring history up to the present," says Fred Glass about his new book, From Mission to Microchip: A History of the California Labor Movement (University of California Press).
The volume embraces more than California's rich labor organizing history — it examines the nature of work, the forces that manage our work lives, who benefits from labor and how it all shapes our present notions of what work is about. It's a lively, if lengthy read that hits those themes throughout in ways that resonate with the 21st century's disruptive gig economy of Uber and Lyft drivers.
It asks and answers: Who the workers were who built California—indigenous, Chinese, Mexicans, African-American and Irish — what their lives were like, what inequalities and frictions existed.
And it addresses the questions facing California as we are embroiled in the 2016 election—what dynamics, collaborations and tactics have transformed the Golden State into arguably the most progressive one in the union when it comes to employment and living standards policies?
"Labor history doesn't stop," Glass tells Capital & Main during an interview in the offices of the Los Angeles Alliance for a New Economy. "Some of the most important and relevant lessons from California for the United States have just occurred. Just as other states around the country are disastrous laboratory experiments in 'small government' and anti-tax ideology. California has moved in the other direction." Glass is referring to Wisconsin's attacks on public-sector unions, despite its long progressive history as the state that first granted collective bargaining to public employees.
Glass is communications director for the California Federation of Teachers (CFT) and teaches Labor and Community Studies at City College of San Francisco. (Disclosure: CFT is a financial supporter of Capital & Main.) When he first taught American labor history, then local San Francisco labor history, Glass says, he realized that there was a California story he didn't know much about.
"The book came out of not having a book to turn to for that class," he says. The last published California overview history had left off in the 1960s and was slightly updated in the 1970s. "Our understanding of that history has changed."
An opening chapter sets the framework with a description of the work lives of California's indigenous peoples prior to the European incursion in the late 18th century. "The purpose of work was to provide for life," Glass writes. If it took a few weeks to build a canoe, the time didn't matter. The canoe was the essential product, the craft you used to fish to feed the family and provide for the rest of life—so it was worthwhile to get it right.
Spanish conquerors imposed the mission system and the clock. The subjugated indigenous people who worked the fields and produced goods for the missions faced harsh consequences for breaking the rules and attempts to escape could be fatal.
They got up by the bell, went to Mass by the bell, ate by the bell and went to sleep after the bell. (Sound familiar?)
"A constant for the labor movement has been the attempt to [better] manage through collective action individual workers' time," Glass says.
Another theme in the book that resonates in 21st century working life might be called "mining the miners." California's history is thought of as a series of gold rushes, Glass says—the initial 1849 California Gold Rush "was followed by bonanza wheat farms, oil, movies, the post-war jobs boom, Silicon Valley software startups." (The 21st century parallel of "mining the miners"—a term Glass emphasizes he did not invent –"would be Facebook, which mines the data of its users for commercial profit. It's even called that — data mining.")
The '49 Gold Rush kicked off the industrial economy. Railroads helped build California and the "Big Four" business tycoons—Leland Stanford, Collis Huntington, Mark Hopkins and Charles Crocker – are always credited with building the Central Pacific Railroad, although, of course, it was Chinese and Irish immigrant laborers who actually swung the pick axes and pushed the shovels.
"Their money employed the people who built the railroads," Glass notes of the tycoons, who, he adds, "came to their money as failed Gold Rush miners. They built their initial fortunes that way," by mining the miners – selling food, fuel and housing to miners and prospectors.
That the Big Four get virtually sole credit for building the railroads is part of the larger framework through which we view work. "There's a dominant narrative in the society that devalues work and working people," Glass says.
From Mission to Microchip covers the racial history of California labor organizing as well, focusing on the ways businesses brought in Chinese and African-American workers to work under far lower (and cheaper) standards than did Irish workers—and the ways the unions responded. In the 1870s, for example, leaders of the Workingmen's Party of California, which included many Irish immigrants,  blamed San Francisco's super-rich for using Chinese labor to squeeze the working class that was then building the City by the Bay. Denis Kearney was the party's leading xenophobic rabble-rouser. But WPC leader Frank Roney, another Irish immigrant, denounced the Chinese exclusion laws that his own party championed.
In the 20th century, Glass points out, "even when the California AF of L was choosing not to organize farm workers, you still had people within the labor movement who did choose to organize farm workers and took on the double burden of organizing farm workers and organizing within the racist attitudes of the time."
In Glass' analysis organizing immigrant workers has always been the strength of the California labor movement. The difference between California and Wisconsin's labor climate, he says, is that California, unlike the Badger State, has a large immigrant worker population that the labor movement here has embraced.
"In California that organizing has made the difference between falling to the same average union density as the rest of the country, which is around 11 percent, [and the] 16, 17 percent we're still at."
Glass calls Justice for Janitors in Los Angeles, which took on what was largely a contract industry, "the first systematic embrace of immigrant labor rights." The J4J movement, organized by the Service Employees International Union in the 1990s, rolled out of Los Angeles into other cities.
California labor's approach is a toolbox that includes picket lines, negotiations, demonstrations, boycotts and legislative action.
"The toolbox was being put together right from the beginning," says Glass. "These were people who came from other places and they carried those traditions with them. They didn't invent it all here but they pulled it together here in different ways."
Another impetus for Glass' book was his work with the statewide Reclaim California's Future coalition, in the run-up to the 2012 elections in support of Proposition 30. That successful ballot measure raised taxes on California's top two percent of income earners in order to restore school budgets and public services that had been slashed by recession-era budgets.
And now, as November approaches, Glass says the next step is a follow-through on the 2012 effort to reform California tax policy by extending the expiring Proposition 30 to raise $8 billion: "It's a temporary tax, it saved the public sector in California in 2012 when passed, it changed the narrative about California voters who previously were believed to be bullet-proof against raising taxes."

Home, Shared Home: Renters Watch as Their Buildings Become Apartels
The displacement of renters by large-scale operators who turn apartment buildings into de facto hotels has hit urban areas like Greater Los Angeles hard.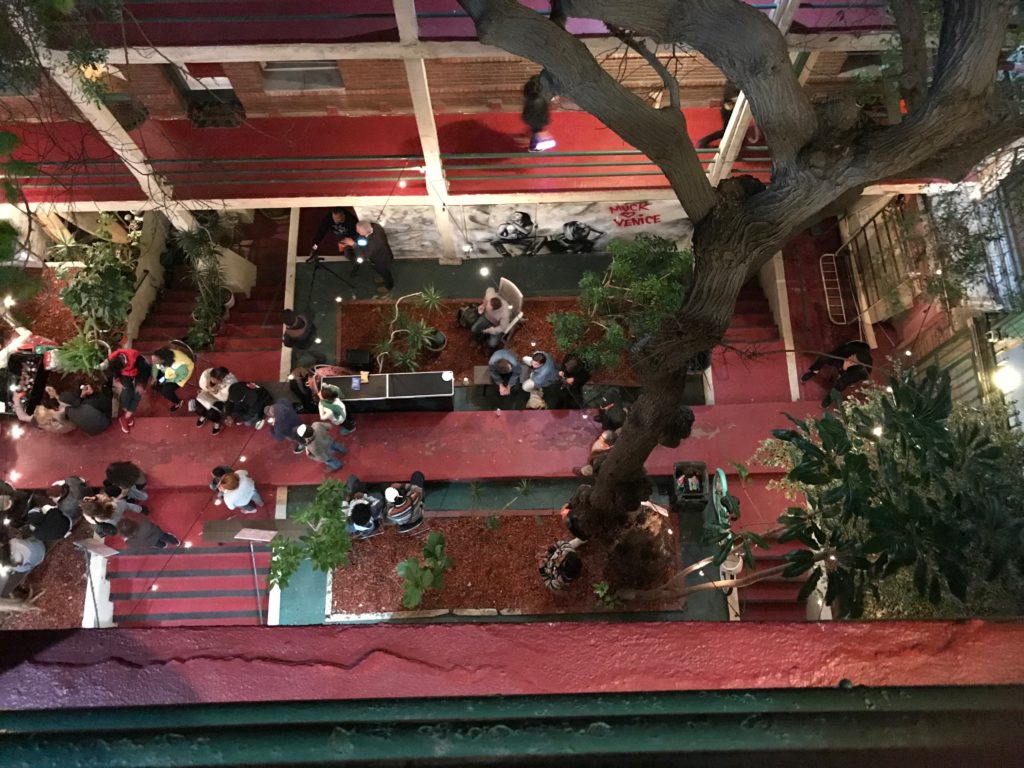 ---
Apartment Renter: Short-term guests begin lining up around 11 a.m., spilling out onto the street as other guests check out.
---
Home-sharing

. This cozy phrase once conjured images of a homeowner generously opening up a room to out-of-towners—while the fee charged by the owner helped him with mortgage payments. Or perhaps we pictured an apartment dweller who left for the weekend and made a little extra cash letting someone else use the premises.
But the present reality of home-sharing is not so cozy for single-family residential neighborhoods, where out-of-town guests may feel no social pressure to allow the neighbors a peaceful night's sleep or to not trash the rental home.
To see today's home-sharing up close, visit the Ellison Suites in coastal Venice, just a block from the famed Venice Boardwalk. Built in 1913 and covered with gigantic murals of Jim Morrison, Marilyn Monroe, John Hurt and Lana Del Rey, it boasts 58 units—but only 12 apartments are occupied by permanent tenants, according to one resident.
---
"We used to have neighbors for 20 years—now we have them for 20 hours."
---
Beyond the Ellison's courtyard, people bump wheeled suitcases up the building's front steps and, on Fridays, signs advertise the night's upcoming party. It might offer a fire dancer, but most parties will at least include free beer and wine — and music that reverberates up through the courtyard.
"We used to have neighbors for 20 years—now we have them for 20 hours," said Bruce Kijewski, one of the remaining tenants, who has lived here since 1977. In the summer, he said, guests begin lining up around 11 a.m., spilling out onto Paloma Avenue as other guests check out.
An online search for The Ellison Suites yields a number of home-sharing and lodging platforms—Booking.com and Expedia among them–advertising its amenities as a short-term beachside rental. The building's own website promotes it as a vacation destination, extolling Jonas Never's murals as "Venice Masterpieces."
The displacement of tenants by large-scale operators who turn their buildings into de facto hotels hit hard in urban areas like Greater Los Angeles, which is plagued by a nearly three percent rental vacancy rate.
While mom and pop are in on some of the home-sharing, today its booming business model most benefits commercial operators who can make more on short-term rentals (STRs) than on permanent residents.
STRs are promoted by a slew of home-sharing platforms, including Airbnb, now valued at $31 billion as it moves toward being publicly traded; and HomeAway and subsidiary VRBO, valued around $3 billion in 2015. The platforms profit by collecting a percentage on every rental offered on their sites by home-sharers.
Local municipalities are scrambling to figure out and ameliorate STR impacts on their neighborhoods and housing stock. In May, a Los Angeles City Council measure was sent to the city attorney's office for language changes and is expected to go before the city planning commission in September. The proposed ordinance would set up a permitting system for short-term rentals and establish a 120-day yearly limit for home-sharing. Two nuisance violations—enforced by a city agency—could get an operator's permit revoked.
The Ellison Suites, zoned as a rent-stabilized apartment building, in effect operates as a hotel.
The lowest nightly rate listed on the website is $149. That apartment, when rented to vacationers, could yield $4,470 monthly.
With the Ellison's current rent-stabilized protections, it's hard to straight-up evict someone, but there are ways of persuading them to flee their apartments to make them available for tourists and other visitors.
Michael and Susanne Detto, Ellison residents for 14 years, rented their apartment for $2,000 a month before they moved out in May. All-night parties in the courtyard below their apartment made it impossible to sleep—both work 12-hour shifts as nurses. "It was so loud we couldn't even talk to each other," Susanne Detto said.
Breakdowns in maintenance–power outages, faulty plumbing, leaking ceilings—plus an altercation with management during one of the raucous parties were all part of what the Dettos claim drove them out.
"Especially in summer, he makes three times the money if he rents out every day," Michael Detto said of the Ellison's landlord.
Kijewski and other Ellison tenants say landlord investment goes into creating a hotel entertainment experience rather than supporting habitable apartments. Residents have filed dozens of complaints with the city against building owner Lance Jay Robbins' Paloma Partnership LLC, citing bad plumbing, inadequate water supply, construction without permits and change of use/occupancy without a building permit. (Multiple attempts to get a response from Robbins for this story were unsuccessful.)
---
Michael spoke wistfully of a community where neighbors once shared poetry readings, art discussions and fundraisers in the courtyard now occupied by high-octane weekend parties.
---
The company appealed the building's status to Los Angeles' Building and Safety Commission, arguing that short-term rentals should be allowed because the city's initial certificate of occupancy designating the Ellison a residential apartment was in error and that the building is a hotel.
The company lost. Another appeal is headed for the city planning department.
Meanwhile the Ellison continues to advertise online as a hotel.
With today's lucrative rates of return, it's easy to see why, for large-scale operators, short-term stays make for a more attractive business model than permanent housing. Customers staying for a few nights might do some hating online, but won't be there to press on long-playing maintenance issues.
Tenants at the Metropolitan in Hollywood experience the same push-out climate as Ellison residents, according to Susan Hunter, a case worker with the LA Tenants Union, which is part of a coalition that includes representatives from Los Angeles' hotel industry, labor unions and community groups.
Hunter counts a dozen permanent residents remaining in the sleek, 12-story high-rise that boasts sweeping views of Hollywood and sits within walking distance of Hollywood Boulevard sites.
The website for Apartments.com says there are no apartments presently available.
Zoned as a residential building, the 52-unit Sunset Boulevard property owned by the Harridge Development Group is advertised online as an "apartel." Tenants approached for this story didn't want to speak, they said, for fear of retaliation, but they have complained to Hunter of loud parties, with fighting in the halls and kicked-in doors.
Apart from creating chaotic conditions for tenants sharing space with STRs, the home-sharing model leaves an even larger social footprint. The incentive for large-scale operators everywhere to acquire units—including entire homes — and move them off the permanent housing market places upward price pressure on housing.
From Seattle to New Orleans to Barcelona and beyond, housing advocates are assessing the effects of short-term rentals on housing markets and figuring out how to respond.
In New York City, short-term rentals have resulted in a loss of as many as 13,500 rental housing units, according to a January 2018 report from the School of Urban Planning at McGill University. (The study was commissioned by a labor group opposed to home-sharing.) New York has passed legislation requiring registration and other monitoring measures.
A 2015 San Francisco Board of Supervisors Budget and Legislative Analyst report estimated that Airbnb short-term rentals alone had removed between 925 and 1,960 units from the city's housing market. These, along with 8,000 units already being used for short-term rentals, add up to an 11 percent reduction in rental housing.
Like other cities, San Francisco has aimed to define and enforce the number of nights STRs are permitted. Studies based on data from insideairbnb.com show that, in Los Angeles, renting out a property as a short-term rental for 83 nights or more annually produces more profit than the property could earn as a long-term rental.
In San Francisco, the cradle of Airbnb and adjacent to tech hubs, municipal leaders face an affordable housing shortage and a vacancy rate below three percent, and have established a registration process for short-term rental hosts. Regulations set a cap of 90 days per year for hosts that don't live on the property. Violators are subject to stiff fines.
Seattle, headquarters of several tech giants, took an approach that attacks the short-term rental issue as part of the affordable housing problem. The city defines a short-term rental as a maximum stay of 29 nights and sets up a licensing system.
Using a wider lens on the affordable housing crunch, the city council in May approved an "Amazon tax" that charges the larger employers such as Groupon and Amazon $275 per worker annually to support housing and homeless services. (The city council repealed the tax in August.) Seattle comes in third, behind only New York and Los Angeles, in the numbers of homeless, while boasting only a fraction of those cities' total populations.
Joan Ling, an urban policy analyst who has worked in affordable housing and mixed-use development for over 30 years, supports short-term rental regulation but sees it as only a piece of the larger question of creating affordable housing to support working families. Los Angeles, she said, "has a ways to go . . . Anything is better than nothing. What [regulation] can do is reduce the harm that can be done [by] removing units. The affordability crisis is so pervasive, so deep—we need a huge number of policies to address the crisis."
Michael and Susanne Detto are happy living in their new apartment in Santa Monica—no all-night parties, the plumbing works and it's a 10-minute walk to work. But before the Ellison got pieced out for short term-rentals, the couple also liked their Venice home.
Michael spoke wistfully of the community where neighbors once shared poetry readings, art discussions and fundraisers in the courtyard now occupied by high-octane weekend parties.
Susanne likes where the couple landed, but reflected on the overall cost as tenants got pushed out by the STR model.
"We lost a lot. We lost a lot of our neighbors. We're still kind of recovering."
---
Copyright Capital & Main