Netroots Nation in Detroit: The Art of War and the War of Art
A panel from Diego Rivera's "Detroit Industry" murals. (Photo by Rachele Huennekens)
It was an incredibly busy and rewarding time last week at Netroots Nation in Detroit. Sifting mentally through the countless conversations, workshops, speeches, text messages, Tweets, business cards and campaign "swag" I've accumulated, I struggled to find a common thread.
Then I visited the Detroit Industry Murals — one of Diego Rivera's most famous works of art. Rivera's amazing fresco murals reflect ideas of duality: contrasting managers and workers, mechanized industry and the natural world, and the positive and destructive potential of science and technology. Rivera beautifully illustrated these concepts between 1932 and 1933 by painting images of biochemical weapons and passenger planes, female fertility figures with South and North American characteristics, doves and hawks, orderly production lines and fiery furnaces.
Then, it clicked. For me, Netroots Nation 2014 has been about the duality of art and war.
First is war. I've learned how public policies have furthered corporate greed and profits that are sweeping the nation, causing crises and resistance at an unprecedented level. This has become a true war: a large-scale struggle between powerful corporations and communities including labor unions, women, immigrants, public school teacher and students, service workers and, especially, the poor.
One of the starkest examples of this war on the poor is on display in Detroit. On Friday I joined hundreds of Netroots Nation participants and members of National Nurses United, the People's Water Board, the National Action Network, Food and Water Watch, United Auto Workers (UAW) and other organizations, at a massive protest of the Detroit Department of Water And Sewage's decision to shut off water for customers with outstanding accounts — roughly 90,000 residents, many of whom are Detroit's poorest families.
At the rally, I learned that Governor Rick Snyder had appointed an "Emergency Manager" with powers beyond those of the Detroit mayor's in the wake of the city's bankruptcy declaration. The Detroit Emergency Manager, Kevyn Orr, is instituting sweeping changes to the city: cutting public employee pensions and healthcare, turning neighborhood public schools into charter schools and selling off valuable city-owned land to private developers for a song. Similar Emergency Managers are appointed in poor suburbs of Detroit and are subverting the authority of democratically elected leaders, privatizing public resources and gutting public services.
This theme of a war waged on working Americans surfaced in many other places at Netroots. I heard a worker from OUR Walmart says she's worried she won't have a job next week when she returns from the conference, and I saw dozens of immigrant rights activists thrown out of Vice President Joe Biden's speech for chanting "Stop deporting our families." I heard an LGBTQ organizer from Houston worrying that a city employment and housing non-discrimination policy will be reversed because of fear-mongering over "transgender bathrooms," and saw a UAW organizer get choked up in describing the fear Chattanooga Volkswagen workers felt after Tennessee Senator Bob Corker threatened their plant would close if they formed a union.
But for all the war stories I heard, I also experienced a second theme: art. The Netroots Nation is made up of passionate, talented and fierce organizers and advocates, who are committed to the art of struggle for a better world.
One discussion that inspired my work with the Jobs to Move America coalition was a panel sponsored by the American Alliance for Manufacturing (AAM) on good jobs. One of the panelists, U.S. Representative Dan Kildee said, "this notion of infrastructure really is critical," and suggested stepped-up enforcement of trade deals, tax policy changes and other national policy solutions to reverse the tens of thousands of manufacturing jobs lost in his community of Flint, Michigan.
Other panelists had many artful ideas on how to renew manufacturing jobs and the people and communities that depend on them. Daily Kos blogger Laura Clawson emphasized "the idea is that there's a public good that we should be protecting," suggesting that something as simple as putting signs on bridges that are structurally deficient would deliver enough public demand for massive infrastructure investment.
AAM Executive Director Scott Paul described AAM's policy work to reduce America's trade deficit and leverage public dollars to boost domestic manufacturing sectors, noting that "spending our tax dollars on building out infrastructure makes sense. We've been working with states and cities to say, 'Hey, your ability to create returns for the local economy… should be a factor in considering which contracts to award.' …The best place to talk about this is Detroit, because we've seen what goes wrong when you let deindustrialization happen, but there's also a lot of hope. We still make cars here, we still make steel here, there's a lot of manufacturing going on."
A reminder that art often stems from the unexpected came from a woman who spoke up with conviction during the AAM panel. "I'm a manufacturer and small business owner," she said. "Nobody in my facility makes less than $15 an hour, I pay 100 percent of health care and my people get full benefits. And I export my products all over the world, to China, Pakistan and India, and I'm succeeding."
The people I've met at Netroots Nation have inspired me to believe that creativity and art may just be the answer to oppression and war. Let Detroit lead the way.

'Skeleton Crew' Is a Play With a Moral Spine
Set in a Detroit automobile outfitting plant, Dominique Morisseau's drama grabs you from the start with its focus on blue-collar men and women, and their struggle for dignity and self-respect.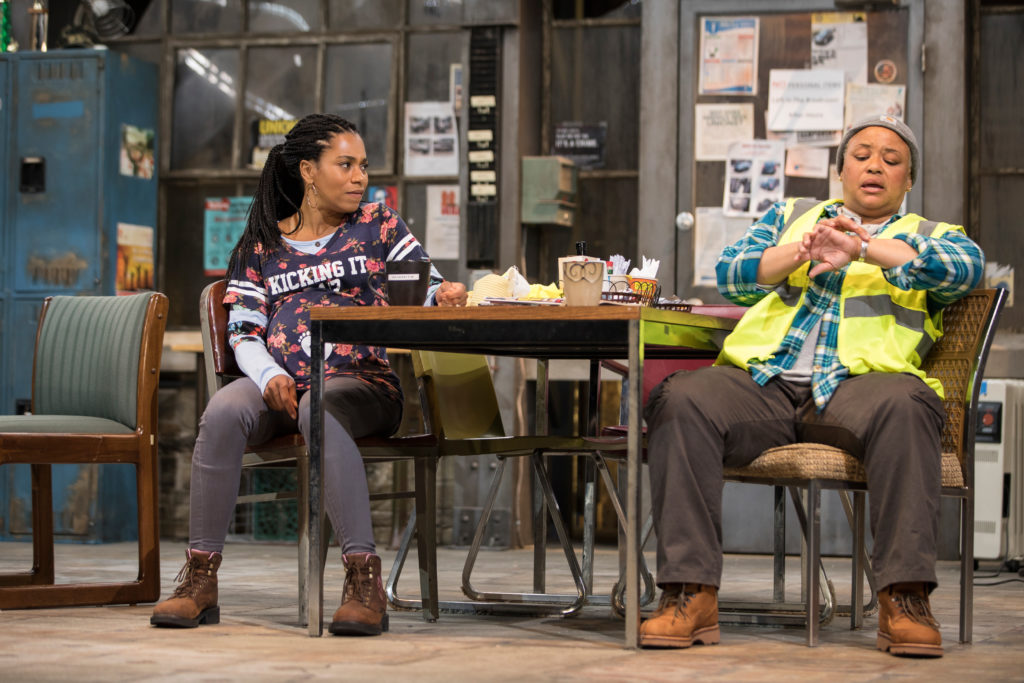 Working-class men and women of color are rarely front and center in today's media and, likewise, are presented all too occasionally on the American stage. So it's buoying to see that trend bucked in playwright Dominique Morisseau's percipient and well-crafted drama, Skeleton Crew. The play is the final installment in her Detroit  Project Trilogy; the first, Paradise Blue, is set in the 1940s amidst displacement caused by urban renewal and gentrification, while the second, Detroit '67, transpires on the eve of the 1967 Detroit riots sparked by a police action.
Directed by Patricia McGregor at Los Angeles' Geffen Playhouse, Skeleton Crew is a play with a moral spine. It takes place in 2008, when the shrinking U.S. auto industry is being further downsized. Morisseau's engaging quartet of characters — Faye (Caroline Stefanie Clay), Dez (Armari Cheatom), Shanita (Kelly McCreary) and Reggie (DB Woodside) – are employed at an automobile outfitting plant. Faye, Dez and Shanita are workers on the line while Reggie (who has a wife and kids, and has pulled himself together after a troubled youth) is their supervisor.
The first three customarily mingle in their break room (designer Rachel Myers' impressively cluttered, dingy and detailed set), trading the sort of familiar barbs and genuine concern for each other common among longtime co-workers. They also face off on philosophy: Upper-middle-aged Faye and the younger, pregnant Shanita take pride in their labor, while Dez, though a good worker, is a malcontent scornful of management and firm in the belief that everyone needs to watch out for himself. He's a thorn in Reggie's side, for while Reggie wants to be supportive of his workers, he must act at the behest of higher management. For his part, Dez resents Reggie's authority, and a palpable unease exists between them.
Besides this male matchup, we're made privy to Dez's attraction to Shanita, who mostly turns away his advances, but every now and then displays a hint of interest. Most poignant is Reggie's regard and affection for the lesbian Faye, which has roots in his boyhood when she loved, and lived, with his now-deceased mom.
These people's various predicaments intensify when rumors spread of the plant's shutdown — a disaster for all, but a particular calamity for the already near-broke Faye who, one year short of retirement, would lose her pension. The crisis forces each of these people to make a choice.
A sound piece of social realism, Skeleton Crew grabs you from the start in its focus on blue-collar men and women, and their struggle against odds for dignity and self-respect. Morisseau not only furnishes these characters a platform for their travails, she endows them with strong values, big hearts and the opportunity to choose between right and wrong.
Unfortunately, the performance I attended did not soar. Many exchanges lacked a fresh edge. The actors certainly had their characters down, but too often they appeared to be coasting on technique. (This seemed particularly true of Clay, who performed the role to great accolades in Washington, DC in 2017, also under McGregor's direction). Additionally, some of the stage movement was not entirely fluid; in confrontations, actors sometimes would just stand and face each other in an artificial way. And Cheatom's interpretation of Dez struck me as a bit overly churlish and depressive: I needed more glimpses of the intelligence and edge that would secretly attract the strong, self-directed Shanita.
The most compelling moments belong to Woodside, well-cast as a man trying his best in difficult circumstances to do the right thing.
---
Gil Cates Theater at the Geffen Playhouse, 10886 Le Conte Ave., Westwood Village; Tues.-Fri., 8 p.m.; Sat., 3 & 8 p.m. Sun., 2 & 7 p.m.; through July 8. (310) 208-5454 or www.geffenplayhouse.org