Netflix's Wonderful World of Greed
Many of the miscreants exposed in Netflix's Dirty Money series take the "everyone else does it" defense. The misdeeds chronicled here underscore just how insidious and pervasive the grab for cash all around us is.

Each episode of Netflix's new documentary series, Dirty Money, depicts an instance where money is valued over everything else. As a whole the series makes it impossible not to feel that modern society is being held hostage by a sinister group of greedy robber barons who pilfer from the poor to line their gilded pockets. If the love of money is the root of all evil, these are the gardeners who nurture their sins with overwhelming avarice.
Everything from the air we breathe to the pills we pop, to even the syrup we put on our pancakes (more on that later), is fair game in the quest for riches. The series starts with an episode that drives home this theme firsthand for executive producer Alex Gibney.
Arguably the most accomplished documentarian working today, Gibney (who directs this first episode as well) reveals that his wife's purchase of a Volkswagen diesel was fueled by the promise propagated by the company that owning that car helped the environment. But a band of consumer activists discovered that the promise of cleaner air had taken a backseat to profit. Volkswagen had secretly installed a kill switch to cut off the environmental controls in each car once it is put in drive, the activists found, making it a vehicle for delivering poisonous fumes the moment the wheels start turning.
Throughout the series, Gibney et al focus on one particularly egregious entity to represent how that particular industry picks profit over people — describing Volkswagen, for instance, as ironically and knowingly "gassing the masses." In "Payday," the focus is on one particularly predatory lender who charges unsuspecting and struggling working people ridiculous markups buried in fine print. "Cartel Bank" reveals that HSBC bank knowingly laundered money for the drug cartels, indirectly leading to hundreds of thousands of deaths south of the border. The best of the bunch is "Drug Short," a shocking tale of how Wall Street short sellers exposed a cowardly drug company, Valeant, systematically raising drug prices with no regard for the ailing who used their products. Director Erin Lee Carr imbues the episode with the human cost of greed, and it makes one realize that Big Pharma and its abuses alone could be the subject of its own series. The only outlier is "The Maple Syrup Heist," a badly directed tale (lots of close-ups of highlighted words in documents!)  about Quebec's maple syrup monopoly, and emerges as sort of a cross between Fargo and Frontline, but not as good as either.
Many of those exposed in Dirty Money take the "everyone else does it" defense. While that may be true, it doesn't make their actions any less despicable. The dirty misdeeds chronicled here underscore just how insidious and pervasive the grab for cash all around us is. Which makes the final episode, titled "Confidence Man," so fitting. Ably directed by Fisher Stevens, it exposes one of the greediest, most dishonest and most corrupt figures in modern business. In great detail, it shows how a spoiled rich kid lied and cheated his way into the public consciousness and then parlayed that into fame and celebrity. But unlike in the other episodes, the crook in question does not get his due. In fact, the opposite happens, as we see Donald Trump ascend to the highest office in the land. The story of Don the Con serves as a sober and ominous denouement to the series, highlighting how we are now living in a world where the currency of our existence is cash over care, profit over people, money over everything. Dirty Money is a rare feat, a series that is, for the most part, profoundly riveting, reflective and relevant.
---
Copyright Capital & Main
'Skeleton Crew' Is a Play With a Moral Spine
Set in a Detroit automobile outfitting plant, Dominique Morisseau's drama grabs you from the start with its focus on blue-collar men and women, and their struggle for dignity and self-respect.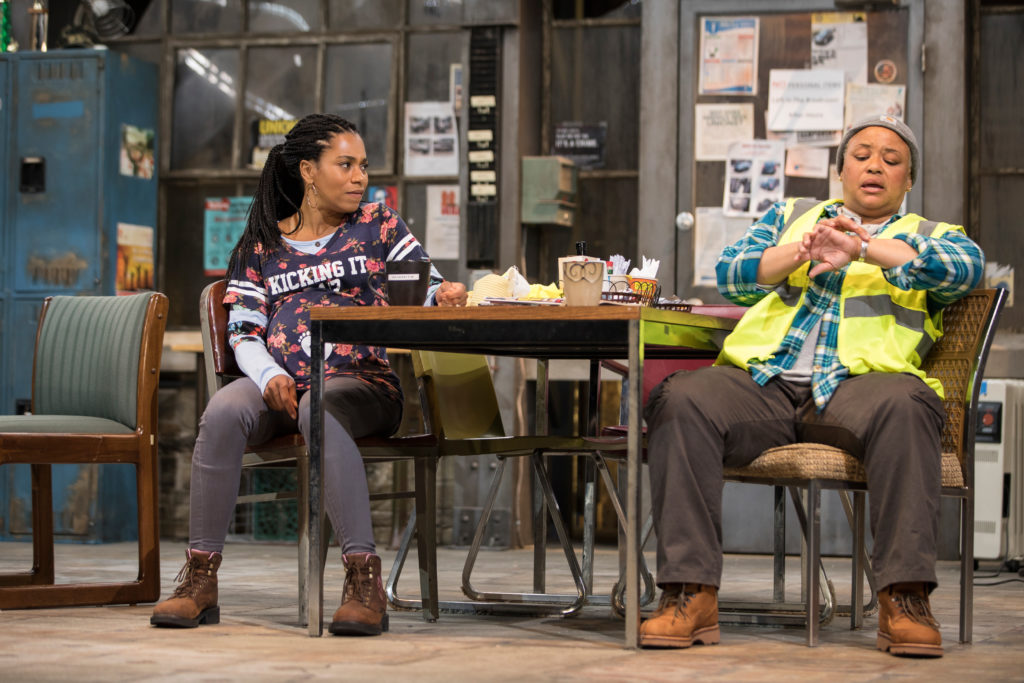 Working-class men and women of color are rarely front and center in today's media and, likewise, are presented all too occasionally on the American stage. So it's buoying to see that trend bucked in playwright Dominique Morisseau's percipient and well-crafted drama, Skeleton Crew. The play is the final installment in her Detroit  Project Trilogy; the first, Paradise Blue, is set in the 1940s amidst displacement caused by urban renewal and gentrification, while the second, Detroit '67, transpires on the eve of the 1967 Detroit riots sparked by a police action.
Directed by Patricia McGregor at Los Angeles' Geffen Playhouse, Skeleton Crew is a play with a moral spine. It takes place in 2008, when the shrinking U.S. auto industry is being further downsized. Morisseau's engaging quartet of characters — Faye (Caroline Stefanie Clay), Dez (Armari Cheatom), Shanita (Kelly McCreary) and Reggie (DB Woodside) – are employed at an automobile outfitting plant. Faye, Dez and Shanita are workers on the line while Reggie (who has a wife and kids, and has pulled himself together after a troubled youth) is their supervisor.
The first three customarily mingle in their break room (designer Rachel Myers' impressively cluttered, dingy and detailed set), trading the sort of familiar barbs and genuine concern for each other common among longtime co-workers. They also face off on philosophy: Upper-middle-aged Faye and the younger, pregnant Shanita take pride in their labor, while Dez, though a good worker, is a malcontent scornful of management and firm in the belief that everyone needs to watch out for himself. He's a thorn in Reggie's side, for while Reggie wants to be supportive of his workers, he must act at the behest of higher management. For his part, Dez resents Reggie's authority, and a palpable unease exists between them.
Besides this male matchup, we're made privy to Dez's attraction to Shanita, who mostly turns away his advances, but every now and then displays a hint of interest. Most poignant is Reggie's regard and affection for the lesbian Faye, which has roots in his boyhood when she loved, and lived, with his now-deceased mom.
These people's various predicaments intensify when rumors spread of the plant's shutdown — a disaster for all, but a particular calamity for the already near-broke Faye who, one year short of retirement, would lose her pension. The crisis forces each of these people to make a choice.
A sound piece of social realism, Skeleton Crew grabs you from the start in its focus on blue-collar men and women, and their struggle against odds for dignity and self-respect. Morisseau not only furnishes these characters a platform for their travails, she endows them with strong values, big hearts and the opportunity to choose between right and wrong.
Unfortunately, the performance I attended did not soar. Many exchanges lacked a fresh edge. The actors certainly had their characters down, but too often they appeared to be coasting on technique. (This seemed particularly true of Clay, who performed the role to great accolades in Washington, DC in 2017, also under McGregor's direction). Additionally, some of the stage movement was not entirely fluid; in confrontations, actors sometimes would just stand and face each other in an artificial way. And Cheatom's interpretation of Dez struck me as a bit overly churlish and depressive: I needed more glimpses of the intelligence and edge that would secretly attract the strong, self-directed Shanita.
The most compelling moments belong to Woodside, well-cast as a man trying his best in difficult circumstances to do the right thing.
---
Gil Cates Theater at the Geffen Playhouse, 10886 Le Conte Ave., Westwood Village; Tues.-Fri., 8 p.m.; Sat., 3 & 8 p.m. Sun., 2 & 7 p.m.; through July 8. (310) 208-5454 or www.geffenplayhouse.org