Neighborhood Justice Program: Smart Justice through Community Involvement
Almost 120,000 misdemeanor crimes are reviewed for criminal filing by the Los Angeles City Attorney's office each year. This high volume of cases, coupled with reductions in court resources, make it nearly impossible to consider each person's situation individually.

"I liked the basic idea of restoring communities and people by way of community decision-making and involvement. I liked the idea that infractions occur for a variety of reasons, not just because someone is a criminal or sociopath."
–  Neighborhood Justice Program volunteer Alex Shinn
Almost 120,000 misdemeanor crimes are reviewed for criminal filing by the Los Angeles City Attorney's office each year. This high volume of cases, coupled with reductions in court resources, make it nearly impossible to consider each person's situation individually.
"Countless studies show that our habitual assembly-line representation, ineffectiveness and retributive-oriented outcomes for offenders, with little or no focus on rehabilitation, threaten the very notion of 'justice' and increasingly undermine the public's trust and confidence in our courts," states a January 2016 report from the City Attorney's office.
Today a criminal conviction for even a nonviolent misdemeanor could endanger a college scholarship or make renting an apartment or landing a job difficult to impossible – huge barriers for a young person finding their way.
Enter the Neighborhood Justice Program (NJP), a "smart justice" strategy to reduce incarceration and recidivism rates, launched in early 2015 by City Attorney Mike Feuer. As Assistant City Attorney Jose Egurbide explains, the program, aimed at those who have committed a non-violent first offense, "is not dealing with a habitual criminal, but an individual who made a bad choice and is able to move forward to rehabilitation."
As NJP volunteer Alex Shinn sees it, "Sometimes a small infraction is a cry for help. Someone might be drowning in issues at home they can no longer handle, so in anger and frustration (at no one in particular) they steal something from Target or Home Depot and get caught. They don't know why they did it. They don't know what they were thinking at the time. We [volunteer panelists] then find out that their wife was just diagnosed with cancer and they just lost their job and they've lost faith in whatever they had believed in. As a former lawyer, I know these people are not helped by the justice system. They are punished. Which adds to the 'bad things' that are happening in their life. And puts them further away, not closer, to being able to cope, productively, with what is crushing them."
"The design of the NJP is a hybrid of things already going on elsewhere – mediation style conferences, community courts, healing circles," according to Egurbide, who heads the program. "We took all of the models and merged them into one," that would work locally. Described by Egurbide as a "three legged stool," the program brings trained community volunteers together with a participant (the person who committed the crime), a neutral mediator and possibly the victim for a discussion of the harm done to the community and concrete ways it can be remediated. Participation is totally voluntary for all parties, confidential, and, when completed successfully, no criminal charges are filed.
"We're on the front end of the (criminal justice) system. Before the case is filed we have the opportunity to focus on rehabilitation, education, instead of [intervening only] at the end after more misdemeanors and felonies," says Egurbide. "We're disrupting the pipeline [into jails and prisons] and intercepting the cases early enough in the process that we're saving a lot of money" while being more effective, he continues.
Funded through grants from The California Endowment and the federal Department of Justice, the NJP is open to adult, first time offenders willing to take responsibility for their actions. They are given a chance to voluntarily participate before any charges are brought against them. Over two thirds of first year participants were 18-39 and reported household incomes of $20,000 or less. Over 90 percent successfully completed the obligations agreed to with their program panelists, and only two percent re-offended in the next 6 months.
Program volunteer Shinn explains that through NJP participants "learn the impact of their infraction on the victim (institution/community/person). They might have to attend a class and do community service – not community labor, but service – hopefully something they can relate to, something of meaning. They might have to write a reflective letter on what they were thinking when they committed the infraction. And on occasion we have required they have counseling. I like the systemic approach. It moves us towards solving larger social issues, within a context" explains volunteer Shinn.
With now close to 200 volunteers citywide (of which this writer is one), City Attorney Mike Feuer says his office is looking for volunteer panelists "who are geographically diverse, believe in the principles of restorative justice, have empathy, are solution oriented, and combine practicality with sensitivity in understanding their community and its needs."
Emphasizing that "it all starts at the top," Egurbide credits City Attorney Feuer, formerly the head of the poverty law center Bet Tzedek, with his commitment "to injecting procedural justice and fairness into the criminal justice process." "One and a half years later," Egurbide explains, the NJP program "is a national model which now has 9 locations [across the city]. As Mike says, we're being agents of change." For his part Feuer sees the NJP program as a centerpiece of his vision for the City Attorney's office that, with additional resources, could expand dramatically.
For millennia communities have come together to address misbehavior and violations of trust by tribal members. The goal was not to discard and shun the violator but to bring the person back into community norms of behavior and accountability. Based on the premise, as Feuer describes it, "that people and communities can be redeemed," it's an effort Los Angeles sorely needs.
For more information and an NJP volunteer application visit http://www.lacityattorney.org/#!njp/c1f6x

Living Homeless in California: Pet Owners on the Streets
Pets can provide an invaluable source of companionship, comfort and security. That's especially true for those without stable housing.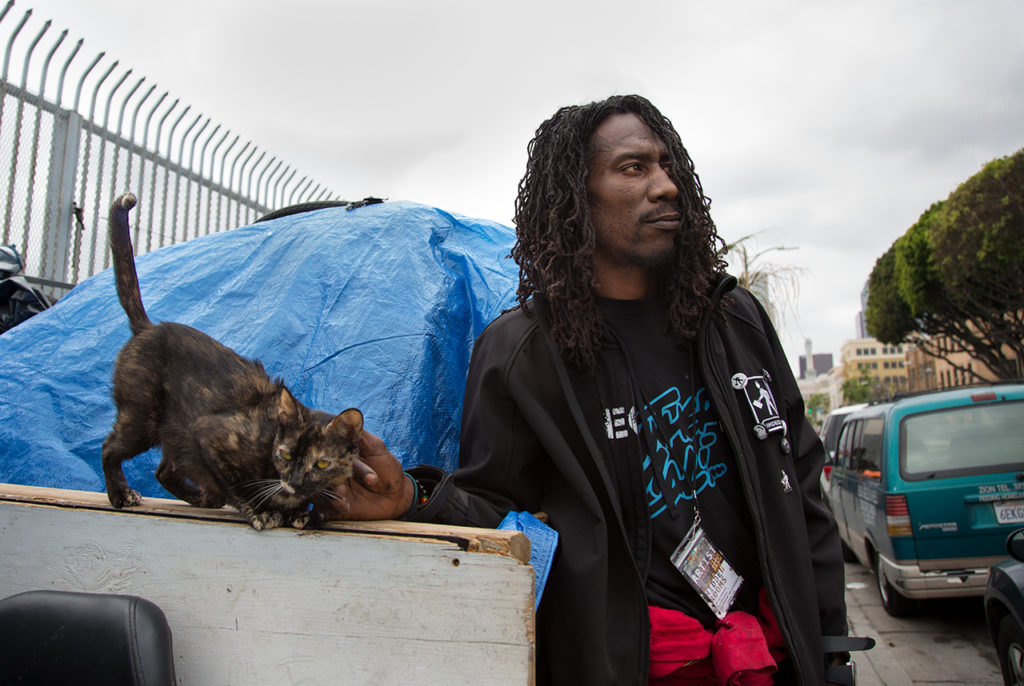 An estimated five to 10 percent of homeless people in the United States have pets, according to the Nevada nonprofit organization, Pets of the Homeless. Take a trip through the tent cities that line the sidewalks of downtown Los Angeles and you'll see dogs, cats, even birds. As any pet owner can tell you, animals provide affection, comfort and stability, something that can be particularly meaningful when your life's possessions could be swept away at any time by a police raid.
The animals benefit too. Most pets would prefer constant companionship outdoors to solitary shelter.
But many homeless shelters and housing programs don't allow pets. The expenses, logistics and liabilities involved in housing animals can be prohibitive for programs that are already underfunded. The number of shelters that allow animals are on the rise, however.
I recently visited with a handful of homeless and formerly homeless pet owners in Los Angeles to learn about their lives.
---
Maria, 64
Maria sells off-brand cigarettes in front of a row of tents on a busy street in downtown Los Angeles. She keeps her tobacco merchandise arranged neatly on a small plastic tray, and beside her a tiny Chihuahua puppy, Cici, runs and plays amid the sidewalk foot traffic, or naps in the small carrier at Maria's feet.
Maria has been living here since getting out of jail in November, she says, "for something I didn't do. It took them 35 days to realize I didn't do it." She emerged to find her husband of 37 years was gone. "He disappeared with all my money and all my stuff," she adds. "The day I came out I slept on the sidewalk. My pillow was the cement and my blanket was the jacket I was wearing."

"I was angry the first few months," she continues. But in February she bought Cici from a street vendor for $40. "She has taken me out of my depression over what my husband did. She's become everything to me. She's my life."

Maria knows everyone in her tent community. People stop by every few minutes to say hi. A couple even buy cigarettes, including a young man named Toby. "I call him my adopted son from the street, I take care of him. He's been on the street since he was 16." Toby recently turned 20, Maria says. "I got him a big-ass cake and some money, some clothes. I'm the first person who celebrated his birthday on the street."
In a little over a month, Maria is scheduled to move to federally subsidized Section 8 housing in Long Beach. It's far from her friends here, but she's happy to go. "All I want is a roof over my head. As long as me and my dog got that, I'll be alright."
---
Craig, aka Taco, 58
"He's my best friend," Taco says of his 10-month-old puppy, Hambone. "I didn't realize that a person could have such an attachment to an animal. But I do."
Taco tells me he's lived in California all his life, "except for I lived in Chicago for nine years. I loved Chicago, the weather, everything about Chicago. My ex-wife, she didn't like the weather. We relocated back to L.A."
Taco is single now. "My guards are still up, but I want to have those old feelings back again. Because I'm somewhat of a romantic type guy." But Taco doesn't get lonely, because he has Hambone. "He cheers me up when I'm sad. He'll nudge me. He'll come with concern, and then he'll start playing, trying to make me laugh."
Taco and Hambone live in a small single-room occupancy apartment, or SRO, in a building run by a nonprofit social services agency. "I came down here to Skid Row for the resources. A friend was telling me about the housing."
He says his apartment is nice, and much better than shelters he's stayed in, "but you're on Skid Row. Skid Row's like the courtyard, if you've ever been to the penitentiary. You have be ready, you have to have your shoes strapped up."
Taco says he's on the list for Section 8 housing, and looking forward to moving. He thinks he might like to live near Staples Center. A woman walks by with a small dog, and Hambone strains on his leash, whimpering and sniffing the other dog. "Stop it, stop it," Taco scolds. "That's a girl dog. She snapped at you, right? You'll learn, you'll learn women too."
---
Thomasina, 30
"I've had Flower since she was a puppy," Thomasina says of her yellow Chihuahua mix. "This lady had a box of them in front of a store. The people I was staying with at the time bought her for their daughter, but they didn't take care of her. She was so small, covered in fleas, so scared. So I started taking care of her. And ever since she's been by my side. My little partner in crime."
That was five years ago, when Thomasina's life was in chaos. She had no stable place to live, and few opportunities. "I wanted to be in the working world, but had to live my life in the street. I got into prostitution by default." She came to Skid Row in search of housing and social services, a move that was inspired in part by Oprah Winfrey. "I saw this clip of Oprah, and her words spoke to my heart," she says, laughing. "She was saying, you have to help yourself, you have to do what you have to do."
Thomasina was placed in dog-friendly SRO housing. "That room was my peace of mind," she said. But living on Skid Row was often frightening. "Females down there usually have brothers or a boyfriend, people that can help them. It was just me and my dog. I didn't have anyone watching my back. I was an easy target." She was frequently harassed, sometimes by other residents in the building, and spent a lot of time hiding in her room. It was claustrophobic, she says, but having her dog kept her sane.
When Flower had a litter of puppies a couple of years ago, Thomasina gave them all away, but one was returned because he was too timid. Now both dogs are registered emotional support animals. Last year Thomasina moved from Skid Row to a small apartment she describes as "perfect." But she was facing homelessness again when the landlord recently decided pets were no longer allowed. The nonprofit HEART helped her contest the eviction and stay in her home with her little Chihuahua family.
---
Crushow, 40
Crushow describes himself as a community activist and "art Jedi." He's on the way to his studio and can only talk for a few minutes. "I have show this weekend at Hotel Rendon. It's called Art at the Rendon. Each artist gets their own room to install their art."
Crushow introduces me to his three pit bulls and a tortoiseshell cat named Justice. The cat perches calmly of the edge of Crushow's makeshift shelter, surveying the neighborhood. Crushow says when he's away, neighbors take care of his pets, and he does the same for them. "We all try to look out for each other."
Crushow is philosophical about life on the street. "Your box is bigger than mine, so what? I got another box I go to. And an office I go to. And an art studio I go to. It doesn't matter what box it is. People are constricted and taught how to think. And I'm not."
He shrugs. "Get caught up in that rat race all you want to, but when you die, what do you have? What did you do while you were here? Just thought about yourself and your big-ass box?"
---
Carol, age unknown
"I like walking around here," Carol says, walking through Little Tokyo with a giant grey pit bull named Boss. She gestures toward Skid Row where she lives. "It's like a war zone down there." When I ask how long she's been there, she replies, "Too long. Too long!"
Carol says she's been depressed since Mother's Day. Her own mother died a couple years ago, and it's especially painful at certain times of the year. "Anniversaries are hard. Her birthday is hard." Walking Boss helps cheer her up a little.
Carol tells me that she looks after Boss and a few other dogs for friends. He was one of a litter of nine puppies. "I took care of his mama, Lady, when she was in labor. It took 14 hours for all those puppies to be born!" That was a year ago. "We didn't let their paws touch the sidewalk till they'd all had their shots. They can get Parvo that way."
Carol is happy to talk but decides against being photographed.
Two weeks later, I meet a man on Skid Row who introduces me to four pit bulls he keeps in a pen next to his tent. One slips out the side of the pen and comes running over. It's Boss! Then a couple of the other dogs follow his lead, and I realize the pen is nothing more that propped-up fencing. The dogs could easily knock it down – but they know better. After I play with the dogs for a while, their owner orders them back into the pen and they all trot home obediently. He tells them to sit for my camera, and they do, wagging their tails. I want to learn more about how he got so good at training dogs, but he shakes his head. "I don't do interviews."
---