Neighborhood Justice Program: Smart Justice through Community Involvement
Almost 120,000 misdemeanor crimes are reviewed for criminal filing by the Los Angeles City Attorney's office each year. This high volume of cases, coupled with reductions in court resources, make it nearly impossible to consider each person's situation individually.

"I liked the basic idea of restoring communities and people by way of community decision-making and involvement. I liked the idea that infractions occur for a variety of reasons, not just because someone is a criminal or sociopath."
–  Neighborhood Justice Program volunteer Alex Shinn
Almost 120,000 misdemeanor crimes are reviewed for criminal filing by the Los Angeles City Attorney's office each year. This high volume of cases, coupled with reductions in court resources, make it nearly impossible to consider each person's situation individually.
"Countless studies show that our habitual assembly-line representation, ineffectiveness and retributive-oriented outcomes for offenders, with little or no focus on rehabilitation, threaten the very notion of 'justice' and increasingly undermine the public's trust and confidence in our courts," states a January 2016 report from the City Attorney's office.
Today a criminal conviction for even a nonviolent misdemeanor could endanger a college scholarship or make renting an apartment or landing a job difficult to impossible – huge barriers for a young person finding their way.
Enter the Neighborhood Justice Program (NJP), a "smart justice" strategy to reduce incarceration and recidivism rates, launched in early 2015 by City Attorney Mike Feuer. As Assistant City Attorney Jose Egurbide explains, the program, aimed at those who have committed a non-violent first offense, "is not dealing with a habitual criminal, but an individual who made a bad choice and is able to move forward to rehabilitation."
As NJP volunteer Alex Shinn sees it, "Sometimes a small infraction is a cry for help. Someone might be drowning in issues at home they can no longer handle, so in anger and frustration (at no one in particular) they steal something from Target or Home Depot and get caught. They don't know why they did it. They don't know what they were thinking at the time. We [volunteer panelists] then find out that their wife was just diagnosed with cancer and they just lost their job and they've lost faith in whatever they had believed in. As a former lawyer, I know these people are not helped by the justice system. They are punished. Which adds to the 'bad things' that are happening in their life. And puts them further away, not closer, to being able to cope, productively, with what is crushing them."
"The design of the NJP is a hybrid of things already going on elsewhere – mediation style conferences, community courts, healing circles," according to Egurbide, who heads the program. "We took all of the models and merged them into one," that would work locally. Described by Egurbide as a "three legged stool," the program brings trained community volunteers together with a participant (the person who committed the crime), a neutral mediator and possibly the victim for a discussion of the harm done to the community and concrete ways it can be remediated. Participation is totally voluntary for all parties, confidential, and, when completed successfully, no criminal charges are filed.
"We're on the front end of the (criminal justice) system. Before the case is filed we have the opportunity to focus on rehabilitation, education, instead of [intervening only] at the end after more misdemeanors and felonies," says Egurbide. "We're disrupting the pipeline [into jails and prisons] and intercepting the cases early enough in the process that we're saving a lot of money" while being more effective, he continues.
Funded through grants from The California Endowment and the federal Department of Justice, the NJP is open to adult, first time offenders willing to take responsibility for their actions. They are given a chance to voluntarily participate before any charges are brought against them. Over two thirds of first year participants were 18-39 and reported household incomes of $20,000 or less. Over 90 percent successfully completed the obligations agreed to with their program panelists, and only two percent re-offended in the next 6 months.
Program volunteer Shinn explains that through NJP participants "learn the impact of their infraction on the victim (institution/community/person). They might have to attend a class and do community service – not community labor, but service – hopefully something they can relate to, something of meaning. They might have to write a reflective letter on what they were thinking when they committed the infraction. And on occasion we have required they have counseling. I like the systemic approach. It moves us towards solving larger social issues, within a context" explains volunteer Shinn.
With now close to 200 volunteers citywide (of which this writer is one), City Attorney Mike Feuer says his office is looking for volunteer panelists "who are geographically diverse, believe in the principles of restorative justice, have empathy, are solution oriented, and combine practicality with sensitivity in understanding their community and its needs."
Emphasizing that "it all starts at the top," Egurbide credits City Attorney Feuer, formerly the head of the poverty law center Bet Tzedek, with his commitment "to injecting procedural justice and fairness into the criminal justice process." "One and a half years later," Egurbide explains, the NJP program "is a national model which now has 9 locations [across the city]. As Mike says, we're being agents of change." For his part Feuer sees the NJP program as a centerpiece of his vision for the City Attorney's office that, with additional resources, could expand dramatically.
For millennia communities have come together to address misbehavior and violations of trust by tribal members. The goal was not to discard and shun the violator but to bring the person back into community norms of behavior and accountability. Based on the premise, as Feuer describes it, "that people and communities can be redeemed," it's an effort Los Angeles sorely needs.
For more information and an NJP volunteer application visit http://www.lacityattorney.org/#!njp/c1f6x

No Walk in the Garden for the Urban Homeless
Throughout Los Angeles, landscaping is put to aggressive use, functioning as a weapon of anti-homelessness under the guise of beautification.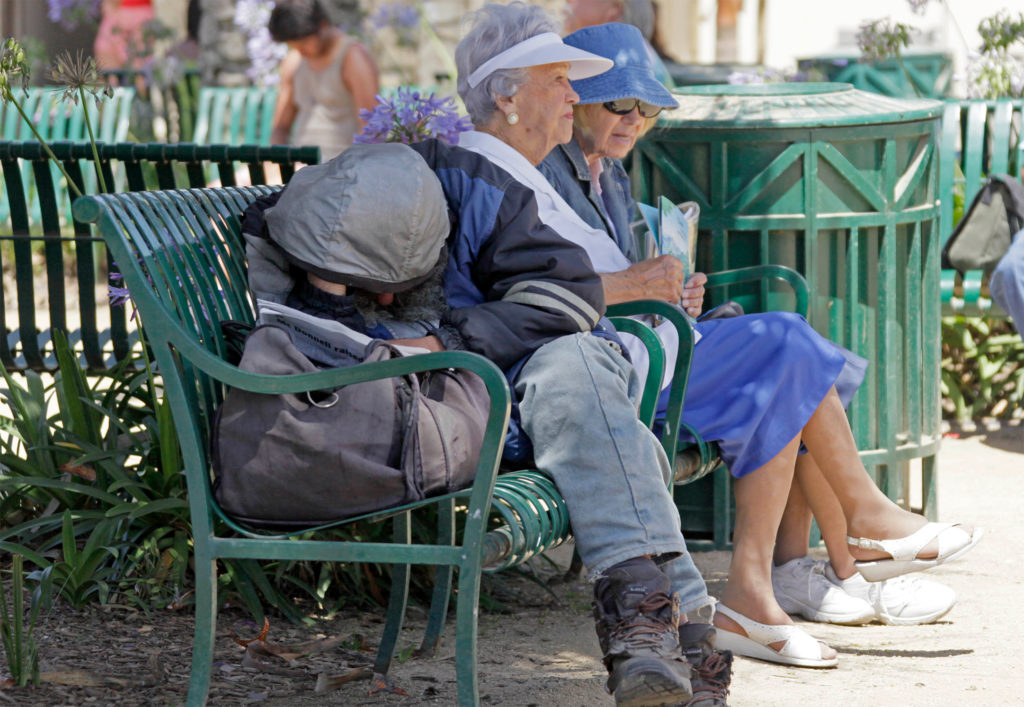 ---
The phenomenon of hostile landscaping in Los Angeles has further marginalized a swelling unhoused population.
---
Last May, in Los Angeles' coastal Venice neighborhood, Adam Smith noticed a series of planter boxes in the middle of a familiar sidewalk. Affixed near the intersection of Third and Sunset avenues, mere blocks from a Google campus and a suite of oceanside cafes, the standalone planters ran roughly the length of a wall delineating a parking lot behind a luxury condo complex.
Previously, Smith told Capital & Main, a group of six to 10 homeless people had regularly slept in tents on that block, favoring it for its relatively plentiful street light. A volunteer for the Culver-Palms Burrito Project, which prepares and serves the titular food to the unhoused of West Los Angeles, he'd become acquainted with individuals living there over the course of several years.
Once the planters were installed, however, the sidewalk was clear. "That next day, after I saw [the planter boxes] for the first time, I went there to look around because I figured they were sleeping somewhere else," Smith said. "I found people up around the corner, just, like, a block away."
---
Companies are privatizing public space to create more "landscape" for their businesses.
---
Throughout Los Angeles, landscaping is put to aggressive use, functioning as a weapon of anti-homelessness under the guise of beautification. Just as both public and private architectural design throttle space available to the unhoused internationally — via, among other examples, spikes on ledges and bars on benches to discourage sitting and lying down — and cities such as San Francisco arrange boulders to deter homeless encampments, the phenomenon of hostile landscaping in Los Angeles has further marginalized a swelling unhoused population.
Nearly 20 miles from Venice, a Los Feliz traffic median at the intersection of Vermont and Prospect avenues, and Hollywood Blvd., has regularly seen encampments arranged on its concrete ground, abutting a raised patch of desert landscaping and sycamore trees.
Christened "Vermont Triangle," the median's first redesign occurred in 2008, when the now-defunct Community Redevelopment Agency spearheaded a project to "improv[e] the pedestrian amenities" and "enhanc[e] the physical appearance of the existing median park." According to the Los Angeles Times, this yielded seating areas, lampposts to echo those at nearby Barnsdall Art Park, and the sycamores. Eventually, unhoused people began to pitch tents, availing themselves of the median's modest stretches of open public space.
Now, due to pressure from local business owners, Vermont Triangle is in flux. City Councilmember David Ryu's office, the Times noted, plans to invest $18,000 in another redesign, following a 2013 re-landscape. The 2013 update was financed in part by the Hollywood Hotel and Kaiser Permanente, according to Jeff Zarrinnam, who serves on the board of governors of the East Hollywood Business Improvement District. (Ryu's office couldn't be reached for comment.) Current proposals range from adding art installations and neighborhood signs, which Zarrinnam said the Los Feliz Neighborhood Council and East Hollywood Neighborhood Council have floated, to putting in planters.
Zarrinnam said he supports "bridge housing," a term the municipal government, neighborhood councils and local businesses use to favorably denote temporary homeless shelters and transitional housing. Yet reports indicate that the current state of temporary housing for many homeless people in Los Angeles County — who, as of May, numbered approximately 53,000 — is nothing short of abysmal. A recent investigation by radio station KPCC found infestations, harassment and medical negligence, among other scourges at various facilities throughout Los Angeles County, including those funded by the Los Angeles Homeless Services Authority (LAHSA), which conducts the county's annual homeless census.
Steve Diaz, an organizer for Los Angeles Community Action Network (LA CAN) who works with unhoused populations in downtown and South L.A., calls hostile landscaping of public space "the next level of criminalization" of homelessness. He alluded to an industrial neighborhood overlapping Skid Row, whose business owners call "The North Sea": a cluster of converted seafood warehouses and factories painted the same hues of oceanic blue — complete with landscaped sidewalks.
"They started breaking the concrete and taking away from the sidewalk to place different types of flowers, whatever garden they were putting in," Diaz said. "You have a major street [on] Skid Row that, at one point, was home to a lot of homeless folks now being gated off, and then the concrete being broken to start using these gardening pockets within the space to eliminate sidewalk access." (Miguel Nelson, a North Sea business owner involved in the area's marketing efforts, declined to respond publicly.)
As private property owners adopt guerrilla tactics to thwart homeless encampments, legal issues arise. Skid Row activist General Jeff Page has observed that, while property owners are permitted to control up to three feet of sidewalk extending from their buildings, "The North Sea is taking upwards of five to 10 feet of sidewalk, allowing only for ADA (Americans with Disabilities Act) compliance and zero space for homeless tents and/or encampments." (The Los Angeles Department of Public Works stated that the North Sea sidewalk landscaping is currently under investigation and thus couldn't comment further on the matter.)
What's more, business owners in South L.A. have illegally installed fences around their property, which, according to Diaz, will eventually give way to sidewalk landscaping. Relatedly, Adam Smith has been corresponding with city officials to ascertain the permit status of the Venice planters. The West L.A. office of the Bureau of Engineering, which issues revocable permits, told Capital & Main that it did not have a permit on file for the planters. Without one, according to the bureau, "no portion of the public right-of-way, including sidewalk, is allowed for private use."
Nevertheless, the planters remain and, according to Smith, have multiplied. Additional boxes, he said, are now ensconced in the sidewalk around the corner, to where the previously ousted people had first moved.
"For some people, [landscaping] sounds like a great idea," Diaz said. "But you're literally privatizing public space to create more 'landscape' for your business."
---
Copyright Capital & Main