Negotiating Trauma: How Susan Burton Gave Discarded Women a Tomorrow
Chances are you've never heard of Susan Burton. Yet her A New Way of Life organization has provided shelter and services to thousands of formerly incarcerated women and their children.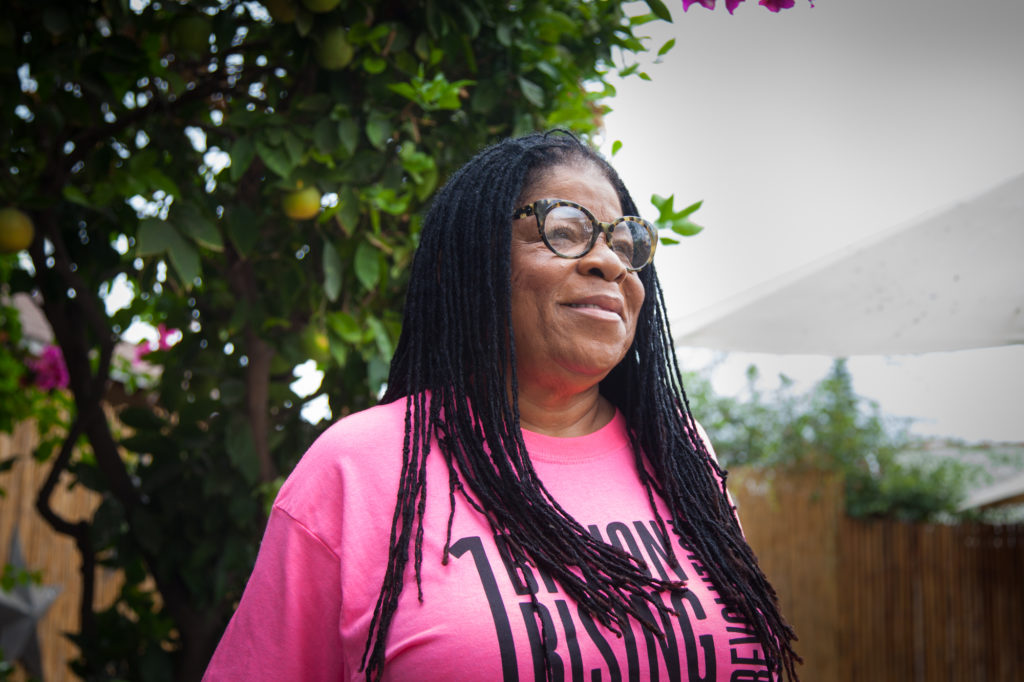 All Photographs by Joanne Kim
---
Susan Burton overcame six felony convictions and incarcerations to create and run one of America's most successful social programs.
---
Is everybody decent!?" Susan Burton yells as she ascends a flight of stairs. She is giving a visitor a tour of one of her five Los Angeles houses that provide havens for women returning to society from California's prisons.
She knocks on a bedroom door that's half ajar and peers inside.
"You ain't trying to catch the worm, huh?" Burton says to a woman still in bed.
"No I am," the woman mumbles.
"You lying here. It's 10 o'clock in the afternoon. You gotta go get the worm!'
Burton moves on and walks into an empty, freshly painted room. "We need to get pictures on the wall," she mutters to herself.
Every room has a bed and dresser for each of its occupants, usually two to four in a room, and the walls are painted bright colors. Burton reveals that the grays and greens of prison are purposely avoided. One bed in each room is usually left free for the sudden arrival of a released inmate or space for visiting kids.
Chances are you've never heard of Susan Burton. Yet to thousands of people, she has been a savior. A 2010 CNN Hero, Burton has written a book chronicling her remarkable life, Becoming Ms. Burton: From Prison to Recovery to Leading the Fight for Incarcerated Women. In it, Burton, 66, documents how she overcame six felony convictions and incarcerations to create and run one of America's most successful social programs. Since its founding in 1998, A New Way of Life has provided shelter and services to thousands of formerly incarcerated women and children. Far more than a housing agency, it has evolved into an inspiration for change and a beacon of hope to women who have been largely discarded by society.
A New Way of Life Resident:
"If it weren't for this I'd be on the street
or back in prison."
Before Burton could become an angel, however, she had go through hell. Sexual abuse started at age 4. First it was her aunt's boyfriend, then an older male neighbor whom she met selling cookies for the Woodcraft Rangers, a group similar to the Girl Scouts. A Christmas Eve gang rape resulted in her first child at the age of 14. Fifteen years later, Burton's life was shattered when her 5-year-old son was run over and killed by a van driven by an off-duty police officer. Burton retreated onto despair, turning to drugs to dissociate herself from the trauma of her tragedies.
After becoming an alcoholic and crack addict, Burton became trapped in a vicious cycle of incarceration. Her catch-and-release tale was similar to those of millions around the country. Unceremoniously dropped off in Los Angeles' Skid Row, Burton had no tools or resources to make it in a world without bars. Most states make it nearly impossible for felons to make it back on their feet. Hundreds of categories of jobs, as well as many public housing agencies, are off limits to those with records. Securing employment and housing, which are among the requirements to regain custody of their kids, is made even more difficult without necessary documents like state-issued I.D. cards, which are destroyed when entering prison. It was a chance, pejorative comment from a correctional officer on her sixth (and last) release from prison that sparked her evolution into an agent of change.
"He said, 'I'll see you in a little while,'" Burton recalls. "It was daunting and scary to hear that. And he said, 'There's no jobs for you out there. The only job you'll ever have is in a prison.'"
A friend told Burton about the CLARE Foundation recovery center in Santa Monica. She was accepted — and instantly thunderstruck by the disparity in services afforded her in this upscale community, compared to those available in her neighborhood.
"I had get-well help served to me like in a buffet at a restaurant," she remembers. "It was like having the best waitress and waiters come and serve you your food, and when you're finished with one part of your meal, they take the plate away and they take the fork and knife away, and then they bring you clean ones. I went to therapy like that. I went to dental services like that. I went to medical services like that. I went to AA meetings like that. It was like another world."
Every bedroom in the shelters has a bed and dresser for each of its formerly incarcerated women. Walls are painted bright colors — prison
  

grays and greens are purposely avoided.

Later, while working at a job as a home care worker, she devised a plan inspired by the CLARE Foundation, and after a year had saved $12,000 to make that plan a reality. She bought a small bungalow in South Los Angeles and started A New Way of Life. As newly released inmates stepped off buses near Skid Row 19 years ago, Burton was waiting to greet and offer them a sanctuary to begin their life anew. As she started to run out of savings, someone suggested she start a nonprofit. Before long she was off and running, becoming a modern-day Harriet Tubman with a string of five safe houses for society's outcasts.

But there soon came a harsh epiphany.

"I thought that if women had a safe place to go, that would be everything they needed to restart their lives," she recalls. "But we soon realized It didn't matter how hard or committed the women were in completing their tasks, there was still a box they were put in. They couldn't get their children back. They couldn't find employment. They couldn't even receive food stamps."
Aukilia, who has been at A New Way of Life since August, 2017.
Burton got to work, organizing and advocating to change bad policies.
"Some of the laws that have been changed have just been bad laws," she says. "Not giving women who have had drug crimes food stamps? That was a bad law. Having people check a box on employment applications? That was a bad law. The disparity in sentencing was a bad law. Taking people's babies away."
So she partnered with the University of California, Los Angeles' School of Law in 2006 to look at how they could reverse the institutional obstacles confronting former inmates. An in-house free legal clinic was created that in the last decade has provided pro bono assistance to thousands seeking relief from the burden of criminal histories, expunging criminal records and offering access to occupational licenses. Burton also reached out to companies for donations and now runs a distribution center that provides over $2 million dollars in household goods yearly. Thanks to her, over 3,500 formerly homeless individuals have gone on to establish their own living spaces. 
Jannie's youthful looks belie the fact that she served 28 years for killing a man who, she says, jumped on her niece.
"She is persistent, dynamic and strong," the group's associate director, Tiffany Johnson, says of Burton. "God has wrapped a unique set of skills into this one woman to be able to touch multitudes of women in ways that most people can't."
Ingrid Archie, another senior staff member, agrees. "I think Susan saw that some resources were offered in other communities as a common right," she says, "but in her community people were being criminalized and families ripped apart. She is providing a solution to a problem that everybody was sweeping under the rug. She helps you take responsibility and ownership for yourself and your future."
In the largest bedroom of one of Burton's houses, a woman named Aukilia sits on the bottom bunk, readying herself to attack the day. Her story is typical in its complexity. A couple of years ago she was asked by someone to deposit checks into her incarcerated boyfriend's jail account.
"I was so loaded. I was high, under the influence," she explains. "I said, 'Yeah, sure, free money, I'll do it.'"
Jannie: "This program is amazing."
She was arrested two years later for bank fraud. Typical of the draconian laws that help propagate the modern prison complex, each check carries with it its own separate charge. So she is facing 120 years in prison. But A New Way of Life has given her hope, allowing her to pursue a GED and her dream of going to cosmetology school while she awaits trial.
"It's beautiful here. You go to your meetings. You get up and you do your chores. You do what you're supposed to do and everything's great. If it weren't for this I'd be on the street or back in prison."
Her roommate Jenny has just finished her night shift at Foster Farms, a job A New Way of Life helped secure. Her youthful looks belie the fact that she served 28 years in prison for first-degree murder, for killing a man who, she says, jumped on her niece.
"I think it would have been difficult had I gone anywhere else, but Miss Burton and her staff and the ladies here welcomed me and made me feel special, made me feel like this is my home. I've been doing great ever since. This program is amazing."
"Unconditional love, no judgment," Aukilia chimes in.
"But I ain't no joke either," exclaims Burton, who has been hovering just outside the door. She is flashing a tough face, which she does often, but her kind eyes and a slight smirk give her away.
The women laugh and shake their heads in agreement.
"I don't save women," Burton says.
"I provide opportunity."
Susan Burton's houses shelter anywhere from four to seven women, with most staying anywhere from nine months to two years. If she runs out of space, Burton works with a network of thousands of beds in the county that provide sober living, and she is known to pay out of her own pocket to provide relief for a woman in need. Her passion and dedication have engendered remarkable results. She estimates that 80 percent of those who go through her program have not returned to jail and are employed or in school, an impressive record in light of the American prison system's traditionally high recidivism rate.
"I don't save women," Burton says. "I give them an environment that allows them to heal and thrive and begin to pull themselves up. I provide opportunity. They have to work the opportunity."
Burton makes it a point to provide individual attention to each woman's needs. But how does one continue that as the movement grows? And how does the work continue after she is gone? Add to that the colossal systemic legal and bureaucratic obstacles facing her constituency, and the future may be the biggest challenge Burton faces. She hopes that a new generation of women will carry on her crusade. Women like Tiffany Johnson and Ingrid Archie.
Johnson had served 16 years of a life sentence for second-degree murder when she walked through the doors of A New Way of Life in April 2010. She quickly found a job but soon realized that no matter how well she did it, her criminal record excluded her from upward mobility. So she returned to work at A New Way of Life and today, as the organization's associate director, serves as Burton's right-hand woman.
"If you are consistent people can depend on you," Johnson says of both Burton and the group.
California's Proposition 47, passed in November 2014, reduced six felonies to misdemeanors, but for ex-cons to have their pasts expunged, they must request that their records be changed. That's Archie's mission. A former prisoner herself, she is the organization's Prop. 47 specialist and came to A New Way of Life in 2006, driven by her passion for fixing a skewed system.
"Revenge is a deep, dark, empty hole that can never be filled. I know that from losing my son."
Just as A New Way of Life has given support to thousands of those in need, it has provided Burton herself with something just as profound. With a history riddled with misery, it is her port in the storm.
"I negotiate trauma," she says. "I've had to. And A New Way of Life insulates me from the trauma and gives me a bigger meaning and purpose to my life. We're all here to help and be a part of something bigger than ourselves. Before, I never found that something bigger because I was dodging all of the arrows that were coming my way."
But Burton is no longer dodging. She is moving and shaking, with ambitious plans. A New Way of Life now has 23 employees and survives on an operating budget of approximately $2.6 million raised primarily from grants, individual donations and an annual fundraising dinner. Burton has carefully grown the organization, mindful of the pitfalls of quick expansion:
"I don't wanna become a people-processing machine. I think the community, the individuality of the way in which we work with people is meaningful, and it brings about success. So if I have these big houses or too many places, then the interaction becomes impersonal."
Nevertheless, with a growing new generation of activists under her wings, Burton hopes to replicate her system across the country, to not only build an underground network of reentry homes and safe houses, but also civil rights advocacy groups.
But the challenge is formidable. More states. Differing laws. This country's massive prison complex, with its systemic effects, illuminated so cogently in Ava DuVernay's documentary 13th, has become part and parcel of modern society.
"We criminalize trauma in this country,' says Burton. "There should be and could be something different. What I know is [that] revenge is a deep, dark, empty hole that can never be filled. I know that from losing my son. I think one of the most powerful things that happened for me is that I was able to go deep into myself and find a place of forgiveness for all those that had harmed me, and to ask for forgiveness of those I had harmed."
So how does one make headway in a society that is bent on exploiting over rehabilitating? How does Burton plan to grow her efforts in the future without being swallowed by the system? One way is to not take their money. Burton likes to point out that she works within the community, not within the system.
"I terminated the contract with the system a long time ago," she says. "Traditional ways of doing and thinking about things doesn't allow for people to be spring-boarded and supported to realize their dream and purpose. It's too big of a risk for traditional funding agencies and governments, because you have to have all this proof of who you are and what you do. How do I support people to be able to build that track record where they're accepted back into society, humanized, treated with dignity and respect, and [where] people are able to realize their dreams? You have to have it bubble-up. I might not be here for the whole bubble, but I'm here to plant seeds."
To many, Burton is an outlier, a remarkable individual who achieves the nearly impossible. But she strongly disagrees.
"I think the biggest misconception people have about me is that I am this 'extra ordinary' person and that I'm different from other people," she says. "I just believe that there was an opportunity for me, and in that opportunity, I was able to grasp on and grow something. There are so many people where we've locked away their talent, their treasures, their love, their dreams…and they are coming back into the community. They just need opportunity."
Burton has not wasted hers. She is moving forward confidently and with a purpose.
"While I'm no daredevil, I go forward . . . in the face of racism, capitalism, homophobia and all of these things that are a part of what affected us in the first place. The universe will support me in ways as long as I am staying true to universal principles."
On one autumn afternoon Burton is back where it all started — in the first house she ever bought, in South Los Angeles. Sitting at the dining room table is a visibly upset woman whose long, salt-and-pepper ponytail falls down her back. Burton asks why she is so overwhelmed and, with her voice cracking, the woman laments that she needs a ride to get a driver's license and there is no way to get where she needs to go in time. She seems like she is about to have a breakdown. Burton looks her in the eyes and says, "Don't worry. I'll take you now on my way back to the office, just give me a minute."
A few moments later, as the two women walk to the car, Burton's latest resident, who hasn't been outside of prison since the last century, is overheard saying to herself, "Cars are so nice looking now. Look at how nice they are…" Burton is a dozen steps ahead, full of encouragement. "C'mon now," she says, "Let's go. Everything's going to be alright. We'll get it done."
---
Copyright Capital & Main

Santa Cruz Leads the Push for Affordable Housing
California's housing shortage has made it difficult to be middle class and harder to be poor. Today's median-priced California home costs more than twice the median-priced U.S. home, according to Zillow.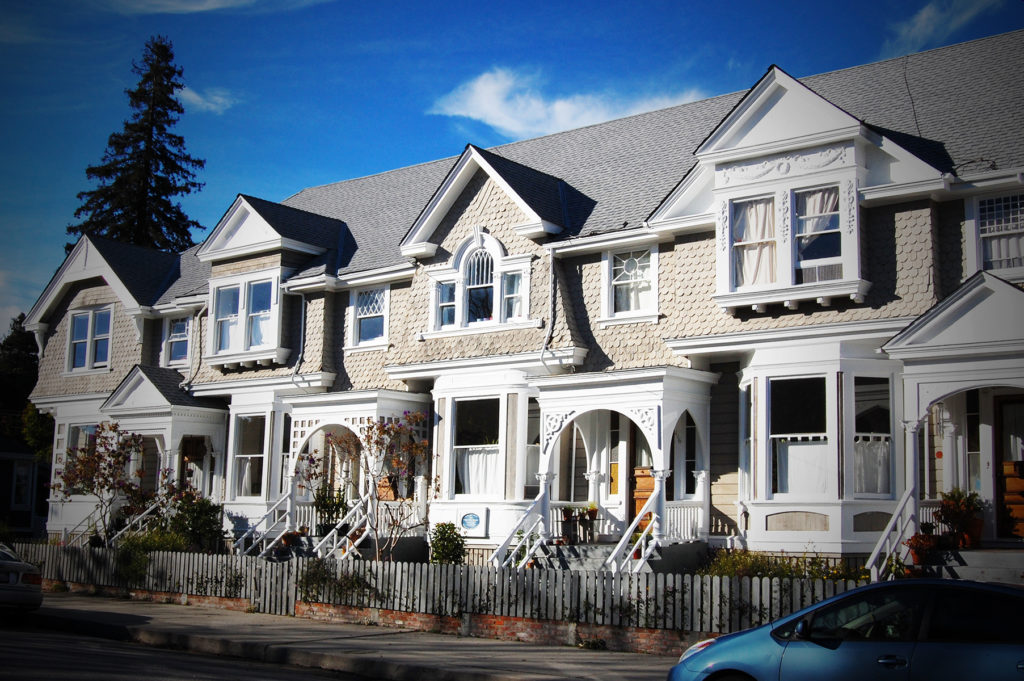 ---
California has been more expensive than most of the country for a long time, but the gap became a chasm beginning in the 1970s.
---
John Holguin should be in a celebratory mood. He is just about to close escrow on his first house. But like too many Californians, he's feeling a sense of diminished possibilities.
Holguin, 48, works for the Santa Cruz County Department of Public Works, striping roads and maintaining the county's bridges and storm drains. His wife is a school receptionist, and their combined annual income of $82,000 places them squarely in Santa Cruz County's middle class.
---
---
Yet Holguin had to withdraw from his retirement fund to afford his piece of the California Dream: a house in Watsonville, an agricultural community that has seen home prices shoot up as Bay Area tech workers and investors snatch up homes in the region.
His $3,200 monthly mortgage payment will eat up 75 percent of his take-home pay, he says. When he does retire, eight years later than planned, he and his wife will probably head for Arizona, where some of his high school classmates have already settled.
---
Activists and civic leaders are recognizing the extent of California's housing crisis. They are organizing around changes to housing codes, rent control, and local and state bond measures.
---
Holguin's two kids, junior college students, will help with the mortgage on the new home, but he does not expect them to remain in the state. "They know if they want to buy something, if they want to succeed, it's not going to be here in California," he says.
California's housing shortage has made it difficult to be middle class and harder to be poor. But there are signs in Holguin's home county, and elsewhere in the state, that activists and civic leaders are recognizing the extent of the crisis. They are organizing around changes to housing codes, rent control, and local and state bond measures.
At a June 12 Santa Cruz County Board of Supervisors meeting, Supervisor Zach Friend suggested that residents may have "reached a real tipping point" in their willingness to support new affordable housing. He was responding to almost a dozen community, business and nonprofit leaders who spoke in support of the board's unanimous vote that day to direct staff to prepare revisions to the county housing code to ease the way for more affordable housing development.
---
"It's one thing to say that you are in favor of affordable housing," but when a project is proposed in your neighborhood, "you can find a lot of reasons as to why you don't support it."
---
But it may take time to fix a problem that has been decades in the making, and it will certainly take political will to build and maintain affordable housing in sought-after coastal regions. Santa Cruz activists hope that Friend and other supervisors will vote this summer to place a bond measure of up to $250 million on the November ballot that could fund affordable rental housing, support first-time homebuyers, and provide housing for the homelessness.
Funding and policy changes are only the beginning. City and county officials must greenlight projects, sometimes over neighborhood opposition.
"It's one thing to say that you are in favor of affordable housing," Friend noted at the June 12 meeting, but when "a project actually comes forward, especially one in your neighborhood, you can find a lot of reasons as to why you don't support it."
California has been more expensive than most of the country for a long time. But the gap widened beginning in the 1970s when home prices grew from 30 percent above national levels to more than 80 percent higher by the end of the decade. Now the median-priced California home costs more than twice the median-priced U.S. home, according to Zillow.
Research suggests that the public "feels the pain" but is "not really enamored by some of the most obvious solutions," says Jim Mayer of California Forward, a nonprofit organization that focuses on fiscal and government reform. "They're really not supportive of a whole lot more homes if they think it is going to lead to more traffic and congestion, and more crime, and impact the schools."
California would need as many as 100,000 more housing units a year than it is currently building to meet the demands of its growing population, according to the state's Legislative Analyst's Office.
Meanwhile, some of John Holguin's co-workers rise in the dark to commute from Los Banos, a small bedroom community some 80 miles east. Others stay with family in Santa Cruz during the week, only to travel 150 miles home to Sacramento on the weekend. (Holguin's 17-mile commute from Watsonville along Highway 1 will take as long as 45 minutes because of traffic.) "Only in California do we have watersheds and commute sheds," says Mayer.
"My parents bought their first place at 25, and I'm 48," Holguin notes. "To me it seemed like they had it easier back then." He's right about his parents' generation of homebuyers. Back in 1975, the median home price in the state was $193,774 (in 2017 dollars). Last year, according to the California Realtors Association, it was $537,860 — nearly three times that much.
Of course, Santa Cruz is a particularly pricey slice of the California real estate market. Its sun, surf and scenery draw tourists, as well as tech industry workers from "over the hill" in Silicon Valley, who have money to spend. The median price for a single family home in Santa Cruz County shot up to $935,100 in March, a record high, the Santa Cruz Sentinel reported.
Santa Cruz County is home to lower-wage agricultural and service industries, making affordability a particular challenge for those who work there. Also, local redevelopment agencies, one of the few funding sources for affordable housing available to local governments, were eliminated in 2012, contributing to the housing shortage across the state.
Small-town Santa Cruz also faces pressure from its University of California campus, whose chancellor announced plans last fall to increase its student body by as many as 10,000 students by 2040. In a sign of voter frustration, the city of Santa Cruz approved a non-binding measure opposing the university's growth plans by a margin of 76-23 percent.
And then there is the resistance on the part of some residents to accommodate growth. Some simply want to "preserve the open space and restrain the growth" as much as possible, says Don Lane, one of the leaders of Affordable Housing Santa Cruz County, a local coalition that is advocating for a housing bond measure to be placed on the November ballot. "But you've just got all this high-priced housing, and it's still crowded, and traffic is still getting worse."
Lane, a former mayor of the city of Santa Cruz, says denser "infill" housing in commercial corridors will lead to a more efficient and effective use of space without compromising the region's preservationist traditions.
The plight of Santa Cruz's middle-income residents is not as dire as that of its poor, of which there are many. The county has among the highest poverty rates in the state. Farmworkers live in overcrowded and sometimes dangerous conditions. At the June 12 board meeting, Ann López, the director of the Center for Farmworker Families, relayed an instance of 16 people living together in a home of less than 1,000 square feet.
Matthew Nathanson, a public health nurse with the county, was motivated to advocate for an affordable housing ballot measure after witnessing the clients he serves "falling into homelessness" because of their inability to afford rent. The median rent for a two-bedroom home in Santa Cruz was $2,450 a month in May, a 4.7 percent increase from a year ago, the Santa Cruz Sentinel reported.
Nathanson, who is also a regional vice president with Service Employees International Union Local 521, says that housing has become a central issue for city and county workers like Holguin, who are becoming increasingly difficult to recruit. Road workers who are on call during the rainy season need to live "within a reasonable distance" of their jobs, he adds. And pay increases won at the bargaining table risk being "all wiped out" by the cost of housing.
The measure, which would require a two-thirds vote of the public, would be paid for by commercial and residential property owners, according to Lane. The original proposal was for $250 million, but he says the bond measure is now "looking more like $150 million" and could benefit between 1,500 and 2,000 households.
The campaign was inspired by the success of housing measures in Alameda and Santa Clara counties, he says. Another $4 billion housing measure will be on the state ballot this November.
Still, once the funding is in place, the projects will need to get approved by local governments and built. The bond measure proposed for November is only one piece of the puzzle, according to Nathanson.
"It took us a long time to get into this situation," he says. "I think there is a shift going on, but it's going to be a struggle."
---
Research assistance provided by Jake Conran.
Copyright Capital & Main