Negotiating Trauma: How Susan Burton Gave Discarded Women a Tomorrow
Chances are you've never heard of Susan Burton. Yet her A New Way of Life organization has provided shelter and services to thousands of formerly incarcerated women and their children.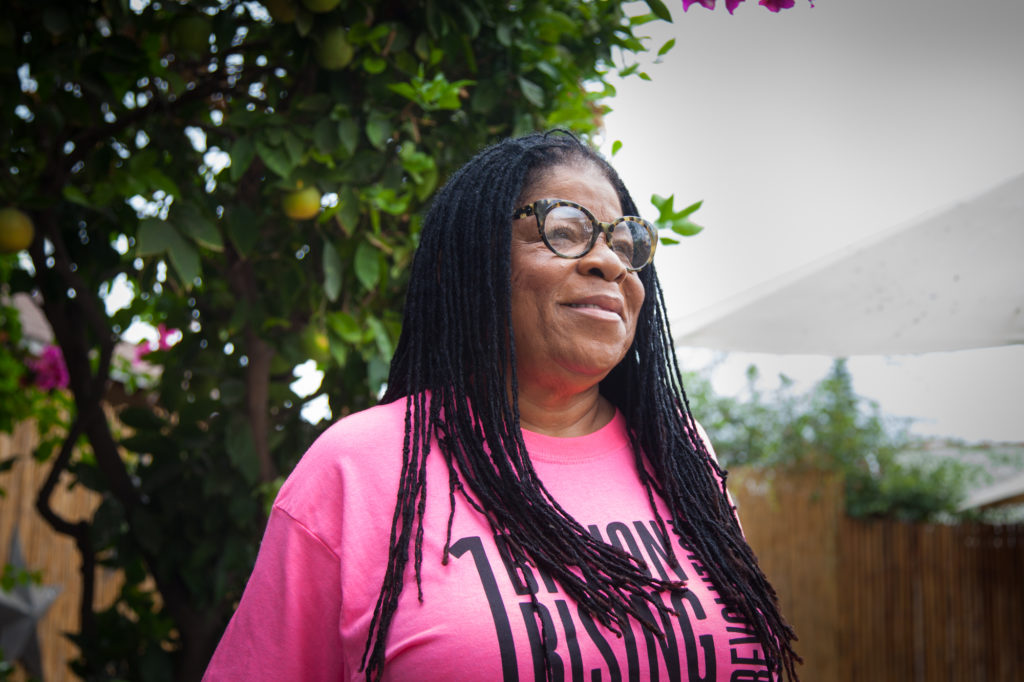 All Photographs by Joanne Kim
---
Susan Burton overcame six felony convictions and incarcerations to create and run one of America's most successful social programs.
---
Is everybody decent!?" Susan Burton yells as she ascends a flight of stairs. She is giving a visitor a tour of one of her five Los Angeles houses that provide havens for women returning to society from California's prisons.
She knocks on a bedroom door that's half ajar and peers inside.
"You ain't trying to catch the worm, huh?" Burton says to a woman still in bed.
"No I am," the woman mumbles.
"You lying here. It's 10 o'clock in the afternoon. You gotta go get the worm!'
Burton moves on and walks into an empty, freshly painted room. "We need to get pictures on the wall," she mutters to herself.
Every room has a bed and dresser for each of its occupants, usually two to four in a room, and the walls are painted bright colors. Burton reveals that the grays and greens of prison are purposely avoided. One bed in each room is usually left free for the sudden arrival of a released inmate or space for visiting kids.
Chances are you've never heard of Susan Burton. Yet to thousands of people, she has been a savior. A 2010 CNN Hero, Burton has written a book chronicling her remarkable life, Becoming Ms. Burton: From Prison to Recovery to Leading the Fight for Incarcerated Women. In it, Burton, 66, documents how she overcame six felony convictions and incarcerations to create and run one of America's most successful social programs. Since its founding in 1998, A New Way of Life has provided shelter and services to thousands of formerly incarcerated women and children. Far more than a housing agency, it has evolved into an inspiration for change and a beacon of hope to women who have been largely discarded by society.
A New Way of Life Resident:
"If it weren't for this I'd be on the street
or back in prison."
Before Burton could become an angel, however, she had go through hell. Sexual abuse started at age 4. First it was her aunt's boyfriend, then an older male neighbor whom she met selling cookies for the Woodcraft Rangers, a group similar to the Girl Scouts. A Christmas Eve gang rape resulted in her first child at the age of 14. Fifteen years later, Burton's life was shattered when her 5-year-old son was run over and killed by a van driven by an off-duty police officer. Burton retreated onto despair, turning to drugs to dissociate herself from the trauma of her tragedies.
After becoming an alcoholic and crack addict, Burton became trapped in a vicious cycle of incarceration. Her catch-and-release tale was similar to those of millions around the country. Unceremoniously dropped off in Los Angeles' Skid Row, Burton had no tools or resources to make it in a world without bars. Most states make it nearly impossible for felons to make it back on their feet. Hundreds of categories of jobs, as well as many public housing agencies, are off limits to those with records. Securing employment and housing, which are among the requirements to regain custody of their kids, is made even more difficult without necessary documents like state-issued I.D. cards, which are destroyed when entering prison. It was a chance, pejorative comment from a correctional officer on her sixth (and last) release from prison that sparked her evolution into an agent of change.
"He said, 'I'll see you in a little while,'" Burton recalls. "It was daunting and scary to hear that. And he said, 'There's no jobs for you out there. The only job you'll ever have is in a prison.'"
A friend told Burton about the CLARE Foundation recovery center in Santa Monica. She was accepted — and instantly thunderstruck by the disparity in services afforded her in this upscale community, compared to those available in her neighborhood.
"I had get-well help served to me like in a buffet at a restaurant," she remembers. "It was like having the best waitress and waiters come and serve you your food, and when you're finished with one part of your meal, they take the plate away and they take the fork and knife away, and then they bring you clean ones. I went to therapy like that. I went to dental services like that. I went to medical services like that. I went to AA meetings like that. It was like another world."
Every bedroom in the shelters has a bed and dresser for each of its formerly incarcerated women. Walls are painted bright colors — prison
  

grays and greens are purposely avoided.

Later, while working at a job as a home care worker, she devised a plan inspired by the CLARE Foundation, and after a year had saved $12,000 to make that plan a reality. She bought a small bungalow in South Los Angeles and started A New Way of Life. As newly released inmates stepped off buses near Skid Row 19 years ago, Burton was waiting to greet and offer them a sanctuary to begin their life anew. As she started to run out of savings, someone suggested she start a nonprofit. Before long she was off and running, becoming a modern-day Harriet Tubman with a string of five safe houses for society's outcasts.

But there soon came a harsh epiphany.

"I thought that if women had a safe place to go, that would be everything they needed to restart their lives," she recalls. "But we soon realized It didn't matter how hard or committed the women were in completing their tasks, there was still a box they were put in. They couldn't get their children back. They couldn't find employment. They couldn't even receive food stamps."
Aukilia, who has been at A New Way of Life since August, 2017.
Burton got to work, organizing and advocating to change bad policies.
"Some of the laws that have been changed have just been bad laws," she says. "Not giving women who have had drug crimes food stamps? That was a bad law. Having people check a box on employment applications? That was a bad law. The disparity in sentencing was a bad law. Taking people's babies away."
So she partnered with the University of California, Los Angeles' School of Law in 2006 to look at how they could reverse the institutional obstacles confronting former inmates. An in-house free legal clinic was created that in the last decade has provided pro bono assistance to thousands seeking relief from the burden of criminal histories, expunging criminal records and offering access to occupational licenses. Burton also reached out to companies for donations and now runs a distribution center that provides over $2 million dollars in household goods yearly. Thanks to her, over 3,500 formerly homeless individuals have gone on to establish their own living spaces. 
Jannie's youthful looks belie the fact that she served 28 years for killing a man who, she says, jumped on her niece.
"She is persistent, dynamic and strong," the group's associate director, Tiffany Johnson, says of Burton. "God has wrapped a unique set of skills into this one woman to be able to touch multitudes of women in ways that most people can't."
Ingrid Archie, another senior staff member, agrees. "I think Susan saw that some resources were offered in other communities as a common right," she says, "but in her community people were being criminalized and families ripped apart. She is providing a solution to a problem that everybody was sweeping under the rug. She helps you take responsibility and ownership for yourself and your future."
In the largest bedroom of one of Burton's houses, a woman named Aukilia sits on the bottom bunk, readying herself to attack the day. Her story is typical in its complexity. A couple of years ago she was asked by someone to deposit checks into her incarcerated boyfriend's jail account.
"I was so loaded. I was high, under the influence," she explains. "I said, 'Yeah, sure, free money, I'll do it.'"
Jannie: "This program is amazing."
She was arrested two years later for bank fraud. Typical of the draconian laws that help propagate the modern prison complex, each check carries with it its own separate charge. So she is facing 120 years in prison. But A New Way of Life has given her hope, allowing her to pursue a GED and her dream of going to cosmetology school while she awaits trial.
"It's beautiful here. You go to your meetings. You get up and you do your chores. You do what you're supposed to do and everything's great. If it weren't for this I'd be on the street or back in prison."
Her roommate Jenny has just finished her night shift at Foster Farms, a job A New Way of Life helped secure. Her youthful looks belie the fact that she served 28 years in prison for first-degree murder, for killing a man who, she says, jumped on her niece.
"I think it would have been difficult had I gone anywhere else, but Miss Burton and her staff and the ladies here welcomed me and made me feel special, made me feel like this is my home. I've been doing great ever since. This program is amazing."
"Unconditional love, no judgment," Aukilia chimes in.
"But I ain't no joke either," exclaims Burton, who has been hovering just outside the door. She is flashing a tough face, which she does often, but her kind eyes and a slight smirk give her away.
The women laugh and shake their heads in agreement.
"I don't save women," Burton says.
"I provide opportunity."
Susan Burton's houses shelter anywhere from four to seven women, with most staying anywhere from nine months to two years. If she runs out of space, Burton works with a network of thousands of beds in the county that provide sober living, and she is known to pay out of her own pocket to provide relief for a woman in need. Her passion and dedication have engendered remarkable results. She estimates that 80 percent of those who go through her program have not returned to jail and are employed or in school, an impressive record in light of the American prison system's traditionally high recidivism rate.
"I don't save women," Burton says. "I give them an environment that allows them to heal and thrive and begin to pull themselves up. I provide opportunity. They have to work the opportunity."
Burton makes it a point to provide individual attention to each woman's needs. But how does one continue that as the movement grows? And how does the work continue after she is gone? Add to that the colossal systemic legal and bureaucratic obstacles facing her constituency, and the future may be the biggest challenge Burton faces. She hopes that a new generation of women will carry on her crusade. Women like Tiffany Johnson and Ingrid Archie.
Johnson had served 16 years of a life sentence for second-degree murder when she walked through the doors of A New Way of Life in April 2010. She quickly found a job but soon realized that no matter how well she did it, her criminal record excluded her from upward mobility. So she returned to work at A New Way of Life and today, as the organization's associate director, serves as Burton's right-hand woman.
"If you are consistent people can depend on you," Johnson says of both Burton and the group.
California's Proposition 47, passed in November 2014, reduced six felonies to misdemeanors, but for ex-cons to have their pasts expunged, they must request that their records be changed. That's Archie's mission. A former prisoner herself, she is the organization's Prop. 47 specialist and came to A New Way of Life in 2006, driven by her passion for fixing a skewed system.
"Revenge is a deep, dark, empty hole that can never be filled. I know that from losing my son."
Just as A New Way of Life has given support to thousands of those in need, it has provided Burton herself with something just as profound. With a history riddled with misery, it is her port in the storm.
"I negotiate trauma," she says. "I've had to. And A New Way of Life insulates me from the trauma and gives me a bigger meaning and purpose to my life. We're all here to help and be a part of something bigger than ourselves. Before, I never found that something bigger because I was dodging all of the arrows that were coming my way."
But Burton is no longer dodging. She is moving and shaking, with ambitious plans. A New Way of Life now has 23 employees and survives on an operating budget of approximately $2.6 million raised primarily from grants, individual donations and an annual fundraising dinner. Burton has carefully grown the organization, mindful of the pitfalls of quick expansion:
"I don't wanna become a people-processing machine. I think the community, the individuality of the way in which we work with people is meaningful, and it brings about success. So if I have these big houses or too many places, then the interaction becomes impersonal."
Nevertheless, with a growing new generation of activists under her wings, Burton hopes to replicate her system across the country, to not only build an underground network of reentry homes and safe houses, but also civil rights advocacy groups.
But the challenge is formidable. More states. Differing laws. This country's massive prison complex, with its systemic effects, illuminated so cogently in Ava DuVernay's documentary 13th, has become part and parcel of modern society.
"We criminalize trauma in this country,' says Burton. "There should be and could be something different. What I know is [that] revenge is a deep, dark, empty hole that can never be filled. I know that from losing my son. I think one of the most powerful things that happened for me is that I was able to go deep into myself and find a place of forgiveness for all those that had harmed me, and to ask for forgiveness of those I had harmed."
So how does one make headway in a society that is bent on exploiting over rehabilitating? How does Burton plan to grow her efforts in the future without being swallowed by the system? One way is to not take their money. Burton likes to point out that she works within the community, not within the system.
"I terminated the contract with the system a long time ago," she says. "Traditional ways of doing and thinking about things doesn't allow for people to be spring-boarded and supported to realize their dream and purpose. It's too big of a risk for traditional funding agencies and governments, because you have to have all this proof of who you are and what you do. How do I support people to be able to build that track record where they're accepted back into society, humanized, treated with dignity and respect, and [where] people are able to realize their dreams? You have to have it bubble-up. I might not be here for the whole bubble, but I'm here to plant seeds."
To many, Burton is an outlier, a remarkable individual who achieves the nearly impossible. But she strongly disagrees.
"I think the biggest misconception people have about me is that I am this 'extra ordinary' person and that I'm different from other people," she says. "I just believe that there was an opportunity for me, and in that opportunity, I was able to grasp on and grow something. There are so many people where we've locked away their talent, their treasures, their love, their dreams…and they are coming back into the community. They just need opportunity."
Burton has not wasted hers. She is moving forward confidently and with a purpose.
"While I'm no daredevil, I go forward . . . in the face of racism, capitalism, homophobia and all of these things that are a part of what affected us in the first place. The universe will support me in ways as long as I am staying true to universal principles."
On one autumn afternoon Burton is back where it all started — in the first house she ever bought, in South Los Angeles. Sitting at the dining room table is a visibly upset woman whose long, salt-and-pepper ponytail falls down her back. Burton asks why she is so overwhelmed and, with her voice cracking, the woman laments that she needs a ride to get a driver's license and there is no way to get where she needs to go in time. She seems like she is about to have a breakdown. Burton looks her in the eyes and says, "Don't worry. I'll take you now on my way back to the office, just give me a minute."
A few moments later, as the two women walk to the car, Burton's latest resident, who hasn't been outside of prison since the last century, is overheard saying to herself, "Cars are so nice looking now. Look at how nice they are…" Burton is a dozen steps ahead, full of encouragement. "C'mon now," she says, "Let's go. Everything's going to be alright. We'll get it done."
---
Copyright Capital & Main
Drug Users Fight for Acceptance in California's Deep North
The Humboldt Area Center for Harm Reduction is more than a syringe exchange. It's a place where people who use drugs also find community, treatment for their psychic and physical wounds, and advice to help them stay alive and disease-free while they continue to use drugs.
---
The battle over a harm reduction center in Eureka, California reflects battles being fought across America about how to treat, rehabilitate and care for people who use drugs.
---
Harm reduction for drug users, which includes everything from distributing clean needles to HIV testing to supervised injection sites, has shown to be one of the most effective strategies for slowing the spread of disease and lowering overdose rates. In some parts of California, however, the approach remains misunderstood and controversial. This week our three-part series, "Moving the Needle," looks at the obstacles faced by harm reduction organizations in rural Northern California. 
Yesterday Judith Lewis Mernit reported from Ukiah, where people who use drugs find acceptance and community without stigma or shame. Today Mernit describes how a model harm reduction center divides the city of Eureka — but also saves lives.
Wednesday: Safe injection facilities are at the front line of a health-care revolution for drug users — and of a potential showdown with the Trump administration.
---
Wednesday morning, 10 a.m., Eureka California.
Mikey, a man in his 30s with smooth tanned skin, light-blue eyes and brown curls tumbling out of his baseball cap, stands in a cramped and busy kitchen, 20 slices of bread laid out before him. "I'm making bologna sandwiches," he tells me when I ask. "As many as I can get out of two loaves of bread."
As the kitchen manager at the Humboldt Area Center for Harm Reduction, or HACHR, Mikey prepares meals every day for people who come by here for supplies — alcohol wipes with which to prepare an injection site, sterile water in which to dissolve powder, clean needles to prevent blood-borne disease. He asks that I not use his last name, or his face in a picture; he's too worried about reprisals from people who don't approve of what he does. When I ask him whether he'll let me quote him in this story, he consents only because he'll do whatever it takes to defend the place where he's found friends, work and acceptance. Like most of the people who visit this house, Mikey is dependent on drugs.
"Yeah, yeah, I'm a drug fiend," he admits. During the day he uses heroin to control his panic disorder. "The doctors won't give me 'benzos,'" a class of sedatives that includes Xanax, Klonopin and Valium. "They say they don't trust me with them." At night, he sometimes injects methamphetamine to stay awake on Eureka's streets, so he doesn't get robbed or beat up.
Mikey works swiftly, constructing his sandwiches and piling them into a cooler for an outreach trip to the nearby city of Arcata. Within the hour, he's ready to go.
"This is the best job I've had in the world," he says. "I don't want it to go away."
---
"I grocery shop like I'm Jackie Onassis. If anyone sees me wearing sunglasses indoors they'll say, 'See? We told you she uses drugs.'"
---
When I visited HACHR in June of this year, the fear that it might go away was perilously real. Three months earlier, Eureka's city council had passed an ordinance requiring agencies that distribute clean needles file quarterly reports and steer people into treatment — a practice HACHR volunteers consciously avoid. ("If you push people too hard, they don't come back," HACHR board member Rachel Waldman told the council.) Discussions had unfurled on Facebook and NextDoor, in which people threatened to come for HACHR staff with "torches and pitchforks."
Worried that the council would rescind the ordinance that allows HACHR to operate in the city, Brandie Wilson, HACHR's founder and executive director, had applied for authorization from the state of California, which would override local control. In public comments regarding the application submitted to the California Department of Public Health, one Eureka resident accused HACHR of actions "bordering on terrorist activity" and "helping children to shoot up." Another called the agency "a radical militia group."
The animosity peaked on June 5, when protesters associated with the anti-HACHR group Take Back Eureka faced off against HACHR supporters on the steps of Eureka's City Hall. Two weeks later, two city councilmembers, Heidi Messner and Kim Bergel, showed up at a HACHR board meeting, announcing that they felt compelled to address the community's concerns. From both sides' accounts, the meeting turned hostile, and in the aftermath, Wilson reported that someone had keyed her car, that stalkers were videotaping HACHR's activities through the windows and that more than one threat had been made on her life.
---
"Everyone's out there believing that only bad people do drugs. When in reality, everyone uses drugs. Everyone."
---
"I grocery shop like I'm Jackie Onassis," she told me. "I cover my head and wear big sunglasses." She realized the disguise could backfire: "If anyone recognizes me and sees me wearing sunglasses indoors they'll say, 'See? We told you she uses drugs.'"
Wilson and her staff reported the alleged keying incident and threats to the police, but Eureka's Chief of Police, Steve Watson, dismissed them as below the threshold of legal action. Comments posted on social media, he said, "fall under the protection of the First Amendment." He did not condone the threats, but neither was he unsympathetic. "As a law enforcement leader I'm unwilling to sacrifice the community's sense of safety on the altar of a syringe exchange program," he told me. "Parents should be able to take their children to our parks without living in fear of being stuck by a discarded needle."
As to whether HACHR would be held responsible for such an incident — and for the needles that people say clog public toilets and accumulate in Eureka's gutters — Watson demurs. Those needles could come from a lot of places, including Humboldt County's own syringe exchange program or any of the local pharmacies, which in accordance with a 2015 state law, are allowed to sell syringes on demand. "The issue is more whether having this kind of syringe exchange program is right for a community like Eureka," he says. Enlisting people like Mikey as volunteers, he says, makes it seem like drug use is okay. "But it's not," he insists. "Illegal drug use is never okay."
The battle over HACHR is roughly the same as the battles being fought all over the country about how to treat, rehabilitate and care for people who use drugs. The nationwide crisis believed to have begun with loosely regulated access to prescription opioids has now become a nationwide crisis of injection drug use — along with blood-borne diseases and deadly infections from paraphernalia shared and misused. In Charleston, West Virginia, a program that provided clean syringes in addition to counseling and medical services was shut down after the police chief imposed onerous restrictions, such as ID checks and a strict one-to-one exchange. (A wide body of decades-old research shows that a more permissive "needs-based" exchange saves more lives.) In Grand Traverse County, Michigan, where injection drug use fueled an epidemic of hepatitis C — a chronic form of the disease that spreads almost exclusively among people who share needles — county health officials sustain a clean needle program over the ongoing protests of the county sheriff.
---
People who use drugs also die from infections caused by unsterilized needles and dirty water, wounds that turn septic and can't be reversed.
---
The Orange County Needle Exchange Program in Santa Ana, California, lasted only from February, 2016 until December, 2017 before city officials pulled its permit on the grounds that not only was syringe distribution increasing the number of dirty needles found on the streets, but also facilitating drug use among Orange County's swelling ranks of the unsheltered. (Neither claim has empirical evidence to support it.)
Like the Charleston program in its heyday, HACHR is more than a syringe exchange. It's a place where people who use drugs also find community, treatment for their psychic and physical wounds, and advice to help them stay alive and disease-free while they continue to use drugs. Since 2017, when Wilson settled her crew into a 19-room Victorian house in downtown Eureka, it has functioned as an all-purpose gathering place for a few days a week, welcoming people who use drugs, be they opiates or stimulants or both. "We even have a nap room for people who are in chaos from lack of sleep," Wilson says.
Wilson also relies on people who use HACHR's services – "consumers," she calls them — to staff the facility. "Drug users are front and center here," Wilson tells me. "They make decisions, they help people connect with services. They're the reason we can even function." The people who mend the roof, who facilitate the art days, who offer workshops in medicinal teas — almost all of them use drugs once in a while, weekly or every day. Wilson demands only that they not use drugs on the premises and treat each other with respect.
This, more than anything, is what confuses HACHR's detractors. "HACHR is the only [county needle exchange program] that has [current drug] users as a part of their team, in charge of needle exchange," says Heidi Messner, who represents Eureka's Ward 2 on the city council. "The term 'best practices' is being thrown around [by HACHR staff] but it's a lie," she says. "'Best practices' is when [people] who were users and are now clean work with users. To take that term and use it in a completely different context frustrates people."
Messner also objects that Wilson isn't pushing her consumers into treatment. "If [treatment] was part of the model, it [would probably] look different to people," Messner says. "If the model is just, 'Let's corral people and keep them safe while moving toward their own destruction,' that's a challenge for people. Do we make sure they don't trip over anything, make sure they don't fall and get hurt on their way to jumping off a cliff?"
Wilson has little patience for that kind of talk. "That's why we're dying," she says. "Everyone's out there believing that only bad people do drugs, that if you use drugs you're not a part of society or you're not a part of the community. When in reality, everyone uses drugs. Everyone."
Humboldt County, where 135,000 people are spread out across 4,000 square miles, has in recent years become notorious for its large number of homeless people, and people who inject drugs. It is also known for its drug-related deaths, and not just from opioids: Of the 49 people in the county who died from a drug overdose in 2017, according to the Humboldt County Sheriff's Department, close to a third of them overdosed on stimulants, primarily methamphetamine. Some of those drug supplies may have been tainted with other substances, such as fentanyl, a cheap but potent opioid first developed for use in patients undergoing cardiac surgery. The quality of street drugs is difficult to control.
People who use drugs also die from infections caused by unsterilized needles and dirty water, wounds that turn septic and can't be reversed. They contract diseases from sharing pipes with raw and chapped lips. They often don't know they're infected, and consequently don't seek care. The Humboldt County Department of Public Health estimates that nearly one in every 18 residents in the county are currently living with hepatitis C. The rate of new infections in the county is currently three times the state average.
Wilson is 44, although she looks younger, in part because of the way she wears her dark blond hair: in a wavy bob with a shock of magenta painted into it. She argues with a passion that endears her to many but which others find off-putting — especially those who have a less generous opinion of people who use drugs. She founded HACHR in 2014, in response to what she saw as a crushing need for health services in Eureka's homeless encampments in Cooper Gulch Park and the Palco Marsh, which upwards of 200 people once occupied in tents or ramshackle shelters adjacent to Humboldt Bay. In 2015, her organization subsisted on a single $20,000 grant, from the Humboldt Patient Resource Center.
"We didn't have a vehicle," she says. "We'd go down there with a wagon — one of those fold-up ones you get at Costco — and give out wound-care kits, hygiene kits and referrals." In 2016, the same year the Eureka Police Department began evicting the marsh residents to transform the area into a city park, the city passed a resolution authorizing HACHR's syringe-exchange program. By then, HACHR had incorporated, secured nonprofit tax status and assembled a board of directors. Cobbling together grants and individual donations, Wilson raised enough to fund an operating budget of $100,000 without any taxpayer funds from the city.
The next year, Open Door Community Health Centers, a nonprofit that operates several rural Northern California clinics, offered as a headquarters the big Victorian house on Third Street, which had variously been a trap house, a vacant eyesore and a treatment clinic, for rent at $1 a month. Wilson insists on keeping every surface clean as a surgical table, often furiously wielding a bottle of bleach solution to wipe down counters herself. (When I complain the spray is making me cough, she tells me to open a window). Bright educational posters and memorials to fallen friends cover the walls.
The California Department of Public Health donates supplies, including syringes and naloxone, a drug that reverses the effects of opioids and can halt an overdose in progress. Other supplies, such as tourniquets and condoms, HACHR buys, and volunteers neatly sort into compartmentalized boxes.
Last year, HACHR volunteers and staff counted 2,674 encounters with drug users, slightly more than three times as many as they saw the year before, when they were still an itinerant service. Because there are no ID requirements or other tracking information that might deter a potential consumer, that number includes people who accessed services more than once. The syringe-exchange program began as a "needs-based" effort — if you came in the door, you could get as many clean needles as you asked for. Because there are many places in the hills above Eureka where there is almost no access to doctors, let alone clean needles, there were times when a single person would walk away with 300 needles. "This is a vast rural community that we serve," says Jessica Smith, HACHR's program coordinator. "Sometimes we hadn't seen someone for months. Sometimes someone would be collecting for their entire community."
After the city council passed the March ordinance, HACHR switched to a one-to-one trade, to the extent that it's feasible: The federal Occupational Health and Safety Act prohibits the opening of sealed sharps containers to count their contents, so HACHR staff has to count based on estimates of how many sharps fit in a given container. (Eco-Med, the company that processes discarded needles, later verifies the count by weight.) In 2017, 688,390 of the 735,823 needles HACHR distributed came back — a 93.5 percent return rate.
HACHR is something of a pay-it-forward enterprise for Wilson, who grew up in Terra Bella, a small rural California town in the Sierra Foothills, and early on developed her own problems with drug and alcohol abuse, cycling in and out of drug courts and 12-step programs punctuated by stints in jail. "The [drug court] system was set up to fail," she says. "Any small thing would put you back in jail."
After California voters passed Proposition 36 in 2000, redirecting drug offenders into treatment, Wilson struggled with rehabilitation programs that failed to address the mindset of the smart young rebel atheist she was. "Everything was about God," she says. "And I didn't believe in God." Then she met a woman she calls Nickie C., at a Narcotics Anonymous meeting. (The abbreviated last name is in accordance with N.A. traditions.) "Her husband, Bob, had been in prison for 16 years on a drug charge," she says. "He got out of prison, and got a Ph.D." The couple helped her understand that recovery wasn't about steps, but about guiding principles for how to live. "They taught me that there's a lot of space in between chaotic drug use and abstinence," she says.
Most of all, they encouraged her to go to back to school. She began in a certificate program for drug and alcohol counseling at Porterville College, but in her first job at a drug court-authorized counseling facility, one of her clients, a mother of three, was sent back to jail after a urine test came back positive for cannabis. "Being a drug court counselor sucks if you don't believe in the drug war, if you don't believe in incarceration," Wilson says. So with Nickie and Bob "cheerleading" for her, she enrolled in Humboldt State University — first as a psychology major, but quickly switched to sociology. She graduated with a master's in 2011. "Sociology is all about the 'isms' that drive the fight in me," she says. "It helped me understand that it wasn't just me being bad. It was a system that was corrupt and fucked. I was responding appropriately."
There is such a thing as a functioning drug user," says Christina Donnell, a jocular redhead who facilitates art days at the center on Tuesdays and Thursdays. Donnell was once an injection drug user herself, but hasn't used in months. "I just segued out," she says. As she started taking on more responsibility at HACHR, working as a volunteer, she started to crave more mental clarity, and her drug use tapered off. "I don't like to use the word 'clean,'" she says, "because that implies I'll never get high again, and that's not true. I might use drugs again from time to time. They just don't control my life."
Donnell's story is not uncommon. Jessica Smith watched her own mother segue out, after 16 years of using heroin. "She fell in love and got married to another drug user who was on the outs with his family," Smith says. When the two of them took a trip back east to mend the husband's relationships, they both stopped using drugs and never went back.
No treatment plan, 12-step program or incarceration could have accomplished that, Smith says. "You're not ready until you're ready."
Some people might never be ready, in which case intervention takes the form of support for integrating into society, of becoming that functioning drug user Donnell refers to. Community helps; so, in some cases, does a dog. Smith has been trying to help Mikey get Rebel classified as a service dog so he can take him on the bus with him; Rebel "alerts" on Mikey when he has a seizure. "You have a right under the ADA to keep him with you," she instructs. "You just have to tell people what he does."
Mikey went to city hall to get Rebel a license, but he wasn't yet neutered, so they turned him down. He comes back visibly defeated. "I was so excited to make him official," he says. "That was such a letdown."
But he's still proud that he comported himself with dignity in the face of resistance. "There was another time in his life when I would have started yelling at people," he says. "But now I'm representing this place. I don't want to give it a bad name. So I was calm."
"Mikey wants to go to culinary school," Smith says. "We're trying to help him with that."
Early one Thursday afternoon, seven people crowded into HACHR's small, barely furnished kitchen. The room still smelled of fried onions and tomato sauce from the spaghetti lunch Mikey made earlier in the day. Jessica Smith had laid out a blanket of paper large enough to nearly cover the table. On it were the names and office phone numbers of city council members and other elected officials who were publicly contemplating whether to rescind the 2016 ordinance authorizing HACHR's existence.
"If you call Natalie, remember to just thank her," Wilson shouted out to the room, referring to City Councilmember Natalie Arroyo, who stood up for HACHR when no one else did. (She was rewarded, Wilson and Watson both claim, with a syringe dropped on her front porch.)
Across the table from Smith sat Jessica Fox, a county mental health case worker who spends two hours a week at HACHR. "I help people connect to services," she explained. "If they want to get into detox, I can help with that. If they just want to see a therapist I can help with them that. Just trying to connect people, helping people navigate the right path — instead of just making people go around in circles until they get arrested or die."
"That is our city's plan," interjected Wilson. "The genocidal plan."
The group was obviously on edge. When a tiny chime rang indicating an open door or window somewhere, Kenneth Boyd, the peer leader of HACHR's cleanup crew, ran up the stairs in a panic. "It was just the wind," he said when he returned. "Somebody didn't close the door too tight."
Boyd settled back in his position at the head of the table, where he'd been holding forth about how he got his nickname, Sidetrack. (In 1984 he went on a grocery run for his friends, he says, and didn't come back for five days.) "Everyone here is pretty nervous," he told me. "That's what happens when you're getting kicked all the time."
On July 17, Jessica Smith and Rachel Waldman, HACHR's board treasurer, stood at a podium before four of Eureka's five city council members to present the organization's first two-year report, an exercise required of syringe-exchange programs by state law. Projected on a screen above them was a slogan familiar to advocates for people with disabilities: "Nothing about us without us."
"Everything in our program is informed by the people that we serve," Smith explained. "We have a very in-depth peer program."
Messner had trouble with this concept. "When you're using that term 'peer,' are you referring to current addicts? [Because] the definition I'm familiar with is someone who's successfully overcome some of the unhealthy habits that are involved in drug use."
"Maybe what they've overcome are unsafe injection practices," Smith said. Maybe they used to get a lot of abscesses and now they know how not to do that."
Messner seemed unconvinced, so Smith kept on. "We've had peer leaders move on to have jobs and cars and insurance and all kinds of things they didn't have before." To "come into a role and have purpose and meaning," she explained, can save your life.
Other councilmembers asked questions, too. "Does HACHR provide drugs to people?" asked Councilmember Kim Bergel.
"Absolutely not!" Smith answered. Councilmember Austin Allison, clearly sympathetic, asked the women to explain why harm reduction costs society less than treating people in the hospital for disease. "Preventing one case of HIV could save $450,000" in public health costs, Waldman said.
In the end, instead of revoking the organization's authorization to operate, the council voted to establish an advisory board to address problems related to syringe distribution, including the city's litter problem. One of the most persuasive arguments came from Kim Bergel, who in June had been inclined to shut HACHR down. "Any new business is going to have growing pains," she said. HACHR staff has learned a lot in its first two years; rescinding the ordinance would put the city back at square one.
"We won the battle," Wilson tells me when I see her next, in August. She confirms that, after a long heart-to-heart, Bergel had come around, and was now lauding HACHR for winning an award from the California Hepatitis Alliance for its work in community organizing.
Neither Bergel nor Wilson will divulge exactly what happened in their talk. Bergel will only say that she was tired of the divisiveness in the community. "I decided to look at my part in that," she says. "And that led me to ask different questions." Now she's lobbying for a consumer to sit on the advisory board. "I mean, that's who we're talking about, right?"
On October 8, the California Department of Public Health announced, after a long delay, that HACHR had met the requirements for state authorization to operate as a syringe exchange in Eureka and Arcata, plus at four more outreach locations around the county. And Wilson has big hopes for the future. She plans soon to start up a foot-care clinic — feet and toes are common sites of infection for unsheltered people who inject drugs. She also wants to find a way to offer in-house treatment for hepatitis C, which is now curable in most cases. She's counting on the state's imprimatur to help her in the next local battle, which will no doubt come: In November, the city will vote on a new slate of councilmembers. Bergel's seat is at risk, and at least three candidates, Michelle Constantine, Jeannie Breslin, John Fullerton and Bergel's challenger, Joe Bonino, have promised to come down hard on Eureka's public drug use and stray needles. All three have been explicit about who they hold responsible.
"The thing that hurts me the most is the lack of empathy people have," Wilson says. "That people aren't worth their care unless they stop using drugs." If some people in the community want HACHR shut down, she says, it's not because of the needles. "It's because we're demanding space in the system. We're demanding civil rights for drug users."
It might be starting to work. "Maybe the anger and outrage," she says, "means that we're successful."
---
Judith Lewis Mernit's reporting on harm reduction in rural California was supported by the USC Annenberg Center for Health Journalism's 2018 Impact Fund.
Copyright Capital & Main