My Mother-in-Law's Wal-Mart Moment
"James, would you mind driving me to Wal-Mart?"
Ugh.
My mother-in-law asked me this question on a day when my wife was at work and I was desperately trying to get some writing accomplished.  I knew it was going to be a tough week to entertain, long before Gerry arrived — a clash of union meetings, picketing and writing classes at Bergamot Station in Santa Monica.
I was typing at the computer in our small, one-bedroom apartment when she posed the question to me. I tried not to overreact, but I'm sure my eyebrows constricted tighter than I had intended.
"Wal-Mart?" I replied. "You want me to drive you to . . . Wal-Mart?"
She nodded. "I'd like to go the garden center and pick up some things."
I didn't want to drive to Wal-Mart, but when it came down to it I decided I would rather be on the wrong side of my union than on the wrong side of my mother-in-law.
I'd already had a rough week of writer's block. I suppose it was because there was another person in my private space during all that time.  When I write I must be alone, in the space of my own thoughts. I had finally found some time to get behind the computer and now my mother-in-law was beside me with her arms crossed, begging for an afternoon drive to Wal-Mart. There was no alone to be found.
I could either be a good son-in-law or an undisciplined writer, or maybe even worse than that — an unethical activist.  I rose from my chair of ideas and sulked off to the bedroom to retrieve my shoes. As I struggled with the laces, I pondered the way to tell her that I couldn't do this. As a devout union activist, I found the errand to run practically against my morals. Hadn't she heard about Wal-Mart? Didn't she know its managers vigorously oppose unionization?
Wal-Mart is the world's largest retailer and the United States' largest employer. According to a Business Insider article from 2010 it employs 1.4 million people, which is one percent of the country's working population.
Yet according to groups like Wake Up Wal-Mart, a campaign founded by the United Food and Commercial Workers Union, the massive retailer is getting away with paying its workers substandard wages and health care benefits.
Not a pretty story when you consider that Michael Duke, Wal-Mart's CEO, had an $18.7 million paycheck last year, which is 750 times the annual pay of a Wal-Mart worker making $12 an hour and working 40 hours a week, according to Too Much, a web commentary exposing the greediest of 2011.
I didn't want to drive to Wal-Mart. I didn't even want to leave the apartment, but when it came down to it I decided I would rather be on the wrong side of my union than on the wrong side of my mother-in-law. But I wasn't eager about it. I put on my red UNITE HERE Local 11 pro-union T-shirt to feel better about myself, but dragged my feet on the way to the car.
Now the only typing I was doing was putting the address for Wal-Mart into the car GPS.  I struggled with it. My mother-in-law sighed from the passenger seat. The woman in the GPS started bossing me around with a British accent. I wanted to boycott her, but I also didn't want to get lost.
And then I got an idea, a wonderful one that would solve my writer's block, my union ethics dilemma and my mother-in-law problem. I was practically giddy with the idea.
"Gerry, I'm not going into the store with you. I'm sitting in the car."
She looked at me, puzzled.
I told her all about the saga between unions and Wal-Mart. I informed her of how managers threatened employees with discipline or termination if they tried to unionize. She wasn't up to speed on much of the debate and so I gladly told her all about it. I talked about the near extinction of Mom and Pop stores that used to be abundant, but that are vanishing now thanks to Wal-Mart. I got really dramatic and spoke of rampant consumerism while the British woman barked orders at me from the dashboard.
After a long discussion about the evils of Wal-Mart Gerry turned to me.
"James, I don't have to go if you feel that way about it."
"Oh, no." I said. You've given me a great idea for a story. You must go now. You have to for art's sake."
We parked. I watched her walk through the doors. Swallowed by the largest retailer in the world. I started to feel guilty. I felt like an aider and abettor of someone crossing a picket line. What kind of union activist was I?
I looked around at the decaying neighborhood, not an uncommon sight in zones around Wal-Mart. I saw the homeless people, the graffiti and I had a horrible thought – if my mother-in-law gets mugged my wife is going to kill me.
Government Shutdown's Silver Lining: A Corporate Hiring Guru Speaks Out
Co-published by Fast Company
Ending the shutdown won't curtail the hiring opportunities for corporate recruiters, says one expert. It's like divorce: Once you start thinking about leaving, the odds that it will happen go up dramatically.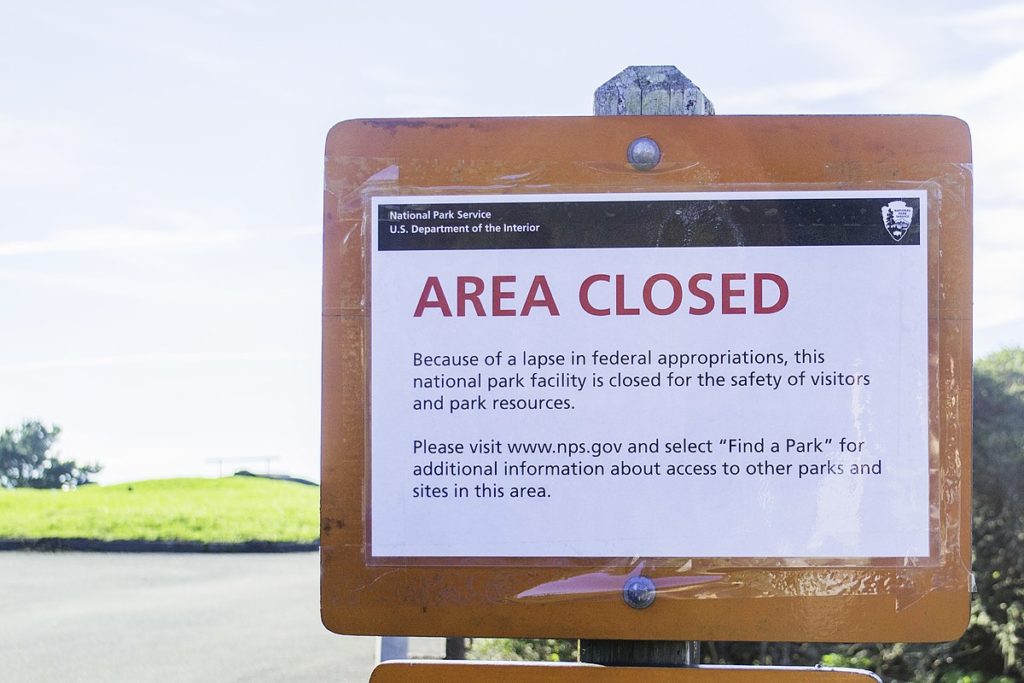 ---
In the new economic climate, even the most mission-driven of federal workers might be forgiven for abandoning the nation's parks, airways and regulatory agencies.
---
Co-published by Fast Company
When the federal government shut down for 16 days in 2013, corporate hiring guru John Sullivan advised companies on how to raid federal government workplaces for talent.
A blog post he penned at the time caused some to charge him with being unpatriotic, he said recently, while others thanked him for the reminder that federal workers were ripe for the plucking.
This time around, the climate is even better for corporations looking to cull staff from a workforce that is already well-trained and also known for its loyalty, Sullivan tells Capital & Main by phone. He describes the current moment—with hundreds of thousands of federal employees forgoing paychecks and, in many cases, sitting at home — as tantamount to "a sale on Black Friday."
---
Congresswoman:  The shutdown could have a long-term impact on the federal government's ability to attract workers with IT skills.
---
"If you've been screaming for the last two years" about the skills-and-talent shortage, "this week there isn't one," says Sullivan, who heads the human resource management program at San Francisco State University's College of Business.
The partial shutdown, that began on December 22 when President Trump failed to secure funding from Congress for his border wall, has impacted employees at a host of federal agencies, including the departments of Agriculture, Commerce, Homeland Security, Housing and Urban Development, Interior, Justice, State, Transportation and Treasury and the NASA.
What makes this particular shutdown so suitable for raiding federal workplaces? It's not just that employee morale has taken a nosedive, thanks to a president who is at war with many of the agencies he oversees. Nor is it only the fact that Trump threatened to keep the government closed for as long as a year, a notion that "really scares people," says Sullivan.
---
With Amazon's opening new offices in the District of Columbia area, three out of four IT workers in DC say they would consider leaving their current jobs for the tech behemoth.
---
It's also the economic climate. Companies are growing. Unemployment is low. Remote work is increasingly an option. Technical advances have made looking for a job easier than it was in 2013. "You can say 'boo' to your phone and apply for a job," adds Sullivan, delivering his matchmaking pitch with such force that even the most mission-driven of federal workers might be forgiven for abandoning the nation's parks, airways and regulatory agencies.
Congresswoman Robin Kelly (D-IL), the ranking member of the House Subcommittee on Information Technology, worried, in a statement last week, that the shutdown would have a long-term impact on the federal government's ability to attract workers with IT skills. The federal government has generally struggled to attract young tech workers, and Amazon's new offices in the District of Columbia area has three out of four IT workers in DC saying they would consider leaving their current jobs for the tech behemoth.
Tech workers — and upper-salaried talent — are not the only employees coveted by the private sector, says Sullivan. Forest Service employees. Coast Guard workers. Transportation and Safety Administration agents. Any unpaid workers could be lured away, especially in states like California and Texas, where economies are strong, he maintains. An employment agency for California's casinos recently put this shout out on Twitter: "Any @TSA employees looking for new opportunities, PTGaming is hiring!" along with the popular hashtag, #shutdownstories.
The shutdown could also prompt federal employees to throw scruples to the wind and step into the infamous revolving door that leads workers from government jobs to the private sector and back again. When Sullivan was advising companies in 2013, he helped firms hire from agencies that regulated them.
"And by the way," asks Sullivan, persisting with his siren song, "if I was a regulator, [with] President Trump eliminating all those regulations, why am I needed? Why not go to the private sector?"
Sullivan, who says he is an underpaid government worker in his own right, is concerned about the public cost of his and others' efforts to lure away the federal government's top talent. The best employees will leave first, and "literally billions" in training dollars will be lost, he predicts.
But he puts the blame squarely on a public sector that undervalues its workers. Corporations that pilfer federal government workforce for talent offer a kind of public service and corrective by demonstrating the price that must be paid "for degrading public service and unnecessarily frustrating federal employees," he wrote in his 2013 post.
Ending the shutdown won't curtail the hiring opportunities for corporate recruiters, says Sullivan. "It's like divorce. Once you start thinking about [leaving], the odds [that it will happen] go up dramatically."
---
Copyright Capital & Main