Musicians Bring Campaign to Stop Offshore Scoring to Lionsgate
Santa Monica City Councilmember Kevin McKeown (center) helps deliver 12,000 boxed petition signatures to Lionsgate executive Jim Gladstone (right).
After more than a month of unsuccessful attempts to reach Lionsgate Entertainment CEO Jon Feltheimer through letters and phone calls, it was time to pay him a visit. Rank-and-file musicians wanted to discuss Lionsgate's practice of offshoring its musical scoring to distant countries – something that limits local musicians' ability to earn a living and deprives our communities of tax revenue.
On Tuesday union members and supporters of the American Federation of Musicians' Listen Up! campaign — including professional musicians, labor allies, faith and community leaders — gathered in Santa Monica's Stewart Street Park for a rally. The spirited event included AFM Local 47's executive board and a supportive crowd of musicians representing members from across our union. We were joined in song by our fellow AFM members and Grammy nominees Lisa Haley and the Zydakats. We heard moving speeches from Santa Monica City Councilmember Kevin McKeown and other friends, ending with an inspirational call to action by violinist and Local 47 member Neil Samples.
Then it was time to introduce ourselves to Lionsgate's boss.
Our delegation was led by musicians who earn our livings in theater pits, concert stages, clubs and recording studios. We were joined by Maria Elena Durazo, Secretary-Treasurer of the L.A. County Federation of Labor, and Councilmember McKeown. They and Pastor Bridie Roberts, of Clergy and Laity United for Economic Justice, helped us carry more than 12,000 petition signatures from communities across the U.S. that are part of a growing chorus of support for our cause.
We rolled into Lionsgate's Colorado Avenue offices with a hand cart stacked with boxes filled with those petitions that urged the film-and-TV company to merely enter into discussions with musicians about ending Lionsgate's offshoring practices – most recently seen in the scoring for the film Draft Day. Once inside, we respectfully requested the receptionist to announce that Listen Up! was here to deliver its petitions and to speak with CEO Jon Feltheimer.
Instead, Jim Gladstone, Lionsgate's executive vice president for Business and Legal Affairs, came into the reception area and brusquely collected our petition boxes in a manner that attempted to avoid any engagement with musicians. Councilmember McKeon politely introduced himself and explained that he had requested a meeting over five weeks ago, but had not been given any response. Mr. Gladstone withdrew to his office on an upper floor with the petitions, agreeing to deliver them to the CEO — but refusing to talk to the delegation.
Eventually another Lionsgate employee invited us into a conference room because he personally felt that it was right to hear our concerns. He was clear with us, however, that he had absolutely no authority to speak on behalf of the company. We wished Lionsgate continued success, then raised our concerns about offshoring musical scoring.
Councilmember McKeown reiterated his attempt to reach out to Lionsgate, its failure to respond and his disappointment that a company based in his own city, Santa Monica, would not answer his questions. Maria Elena Durazo asked very clearly for Lionsgate to respond to musicians and to end offshoring its music scoring. Pastor Roberts made it clear that Lionsgate's refusal to meet with musicians was disrespectful and that the community would be insulted by a continued curt and dismissive response by Lionsgate's leadership. Musicians spoke about our desire to enter into a dialogue, and about the damage offshoring inflicts on our health care, pensions and livelihoods — as well as on the cultural richness of Southern California.
We ended as we began, with respect, graciousness and strength. Pastor Roberts led our group in prayer, inviting the Lionsgate employee to join us in the reception area, calling for his company to respect musicians and to work for justice in our community.
When we returned to our allies rallying in the park, we felt empowered and proud to report on the success of our determined delegation and shared our sense of power and optimism in taking musicians' issues directly to the attention of Lionsgate and our broader community.
As our Listen Up! campaign grows and deepens, and we work towards real success, you can support our goal in some very easy ways:
Update:
Following Tuesday's action, Santa Monica City Councilman Kevin McKeown sent his own letter to Lionsgate CEO Jon Feltheimer, expressing his displeasure at how he was treated. You can read his letter here. [/box]
(Andy Malloy is a trombonist and member of AFM Local 47, and also a member of the Listen Up! Organizing Committee.)

'Skeleton Crew' Is a Play With a Moral Spine
Set in a Detroit automobile outfitting plant, Dominique Morisseau's drama grabs you from the start with its focus on blue-collar men and women, and their struggle for dignity and self-respect.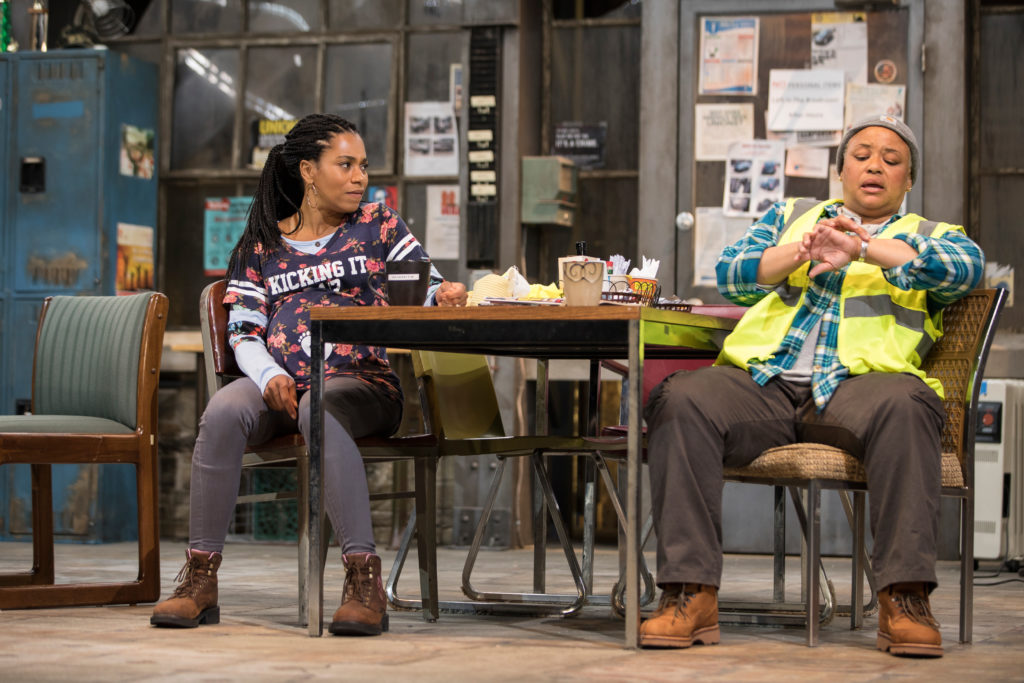 Working-class men and women of color are rarely front and center in today's media and, likewise, are presented all too occasionally on the American stage. So it's buoying to see that trend bucked in playwright Dominique Morisseau's percipient and well-crafted drama, Skeleton Crew. The play is the final installment in her Detroit  Project Trilogy; the first, Paradise Blue, is set in the 1940s amidst displacement caused by urban renewal and gentrification, while the second, Detroit '67, transpires on the eve of the 1967 Detroit riots sparked by a police action.
Directed by Patricia McGregor at Los Angeles' Geffen Playhouse, Skeleton Crew is a play with a moral spine. It takes place in 2008, when the shrinking U.S. auto industry is being further downsized. Morisseau's engaging quartet of characters — Faye (Caroline Stefanie Clay), Dez (Armari Cheatom), Shanita (Kelly McCreary) and Reggie (DB Woodside) – are employed at an automobile outfitting plant. Faye, Dez and Shanita are workers on the line while Reggie (who has a wife and kids, and has pulled himself together after a troubled youth) is their supervisor.
The first three customarily mingle in their break room (designer Rachel Myers' impressively cluttered, dingy and detailed set), trading the sort of familiar barbs and genuine concern for each other common among longtime co-workers. They also face off on philosophy: Upper-middle-aged Faye and the younger, pregnant Shanita take pride in their labor, while Dez, though a good worker, is a malcontent scornful of management and firm in the belief that everyone needs to watch out for himself. He's a thorn in Reggie's side, for while Reggie wants to be supportive of his workers, he must act at the behest of higher management. For his part, Dez resents Reggie's authority, and a palpable unease exists between them.
Besides this male matchup, we're made privy to Dez's attraction to Shanita, who mostly turns away his advances, but every now and then displays a hint of interest. Most poignant is Reggie's regard and affection for the lesbian Faye, which has roots in his boyhood when she loved, and lived, with his now-deceased mom.
These people's various predicaments intensify when rumors spread of the plant's shutdown — a disaster for all, but a particular calamity for the already near-broke Faye who, one year short of retirement, would lose her pension. The crisis forces each of these people to make a choice.
A sound piece of social realism, Skeleton Crew grabs you from the start in its focus on blue-collar men and women, and their struggle against odds for dignity and self-respect. Morisseau not only furnishes these characters a platform for their travails, she endows them with strong values, big hearts and the opportunity to choose between right and wrong.
Unfortunately, the performance I attended did not soar. Many exchanges lacked a fresh edge. The actors certainly had their characters down, but too often they appeared to be coasting on technique. (This seemed particularly true of Clay, who performed the role to great accolades in Washington, DC in 2017, also under McGregor's direction). Additionally, some of the stage movement was not entirely fluid; in confrontations, actors sometimes would just stand and face each other in an artificial way. And Cheatom's interpretation of Dez struck me as a bit overly churlish and depressive: I needed more glimpses of the intelligence and edge that would secretly attract the strong, self-directed Shanita.
The most compelling moments belong to Woodside, well-cast as a man trying his best in difficult circumstances to do the right thing.
---
Gil Cates Theater at the Geffen Playhouse, 10886 Le Conte Ave., Westwood Village; Tues.-Fri., 8 p.m.; Sat., 3 & 8 p.m. Sun., 2 & 7 p.m.; through July 8. (310) 208-5454 or www.geffenplayhouse.org