Musicians Bring Campaign to Stop Offshore Scoring to Lionsgate
Santa Monica City Councilmember Kevin McKeown (center) helps deliver 12,000 boxed petition signatures to Lionsgate executive Jim Gladstone (right).
After more than a month of unsuccessful attempts to reach Lionsgate Entertainment CEO Jon Feltheimer through letters and phone calls, it was time to pay him a visit. Rank-and-file musicians wanted to discuss Lionsgate's practice of offshoring its musical scoring to distant countries – something that limits local musicians' ability to earn a living and deprives our communities of tax revenue.
On Tuesday union members and supporters of the American Federation of Musicians' Listen Up! campaign — including professional musicians, labor allies, faith and community leaders — gathered in Santa Monica's Stewart Street Park for a rally. The spirited event included AFM Local 47's executive board and a supportive crowd of musicians representing members from across our union. We were joined in song by our fellow AFM members and Grammy nominees Lisa Haley and the Zydakats. We heard moving speeches from Santa Monica City Councilmember Kevin McKeown and other friends, ending with an inspirational call to action by violinist and Local 47 member Neil Samples.
Then it was time to introduce ourselves to Lionsgate's boss.
Our delegation was led by musicians who earn our livings in theater pits, concert stages, clubs and recording studios. We were joined by Maria Elena Durazo, Secretary-Treasurer of the L.A. County Federation of Labor, and Councilmember McKeown. They and Pastor Bridie Roberts, of Clergy and Laity United for Economic Justice, helped us carry more than 12,000 petition signatures from communities across the U.S. that are part of a growing chorus of support for our cause.
We rolled into Lionsgate's Colorado Avenue offices with a hand cart stacked with boxes filled with those petitions that urged the film-and-TV company to merely enter into discussions with musicians about ending Lionsgate's offshoring practices – most recently seen in the scoring for the film Draft Day. Once inside, we respectfully requested the receptionist to announce that Listen Up! was here to deliver its petitions and to speak with CEO Jon Feltheimer.
Instead, Jim Gladstone, Lionsgate's executive vice president for Business and Legal Affairs, came into the reception area and brusquely collected our petition boxes in a manner that attempted to avoid any engagement with musicians. Councilmember McKeon politely introduced himself and explained that he had requested a meeting over five weeks ago, but had not been given any response. Mr. Gladstone withdrew to his office on an upper floor with the petitions, agreeing to deliver them to the CEO — but refusing to talk to the delegation.
Eventually another Lionsgate employee invited us into a conference room because he personally felt that it was right to hear our concerns. He was clear with us, however, that he had absolutely no authority to speak on behalf of the company. We wished Lionsgate continued success, then raised our concerns about offshoring musical scoring.
Councilmember McKeown reiterated his attempt to reach out to Lionsgate, its failure to respond and his disappointment that a company based in his own city, Santa Monica, would not answer his questions. Maria Elena Durazo asked very clearly for Lionsgate to respond to musicians and to end offshoring its music scoring. Pastor Roberts made it clear that Lionsgate's refusal to meet with musicians was disrespectful and that the community would be insulted by a continued curt and dismissive response by Lionsgate's leadership. Musicians spoke about our desire to enter into a dialogue, and about the damage offshoring inflicts on our health care, pensions and livelihoods — as well as on the cultural richness of Southern California.
We ended as we began, with respect, graciousness and strength. Pastor Roberts led our group in prayer, inviting the Lionsgate employee to join us in the reception area, calling for his company to respect musicians and to work for justice in our community.
When we returned to our allies rallying in the park, we felt empowered and proud to report on the success of our determined delegation and shared our sense of power and optimism in taking musicians' issues directly to the attention of Lionsgate and our broader community.
As our Listen Up! campaign grows and deepens, and we work towards real success, you can support our goal in some very easy ways:
Update:
Following Tuesday's action, Santa Monica City Councilman Kevin McKeown sent his own letter to Lionsgate CEO Jon Feltheimer, expressing his displeasure at how he was treated. You can read his letter here. [/box]
(Andy Malloy is a trombonist and member of AFM Local 47, and also a member of the Listen Up! Organizing Committee.)

A Woman's Art Is Never Done: The Feminae Exhibition
A striking juxtaposition between the past and present courses throughout the small gallery. Celia Blomberg's "International Women's Day March 8" can't help but make one think of 2017's Women's March, which occurred 37 years after the print's first appearance.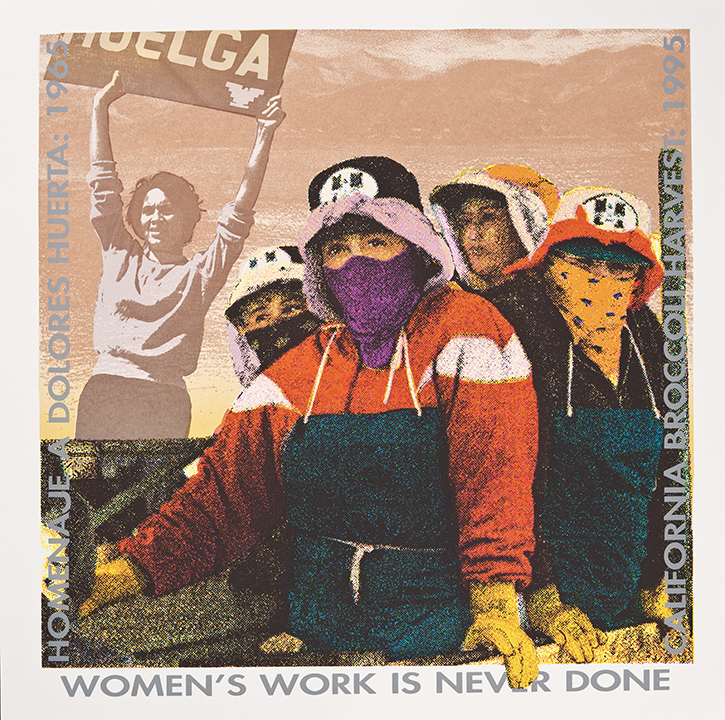 Among the 50-plus works in the Feminae: Typographic Voices of Women By Women exhibit is Yolanda Lopez's "Women's Work is Never Done." Lopez's title is particularly ironic, given the exhibit's gender-based subject matter. The show spans work from the past 50 years, making it easy to understand how much society is still grappling with its themes of gender inequality. Culled from the archives of the Center for the Study of Political Graphics, the graphic images of protest, persuasion and empowerment are truly works of art in their own right.
However, political posters aren't made to merely spruce up walls, but to help figuratively bring barriers down as well.
Two silkscreens from the 1970s, Liliana Porter and John Schneider's "This Woman is Vietnamese" and See Red Woman's Workshop's "So Long As Women Are Not Free People Are Not Free," are particularly powerful, underscoring, as they do, the fact that the subjugation and persecution of women crosses borders and cultures as an unfortunate shared global experience. These two pieces' stark simplicity exemplifies most of the work in the exhibit. In the former, a New York Times photo of a distraught Vietnamese woman with a gun held to her head is centered above these basic words typed out in a typewriter font: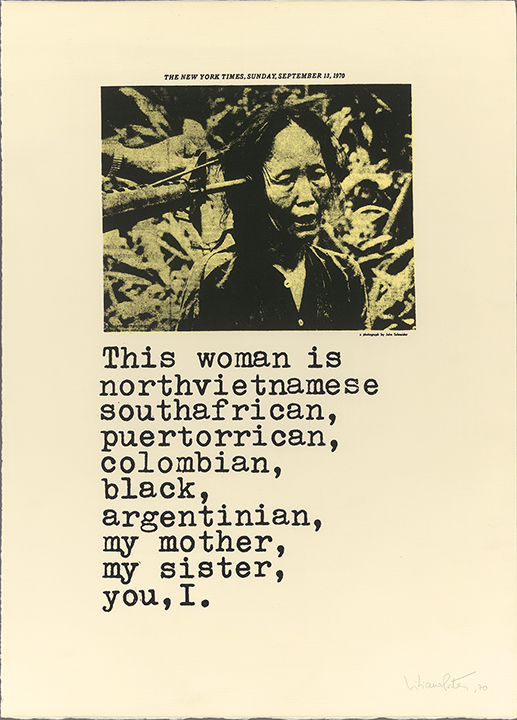 This woman is
northvietnamese
southafrican
puertorrican,
colombian,
black,
argentinian,
my mother,
my sister,
you, I.
By juxtaposing the photo with these words, the creators take the plight of this woman and immediately globalize her pain. In the latter, three female demonstrators are silkscreened in red onto a yellow background. They are marginalized by being stuck in the lower left third of the poster, but two of them are raising their fists skyward and their mouths are open, screaming in defiance. Its non-serif, eponymous type reads: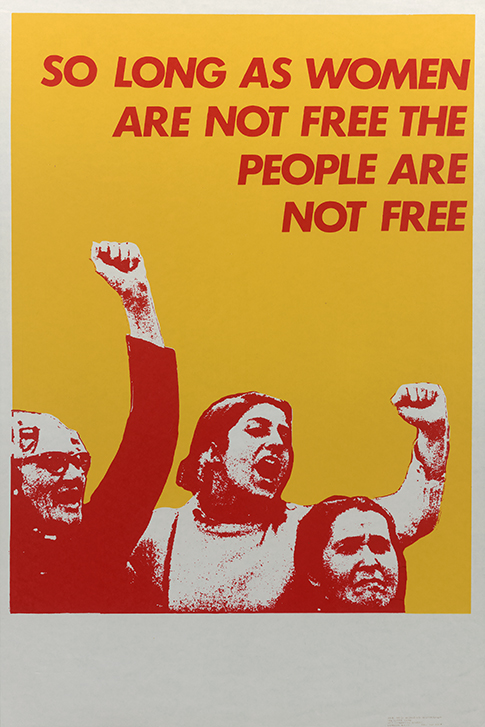 SO LONG AS WOMEN
ARE NOT FREE THE
PEOPLE ARE
NOT FREE
This piece's message takes the global message even farther, making the plight of women a human one — a common theme in the exhibition.
There is also a striking juxtaposition between the past and present that seethes throughout the small gallery. Celia Blomberg's "International Women's Day March 8" can't help but make one think of 2017's Women's March that would take place 37 years later. See Red Woman's Workshop's 1977 "Black Women Will Not Be Intimidated" could easily be repurposed to address the recent spate of blue-on-black brutality. Notable works by Barbara Kruger, Sister Corita Kent and the Guerilla Girls are also included.
Ironically , while it can be surmised that most of these works were made as populist posters to be distributed at the time as banners of protest, their beautiful simplicity and nostalgic elegance probably have resulted in the originals (mostly now found in art museums) sporting hefty vintage-resale prices.
But it is not just the art that has stood the test of time. The fact that the issues addressed in the show — feminism, choice, gender equality, war, immigration, police brutality or violence against women — are all issues at the forefront of debate in 2018 ultimately engenders conflicting feelings.
On one the hand, it is inspiring to see a vibrant exhibit that showcases such diversity in artistic styles, no doubt spawned by the diversity of the artists' own backgrounds. On the other hand, there is a realization that while there has been some progress over the past half century, there is so much work to be done.
Art Center's Hoffmitz Milken Center for Typography, 950 South Raymond Ave., Pasadena; through May 15.
---
Copyright Capital & Main