Municipal Broadband: Urban Savior or Gentrification's Wrecking Ball?
Co-published by Fast Company
While municipal-broadband initiatives and digital-friendly promotional campaigns project a narrative of progressive growth, the repercussions for disenfranchised communities often go overlooked.

---
"The coattails on tech jobs aren't like they used to be in the industrial economy, where large industries would come in and 800 jobs would be created in a factory."
---
In March, Los Angeles City Councilmember Paul Krekorian introduced a motion to study the feasibility of municipal broadband, citing the increasing indispensability of Internet access in daily life. Los Angeles would not be the first city to do so; eyeing the precedents set in Chattanooga, Tennessee, which implemented a high-speed municipal broadband program in 2010, local governments elsewhere in California, Colorado, Kentucky and other states have initiated their own efforts, buttressed by popular support.
The case for city-operated broadband is compelling. It offers comparatively fast service: Chattanooga's broadband runs up to 10 gigabits per second, whereas traditional providers such as Comcast and Verizon claim to offer a maximum of two or nearly one gigabits, respectively (and deceptively). It's celebrated as a means by which to preserve net neutrality, which prevents Internet service providers from altering the speeds and availability of individual websites. It also has the potential to liberate communities from ISPs' notorious monopolistic control of regional billing inflation, and denial of service to rural and low-income communities — a phenomenon popularly termed the "digital divide."
---
Chattanooga's tech-centric downtown has the fastest rate of gentrification in the nation.
---
Furthermore, municipalities often tout broadband alternatives as a means of "economic development," an expression typically denoting the process of attracting businesses and, by theoretical extension, creating jobs. Fast, reliable Internet connections, the logic goes, are appealing to companies — particularly tech startups that rely on consistent broadband access in their daily operations and seek environs cheaper than West Coast metropolises. Chattanooga has exemplified this selling point. As of 2015, the city had reportedly generated $865 million over a four-year period by "cutting power outages, improving data connections, lowering power bills and attracting businesses to the self-described 'Gig City'"; Mayor Andy Berke, meanwhile, has cited its fiber-optic infrastructure as a fundamental part of his city's nascent tech economy.
Yet, while cities' broadband initiatives and digital-friendly promotional campaigns project a narrative of progressive growth, the repercussions for disenfranchised communities often go overlooked.
Chattanooga has remodeled its downtown Innovation District, a locus of coffee shops and office space for the largely white, middle-class constituency of the tech-centric "knowledge economy." Mimicking Silicon Valley's tech centers, this area has aggravated displacement of low-income communities. As of 2012, downtown Chattanooga's ZIP code was found to have the fastest rate of gentrification in the nation; between 2000 and 2010, more than 500 white residents moved in, displacing nearly 1,000 African-American residents. The situation has since worsened.
---
Coding is "not going to catapult you
into the next income bracket."
---
Ken Chilton, an associate professor of public administration at Tennessee State University, told Capital & Main that Chattanooga has "done a lot in terms of funding a place that would be attractive to what Richard Florida used to call the 'creative class': that kind of young, tech, hipster persona. That was intentional." He added, "The broadband [initiative] kind of magnified that, once they figured out how to monetize it." Chilton estimates that, since then, 4,000 to 5,000 white residents have moved into neighborhoods in or near the downtown area, such as Jefferson Heights and Southside, while roughly 5,000 to 6,000 African-American residents have left.
The numbers may be even greater. "We've had [approximately] 7,000 people come into the area in the past four years," added Michael Gilliland, board chair of the community-organizing nonprofit Chattanooga Organized for Action. "A lot of this is a combination of tech professionals, higher-income earners, as well as empty-nesters."
Media outlets — and the city itself — portray Chattanooga as a progressive, burgeoning hub of innovation, a once-scrappy postindustrial municipality transformed by its novel broadband program and corresponding downtown revitalization. However, "You're only seeing a small sliver of what Chattanooga actually is," Gilliland said. "That sort of shiny facade is really hiding a lot of  inequality in the city."
Chattanooga isn't alone. Among cities entertaining nontraditional broadband projects and fostering local tech industries, Columbus, Ohio has gained significant attention. In addition to contracting with a private broadband consultancy firm in 2015 in an effort to become the next "gigabit city," Columbus won the U.S. Department of Transportation's 2016 "Smart Cities Challenge," vowing to outfit more vehicles and city resources with Internet connectivity, putatively, to benefit low-income neighborhoods. Meanwhile, corporate tech publications rank it among America's top tech-job locations, while former Silicon Valley venture capitalist and Hillbilly Elegy author J.D. Vance recently relocated there, pledging to invest in startups in Columbus and the broader Midwest.
As in Chattanooga, the image Columbus projects — a new beacon of enterprise with relatively low costs for developers and business owners — neglects a considerable portion of the existing population. "The city has an idea of what they consider to be a 'Smart' citizen," said Columbus tenants-rights organizer Bernard Hayman. "When they construct these plans, it's based around one kind of demographic — white, male, early 20s, early 30s, with a certain kind of background, certain kind of income, and a certain kind of aspiration."
This environment is increasingly evident. As is the case in most major cities, Columbus suffers from a housing-affordability crisis: As property values have risen 50 percent in neighborhoods like Franklin Park over the last handful of years, luxury housing is rendering low-income public housing scarce. More uniquely, Columbus is home to a longstanding infant-mortality crisis disproportionately affecting poor, African-American communities; in the neighborhood of South Linden, the rate is four times the national average.
Aware of many of the problems afflicting its poorest residents, Columbus' local government claims it will leverage its Smart City capabilities to address them. Columbus City Council president pro tem Michael Stinziano cited the Smart Columbus Operating System and multimodal trip-planning and common-payment system as examples "geared towards connecting neighborhoods and residents." Stinziano also alluded to the city's prenatal trip assistance program, wherein expectant mothers in underserved communities may have access to subsidized "Uber-like" ride-sharing services for transportation to medical facilities. (The initiative has garnered skepticism from urban-planning and reproductive-justice experts.)
Among some residents' concerns of cities' unfurling strategic tech initiatives is another issue: government and police surveillance. As part of its broadband program, Columbus boasts improved mobile connectivity among police stations, as well as the transmission of video from cameras that monitor specific neighborhoods — developments for a city that, in recent years, has been home to the highest rates of fatal police violence against African-Americans among major U.S. cities. (Stinziano told Capital & Main the camera installation was driven by citizen feedback.)
"If we're giving police even more powers of surveillance and control than they already have, where's the accountability for that?" asked Hayman. "How are we going to make this function in a way that's not going to . . . make people feel even more surveilled?"
Columbus and Chattanooga officials concede that economic and racial disparity pervades their cities. In an email, Chattanooga's Berke noted that "We are fully aware…that we have a responsibility to make sure this best-in-class, municipally-owned Internet infrastructure benefits all Chattanoogans, including low-income households and older citizens." Berke mentioned Tech Goes Home Chattanooga, a program that offers digital training and assists low-income residents with obtaining access to low-cost home Internet.
Still, community activists are skeptical that digital training and access alone, even if they're purported to broaden job opportunities and address transportation and health-care issues, will suffice to improve the quality of life of its most vulnerable residents. Tennessee, for example, has a historically high concentration of low-wage workers, many of whom work in tourism and hospitality, as well as service industries offering little to no job security, benefits or upward mobility.
"The coattails on tech jobs aren't like they used to be in the industrial economy, where large industries would come in and 800 jobs would be created in a factory," said Chilton. "The old factory job that might have been 40 hours a week, with some benefits, has been replaced by an accommodation job that might be 24 to 26 hours a week and no benefits."
Furthermore, while Chattanooga and other cities courting the middle-class tech labor force offer programs to train workers and "recruit candidates in underrepresented communities," Hayman cautions that the financial promise of work available to them may not be as high as suggested. "A lot of cities, and Columbus among them, look to coding as the next [way] that everyone can be an affluent tech worker, and if you gain these skills…then you have an entry into that industry," he said. "The flip side of this is that coding is not necessarily the most affluent tech job. It's becoming a rote, blue-collar kind of job, to where you're not going to make a lot of money. It's not going to catapult you into the next income bracket."
Access to alternative broadband is a boon to cities, but Gilliland and Hayman agree that technological progress alone isn't a societal panacea. Rather, meeting all residents' material needs, they contend, requires a multi-pronged effort that entails investments in housing, education and other resources necessary to all members of the community. "The public aspect has to extend beyond…just the gig," Gilliland said. "There has to be an increased investment across the board if this is going to become an equitable model. You have to be very purposeful about the attempt to lift all boats."
---
Copyright Capital & Main
Do Incarcerated Firefighters Deserve a Path to Employment?
Since 1983 six inmate firefighters have died while working on fire containment. Today they are paid $2 per day — and an extra $1 when fighting active fires.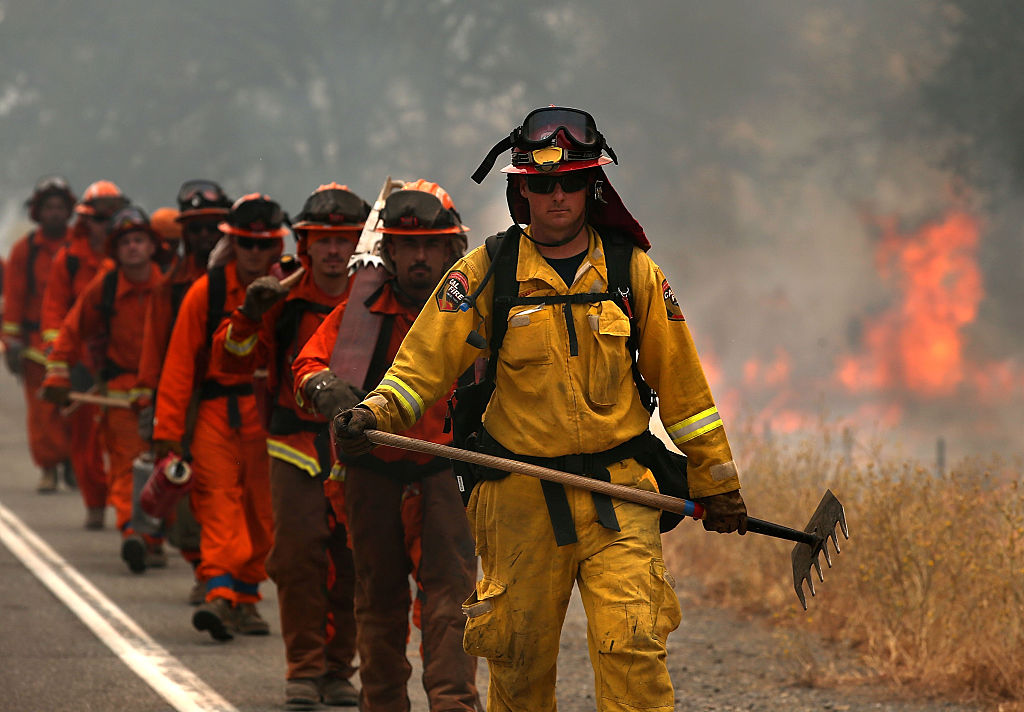 ---
California estimates that the Conservation Camp inmate-training program saves state taxpayers up to $100 million per year through firefighting and responses to other emergencies.
---
As California's wildfire season grows ever longer and more intense, the state has relied heavily on thousands of prisoners, including women, to battle blazes alongside approximately 6,000 professional full-time and seasonal firefighters. Prisoner advocates, however, point out that these inmates' criminal records prevent them from working as firefighters almost anywhere in California after their release.
Critics of the inmate program also say prisoners risking their lives to battle dozens of fires every year should get more out of the program than their current $2 per day and the additional $1 they receive whenever fighting active fires. The state's Cal Fire firefighters earn between $3,273 and $4,137 per month, plus benefits, not counting overtime, according to a Cal Fire spokesperson. California has been using inmate firefighters since World War II, when the workforce for Cal Fire was depleted.
---
Approximately 3,700 inmates work at fire camps and about 2,600 of those are qualified to work on the front lines of active fires.
---
When Laura Weigand applied to California's Conservation Camp, the program that trains inmates to fight wildfires, she knew it would be an uphill battle, literally. She was 43 when she joined the camp in 2009, twice the age of most of the women in pre-camp endurance trainings. One endurance test – hiking two miles straight uphill in 45 minutes – felled plenty of younger women, but Weigand was the first to the top of the hill, which meant she had her choice of camps to complete her trainings. She picked Malibu.
Two weeks after she completed training, she was working alongside Cal Fire firefighters to put out the Crown Fire, earning a fraction of what professional firefighters made for the same amount of risk. But she said she didn't feel exploited because she went into the program to get away from the prison grounds.
"The days flew by, because there were different experiences. Even though it was not good pay it was better than you get in prison," she said. But a foot injury threatened her limited freedom.
"I was hiking on a broken metatarsal bone for two years and was afraid to tell them about it because I didn't want to get kicked out of the program."
Weigand eventually became a "swamper" or trainer of other incarcerated firefighters. She estimated that she trained about 300 women before she left prison in 2012.
The California Department of Corrections and Rehabilitation (CDCR), cooperating with the California Department of Forestry and Fire Protection (Cal Fire) and the Los Angeles County Fire Department, operate 44 conservation camps across the state, including three female camps. Camp populations range from 80 to 160 inmates working and learning in minimum-security facilities, supervised by correctional staff. When they're working on an active fire, Cal Fire staff supervise them.
CDCR says approximately 30 percent of applicants who volunteer for the program successfully complete the curriculum. Not all inmates are eligible. Those who have committed more serious crimes, such as arson, rape or other sex offenses are disqualified.
Overall, there are approximately 3,700 inmates working at fire camps and approximately 2,600 of those are qualified to work on the front lines of active fires, according to CDCR. As of August 31 there were just over 1,100 inmate firefighters across 123 crews deployed to the Carr, Mendocino Complex, Hirz, Cooks, Cherae, Stone, Cache and Holy Fires.
After being released in 2011, Weigand didn't apply to be a professional firefighter because she was above most fire departments' threshold age. But Weigand, who now works at Social Model Recovery Systems, a substance abuse and mental health nonprofit, says even if she were younger, she probably couldn't have gotten such a job, because most local and county firefighting jobs require an emergency medical technician (EMT) license, and most former inmates, even those convicted of lower level felonies, can't obtain that.
In an email, a Cal Fire spokesperson said the department doesn't require an EMT license for employment, but admitted that many fire departments throughout the state have at least the expectation of an EMT license for employment.
Such a barrier doesn't make sense to Romarilyn Ralston, who was imprisoned 23 years and served as a fire camp swamper and clerk for Cal Fire while incarcerated. Now, as a member of the Los Angeles chapter of the California Coalition for Women Prisoners, and program coordinator for Project Rebound at California State University, Fullerton, she's advocating for raising state employment opportunities for former inmates who made it through the Conservation Camp program.
Ralston told Capital & Main that, even though the program offers valuable training, the lack of EMT training at the camps, as well as the seeming prohibition against hiring former felons for many firefighting jobs statewide, amounts to "an exploitation of prison labor."
"They should be paid at least the minimum wage, which is $15 in L.A. County," Ralston added. "They're putting their lives on the line and saving California hundreds of millions a year."
The CDCR has estimated that the Conservation Camp program saves California taxpayers between $90 million and $100 million per year through firefighting and responses to other emergencies. Those who make it through the program, when not fighting active fires, may also be asked to clear firebreaks, maintain parks and clear fallen trees and debris. Since 1983 six inmate firefighters have died while working on fire containment, according to CDCR.
Recently California has taken steps to ease restrictions on former felons, though none of the measures would mandate local emergency medical services authorities to allow them to earn EMT licenses.
As part of the 2018 budget bill, Governor Jerry Brown expanded employment opportunities for former inmate firefighters through the Ventura Conservation Camp (VCC), in Ventura County. The program is for parolees only, and the first group of 20 is set to begin training this fall.
An omnibus safety bill, AB 1812, approved by Governor Brown in June, would allow graduates of approved fire camp training to apply for lower-level emergency medical responder (EMR) licenses, though not for EMT licenses.
California's legislature is taking other small steps toward lowering the employment bar for incarcerated firefighters and other ex-cons seeking professional employment.
Assembly Bill 2293, in its original version would have, with certain conditions, prevented the authority licensing paramedics and EMTs from denying certification to anyone with a criminal record. But faced with strong opposition from the Emergency Medical Services Administrators Association of California, and the National Association of Emergency Medical Technicians, who said hiring those with criminal histories could pose a public safety risk, AB 2293 was amended down to a data reporting bill, according to California Assemblywoman Eloise Gómez Reyes (D-San Bernardino), who assisted in crafting both versions of the bill.
"We decided to address a glaring deficiency, which is the lack of data [on who is being denied jobs]," Gómez Reyes said of AB 2293, which now heads to an uncertain future on the governor's desk.
Today, Gómez Reyes added, the state only has anecdotal data on many former prisoners being denied EMT certification or jobs based on their criminal past, but no hard numbers yet. "We're trying to see in what circumstances are people being given these licenses, and what we suspect are the majority of circumstances of people being denied because of past offenses. Whatever decision we make in the future is going to be based on accurate data."
Another bill, AB 2138, authored by Assemblymen Evan Low (D-San Jose) and David Chiu (D-San Francisco), would ease licensing restrictions for former inmates in a variety of occupations, but not firefighters. That's still an important step, according to David Fathi, director of the American Civil Liberties Union National Prison Project, because its passage could remove some "arbitrary" barriers to employment.
"In many states there are over 100 occupations that former prisoners can't pursue," Fathi said. "One of the best predictors of successful reentry is securing and keeping stable employment. And yet as a society we go out of our way to make it difficult for prisoners to get a job when they get out. This is especially absurd when the prisoner has learned the skill in prison."
Fathi points to a neighboring state, Arizona, which last year eased restrictions on ex-cons from becoming professional firefighters, as well as to a study from Arizona State University, which showed that states with larger employment barriers for felons have higher recidivism rates.
"Employment disqualification for former prisoners should be the rare exception," Fathi said, "and it should be based on an individualized assessment of the risk posed by the particular person — not simply upon a criminal conviction."
---
Copyright Capital & Main