Moonlighting Teachers Learn Hard Lessons from Uber
Co-published by The Nation
Alissa Quart reports on teachers who drive for Uber.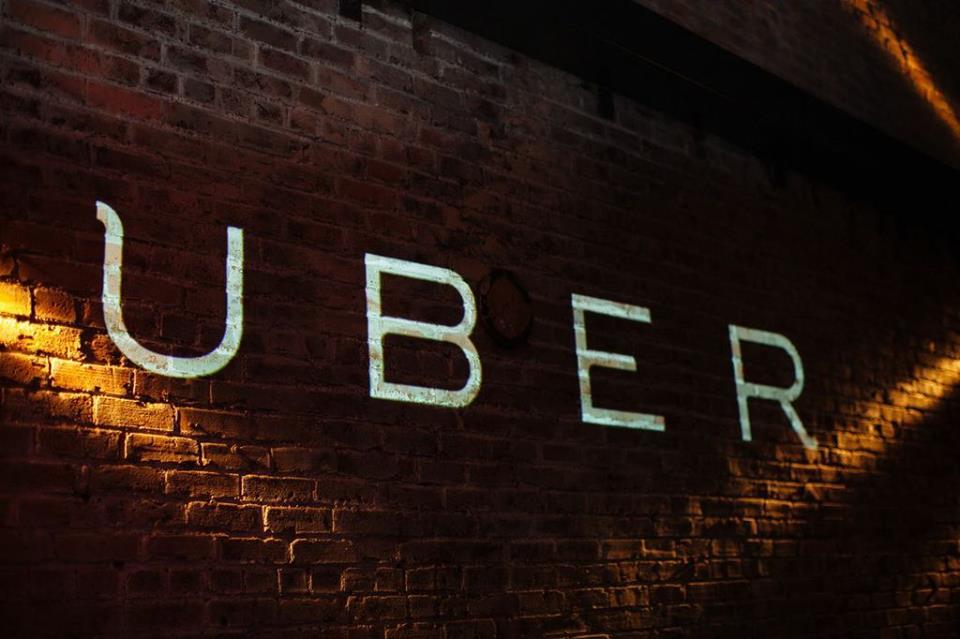 Co-published by The Nation
Matt Barry teaches history and economics to eleventh and twelfth graders at Live Oak High School, a public school in a suburb of San Jose, California. At 32, he's in his ninth year on the job, teaching 35 students in each class. But Barry also has a second life that's becoming increasingly common for American schoolteachers: He spends his after-school hours and weekends as an Uber driver in order to earn extra money.
Barry and his wife, Nicole, are both teachers, and each earns $69,000 per year, which should place them solidly within the middle class. If Silicon Valley hadn't sprawled around them, that's where they would be. But the explosion in wealth that has accompanied the tech boom has sent housing costs well beyond the reach of longtime working- and middle-class residents. In the town where Barry teaches, the median home price is $800,000, ensuring that the people who spend their days educating Live Oak students will never live near them. In Barry's own neighborhood of Gilroy, a 20-minute drive from his school, the median home price is $650,000. When Barry's child is born—Nicole is pregnant—the family will pay an additional $6,000 dollars in health insurance annually; if she takes time off, that will more than double, to $14,400.
Barry shocks his Uber passengers when he tells them about his day job as he shuttles them around ritzy Morgan Hill, where his high school is located. Between rides, he grades papers. Among teachers, he's not even the worst off—he and Nicole each earn an income, and they own their home. Even so, they are on the financial edge. "Teachers are killing themselves," he says. "I shouldn't be having to drive Uber 8 o'clock on a weekday. I just shut down from the mental toll: grading papers in between rides, thinking of what I could be doing instead of driving—like creating a curriculum."
Yet it's no accident that Barry is driving for Uber. For the last two years, the company has sponsored initiatives to encourage teachers to moonlight as chauffeurs. The campaigns differ from city to city and from year to year. In 2014, the Uber campaign's discomfiting motto was "Teachers: Driving Our Future." In 2015, Uber offered teachers in Chicago a summer job; to sweeten the deal, the ride-share company gave a $250 bonus to any teacher who signed up to drive by a certain date and completed 10 car trips. In Oregon, Uber notifies riders when their driver is a teacher and trumpets the fact that three percent of each fare goes back to the driver's classroom. The company also offers a $5,000 bonus to the school with the most active drivers.
Uber has promoted its teacher/driver initiative as an act of civic altruism, a perfect private-sector remedy to the failures of the public sphere. An Uber blogger named "Lindsey" gushed: "Every day teachers are asked to do more with less, constantly faced with new challenges and limited resources. Uber opens the door for more possibilities and delivers a meaningful impact to the communities we serve."
Yet beneath this feel-good veneer, there's a far more troubling reality: Teachers like Matt Barry are "asked to do more with less" because the public, and the politicians who represent us, don't value teachers enough to pay them more. This has been true since the dawn of this country's modern education system. But the consequences have grown particularly acute in boom regions like Silicon Valley, where the mismatch between teacher salaries and local housing costs has become ever more pronounced. In these places, wealthy residents shell out for custom-built houses with swimming pools and "super basements" but are rarely willing to pay higher taxes so that their teachers can afford to pay rent.
Uber has hailed this arrangement as an "opportunity" for teachers, a chance to boost their earnings while "dedicating their lives to shaping students' futures." It's supposedly a prime example of the "sharing economy" at work. Yet stripped of their gloss of generosity, Uber's teacher/driver campaigns also share in a more twisted Silicon Valley fantasy: low taxes, good schools—and your kid's teacher might drive you home after your expense-account meal with a venture capitalist!
Teaching has always been a poorly paid profession, particularly considering its educational requirements and responsibilities. Part of the reason for the lower pay is that at the dawn of the modern public-school system, teaching was considered "women's work," and thus the second income in families, according to Richard Ingersoll, a professor of education and sociology at the University of Pennsylvania. That's no longer the case, but the weak pay that reflects an earlier sexism endures.
To help make up the shortfall, teachers—even those who earn a 12-month salary—have often taken on an additional job during summer. What's new is the degree of desperation. Teachers who are chronically underpaid in places like Oklahoma are forced to rely on soup kitchens and food stamps in addition to second jobs. In Mandan, North Dakota, Rebecca Maloney, an elementary-school teacher and single mother with three kids, turned to the crowdfunding site GoFundMe to raise $1,000 for a career-development class at the local university. Meanwhile, teachers working in increasingly expensive locales like San Francisco and Chicago are forced into the lowest echelons of the gig economy or to work other side jobs like bartending in order to survive."
This summer, I spoke to a number of schoolteachers who are now racking up miles as Uber drivers. These include John Daniels, a history teacher at James Lick High School in east San Jose, California, who has started giving rides for Uber in his Toyota 4Runner on Thursday and Friday nights, and Anthony Arinwine, a first-grade teacher at Malcolm X Academy in San Francisco, who spends 20 hours per week driving for the company in his Nissan Altima.
"My rent was increasing, and the cost of utilities was going up," he explains. "My normal salary"—$70,000—"didn't have a lot left over compared to previous years." Though San Francisco boasts some of the highest rents in the state, with the median rent for a one-bedroom apartment at $3,500 a month compared to a statewide median of $1,750, San Francisco's school district ranks 528th in terms of teacher pay out of the 821 districts in California. As Arinwine watched his rent for a one-bedroom apartment in the East Bay jump from $1,300 to $1,500 and then to $2,000, he began driving for the ride-share company, often late into the night. Despite driving on the side, he eventually had to give up the apartment. Now he's renting a room from a friend. "I'm not able to buy a house. I may have to move to a state that's less expensive, unless I get married and have a dual income," says Arinwine. His parents, a civilian worker in the military, now retired, and a clerk at the police department, only attended "some junior college." Yet he describes them as more financially comfortable dwelling in Orange County, where they lived until recently, than he is in the Bay Area. "I couldn't afford to have a child on my income. I can't imagine giving kids what they need to be happy. I thought I'd not be worrying about money by now," adds Arinwine, who is 46. "I thought I'd be making my way to retirement."
For Uber, the struggles of these economically challenged teachers represent a dual opportunity: a marketing coup as well as a ready labor force. When Uber started to take off three years ago, the company's CEO, Travis Kalanick, claimed that working for Uber could be a full-time job, with drivers making as much as $100,000 a year. But when reporters examined Uber drivers' pay stubs, they discovered this was far from the truth. In recent years, with the help of former Obama campaign manager David Plouffe, who was hired in 2014 as a senior vice president, Uber has been trying to market itself as the ride service that employs struggling middle-class people, not only teachers but municipal workers, nurses, journalists, and academics. (Plouffe has since been replaced and is now serving as a "strategic adviser" to the company.) "Uber has been extremely clever at finding occupations like this—they say that this is your neighbor driving for extra money," notes Steven Hill, author of Raw Deal: How the "Uber Economy" and Runaway Capitalism Are Screwing American Workers.
When I reached out to Uber for comment, Michael Amodeo, an Uber spokesman, directed me to an essay that Plouffe had written for Medium that gave Uber's PR strategy a civic-minded bent. Freelancing for Uber, writes Plouffe, serves as the "pay raise they [the drivers] have not received in their other jobs." In an e-mail, Amodeo asserted that "What we've learned is that teachers and educators see Uber as a flexible way to make money with their car."
Little of the desperation I heard from drivers comes across in Uber's marketing campaign. Instead, the company's website teems with cherry-picked profiles of middle-class Uber drivers who ride-share as a way to collect extra spending money. Monique, a schoolteacher in New Orleans with "12 years of teaching experience under her belt," turned to Uber to "help during the 2015 holiday season." For nurse-cum–Uber driver Rory, "Driving is just 'a hobby.'… Rory is, in fact, a full-time nurse at Hartford Hospital, working the night shift from 7 p.m.-7 a.m. three days a week. Though he has a tough schedule, he enjoys having four days off in a row"—which he uses to drive for Uber to "help with my car payments." Another of the drivers profiled is a frustrated special-education teacher sick of doing "paperwork" rather than working with children; she started driving for Uber to help pay for a renovation for her porch.
These testimonies, accompanied by inspirational videos of real-life driver/teachers on YouTube, fit nicely with Uber's portrait of its "UberEducators" as wholesome, hardworking professionals. But they also telegraph something else: that Uber's workers have turned to driving not as a full-time profession, but as a second job.
"People who drive with Uber value the freedom to push a button rather than punch a clock." —Michael Amodeo, Uber spokesman
This is a useful message for Uber, which has been working hard to push the idea that its 450,000 drivers are independent contractors, not employees of the company. As employees, drivers would be entitled to a minimum wage, overtime pay, and basic labor protections, and full-time drivers could be eligible for benefits—things that would strike at the very core of Uber's business model.
Many drivers, along with leading labor advocates, don't agree that Uber's drivers are independent contractors and have begun challenging the company in court. Uber is currently fending off nearly a dozen lawsuits alleging that it has misclassified its workers, including a sprawling class-action suit filed on behalf of drivers in California and Massachusetts. (In April, the company agreed to settle with the plaintiffs, promising $100 million in exchange for the right to continue classifying the drivers as contractors, but in August the judge rejected the settlement.) When I asked Amodeo via e-mail whether Uber drivers were employees or contractors, his answer was curt: "People who drive with Uber are independent contractors…. They value their independence—the freedom to push a button rather than punch a clock."
It remains to be seen whether Uber, valued at $62.5 billion at the end of 2015, will get its way. What is clear is that the continuing crisis in teachers' pay won't be going away with the touch of an app.
Uber is hardly the first company to exploit the financial vulnerability of teachers—and the desperation of public schools more broadly—to score PR points. Amazon, Boeing, Bank of America, and other corporations have played the part of school benefactor, offering everything from reward programs to school supplies. And their largesse is often welcome. In a world in which teachers can't pay their rent—and students don't have access to basics like textbooks—they may have no other choice.
And yet, there must be other options—other answers for teachers besides grading papers while idling at red lights.
In recent years, a handful of local governments have begun to offer partial solutions, most notably in the form of housing-assistance programs for teachers. In Los Angeles, Milwaukee, and Hertford, North Carolina, among other places, school districts have invested in faculty housing as a way to keep up with the cost of real estate. Three years ago, Newark opened Teachers Village, a six-building complex that includes residential housing marketed to teachers as well as retail stores. Thanks to the oil boom, the cost of living in Williston, North Dakota, rose sharply, and the school district offered subsidized housing in response. "The cost of housing went up to $2,000 dollars a month, [while] first-year teachers made about $30,000 to $32,000 a year," says Kelly Hagen, a communications director for North Dakota United, a state teachers union. "When the teachers weren't living together in the affordable housing, they were sometimes living in the most decrepit places and not able to afford food."
Affordable teacher housing is one fix. But the larger problem of undervalued—and underpaid—teachers persists. "It should be a warning sign to us that teachers have to grade papers between giving lifts," says the University of Pennsylvania's Ingersoll. "Just look at high-test-scoring Asian nations, where teachers are in the top of their college classes and are well paid. How do we compare?" Matthew Hardy, communications director for the United Educators of San Francisco, has seen the fallout of this country's failure to support its teachers. "Due to the cost of housing, the district is unable to recruit and maintain professionals. Too many of them just leave to go to higher-paying suburbs or out of state."
Jodi Zipkoff is a special-education paraprofessional at San Francisco's Mission High School who drives for Lyft (Uber's chief competitor) because, she says, if she wants to live in San Francisco, she has no other choice: She makes just over $20 an hour working with public-school students with cerebral palsy, and makes more money ride-sharing than she does helping kids. She drives for Lyft seven days a week, 30 to 35 hours a week, during the summer, plus weekends during the school year.
When I catch up with Matt Barry, the history teacher and expectant father, at the end of the summer, he says he's not driving anymore. "You don't make much money in the summer, and the surges have gone down," he explains. Since he and his wife are expecting their first child, however, he's come up with another way to make a little extra money—he and Nicole rented their house out to golf caddies for the US Women's Open.
---
This story was produced with support from the Economic Hardship Reporting Project.

Living Homeless in California: The University of Hunger
A January study found that 11 percent of students on the California State University's 23-campuses reported being homeless during the past year. At Humboldt State nearly a fifth said they'd been homeless at one point during 2017.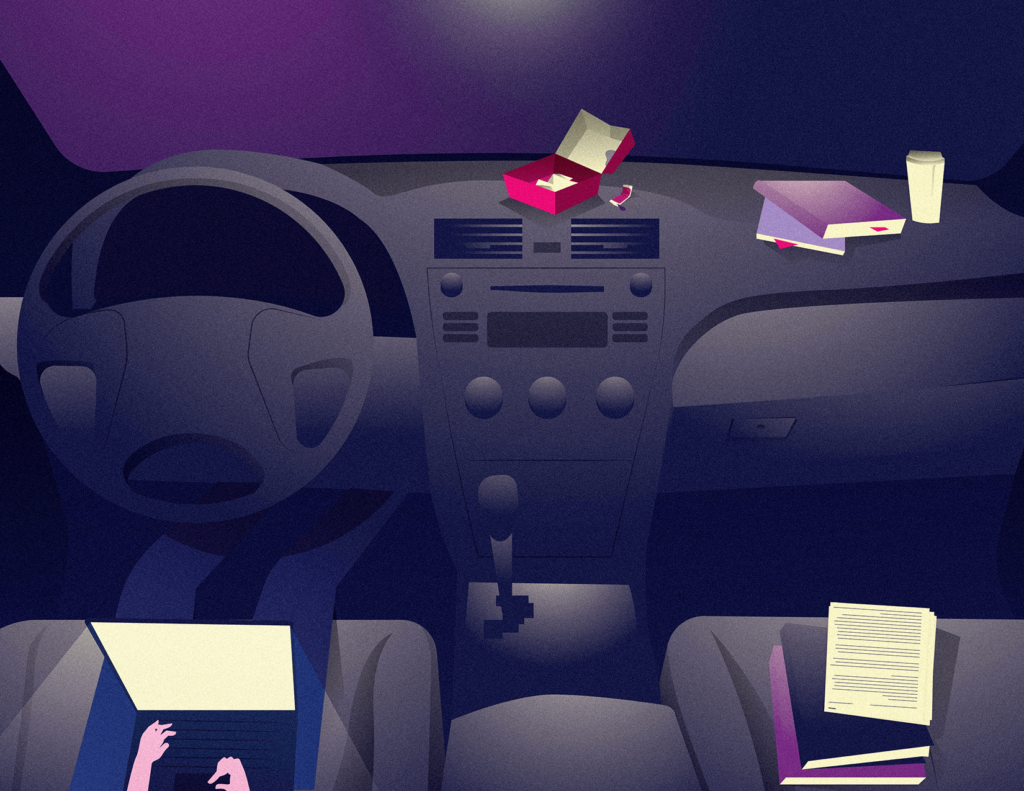 ---
Homeless students told of sleeping in the woods and of completing research assignments at McDonald's, to take advantage of free Wi-Fi.
---
In August of 2016, Chanté Marie Catt left her home in Redding, in the Sacramento Valley, to begin her first semester at Humboldt State University. Catt was 36, with a boyfriend and 1-year-old daughter, and possessed a booming laugh and no small amount of confidence. After nearly two decades running her own pet-care business in Los Angeles, she had begun to feel limited by her lack of a college degree, and several years earlier followed her parents north and enrolled at Redding's Shasta College. The transfer to Humboldt had her dreaming of towering redwoods and cool ocean breezes. "We were excited to start a new life, maybe buy a house," she says.
The couple tried to find a place from Redding, scouring Craigslist for openings without luck. In person, Catt figured, her prospects would improve. Once they had checked into a campground north of the university and enrolled their daughter in daycare, she dedicated her time to visiting property management companies. A week went by, then another. She paid application fees to management companies—$20 here, $43 there—and called through every listing she found, but even with a solid credit and rental history, never heard back. The family bounced from one campsite to another, with occasional stops at a motel to clean up. It was an expensive way to live, and she rapidly blew through $16,000 in financial aid and student loans. One day, out of a combination of anger and desperation, Catt took to Craigslist from her motel room. "I'm a sociology student," she wrote, "starting research on our homeless students and on the property management companies here. Anyone want to share their stories!?"
Within hours, she received more than 150 responses. Homeless students told her of moving from couch to couch, of sleeping in the woods and of completing their research assignments at McDonald's, where they took advantage of free Wi-Fi. "My children are cold, we are broke from all the rental application fees and I'm tired of it," wrote a mother of two. A graduate student who worked full-time revealed that he was living in his car for the second consecutive semester: "I never knew it would be this hard to find a place to rent."
Several weeks later, while still homeless, Catt had organized a campus group, the Homeless Student Advocate Alliance, and was spending her free time passing out fliers to attract more members. They weren't hard to find. "Every couple of students I talked to was experiencing some sort of displacement," she says. For many students at Humboldt, going to college meant becoming homeless.
---
One homeless-student conference included workshops on outdoor living, covering topics like how to light fires to keep homework dry.
---
The true scale of this crisis was revealed last January in a groundbreaking report commissioned by the California State University system. The study found that 11 percent of students on the university's 23-campuses reported being homeless during the past year. The problem was most acute at Humboldt State, where nearly a fifth of the student body had been homeless at one point the previous year.
"In large part, students are homeless because they don't get enough financial aid," says Jennifer Maguire, a Humboldt social work professor, who co-authored the study with Rashida Crutchfield of Long Beach State. "It's even worse here, because we're in a rural area with a very limited housing stock." According to the North Coast Journal, a local newspaper, there aren't even enough rental units in the city of Arcata, where the university is located, for the students who need housing—much less anywhere else. And while the university plans to build more student housing, it can currently only guarantee slots for first-year students.
This shortage allows landlords to crank up rents and reject applicants at whim. For students without a financial cushion, the situation can quickly turn into a full-blown emergency—and in the CSU system, that's a lot of students. More than half the students at Humboldt are the first in their family to attend college, and a third are Latino. Many work full-time; some have kids. "The 'non-traditional' student is now the traditional student," says Maguire.
On a cool April morning, more than 200 people packed into a theater at the College of the Redwoods in nearby Eureka, for a forum on homelessness co-hosted by Humboldt State. "I mentioned to a community member last week that I would be attending this summit today and she asked me, 'What does homelessness have to do with HSU?'" said Humboldt State president Lisa Rossbacher. The crowd laughed, which represented at least some progress. It's no longer a secret that Humboldt State students struggle with homelessness.
---
"My children are cold, we are broke from all the rental application fees and I'm tired of it," wrote a Humboldt State University student.
---
Much of the progress is due to the efforts of activists like Catt. After several months of homelessness, her family eventually landed an apartment, thanks in part to an emergency welfare grant. By that time, she had organized the homeless student alliance, which was pressing the university to finally address the problem. Last fall, the group held a three-day conference at Humboldt State that included workshops on outdoor living, which covered topics like how to light a fire and keep your homework dry. On the third day, a group of students put up tents on the quad and stayed for two nights. They then moved to the library, which they occupied, and demanded that it remain open 24 hours a day to give homeless students a safe and warm place to be.
The next day, an administrator contacted Catt and offered her the position of off-campus housing liaison, which had been one of the alliance's demands. Since January, Catt has worked with more than 100 students, many of whom are in need of housing or have dealt with retaliation from landlords. It's a start, though there are limits to what she can accomplish. One student who was living out of her car recently came to Catt's office, and Catt gave her a code to the campus lockers, which are normally reserved for students taking physical education classes. The student broke down in tears at the prospect of a hot shower. A few days later, Catt texted her that a landlord had recently called with a room to rent, but the student had moved back in with her parents. "She told me it had just been too cold out there," says Catt.
A couple of days after the homeless summit, I met Jasmine Bigham, a 23-year-old transfer student, on the steps of the campus library. Like Catt, she had arrived at Humboldt in 2016, and anticipated finding housing within a week or two. "Weeks turned to months," she says. She spent a semester living out of her Subaru Outback, searching for places to park at night that looked safe, then curling up on the back seat. She didn't tell her parents. "No parents want their kids living like that," she says—and anyways, they didn't have much extra money. Bigham is from a small town in neighboring Siskiyou County, and before college had lived inside a metal shop designed to store tractors and supplies; her parents created walls by hanging tarps. "I sort of grew up having to figure shit out," she says.
---
Homelessness has caused Jasmine to give up on some dreams. She wants a college education, so that means giving up a home.
---
After a semester in the Subaru, she bought a used trailer for $1,000 and parked it at a KOA campground for $600 a month. That felt safer, but then the trailer's ceiling collapsed and an intoxicated neighbor harassed her, so she left for a room in a house that was infested with mold and rats. She could only handle the grime for so long, so last year she sold her Subaru and plowed the rest of her savings—which she earned by waitressing in Lake Tahoe—into a GMC van. Since January, she's been living at a parking lot next to student housing.
As we walk from the library to the parking lot, Bigham outlines her semester budget. Scholarships nearly cover her tuition, and she's in charge of the rest. Right now she's not working, because she's taking 19 units, the maximum allowed. The parking pass is $180 a year, and she rents two lockers, at $5 a piece, for the semester. Each day she stops by the campus food pantry, where she fills plastic containers with soup and picks up rice and beans. She describes the area around campus as a food desert but in reverse—filled with only "really expensive healthy food" that's out of her reach. She takes a bus to Eureka, then walks a mile to reach a more affordable grocery store, where she can load up on quinoa, bell peppers and mangos. She has a camping stove, or else prepares meals for the week at friends' homes.
At the parking lot, she points out several other vehicles where students are living. She'll graduate in December, and tells me that when she returns this fall she hopes to get the other homeless students to park together, to create a greater sense of safety. She opens the back of her van, which is meticulously organized: a plastic container for her clothes, a folded mattress she bought on sale at Ross Dress for Less, an ice chest and cans of beans. "I had to learn what food stays good and what doesn't," she says.
Bigham tells me that she's always felt different. She is an African American from an all-white rural community. She grew up on a "broken-down ranch" with cows and pigs, while many students at Humboldt talk about eating meat as if it were a crime. "The hardest thing is people not understanding," she says, leaning against her van. "If you talk about how people don't have enough to eat, they say, 'Well, why don't they just feed themselves?'"
Homelessness has caused her to give up on some dreams. She loved track, and was recruited by a couple of larger colleges to throw the javelin, but didn't want to live in a big city. She hoped to continue with athletics, but juggling a full academic load while being homeless didn't leave much room for anything else. She shrugs and smiles. "You can either be sad or you can figure it out. If you don't have money, but you still want to do things, you have to give up something," she says. She wants a college education, so that means giving up a home.
---
Copyright Capital & Main