'Mom and Pop' Business Group Fights Lead Paint Ruling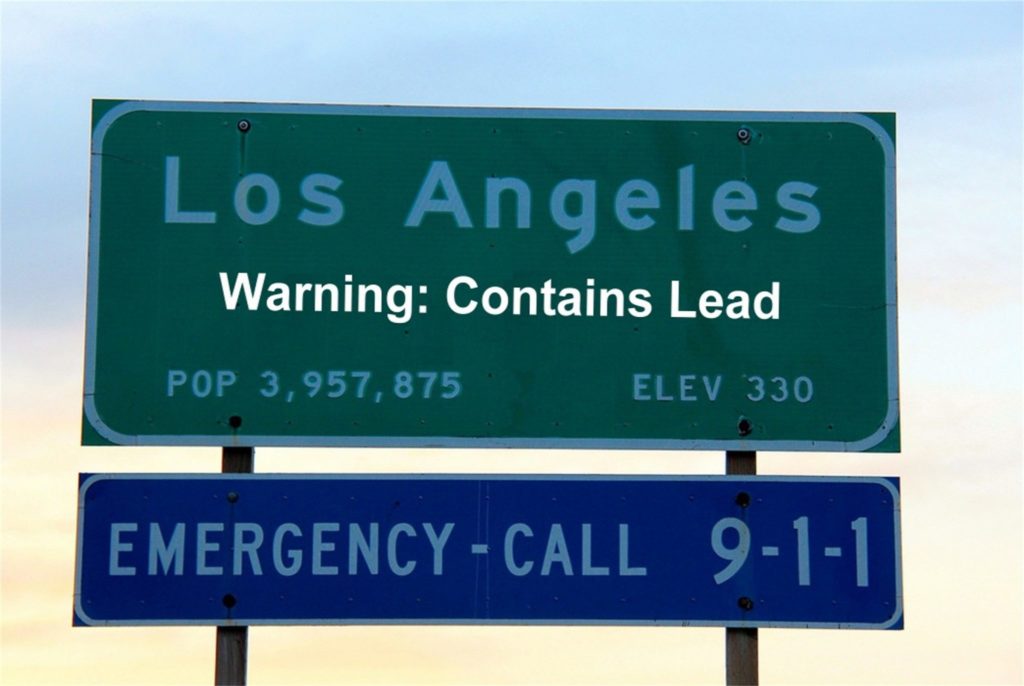 A nationwide group of self-described small and independent business owners has joined the legal battle to appeal California's landmark lead paint court ruling. But questions have arisen about the actions of the National Federation of Independent Business (NFIB), which, through its Small Business Legal Center, is part of an amici curiae ("friends of the court") brief filed on behalf of the defendants in California's 6th Appellate District Court of Appeal in San Jose.
Why is NFIB, which reports that most of its member businesses employ only three to five workers, going to bat for the case's three multinational corporate defendants?
In December 2013, Santa Clara County Superior Court Judge James Kleinberg ordered ConAgra, Sherwin-Williams and National Lead (NL Industries) to pay $1.15 billion to three California cities and seven counties, including Los Angeles County, to abate lead paint hazards in 3.5 million homes built before 1978. The companies were three of the five largest manufacturers and sellers of lead pigment and paints in the U.S. during the 20th century and, ruled Judge Kleinberg, they knew their products were harmful before lead-based paint was banned from the market in 1978, but continued to make and sell them for use inside homes.
Angelo Bellomo, Los Angeles County's Environmental Health Director, said lead paint remains a real hazard today.
"Roughly 1.5 million homes in the county built before 1978 more than likely contain lead-based paint," Bellomo told Capital & Main. Many of those homes are located in low-income neighborhoods. "We believe that throughout the county, 3,500 children each year have blood screening levels at or above the CDC [Centers for Disease Control] reference. Rather than waiting until our blood level screening program tells us we have a burdened child, the judgment will provide the funding necessary to abate that hazard." 
The NFIB, however, remains adamantly opposed to Judge Kleinberg's decision.
"We disagree with the decision that there is a public nuisance and are concerned that it creates new liabilities for small business property owners and manufacturers," said senior federation counsel  Luke Wake. "The decision opens up a Pandora's box for potential lawsuits against anyone who owns an older building that may happen to have some trace amount of lead paint in it. If there is a health and safety issue, it should be addressed by the legislature."
This opinion is identical to that spread by the California Citizens Against Lawsuit Abuse (CALA). In April, in "An Open Letter to the County Counsel Association of California, then-CALA executive director Tom Scott  called Judge Kleinberg's ruling "absurd" and "cockamamie." CALA's leaders say the "infamous" lawsuit "will only benefit trial attorneys" and "not result in any meaningful public health benefit."
Also in April, Scott's op-ed in the Monterey Herald criticized  the lawsuit in regard to fixing pressing public safety issues. "There isn't one," he said of such issues.
CALA, whose national parent is Citizens Against Lawsuit Abuse, describes itself as "a nonpartisan grassroots movement of concerned citizens and businesses who are fighting against lawsuit abuse in California." CALA  –whose members are "mostly small businesses," according to its Southern California regional director, Maryann Marino — is focused on the Americans With Disabilities Act and lobbying against a state Assembly bill to protect workers against forced arbitration excesses. The Center for Justice & Democracy-Public Citizen reported that CALA and similar groups were created two decades ago with help from big tobacco companies to "act as mouthpieces for anti-consumer tort law changes." 
CALA and the NFIB's shared opposition to the lead paint abatement lawsuit may not be coincidental – in July Tom Scott left CALA to become the NFIB's California director. When asked by Capital & Main about the health benefits of the court-ordered removal of lead paint, Scott spoke from his historical CALA vantage point, claiming that only the plaintiffs' lawyers will benefit from Judge Kleinberg's ruling.
"The trial lawyers are getting 17 percent," he said. "The counties and the cities are going to be left with a mess to deal with. And residents, whether there's lead paint — some would argue leaving it, if it is underneath five coats.  Do you really want to remove it? What's that going to cost?" 
Scott was clear about the kind of civil litigation represented by the lead paint case. "I don't think cities and counties ought to be suing the private sector," Scott said. "I don't think [they] should be hiring contingency lawyers. As far as I am concerned, taxation through litigation is just not what the cities and counties should be in the business of.  Whether it's lead paint or Orange County suing the opiate industry, it's just a bad avenue to be going down." 
When NFIB and CALA's leaders engage in public policy discussions or publish op-ed pieces, are they  speaking for small businesses—NFIB alone says it has 350,000 members nationwide (23,000 in California)— or for big business, or for both? Can NFIB really speak for small businesses and support corporations such as the defendants of the lead paint ruling? Does CALA speak for ordinary citizens?
ConAgra, Sherwin-Williams, and NL Industries combined are multi-billion dollar companies. ConAgra alone employs 33,000 workers. Sherwin-Williams sold $5.58 billion in product during the first six months of 2015. NL Industries is a diversified holding company with a major subsidiary and significant interest in a company with a global market.
In 2013, CNN revealed that NFIB received $2.5 million from Freedom Partners Chamber of Commerce, the advocacy group associated with Charles and David Koch.  In 2011, the tax exempt organization's IRS Form 990 filing shows contributions to the National Rifle Association and to Republican and Tea Party interests.
Besides suing the U.S. Health and Human Services Department over provisions of the Affordable Care Act, CNN said, the "nonpartisan" NFIB "opposed increasing income tax rates on people making $250,000 or more, even though the vast majority of small businesses aren't affected by the rate hike."
As one of the lead paint plaintiffs, Los Angeles County will receive 55 percent of the ruling's award, or $632.5 million. Bellomo said the county's first priority will be to remove interior lead hazards in contaminated housing where children have been poisoned and in low–income neighborhoods.
CALA's Maryann Marino expressed concern about other consequences of Kleinberg's ruling when she spoke to Capital & Main.
"Lawsuits are out of line and out of control," she said. "Look at the lawsuits for wage and hour violations and the Americans With Disabilities Act. We think businesses need to be able to operate in a way that is fair and competitive, instead of having things stacked against them."
Marino and Scott's remarks have garnered much attention. They have been picked up by various media including the blog of the Apartment Association of Greater Los Angeles.
In the meantime, Andrea Ross, Counsel for L.A. County, said "all the briefs for the appeal have been filed, but oral arguments have not been set." If the original lawsuit is an indication, the appeal may take years to move through the court system. 
The breakthrough case, filed in 2000, occupied the court for 13 years before a decision was reached. By now most of the children living in those 1.5 million Los Angeles County homes have grown up.
---
Debra A. Varnado is the founder, editor and publisher of The Fifth Avenue Times Online Journal and Newsletter. Her work has been published by Oxford University Press, Tsehai Publishers and Distributors, StorySouth.com, Howard University, George Mason University and the 
Wave Community Newspaper.
Is Environmental Law to Blame for California's Housing Crisis?
Developers blame a half-century-old law for slowing development. Studies show there are other factors at work.
---
The debate intensifies over how much the California Environmental Quality Act is an impediment to the construction of affordable housing.
---
Since it was enacted in 1970, California environmentalists have hailed the state's most sweeping environmental law, the California Environmental Quality Act, as a bulwark against destruction of California's natural resources and endangerment of its most vulnerable residents. The law requires developers to involve the public in their building plans, and to minimize damage to the environment in accordance with public input and scientific study.
But now, with Governor Gavin Newsom's push to see 3.5 million homes built by 2025, CEQA may be in Sacramento's crosshairs. Developers and trade unions have long complained that the law was written so broadly that neighborhood groups and certain unions have used it to start litigation that slows or stops necessary projects. Newsom's goal, which would require a six-fold increase in current housing production over the next seven years, could lead to their complaints overriding environmental concerns.
Cesar Diaz, legal and political director of the State Building and Construction Trades Council of California, confirmed to Capital & Main that that his union was working with builders and legislators to streamline CEQA. But he denies that their plans amount to gutting the landmark law. "We have been fighting to protect CEQA for years," Diaz says, "and we will fight to make sure any changes to CEQA are done surgically, rather than getting rid of it." In January Diaz signed on to a letter, with environmental justice and low-income housing advocates, urging the governor and legislators to not weaken CEQA.
Diaz says his union and the California Building Industry Association were instead working to refine two already-introduced housing bills, SB 50 and SB 4, both aimed at spurring high-density housing near jobs and transit centers. The additions to those bills, and possibly more, Diaz said, would "provide certainty to developers and stronger labor protections and pay increases for construction workers." Certainty for developers, he clarified, would mean relief from impact fees and construction defect litigation that can entangle builders in litigation. In exchange, construction workers would receive higher wages and benefits.
But the fact that environmental groups and low-income housing advocates, thus far, are not at the table concerns Caroline Farrell, Executive Director of the Center for Race, Poverty and the Environment. "Discussions between the building trade and developers have led to a lot of confusion and frustration among environmentalists. The people who would be impacted by any change [to CEQA] have to be heard."
* * *
There is significant debate over how much CEQA is an impediment to development. Environmental interests worry that views expressed by two researchers in recent New York Times op-ed, arguing that CEQA alone is a significant contributor to the housing crisis, will prevail in any housing legislation. David Pettit, a senior attorney with the Natural Resources Defense Council (NRDC) says that there are already CEQA speed-ups and work-arounds for some large construction projects, including a 27-story development in Los Angeles' Chinatown.
"There has been the occasional abuse of CEQA, as with any area of the law, like locals in Venice using the law to fight a homeless shelter," he says. "That's appalling, but you don't get rid of the whole law."
A recent (and continuing) study of nine California cities conducted by the University of California, Berkeley has so far concluded that CEQA is not the primary driver of delays in new developments. Eric Biber, a UC Berkeley law professor who was involved in the study, says local governments and local zoning restrictions have more to do with lengthening the development timeline.
"We don't say CEQA itself is not important, but [reforming it] is not the silver bullet to solve the building crisis. CEQA lawsuits are triggered when local governments impose judgments on whether their own standards are met."
Jennfier Hernandez, a partner at the Holland & Knight law firm, disagrees with that assessment. "CEQA is tremendous, but it has been used as a tool to stop any project at any time." Suggesting that CEQA reformers and low-income housing activists should be on the same side, Hernandez cited her study, which concluded 100 percent of Bay Area CEQA lawsuits and 98 percent of Los Angeles CEQA suits targeted "infill" development in existing communities. CEQA, she says, is "an excuse by NIMBYs to preserve the status quo."
Yet other data back up Biber's findings. A 2018 survey from the Association of Environmental Professionals looked at over 140,000 housing projects that went through CEQA review from 2015 to 2017 across California, and found that exemptions to or streamlining of environmental law were used in 42 percent of the projects. As with Biber's study, the survey concluded that the top inhibitors to housing production were not related to CEQA.
Alexander Harnden, a housing policy advocate for the Western Center on Law and Poverty, agrees that CEQA has been occasionally abused by exclusionary neighborhood groups and city councils. But he argues that lengthy legal challenges under CEQA account for a small fraction of projects. "The rest of the projects are altered in appropriate ways and getting approved."
Harnden says that streamlining housing development should include incentives for developers – such as eliminating parking requirements – in exchange for commitments to build a larger percentage of affordable units. He also advocates expanding rent-control measures and prohibiting landlords from refusing Section 8 vouchers, subsidize housing for low-income tenants. But he emphasizes that supply-side solutions like building houses at more than six times the current rate won't fix everything. No matter how many millions of units go up in the next seven years, he says, "it won't solve the increases in homelessness and rent gouging." Nearly everyone in the debate agrees that there's no single solution to the housing crisis. And they say taking on all of these aspects requires both compromise and political will.
---
Copyright Capital & Main