Missing in Action: L.A. Times Coverage of Walmart Arrests
On Sunday, November 3, the Los Angeles Times ran a 429-word story, "Wal-Mart kicks off Christmas way early, helping to kill Black Friday," on the retail giant's plan to entice customers to do their Christmas shopping early by marking down prices weeks before the traditional day-after-Thanksgiving bargains. Providing Walmart with tens of thousands of dollars of free advertising, the story reported that "Deals include 36 percent savings on a JVC 42-inch LED television and 51 percent savings on a 10-inch Xelio tablet — at $299 for the TV and $49 for the tablet, those are the lowest tags Wal-Mart has ever put on those products." Surely this is the kind of "news" that a Walmart PR executive drools over.
In contrast, the Times' coverage of last Thursday's anti-Walmart protest — one of the largest local civil disobedience actions in the company's history — garnered a puny 163-word story,"54 Demonstrators Arrested at Wal-Mart Protest in Chinatown," that missed many of the important facts.
In addition to the 54 people arrested, at least another 500 people — union, community and faith-based activists as well as Walmart workers — participated in the rally to show their support. The demonstration was part of a series of actions around the country to draw attention to Walmart's abusive labor practices — part of a growing movement of Walmart employees that began 18 months ago at a massive anti-Walmart march through downtown L.A., continued a year ago with dozens of Black Friday protests at Walmart stores around the country, has escalated since with a one-day strike and other actions and will continue with another wave of protests on Black Friday this year. This is all part of an ongoing nationwide effort by Walmart employees, supported [by] the United Food and Commercial Workers union, to gain a voice on the job and improve working conditions. After several false starts over the past decade, the OUR Walmart movement, an organization of Walmart employees, is now gaining momentum.
But you wouldn't know any of this if your main source of information was the L.A. Times, a paper with a chronic case of what I call "movement myopia."
Almost half of the Times' story (71 words) quoted a Walmart spokesperson about what a great employer the company is. The L.A. Police Department got 22 words to explain how many people were arrested. The story devoted a mere 47 words to the protesters' grievances. It didn't bother to quote one protester or explain who the protesters were: a diverse group of union members and community and faith-based activists.
The British paper, The Guardian, gave readers a much better understanding of what the protest was about and who was involved, than the hometown Los Angeles Times. In his article, "Dozens arrested in Walmart protest as anger against retail chain escalates," reporter Rory Carroll observed that: "It [Our Walmart] accused the U.S.'s biggest employer, which recorded profits of $17bn over the past year, of keeping workers in poverty and punishing and firing those who spoke out. The group says it has filed more than 100 unfair labor practice charges with the National Labor Relations Board, including 20 illegal terminations and 80 disciplinary actions."
The Huffington Post also did a much better job than the Times at reporting and explaining the protest. Reporter Kathleen Miles' 1,034-word story, "Largest Civil Disobedience In Walmart History Leads To More Than 50 Arrests, " called the protest, [the] "largest single act of civil disobedience in Walmart's 50-year history," reported that the LAPD devoted "100 police officers in riot gear and a helicopter circling above," and explained that Thursday's event was part of an ongoing movement of Walmart employees to challenge the labor practices of the world's largest employer.
Miles interviewed four Walmart employees, including two whom the company recommended. She talked with Anthony Goytia, a 31-year-old father of two, who will earn about $12,000 this year and told Miles "It's a daily struggle to make sure my family doesn't go hungry."
"The power went out at my house yesterday because I couldn't afford the bill," Goytia told the HuffPost. "I had to run around and get two payday loans to pay for my rent from the first" of the month. "Yesterday we went to a food bank." Miles noted that "to make ends meet, Goytia said he sometimes participates in clinical trials and sells his blood plasma. He has been asking his managers for full-time employment for a year and a half. Instead, he said, they hire temporary workers, who can be fired at any time."
(The Times' story the previous day — about a protest at the Walmart in suburban Paramount — also failed to explain what the demonstrators were protesting about and how it was part of a national movement.)
I'm not shocked that the Times, like every other American daily newspaper, has a busy business section but no labor section. In fact, like most papers, it doesn't even have a full-time labor reporter, despite the region's large and influential labor movement (with over 700,000 union members) and despite greater L.A.'s thousands of workplaces where local residents spend much of their daily lives, often under dangerous, abusive and exploitative conditions.
The Times' coverage of unions is typically limited to elections and strikes, not the day-to-day activities of unions or of workplace issues, such as pay, health and safety, job insecurity and sweatshop abuses.
The Times has no regular reporter who covers workplaces or workers and their concerns. Despite Walmart's expansion into the Los Angeles area market over a decade ago and despite the growing national protest movement against Walmart's abusive practices, no Times reporter has bothered to investigate what it is like to work for the world's largest employer or how the Arkansas-based company engages in expensive and often illegal union-busting activities to thwart workers' efforts to gain a voice on the job.
Most of the Times' recent coverage of L.A.'s unions has focused on how the candidates in the recent mayoral election — and now whether newly-elected Mayor Eric Garcetti — will do battle with the municipal unions or how teachers unions are an obstacle to the Times' version of top-down corporate-style school "reform."
The Times hasn't had a full-time labor reporter with in-depth knowledge of workers and their unions since Nancy Cleeland, a Pulitzer Prize-winning labor journalist, wrote a HuffPost blog explaining why she's leaving the paper in frustration over six years ago. There's no institutional memory at the Times about L.A. unions or how the changing economy shapes the daily lives of L.A.'s working families. I wrote an op-ed in the Times about this in 2006 when the paper appeared to be open to some serious journalistic introspection, but nothing has changed since then. If anything, it has gotten worse.
So if you want a good deal on a flat-screen TV (probably made in a Chinese sweatshop), you can read about Walmart's pre-Christmas sale in the Los Angeles Times. But if you want to learn how thousands of Walmart's poverty-wage workers in the region will be coping with this year's holiday season, don't look for it in Los Angeles' paper of record.
(This post first appeared on the Huffington Post and is republished with permission.)
Government Shutdown's Silver Lining: A Corporate Hiring Guru Speaks Out
Ending the shutdown won't curtail the hiring opportunities for corporate recruiters, says one expert. It's like divorce: Once you start thinking about leaving, the odds that it will happen go up dramatically.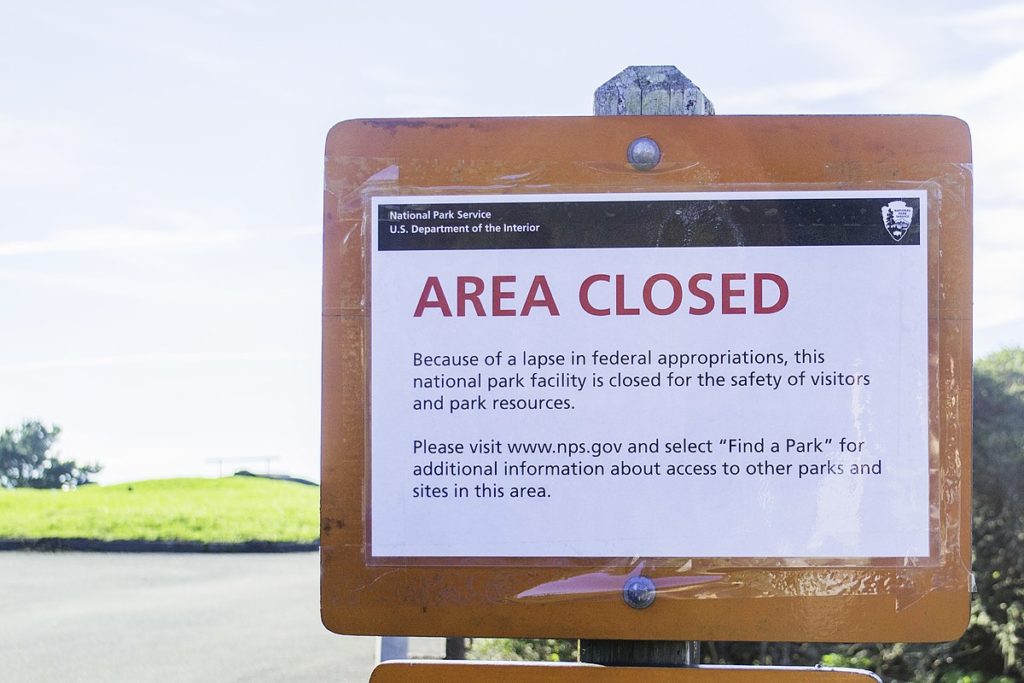 ---
In the new economic climate, even the most mission-driven of federal workers might be forgiven for abandoning the nation's parks, airways and regulatory agencies.
---
When the federal government shut down for 16 days in 2013, corporate hiring guru John Sullivan advised companies on how to raid federal government workplaces for talent.
A blog post he penned at the time caused some to charge him with being unpatriotic, he said recently, while others thanked him for the reminder that federal workers were ripe for the plucking.
This time around, the climate is even better for corporations looking to cull staff from a workforce that is already well-trained and also known for its loyalty, Sullivan tells Capital & Main by phone. He describes the current moment—with hundreds of thousands of federal employees forgoing paychecks and, in many cases, sitting at home — as tantamount to "a sale on Black Friday."
---
Congresswoman:  The shutdown could have a long-term impact on the federal government's ability to attract workers with IT skills.
---
"If you've been screaming for the last two years" about the skills-and-talent shortage, "this week there isn't one," says Sullivan, who heads the human resource management program at San Francisco State University's College of Business.
The partial shutdown, that began on December 22 when President Trump failed to secure funding from Congress for his border wall, has impacted employees at a host of federal agencies, including the departments of Agriculture, Commerce, Homeland Security, Housing and Urban Development, Interior, Justice, State, Transportation and Treasury and the NASA.
What makes this particular shutdown so suitable for raiding federal workplaces? It's not just that employee morale has taken a nosedive, thanks to a president who is at war with many of the agencies he oversees. Nor is it only the fact that Trump threatened to keep the government closed for as long as a year, a notion that "really scares people," says Sullivan.
---
With Amazon's opening new offices in the District of Columbia area, three out of four IT workers in DC say they would consider leaving their current jobs for the tech behemoth.
---
It's also the economic climate. Companies are growing. Unemployment is low. Remote work is increasingly an option. Technical advances have made looking for a job easier than it was in 2013. "You can say 'boo' to your phone and apply for a job," adds Sullivan, delivering his matchmaking pitch with such force that even the most mission-driven of federal workers might be forgiven for abandoning the nation's parks, airways and regulatory agencies.
Congresswoman Robin Kelly (D-IL), the ranking member of the House Subcommittee on Information Technology, worried, in a statement last week, that the shutdown would have a long-term impact on the federal government's ability to attract workers with IT skills. The federal government has generally struggled to attract young tech workers, and Amazon's new offices in the District of Columbia area has three out of four IT workers in DC saying they would consider leaving their current jobs for the tech behemoth.
Tech workers — and upper-salaried talent — are not the only employees coveted by the private sector, says Sullivan. Forest Service employees. Coast Guard workers. Transportation and Safety Administration agents. Any unpaid workers could be lured away, especially in states like California and Texas, where economies are strong, he maintains. An employment agency for California's casinos recently put this shout out on Twitter: "Any @TSA employees looking for new opportunities, PTGaming is hiring!" along with the popular hashtag, #shutdownstories.
The shutdown could also prompt federal employees to throw scruples to the wind and step into the infamous revolving door that leads workers from government jobs to the private sector and back again. When Sullivan was advising companies in 2013, he helped firms hire from agencies that regulated them.
"And by the way," asks Sullivan, persisting with his siren song, "if I was a regulator, [with] President Trump eliminating all those regulations, why am I needed? Why not go to the private sector?"
Sullivan, who says he is an underpaid government worker in his own right, is concerned about the public cost of his and others' efforts to lure away the federal government's top talent. The best employees will leave first, and "literally billions" in training dollars will be lost, he predicts.
But he puts the blame squarely on a public sector that undervalues its workers. Corporations that pilfer federal government workforce for talent offer a kind of public service and corrective by demonstrating the price that must be paid "for degrading public service and unnecessarily frustrating federal employees," he wrote in his 2013 post.
Ending the shutdown won't curtail the hiring opportunities for corporate recruiters, says Sullivan. "It's like divorce. Once you start thinking about [leaving], the odds [that it will happen] go up dramatically."
---
Copyright Capital & Main