"Miss Sloane" Offers a Look into Corporate Lobbying
On the list of society's most reviled professions, somewhere between tax collector and a member of Congress, sits the lobbyist.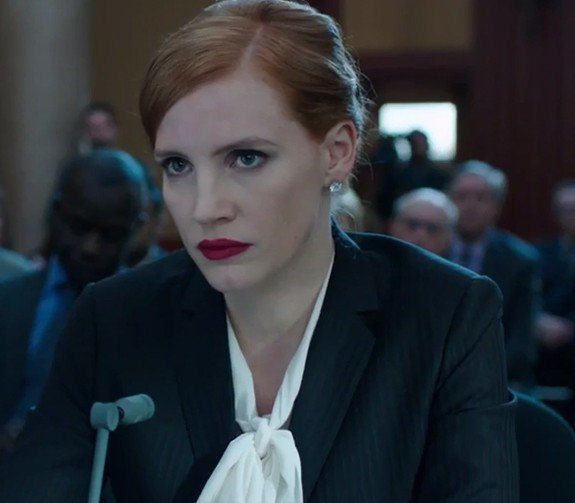 On the list of society's most reviled professions, somewhere between tax collector and a member of Congress, sits the lobbyist. Many citizens know that these individuals are well paid to represent the interests of industries seeking to influence policy and laws in the nation's Capitol. But beyond that most would be hard pressed to describe exactly what a lobbyist does. Miss Sloane, in trying to do just that, showcases a far more cutthroat and morally corrupt profession than most could imagine.
Screenwriter Jonathan Perera spent years researching the ins and outs of this shadowy world, whose operators try to influence people in power so that they will not erode their clients' bottom lines. Elizabeth Sloane (Jessica Chastain) is one of the best of these wheeler-dealers, a cold-blooded legislative assassin with a briefcase. A she in a largely he world, Sloane has had to be smarter, tougher and more relentless than the boys in every battle. Her ferocious desire to be the best has landed her at the most prominent lobbying firm in D.C., but it comes at a cost. She has no personal life, is considered an ice-hearted bitch to most everybody and pops pills like Tic Tacs.
It's no surprise, then, with the country reeling from a spate of school shootings, the powerful gun lobby comes calling to enlist her and her firm's considerable talents to make America, well, forget again. But after a decidedly sexist pitch, and much to the chagrin of her boss (Sam Waterston), she not only does not take the gig, but pulls a 180 and joins a scrappy boutique firm taking on the big guns — and her now-former firm. The usual wining and dining and influencing commences, but lobbying isn't always pretty and Sloane and her opponents soon unleash all their firepower in a conflagration of bribery, blackmail, and, even, illegal surveillance via cockroach, that threatens to blow up Sloane's career. But just when you think she may have met her match, she demonstrates her greatest gift: to always think one step ahead of her opponent.
This is Perera's first screenplay and sadly, it shows. There is not one memorable line of dialogue in the film, despite its cascade of grandiose declarations. And, while his script does shed some light on the way lobbyists manufacture and manipulate, it does so in a decidedly pedestrian manner. Sloane's abrupt moral turn to take on the gun lobby is not consistent with her character, and one wonders throughout the film if the revelation that she personally has been touched by gun violence will emerge, yet it never comes. In the end, the story unravels into a mess of cinematic absurdity and hyperbole that is at once clichéd and ridiculous, including one subplot involving a male escort that improbably reemerges during a climactic Senate hearing.
At least Miss Sloane is never boring, largely because of Chastain, who singlehandedly makes this film riveting. While she has delivered solid turns in past films such as Zero Dark Thirty and The Help, she has never shown real depth. The way she exudes steely confidence for most of the film, yet bleeds vulnerability and doubt when wounded, serves notice that she is one of the best actresses of her generation. The supporting cast is excellent, buoyed by stalwarts Waterston and John Lithgow as a senior senator. (Lithgow seems to have had a cameo in virtually every film this year.)
Putting them all through their paces is director John Madden, whose films (Shakespeare in Love, The Best Exotic Marigold Hotel) have often tried to be both intelligent and entertaining but, most of the time, have failed on both accounts. Here, too, he misses the target. He's trying to make a powerful expose of the world of lobbyists, but the result is a pulpy piffle that is only worth seeing because of Chastain's robust performance. Ironically, like most lobbyists, he's trying to sell something that isn't as good as he would have us believe it is.