"Miss Sloane" Offers a Look into Corporate Lobbying
On the list of society's most reviled professions, somewhere between tax collector and a member of Congress, sits the lobbyist.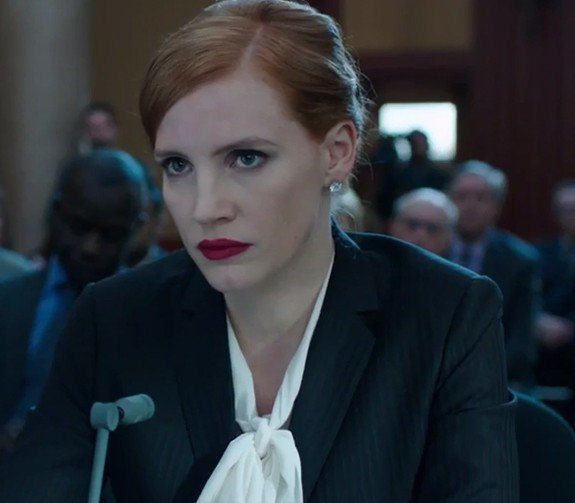 On the list of society's most reviled professions, somewhere between tax collector and a member of Congress, sits the lobbyist. Many citizens know that these individuals are well paid to represent the interests of industries seeking to influence policy and laws in the nation's Capitol. But beyond that most would be hard pressed to describe exactly what a lobbyist does. Miss Sloane, in trying to do just that, showcases a far more cutthroat and morally corrupt profession than most could imagine.
Screenwriter Jonathan Perera spent years researching the ins and outs of this shadowy world, whose operators try to influence people in power so that they will not erode their clients' bottom lines. Elizabeth Sloane (Jessica Chastain) is one of the best of these wheeler-dealers, a cold-blooded legislative assassin with a briefcase. A she in a largely he world, Sloane has had to be smarter, tougher and more relentless than the boys in every battle. Her ferocious desire to be the best has landed her at the most prominent lobbying firm in D.C., but it comes at a cost. She has no personal life, is considered an ice-hearted bitch to most everybody and pops pills like Tic Tacs.
It's no surprise, then, with the country reeling from a spate of school shootings, the powerful gun lobby comes calling to enlist her and her firm's considerable talents to make America, well, forget again. But after a decidedly sexist pitch, and much to the chagrin of her boss (Sam Waterston), she not only does not take the gig, but pulls a 180 and joins a scrappy boutique firm taking on the big guns — and her now-former firm. The usual wining and dining and influencing commences, but lobbying isn't always pretty and Sloane and her opponents soon unleash all their firepower in a conflagration of bribery, blackmail, and, even, illegal surveillance via cockroach, that threatens to blow up Sloane's career. But just when you think she may have met her match, she demonstrates her greatest gift: to always think one step ahead of her opponent.
This is Perera's first screenplay and sadly, it shows. There is not one memorable line of dialogue in the film, despite its cascade of grandiose declarations. And, while his script does shed some light on the way lobbyists manufacture and manipulate, it does so in a decidedly pedestrian manner. Sloane's abrupt moral turn to take on the gun lobby is not consistent with her character, and one wonders throughout the film if the revelation that she personally has been touched by gun violence will emerge, yet it never comes. In the end, the story unravels into a mess of cinematic absurdity and hyperbole that is at once clichéd and ridiculous, including one subplot involving a male escort that improbably reemerges during a climactic Senate hearing.
At least Miss Sloane is never boring, largely because of Chastain, who singlehandedly makes this film riveting. While she has delivered solid turns in past films such as Zero Dark Thirty and The Help, she has never shown real depth. The way she exudes steely confidence for most of the film, yet bleeds vulnerability and doubt when wounded, serves notice that she is one of the best actresses of her generation. The supporting cast is excellent, buoyed by stalwarts Waterston and John Lithgow as a senior senator. (Lithgow seems to have had a cameo in virtually every film this year.)
Putting them all through their paces is director John Madden, whose films (Shakespeare in Love, The Best Exotic Marigold Hotel) have often tried to be both intelligent and entertaining but, most of the time, have failed on both accounts. Here, too, he misses the target. He's trying to make a powerful expose of the world of lobbyists, but the result is a pulpy piffle that is only worth seeing because of Chastain's robust performance. Ironically, like most lobbyists, he's trying to sell something that isn't as good as he would have us believe it is.
'Skeleton Crew' Is a Play With a Moral Spine
Set in a Detroit automobile outfitting plant, Dominique Morisseau's drama grabs you from the start with its focus on blue-collar men and women, and their struggle for dignity and self-respect.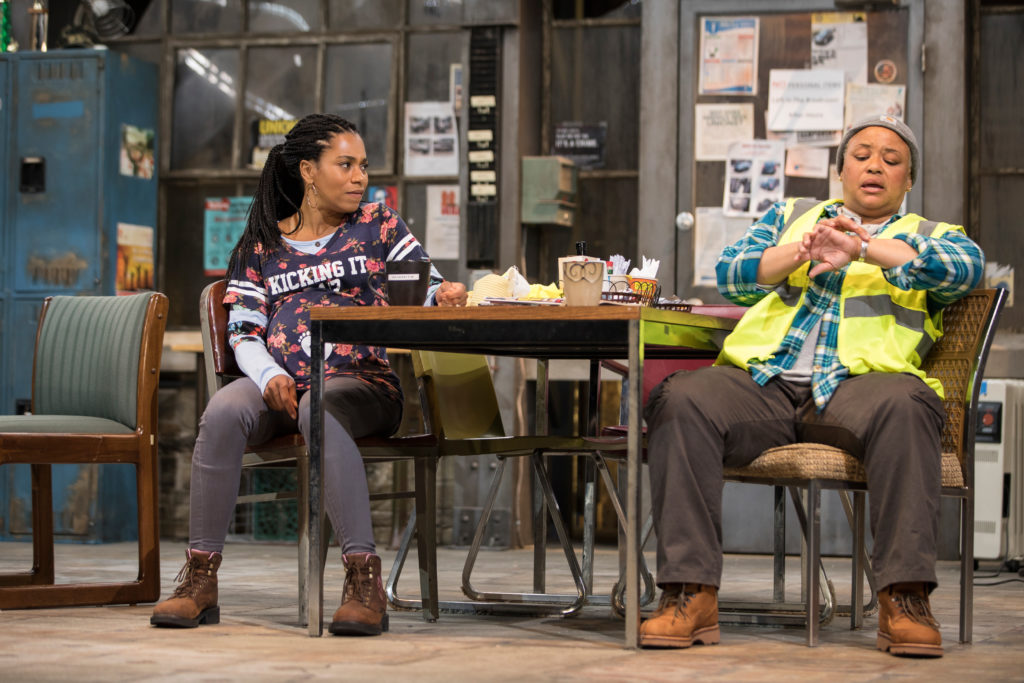 Working-class men and women of color are rarely front and center in today's media and, likewise, are presented all too occasionally on the American stage. So it's buoying to see that trend bucked in playwright Dominique Morisseau's percipient and well-crafted drama, Skeleton Crew. The play is the final installment in her Detroit  Project Trilogy; the first, Paradise Blue, is set in the 1940s amidst displacement caused by urban renewal and gentrification, while the second, Detroit '67, transpires on the eve of the 1967 Detroit riots sparked by a police action.
Directed by Patricia McGregor at Los Angeles' Geffen Playhouse, Skeleton Crew is a play with a moral spine. It takes place in 2008, when the shrinking U.S. auto industry is being further downsized. Morisseau's engaging quartet of characters — Faye (Caroline Stefanie Clay), Dez (Armari Cheatom), Shanita (Kelly McCreary) and Reggie (DB Woodside) – are employed at an automobile outfitting plant. Faye, Dez and Shanita are workers on the line while Reggie (who has a wife and kids, and has pulled himself together after a troubled youth) is their supervisor.
The first three customarily mingle in their break room (designer Rachel Myers' impressively cluttered, dingy and detailed set), trading the sort of familiar barbs and genuine concern for each other common among longtime co-workers. They also face off on philosophy: Upper-middle-aged Faye and the younger, pregnant Shanita take pride in their labor, while Dez, though a good worker, is a malcontent scornful of management and firm in the belief that everyone needs to watch out for himself. He's a thorn in Reggie's side, for while Reggie wants to be supportive of his workers, he must act at the behest of higher management. For his part, Dez resents Reggie's authority, and a palpable unease exists between them.
Besides this male matchup, we're made privy to Dez's attraction to Shanita, who mostly turns away his advances, but every now and then displays a hint of interest. Most poignant is Reggie's regard and affection for the lesbian Faye, which has roots in his boyhood when she loved, and lived, with his now-deceased mom.
These people's various predicaments intensify when rumors spread of the plant's shutdown — a disaster for all, but a particular calamity for the already near-broke Faye who, one year short of retirement, would lose her pension. The crisis forces each of these people to make a choice.
A sound piece of social realism, Skeleton Crew grabs you from the start in its focus on blue-collar men and women, and their struggle against odds for dignity and self-respect. Morisseau not only furnishes these characters a platform for their travails, she endows them with strong values, big hearts and the opportunity to choose between right and wrong.
Unfortunately, the performance I attended did not soar. Many exchanges lacked a fresh edge. The actors certainly had their characters down, but too often they appeared to be coasting on technique. (This seemed particularly true of Clay, who performed the role to great accolades in Washington, DC in 2017, also under McGregor's direction). Additionally, some of the stage movement was not entirely fluid; in confrontations, actors sometimes would just stand and face each other in an artificial way. And Cheatom's interpretation of Dez struck me as a bit overly churlish and depressive: I needed more glimpses of the intelligence and edge that would secretly attract the strong, self-directed Shanita.
The most compelling moments belong to Woodside, well-cast as a man trying his best in difficult circumstances to do the right thing.
---
Gil Cates Theater at the Geffen Playhouse, 10886 Le Conte Ave., Westwood Village; Tues.-Fri., 8 p.m.; Sat., 3 & 8 p.m. Sun., 2 & 7 p.m.; through July 8. (310) 208-5454 or www.geffenplayhouse.org