Mentors Under Siege: California's DACA Teachers
Of California's roughly 223,000 DACA recipients, an estimated 5,000 are working teachers, according to the Migration Policy Institute, a Washington think tank.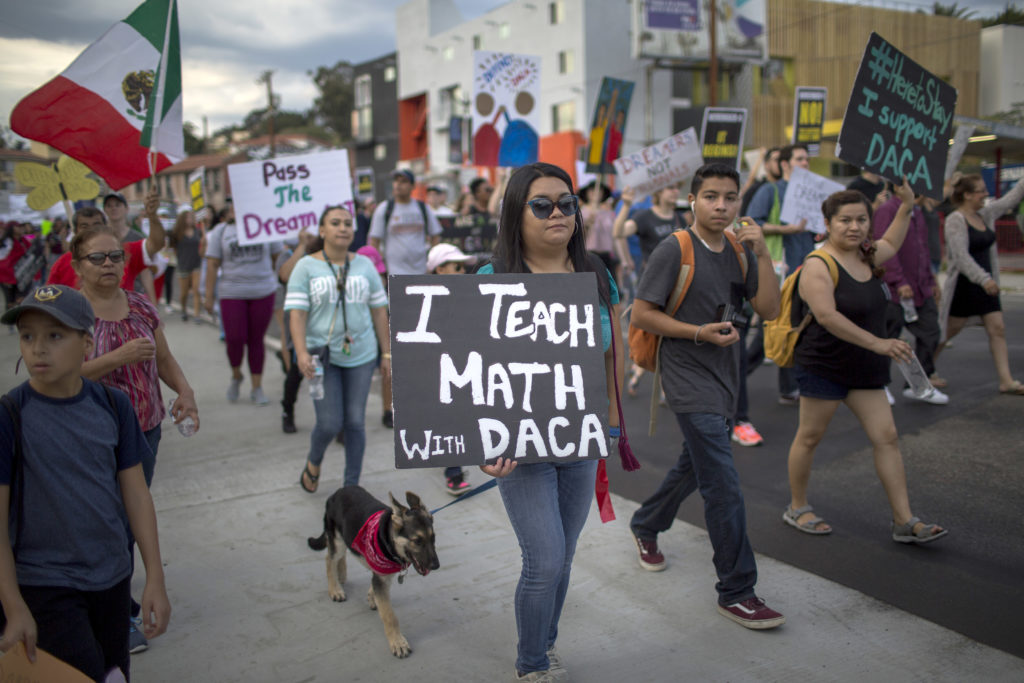 "I don't understand why they're trying to kick us out and recruiting people with our same qualifications when we're already here."
— San Bernardino math teacher
---
"
Students were crying," says Cristian Aguilar, recalling the Wednesday after Election Day, 2016. "Parents were calling me; there was just a lot of tension, a lot of emotions. … Because whether or not they were born here, they still felt threatened. They knew someone — either their families, their friends or their neighbors — that were [going to be] affected." The man who had famously launched his candidacy by slurring America's Latino immigrants was now the president-elect.
Most of all, the students of San Jose's nearly 80 percent Latino Hoover Middle School were acutely aware that if Donald Trump made good on his threats to revoke DACA (Deferred Action for Childhood Arrivals), Aguilar, their 25-year-old public school teacher, would soon again be living under the murky cloud of deportation. Ironically, he had long made it a point to share his own immigration tale with his kids as a means of inspiring them and to connect with their families.
For a melting pot like California, his story is far from unique. Of the state's roughly 223,000 DACA recipients, an estimated 5,000 are working teachers, according to the Migration Policy Institute, a Washington think tank. But with a March 5 deadline looming, California's DACA teachers may soon find themselves locked out of jobs and careers.
Trump has lately rejected bipartisan immigration compromises that would have granted eventual citizenship to young immigrants like Aguilar, but which didn't provide any funding for the president's proposed border wall, or include White House demands for the termination of the current visa diversity lottery and deep cuts to the country's traditional family reunification priorities.
"[Trump] wants to decrease legal immigration by about half, which is not something that's ever been done in our country's history," pointed out California Sate University, Los Angeles anthropology professor Beth Baker, who specializes in immigration. "That's very disconcerting, particularly because immigrants are really the motor of the economy."
But for California's DACA educators, losing their right to teach would be a crippling setback to a public school system in the throes of a chronic teacher shortage and in which one in eight school children have an undocumented parent. It would also mark a bitter reversal to what has been a quintessentially American odyssey of immigrant resolve and aspiration. Here are three of those 5,000 DACA teacher stories.
---
The Organizer
Aguilar was 10 when he crossed the border from Mexico with a brother in order to join his parents, who had been drawn here by the promise of a better life. Despite growing up without the legal rights and expectations taken for granted by birthright Americans, he quickly distinguished himself as a math prodigy after a bilingual teacher recognized his ability and tutored him, in Spanish, after school.
"It wasn't until junior and senior year that I really found out what that meant, being undocumented," he recalled. "Not being able to drive; not being able to apply for financial aid when it came to college applications. … I started noticing the discrepancies between my peers' and my education."
Despite having the grades and being accepted by California State University, Stanford University and the University of California, he settled for De Anza, a two-year community college in neighboring Cupertino. That's when fate and Sacramento Democrats intervened with the introduction of 2011's California Dream Act, which extended state financial aid to undocumented students at public universities and colleges. As battle lines formed over the contentious measure, Aguilar threw himself into the political fight, organizing students throughout Northern California as part of a campus immigrant-rights group that also lobbied the legislature.
Though the new law paved his way into UC Berkeley, it was the 2012 implementation of DACA by the Obama administration and Aguilar's winning of temporary legal status that enabled him to set his sights on giving back to his community: "That's when I knew I wanted to be there for students, especially other students of color, who have been marginalized and who have been under-represented for so long. Knowing [first-hand] the difficulty of being part of an educational system that really pushed us out — students who 'don't belong.'"
The Object Lesson
Ever since being brought from Mexico as a young child to Southern California by a mother determined to leave behind a nightmarish marriage and secure the best possible future for her daughter, Elysa Chavez (her real name has been withheld at her request), a third-year DACA high school math teacher in San Bernardino County, has been preparing for the best but girding for the worst.
"I can't even believe that this is happening," Chavez said of the immigration impasse. "The administration talks about getting rid of chain migration and bringing in people based on their merits and degrees, and the basic language — but I have a degree in math, which not a lot of people like. I teach math in a low-income community. I have a master's degree. I speak the language. I pay my taxes. Everything that Trump is looking for, [DACA teachers] have. I don't understand why they're trying to kick us out and recruiting people with our same qualifications when we're already here."
She is not alone. In the months since Donald Trump announced the elimination of DACA and began threatening to abandon its recipients, Chavez has seen a pall of fear fall over her school's 85 percent Hispanic students, particularly among the freshman and even some sophomores, who were too young to make DACA's 15-year-old age threshold before it was canceled.
"What I have seen is students that are reluctant to share that they're undocumented, when a couple of years back it wasn't such a big deal," she explained.
To offer them hope and encourage them to open up, Chavez tells them her own up-by-her-bootstraps story of attending Cal Poly Pomona at a time when there was no DACA or chance of a teaching career, or even financial aid for undocumented college hopefuls. (Chavez graduated just before DACA came online.)
"It's tough, but it's something that can be done," she asserted. "So whenever they have questions, they come and they ask me. I have a feeling that I comfort them, but they do the opposite for me. They just make me worried, because I'm like, 'Oh my goodness, what's going to happen with them, and are they going to see education as something that is valuable?' Because I have a feeling that they might think, 'What's the point of me getting good grades if at the end of the day I might get deported?'"
The Activist
Like many California DACA teachers, 25-year-old Angelica Reyes, who is a first-year Advanced Placement history teacher in South Los Angeles, traces her decision to become an educator to the inspiration provided by her own high school history teacher.
"I grew up in East L.A. and I saw a lot of disparities, both in the education that we were receiving, but also in huge wealth inequity," she remembered. "This teacher used to engage me in a lot of really interesting conversations and challenged me to go beyond just inquiring, to try to change something in my community. So, I was involved in the project that brought in a grocery store to the community."
Reyes said this campaign transformed the way that she saw herself and her relationship to the community. "I felt like the best way to make folks feel empowered and like they mattered was through education."
So, that's what she did. She was at Pasadena City College when she received DACA protections soon after the program came into being. That enabled her to do what had previously been unthinkable: complete both her undergraduate degree at the University of California, Los Angeles and enter a master's program in UCLA's school of education.
"There wasn't ever a question in my mind of whether I was going to go to college," she recalled. "I knew that I was going to be more … My mom would always remind me that folks who have an education have more power, more agency and they're able to better advocate for themselves and for folks like them. Of course, I was worried about not being able to work in the field that I've chosen, but that's still a fear today."
It hit home in September with Trump's decision to rescind DACA. Like the other teachers in this story, Reyes came to school that day to find her kids terrified both for her sake and by the specter of the uncertainty and instability it would bring if she were removed as their teacher.
"That day," she remembered, "it was a lot of validating their existence, their feelings, and also making sure that they understood that DACA in the first place wasn't something that was granted to us. It's something that a lot of folks fought for, and that's where our communities get their power from, from advocacy and from grassroots organizing. I let them know that our federal government is very strong, but our communities are strong, too, when we come together. We can stop deportation."
---
Copyright Capital & Main
California's Schools Chief: Why a Low-Profile Job Matters — And Is Awash in Election Money
Whoever is elected Superintendent of Public Instruction in November will have a historic opportunity to correct the course of a system in which the public good has increasingly been compromised by the competing demands of private interest.
---
What makes the superintendent far more than a glorified administrator is the authority that comes with a popularly elected mandate.
---
The most persuasive evidence that the California Dream is rooted in Enlightenment notions of free public education, democratic governance and equity can be found in the state's founding document. Not only does the 1849 Constitution sketch out the contours of public schools, accountability, a funding mechanism and a Department of Education, but the framers stipulate that it be led by an elected State Superintendent of Public Instruction (SPI).
Fast-forward 169 years to the election of a new superintendent and the latest test of California's commitment to its foundational cornerstone. The stakes are high. Though California spends 40 percent (or $56 billion) of its $138 billion budget on its six-million student public school system, the past four decades have seen the state slip from among the top-five states for school funding to consistently ranking in the bottom five. Whoever is elected on November 6 will have a historic opportunity to correct the course of a system in which the public good has increasingly been compromised by the competing demands of private interest.
What, exactly, does the superintendent do? The political shorthand typically describes the $175,000-a-year position as Sacramento's elected equivalent to Betsy DeVos, the Trump-appointed U.S. Secretary of Education.
---
The superintendent can use the post's bully pulpit to act as a super-lobbyist
on behalf of students.
---
On paper, the SPI interprets regulations, sets curriculum and teaching standards, collects school accountability data and manages the day-to-day business of the sprawling California Department of Education. The superintendent is thus an implementer but not a maker of policy — which is the bailiwick of the governor and his appointed president of the State Board of Education.
But those roles represent a great deal of power, and not just for their direct impact on California students and their families. Jack O'Connell, whose two-term tenure as schools superintendent immediately preceded Tom Torlakson's election as superintendent in 2010, says the sheer size of the California Department of Education means that decisions by its superintendent reverberate far beyond state borders.
"There's an organization that all 50 state superintendents belong to," notes O'Connell, "and there's a line on their agenda — 'Hey California, what's happening?' Because [we're doing] what's going to come next [elsewhere]. So when we start requiring algebra in eighth grade, textbook companies are going to start putting algebra in eighth grade, and those are the same textbooks that other states are going to use."
What ultimately makes the SPI far more than a glorified administrator or compliance officer is the authority that comes from having a mandate. Unlike the 37 states that follow the federal model by appointing the chief executive of their education agencies, California is among a select group that gives voters the final say. Winning a statewide election translates into power, says Julian Vasquez Heilig, a professor of educational leadership and policy studies, and the director of the Doctorate in Educational Leadership at California State University, Sacramento.
"You look at other states, like Texas, [where] the Commissioner of Education is appointed. This position is different," Heilig explains. "The Superintendent of Public Instruction is not beholden to the governor but is setting an agenda for education. So it's a really important office. Teacher associations have [the superintendent race] as one of their top priorities, because they understand the sort of independence that this elected official has."
That institutional independence, plus the opportunities afforded by the SPI's automatic seat on the State Board of Education, has evolved into an almost mystical power of personal persuasion. Superintendents often refer to it as "the bully pulpit," though during the 1960s, that term was realized in its worst sense — when populist Republican segregationist Max L. Rafferty used his pulpit for declaring war on the counterculture, and became a national figure in the process.
In its best sense, however, the SPI can use those powers of persuasion and independence to act as a kind of super-lobbyist and coalition-builder from inside or outside the state schools bureaucracy to advocate for students. Democrat Bill Honig, who spent a decade in the job from 1983 to 1993, was renowned for his public battles with Republican Governor George Deukmejian. In 1990, that meant organizing a statewide resistance against Deukmejian's attempted cut of $800 million from the schools. Honig calls it the "convening power," and he credits Torlakson's mastery of it, in tandem with Jerry Brown, for transformative changes like Local Control Funding Formulas, alternative school-accountability measures and bringing Common Core to California.
"This is a very complex educational system in California, with local school districts and boards, and teachers, unions, counties, the Department of Ed and the State Board," Honig says. "I mean, there's a lot of moving parts. When we are the most effective is when we're moving in a common direction under a common philosophy, and that's what's happened in the last eight years under Brown and [board president] Michael Kirst and Tom Torlakson."
Democrat Delaine Eastin concurs. State schools superintendent from 1995 to 2003, Eastin had to operate under both the governorships of Republican Pete Wilson and Democrat Gray Davis. It was under Wilson that she similarly found herself politically isolated and facing a hostile governor, who she also had to sue for illegally withholding money from schools. She adds, however, that effective independence can also depend on the determination of the individual occupying the office.
"Having a voice at the table that's steadfast and articulate is really important," Eastin says. "The superintendent can be ineffective if the superintendent sits on his hands, or her hands. But it is important that the superintendent be nimble and to not paint with too broad a brush. … Sometimes you have to go toe to toe."
The superintendent race has already attracted the inflationary levels of campaign spending by education PACs and independent expenditure committees that critics say is rattling the integrity of California elections. But the June gubernatorial primary reached a new spending height with a political belly flop that was solely the work of a PAC controlled by the California Charter Schools Association (CCSA). In a failed attempt to boost the election hopes of pro-charter candidate Antonio Villaraigosa, the charter lobbying group dropped $22 million into the former Los Angeles mayor's flagging campaign against Lieutenant Governor Gavin Newsom.
Now, five weeks out from the general election, the only option open for charter school forces is to repeat that performance by pulling out the money stops in the superintendent's race, where Marshall Tuck, a former Los Angeles charter school operator in his second run for superintendent, is facing teachers-backed Tony Thurmond, a progressive Assemblymember and former social worker from Richmond. The two Democrats finished the primary with Tuck barely edging out Thurmond, 37 to 35.6 percent. Although officially nonpartisan, the PAC spending makes the race the latest proxy for the broader battle between progressives and neoliberals for the soul of California's fractious Democratic Party.
Because charters are ground zero for that fight in California education, it's little surprise that Tuck and Thurmond's sharpest differences revolve around fixes to the state's deeply divisive charter school law. Public schools have long complained that the law's authorization and funding mechanisms doom struggling schools and push fiscally stressed districts into insolvency. Thurmond has said he'd consider supporting a "pause" to new charters; Tuck has flatly rejected any brake to charter expansion but would give extra funding to districts hemorrhaging enrollment to keep them afloat during downsizing.
The issue has made Superintendent the only non-ballot initiative race to make the California Fair Political Practices Commission website's "Top Ten" list of heaviest PAC spending for the general election. Recent filings with California Secretary of State show the Tuck campaign far out front in the super-PAC money race, with Tuck at $14.3 million, mostly from EdVoice for the Kids PAC, a charter PAC associated with Reed Hastings, the billionaire Netflix CEO and a major charter school funder. The Thurmond campaign stands at roughly $5 million, mostly from unions. (Disclosure: Some of Thurmond's campaign contributors are financial supporters of this website.)
At the end of the day, the effectiveness of any superintendent hinges on an ability to strike an amicable working partnership with the State Board of Education and the governor — to move an agenda in "a common direction" under a common philosophy. And if bad blood left by the charter lobby's bare-knuckle primary campaign against Gavin Newsom should mean that a Superintendent Tuck wouldn't be off to a running start with a Governor Newsom, there's still plenty of common ground between the two camps on school funding, early education, California's teacher crisis and closing the achievement gap.
But whoever wins, there remains a unique opportunity for a superintendent and governor on the same philosophical page to change the paradigm for reform and bring peace to a destructive quarter-century of charter-versus-public school warfare that has come mostly at the expense of students.
---
Copyright Capital & Main