McCutcheon v. FEC: "Citizens United" on Steroids
Shaun McCutcheon (CBS News)
The U.S. Supreme Court's new term, which began yesterday, could spell a world of hurt for working Americans. People who believe this aren't simply looking at worst-case scenarios — in which, say, the conservative majority sides on every point with plaintiffs represented by the National Right to Work Legal Defense Foundation. No, their view rests on the conservatives' well-established penchant for producing rulings that go far beyond the original cases before the justices – rulings that make laws that didn't previously exist, grant awards that weren't sought and answer briefs that were never filed.
But equally as ominous as the handful of labor-related cases that will start pleadings in November is McCutcheon v. Federal Election Commission, which began arguments today.
It seems like only yesterday that the high court, in Citizens United v. Federal Election Commission, pried opened a portal to a spending orgy by lifting limits on how much corporations and unions could contribute to election campaigns. But since that 2010 ruling only affected organizations, it had no impact on the amount individuals may spend on campaigns. In this new case, Alabama coal-engineer tycoon and climate-change denier Shaun McCutcheon claims that federal election statutes deprive him of the "freedom" to bust through the current $123,200 limit on what an individual donor can give to candidates every two-year election cycle. A plaintiff victory could skew elections in favor of the rich in a way undreamt of before.

McCutcheon, like Citizens United and virtually every other right-wing attempt to return the United States to its Gilded Age of conspicuous inequality, stakes its claim on the First Amendment — it's all about free speech. The $123,200 spending ceiling on all candidates, parties and political action committees is known as the "aggregate limit" and is more than twice the American median household income. Without that limit in place, an individual could, by going through 50 state party committees, spend $3.5 million on congressional candidates in a given election cycle.
According to McCutcheon himself, "aggregate limits have become too complex and time consuming to understand." His workaround? To sue the FEC and further turn America's elections into a rich man's pastime. McCutcheon, of course, sees his fight in loftier terms.
"[I]t is about practicing democracy and being free," he says.
Last week a coalition of community, environmental and labor groups, which are part of an amicus brief filed in the case, held a telephone news conference to express their members' opposition to McCutcheon.
Larry Cohen, president of the Communication Workers of America, told listeners he believed that decisions like Citizens United had transformed the U.S. from a democracy into a plutocracy.
"The basic problem," Cohen said, "is that the Supreme Court continues to confuse the difference between money and speech, and continues to say that money equals speech. From the point of view of working families, what this leads to is a total passivity when it comes to elections and the feeling that what they say and do makes no difference."
Cohen also addressed the mantra that both corporations and labor have benefited from the court's embrace of runaway spending.
"The system is rotten," he said. "We play in it to a certain extent so that our members have a voice. But it's become a pathetic voice compared to the voice of the billionaires."
Speaking during the same news conference, Sierra Club executive director Michael Brune said, "You don't need to tell Sierra Club members and supporters why this matters. We know already. We know because we've seen Congress take more than 300 votes attacking clean air and clean water."
The court's decision might not be known until the middle of 2014. Until then the hearing transcripts of McCutcheon v. FEC will be parsed for signs of how far the court is willing to go to grant a radical interpretation of free speech, one that could declare that the rich don't merely have the right to shout "Fire!" in a crowded theater, but also have the right to burn down the theater.

Rick Scott Invested in the Same Financial Firms As Florida's Pension System
Co-published by MapLight
For most of his time in office, Florida's governor has shielded his investments from public view. A new disclosure shows Rick Scott and his wife have invested at least $18 million in financial firms managing money for the state's pension system that he oversees.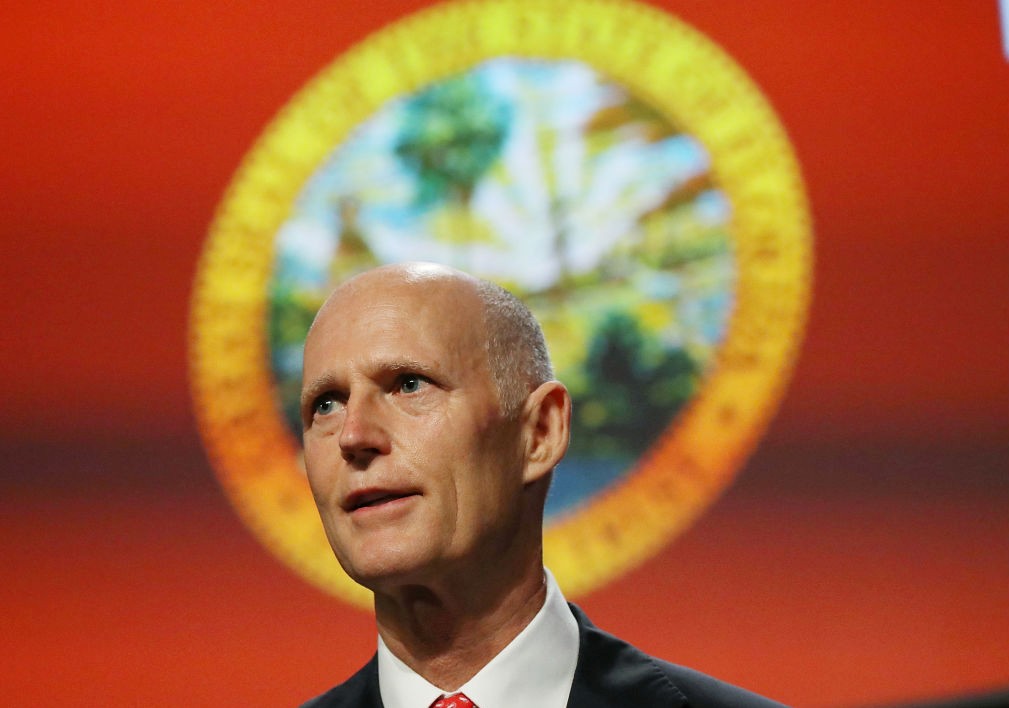 ---
Former SEC Lawyer: "There needs to be an investigation into whether the state is subsidizing Rick Scott's personal returns."
---
Co-published by MapLight
Florida Gov. Rick Scott and his wife have invested at least $18 million in three financial firms managing money for the state's pension system that Scott oversees — a situation that intertwines the governor's personal finances with his responsibility for supervising state employees' retirement savings.
The investments were first divulged in a federal financial disclosure form that Scott filed as part of his U.S. Senate campaign in July. For most of his time in office, Scott has shielded his investments from public view, and only reported their overall value in his blind trust.
The terms of Scott's investments remain undisclosed. The firms' own corporate documents say they can give certain investors special preferences not afforded to other investors — and experts have in recent years argued that hedge funds, private equity firms, and other "alternative investments" are giving such preferences to elite investors. One former Securities and Exchange Commission attorney told MapLight and Capital & Main that Scott must disclose whether he is being given such preferences.
---
Critics have raised questions about how blind the Scott family trusts really are.
---
Florida ethics laws are supposed to prohibit state officials from entering into contractual relationships with companies that do business with their agencies. However, after Scott became governor in 2011, state ethics officials said he and his family members could put their assets into a blind trust to avoid conflicts of interest and still maintain their investments in companies operating in Florida.
Critics have raised questions about how blind the Scott family trusts really are. Scott placed one of his longtime business associates in charge of managing his blind trust. The Tampa Bay Times reported that Scott's blind trust has invested with a private equity firm tied to a high-speed rail project in Florida. The trust also had an indirect interest in a cancer treatment company that received tax breaks from Scott's administration.
---
"The question is whether Rick Scott is being allowed to invest on better terms than the state pension fund."
---
"When Governor Scott was elected, he put all of his assets in a blind trust, which is managed by an independent financial professional who decides what assets are bought, sold or changed," said Scott campaign spokesperson Lauren Schenone. "The rules of the blind trust prevent any specific assets or the value of those assets within the trust from being disclosed to the governor, and those requirements have always been followed."
Scott is one of three state officials who serve as trustees for the Florida State Board of Administration, which manages a $160 billion fund for roughly 400,000 retirees. Scott, Attorney General Pam Bondi, and Chief Financial Officer Jimmy Patronis oversee lucrative state investment deals granted to cash-hungry Wall Street firms.
The three firms that have received $325 million worth of Florida pension investments have allowed the Scott family's blind trusts to simultaneously invest their personal fortunes in these funds. Scott's investments in the funds did not appear in a 2014 disclosure itemizing his holdings. His campaign did not say when the investments were made.
"There are no ethics rules that prohibit or limit a trustee from investing in funds also invested in by the SBA," said SBA spokesperson John Kuczwanski, though he added that trustees are subject to Florida's general code of ethics. Kuczwanski said that the governor has no involvement in specific pension investment decisions.
Don Hinkle, a Democratic lawyer, filed a lawsuit last year alleging that the governor has failed to comply with the state's blind trust and financial disclosure laws. He said he was surprised by the news that Scott had invested in the same firms as the Florida pension system.
"I would think that he would have avoided investments where the state of Florida's money is propping his up," Hinkle told MapLight and Capital & Main.
In 2011, a few months after Scott became governor, the SBA committed $150 million to Highline Capital Partners, a New York-based hedge fund. Scott's financial disclosure shows that his family's trusts have invested at least $4 million in the same Highline fund as the state.
The SBA also committed $100 million in 2015 to a hedge fund managed by Canyon Capital Advisors, a Los Angeles-based firm created by veterans of the notorious investment bank Drexel Burnham Lambert, which was driven into bankruptcy as a result of illegal and unethical trading practices. Scott and his family have invested at least $12 million in Canyon funds, according to his financial disclosure.
Before Scott became governor, the SBA invested $75 million with VSS, a New York-based private equity firm that was launched by a co-founder of Psychology Today. Scott and his wife, Ann, have invested more than $2.2 million in another VSS fund. A spokesperson for VSS said the firm doesn't comment on its investors.
All three firms' SEC filings say they can offer certain investors special fee terms or other benefits not offered to other investors.
"Alternative investment funds have the ability to offer every investor different fees at a different rate of return, so the question is whether Rick Scott is being allowed to invest on better terms than the state pension fund," said former SEC attorney Edward Siedle, whose Florida-based firm conducts forensic investigations of state pension systems.
"If you give one investor an advantage, another investor has to be disadvantaged," Siedle said. "That means there needs to be an investigation into whether the state is actually subsidizing Rick Scott's personal returns and whether the governor enjoys advantages that are harming the retirees."
Schenone, Scott's spokesperson, said that his blind trust has "been upheld multiple times by the State Commission on Ethics and the court system. Governor Scott has also followed the requirements of all state and federal financial filings."
She noted that former Florida Republican Gov. Jeb Bush and Scott's 2010 Democratic opponent Alex Sink had also used blind trusts, although Scott's campaign attacked Sink for hers at the time.
"Blind trusts sound good but can run afoul of state laws requiring public officials to disclose their personal finances," a Scott campaign ad said in 2010. "[But] simply moving large amounts of money into a blind trust does not magically erase the knowledge of what you own."
---
This piece was reported by Andrew Perez of MapLight and David Sirota of Capital & Main, and published in partnership with the Florida Center for Investigative Reporting.