Marvin Miller: Locked Out of Baseball's Hall of Fame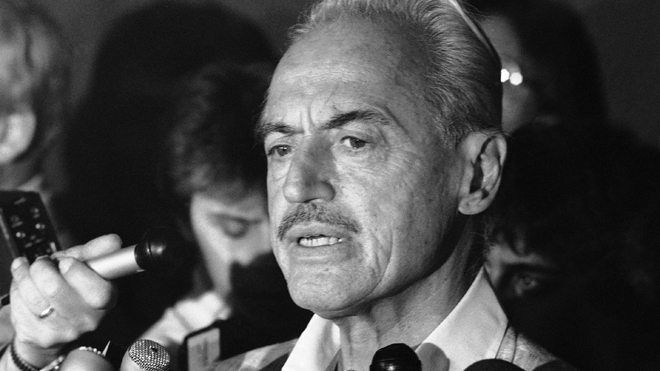 While he was alive, the baseball establishment five times rejected Marvin Miller, who freed players from indentured servitude, from its Hall of Fame. The Major League Baseball Players Association, which Miller headed from 1966 to 1983, sat on its hands, failing to raise a stink about this outrageous miscarriage of justice.
Miller, who died on Tuesday at 95, was never bitter about his exclusion from the Cooperstown shrine. As a staunch unionist, he knew which side he was on and understood that the baseball owners and executives who control the Hall of Fame would rig the rules to keep him out. The baseball moguls have always viewed their teams as personal fiefdoms and are among the most ferociously anti-union crowd around.
But what's appalling is the timidity of the Players Association to mount a campaign on Miller's behalf. Over the years, many Hall of Fame players—including Tom Seaver, Joe Morgan, Brooks Robinson, Bert Blyleven, Hank Aaron, Nolan Ryan, and Reggie Jackson—have expressed their belief that Miller deserves a place in the Hall. But they've failed to embrace a key lesson that Miller taught players after he took over the fledging union: Organize.
Miller's death should now spur the union to mobilize a crusade to get Miller the honor he clearly deserves. The union should bring together prominent Hall of Fame and rank-and-file players to hold a press conference, issue a statement, and lobby the selection committee demanding that when it next meets in December 2013, it vote Miller into Cooperstown.
Miller has been on the ballot five times, but never received enough votes, because the committees have been stacked with enough owners and executives, including some whom Miller tangled with as head of the players union, to assure his exclusion. During the last vote in 2010, for example, Miller received 11 out of 16 votes cast, one less than the 75 percent needed to gain entry. Although the votes are secret, it is likely that the committee's four baseball executives—Phillies owner Bill Giles, former Cubs and Orioles executive Andy MacPhail, White Sox owner Jerry Reinsdorf, and David Glass, the former Walmart CEO who owns the Kansas City Royals—voted against Miller. Veteran Hall of Fame observes believe that the fifth anti-Miller vote was probably Whitey Herzog, a former manager.
Over the years, the Hall of Fame has inducted many second-rate baseball owners and executives who had little impact on the game. Several former baseball commissioners—including the incompetent Bowie Kuhn, who lost every battle he fought with Miller—have their own plaques in Cooperstown.
In contrast to these midgets, Miller was a giant. Baseball experts overwhelmingly agree with the great Hall of Fame broadcaster Red Barber, who said that Miller was one of the three most important figures in baseball history, along with Babe Ruth and Jackie Robinson. Even Bud Selig, the former Milwaukee Brewers owner who has been the baseball commissioner since 1998, has said he agrees that Miller belongs in the Hall.
Under Miller's leadership—which included teaching players about labor history and labor law, giving them a sense of their own power, and training them how to outmaneuver the owners during negotiating sessions—the players won a democratic voice in their workplaces and dramatically improved their pay, pensions, and working conditions.
As part of his 1999 Hall of Fame induction speech, Nolan Ryan reminded the audience that when he broke into the major leagues in 1966, he had to spend the winter months working at a gas station from 3 p.m. to 9 p.m., while his wife worked at a local bookstore, to make ends meet. Because of Miller's efforts, Ryan said, "we brought that level up to where the players weren't put in that situation."
Until 1966, the players union was a toothless tiger. That year, future Hall of Fame pitchers Robin Roberts and Jim Bunning recruited Miller, an economist for the steelworkers union, to serve as the players association's first full-time director and help transform the sport's outdated labor relations. During his initial meetings with players, Miller explained: "If at any point the owners start singing my praises, there's only one thing for you to do, and that's fire me. And I'm not kidding."
Initially, even some players, glad just to be getting paid to put on a uniform, resisted the union idea. Most sportswriters at the time sided with the management, severely attacking Miller and the union.
The owners, and their hired commissioners, fought Miller at every turn. Like all business leaders, baseball's owners warned that the union, higher wages and stronger workplace rules would destroy the industry. In fact, baseball is more popular and prosperous than ever. Last year, Major League Baseball had over $6 billion in revenues and 74.8 million in attendance, the fifth highest in history. Rather than stifle baseball's prosperity, the union simply gave players the power to win a greater share of their employers' growing revenues.
Before the union could challenge the owners, however, Miller had to get the players to stand up for themselves. "People today don't understand how beaten down the players were back then," Miller told us last year. "The players had low self-esteem, as any people in their position would have—like baggage owned by the clubs."
Miller instructed ballplayers in the ABCs of trade unionism: fight for your rights to be treated as more than property, stick together against management, work on behalf of players who came before you and who would come after you, prepare yourself–professionally and financially–for life after your playing days are over, and don't allow owners to divide players by race, income or their place in the celebrity pecking order.
And like any good union negotiator, Miller helped the players focus on pension issues. Most professional athletes are lucky to have ten-year careers. The average stay in the big leagues for baseball players is 5.6 years—but less for pitchers. So increasing payments and shortening the number of years needed to qualify for a pension became critical issues.
The 1972 baseball strike was primarily about pensions for players. Today, even baseball players who had short and less-than-illustrious careers have good retirement benefits. Duane Kuiper—a second baseman for the Cleveland Indians and San Francisco Giants from 1974 to 1985—told the San Francisco Chronicle, "I don't think any of us really appreciated Marvin until we all got older."
Before Miller, players had no rights to determine the conditions of their employment. They were tethered to their teams through the "reserve clause" in every player's contract. Those contracts were limited to one season. The contracts "reserved" the team's right to "retain" the player for the next season. Each year, the team owners told players: Take it or leave it.
The players had no leverage to negotiate better deals. Even superstars went hat-in-hand to owners at the end of the season, begging for a raise.
Two years after Miller took the union's reins, the players association negotiated its first collective bargaining agreement. It established players' rights to binding arbitration over salaries and grievances.
Players also won the right to have agents to negotiate their contracts. In 1976, they won the right to become free agents. This gave players the right to decide for themselves which employer they wanted to work for, to veto proposed trades, and to bargain for the best contract. The players association also won increased per-diem allowances, improvements in travel conditions and better training facilities, locker room conditions and medical treatment.
"The difference between a ballplayer's being required to accept whatever a club offered him, as had been the case almost from the beginning of professional baseball, and the new system of salary arbitration was like the difference between dictatorship and democracy," Miller wrote in his 1991 autobiography, A Whole Different Ball Game.
In 1980, the owners sought to regain control over the players by demanding that each team receive compensation for free agents, a move designed to weaken the free agency system. The owners knew that their demand would provoke a players strike, but they figured that they could outlast the players. They miscalculated. The players voted 967 to 1 in favor of a strike. After more than a year of negotiations, the owners refused to budge. So on June 12, 1981, the players walked out. With the Players Association keeping the players informed about the ongoing talks, they stuck together, from superstar outfielder Dave Winfield (who lost roughly $7,770 for each day of the strike) to players earning the minimum salary of $32,5000 (who lost about $180 a day). On August 10, after 50 days and 712 cancelled games, the owners caved in.
"From the standpoint of labor it was the most principled strike I've ever been associated with," recalled Miller, who took himself off the Players Association payroll during the strike to demonstrate his own solidarity. "Many of the players struck not for a better deal for themselves but for a better deal for their colleagues, and for the players who would be coming into baseball in the future…There were veterans on every team who remembered how it used to be and the role of union solidarity in changing things."
The Major League Baseball Players Association is now the most successful union in the country. In 1967, the minimum salary was $6,000 and the average salary was $19,000. The first collective bargaining agreement the next year raised the minimum to $10,000. By the time Miller retired, the average player salary had increased to $240,000. Today, the minimum salary is $480,000 and the average salary is $3.1 million.
Pro athletes in other major team sports—football, basketball and hockey—saw what Miller accomplished and eventually won the same bargaining rights as their baseball compatriots. No other figure in history comes close to Miller in terms of his role in revolutionizing the American sports business. So the petty baseball moguls, determined to win retribution, have kept him out of their Cooperstown shrine.
In an interview with us, Miller said he wasn't concerned about getting into the Hall. He was satisfied with his legacy of turning the players union into a powerful force and a model for what a strong labor movement could achieve. After being rejected five times, he said, "I told myself it wasn't going to happen."
But simple justice requires that Miller be admitted to the Hall of Fame. He was baseball's Moses, leading the players out of slavery.
If a significant number of Hall of Famers and rank-and-file players join the crusade, it will be difficult for the next selection committee to reject Miller for the sixth time. Every player who donned a major league uniform over the past 40 years owes a huge debt of gratitude to Miller. They can repay it by acting like union members and mobilizing a campaign to pressure the Hall of Fame to end its blacklist of this remarkable labor and sports pioneer.
Peter Dreier teaches politics at Occidental College and is the author of The 100 Greatest Americans of the 20th Century: A Social Justice Hall of Fame.
Kelly Candaele is a Los Angeles writer who produced the documentary A League of Their Own.
This post first appeared on the American Propsect and is republished with permission.

'Skeleton Crew' Is a Play With a Moral Spine
Set in a Detroit automobile outfitting plant, Dominique Morisseau's drama grabs you from the start with its focus on blue-collar men and women, and their struggle for dignity and self-respect.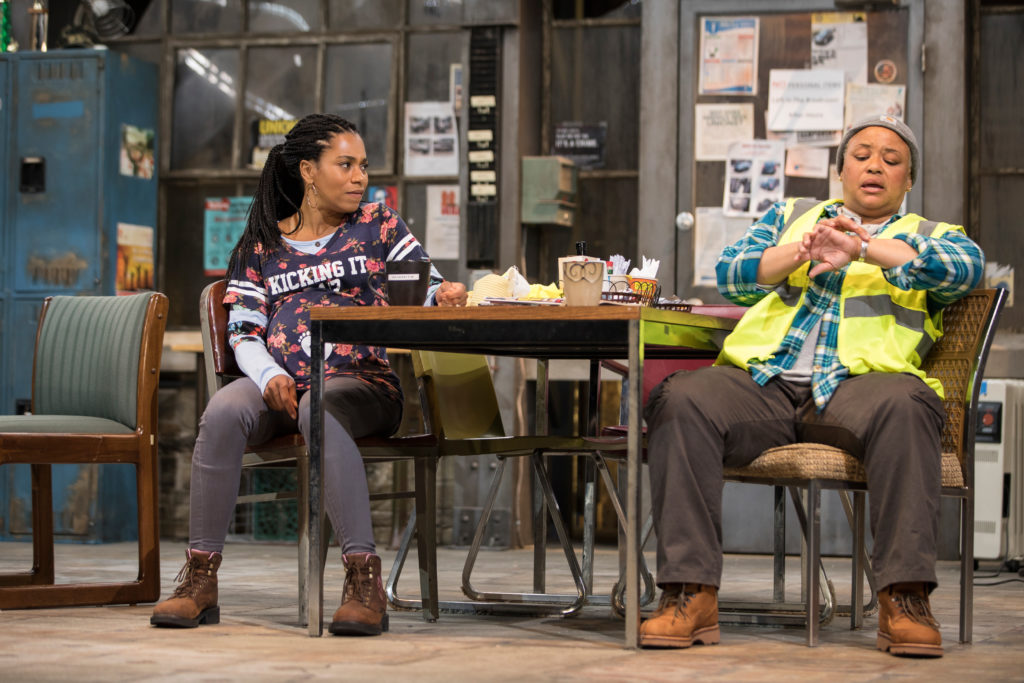 Working-class men and women of color are rarely front and center in today's media and, likewise, are presented all too occasionally on the American stage. So it's buoying to see that trend bucked in playwright Dominique Morisseau's percipient and well-crafted drama, Skeleton Crew. The play is the final installment in her Detroit  Project Trilogy; the first, Paradise Blue, is set in the 1940s amidst displacement caused by urban renewal and gentrification, while the second, Detroit '67, transpires on the eve of the 1967 Detroit riots sparked by a police action.
Directed by Patricia McGregor at Los Angeles' Geffen Playhouse, Skeleton Crew is a play with a moral spine. It takes place in 2008, when the shrinking U.S. auto industry is being further downsized. Morisseau's engaging quartet of characters — Faye (Caroline Stefanie Clay), Dez (Armari Cheatom), Shanita (Kelly McCreary) and Reggie (DB Woodside) – are employed at an automobile outfitting plant. Faye, Dez and Shanita are workers on the line while Reggie (who has a wife and kids, and has pulled himself together after a troubled youth) is their supervisor.
The first three customarily mingle in their break room (designer Rachel Myers' impressively cluttered, dingy and detailed set), trading the sort of familiar barbs and genuine concern for each other common among longtime co-workers. They also face off on philosophy: Upper-middle-aged Faye and the younger, pregnant Shanita take pride in their labor, while Dez, though a good worker, is a malcontent scornful of management and firm in the belief that everyone needs to watch out for himself. He's a thorn in Reggie's side, for while Reggie wants to be supportive of his workers, he must act at the behest of higher management. For his part, Dez resents Reggie's authority, and a palpable unease exists between them.
Besides this male matchup, we're made privy to Dez's attraction to Shanita, who mostly turns away his advances, but every now and then displays a hint of interest. Most poignant is Reggie's regard and affection for the lesbian Faye, which has roots in his boyhood when she loved, and lived, with his now-deceased mom.
These people's various predicaments intensify when rumors spread of the plant's shutdown — a disaster for all, but a particular calamity for the already near-broke Faye who, one year short of retirement, would lose her pension. The crisis forces each of these people to make a choice.
A sound piece of social realism, Skeleton Crew grabs you from the start in its focus on blue-collar men and women, and their struggle against odds for dignity and self-respect. Morisseau not only furnishes these characters a platform for their travails, she endows them with strong values, big hearts and the opportunity to choose between right and wrong.
Unfortunately, the performance I attended did not soar. Many exchanges lacked a fresh edge. The actors certainly had their characters down, but too often they appeared to be coasting on technique. (This seemed particularly true of Clay, who performed the role to great accolades in Washington, DC in 2017, also under McGregor's direction). Additionally, some of the stage movement was not entirely fluid; in confrontations, actors sometimes would just stand and face each other in an artificial way. And Cheatom's interpretation of Dez struck me as a bit overly churlish and depressive: I needed more glimpses of the intelligence and edge that would secretly attract the strong, self-directed Shanita.
The most compelling moments belong to Woodside, well-cast as a man trying his best in difficult circumstances to do the right thing.
---
Gil Cates Theater at the Geffen Playhouse, 10886 Le Conte Ave., Westwood Village; Tues.-Fri., 8 p.m.; Sat., 3 & 8 p.m. Sun., 2 & 7 p.m.; through July 8. (310) 208-5454 or www.geffenplayhouse.org