Marvin Miller: Locked Out of Baseball's Hall of Fame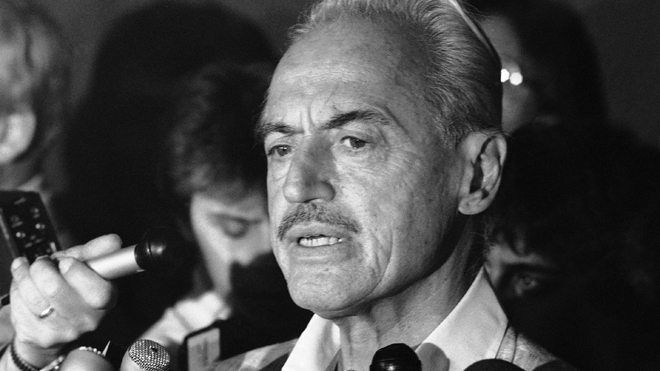 While he was alive, the baseball establishment five times rejected Marvin Miller, who freed players from indentured servitude, from its Hall of Fame. The Major League Baseball Players Association, which Miller headed from 1966 to 1983, sat on its hands, failing to raise a stink about this outrageous miscarriage of justice.
Miller, who died on Tuesday at 95, was never bitter about his exclusion from the Cooperstown shrine. As a staunch unionist, he knew which side he was on and understood that the baseball owners and executives who control the Hall of Fame would rig the rules to keep him out. The baseball moguls have always viewed their teams as personal fiefdoms and are among the most ferociously anti-union crowd around.
But what's appalling is the timidity of the Players Association to mount a campaign on Miller's behalf. Over the years, many Hall of Fame players—including Tom Seaver, Joe Morgan, Brooks Robinson, Bert Blyleven, Hank Aaron, Nolan Ryan, and Reggie Jackson—have expressed their belief that Miller deserves a place in the Hall. But they've failed to embrace a key lesson that Miller taught players after he took over the fledging union: Organize.
Miller's death should now spur the union to mobilize a crusade to get Miller the honor he clearly deserves. The union should bring together prominent Hall of Fame and rank-and-file players to hold a press conference, issue a statement, and lobby the selection committee demanding that when it next meets in December 2013, it vote Miller into Cooperstown.
Miller has been on the ballot five times, but never received enough votes, because the committees have been stacked with enough owners and executives, including some whom Miller tangled with as head of the players union, to assure his exclusion. During the last vote in 2010, for example, Miller received 11 out of 16 votes cast, one less than the 75 percent needed to gain entry. Although the votes are secret, it is likely that the committee's four baseball executives—Phillies owner Bill Giles, former Cubs and Orioles executive Andy MacPhail, White Sox owner Jerry Reinsdorf, and David Glass, the former Walmart CEO who owns the Kansas City Royals—voted against Miller. Veteran Hall of Fame observes believe that the fifth anti-Miller vote was probably Whitey Herzog, a former manager.
Over the years, the Hall of Fame has inducted many second-rate baseball owners and executives who had little impact on the game. Several former baseball commissioners—including the incompetent Bowie Kuhn, who lost every battle he fought with Miller—have their own plaques in Cooperstown.
In contrast to these midgets, Miller was a giant. Baseball experts overwhelmingly agree with the great Hall of Fame broadcaster Red Barber, who said that Miller was one of the three most important figures in baseball history, along with Babe Ruth and Jackie Robinson. Even Bud Selig, the former Milwaukee Brewers owner who has been the baseball commissioner since 1998, has said he agrees that Miller belongs in the Hall.
Under Miller's leadership—which included teaching players about labor history and labor law, giving them a sense of their own power, and training them how to outmaneuver the owners during negotiating sessions—the players won a democratic voice in their workplaces and dramatically improved their pay, pensions, and working conditions.
As part of his 1999 Hall of Fame induction speech, Nolan Ryan reminded the audience that when he broke into the major leagues in 1966, he had to spend the winter months working at a gas station from 3 p.m. to 9 p.m., while his wife worked at a local bookstore, to make ends meet. Because of Miller's efforts, Ryan said, "we brought that level up to where the players weren't put in that situation."
Until 1966, the players union was a toothless tiger. That year, future Hall of Fame pitchers Robin Roberts and Jim Bunning recruited Miller, an economist for the steelworkers union, to serve as the players association's first full-time director and help transform the sport's outdated labor relations. During his initial meetings with players, Miller explained: "If at any point the owners start singing my praises, there's only one thing for you to do, and that's fire me. And I'm not kidding."
Initially, even some players, glad just to be getting paid to put on a uniform, resisted the union idea. Most sportswriters at the time sided with the management, severely attacking Miller and the union.
The owners, and their hired commissioners, fought Miller at every turn. Like all business leaders, baseball's owners warned that the union, higher wages and stronger workplace rules would destroy the industry. In fact, baseball is more popular and prosperous than ever. Last year, Major League Baseball had over $6 billion in revenues and 74.8 million in attendance, the fifth highest in history. Rather than stifle baseball's prosperity, the union simply gave players the power to win a greater share of their employers' growing revenues.
Before the union could challenge the owners, however, Miller had to get the players to stand up for themselves. "People today don't understand how beaten down the players were back then," Miller told us last year. "The players had low self-esteem, as any people in their position would have—like baggage owned by the clubs."
Miller instructed ballplayers in the ABCs of trade unionism: fight for your rights to be treated as more than property, stick together against management, work on behalf of players who came before you and who would come after you, prepare yourself–professionally and financially–for life after your playing days are over, and don't allow owners to divide players by race, income or their place in the celebrity pecking order.
And like any good union negotiator, Miller helped the players focus on pension issues. Most professional athletes are lucky to have ten-year careers. The average stay in the big leagues for baseball players is 5.6 years—but less for pitchers. So increasing payments and shortening the number of years needed to qualify for a pension became critical issues.
The 1972 baseball strike was primarily about pensions for players. Today, even baseball players who had short and less-than-illustrious careers have good retirement benefits. Duane Kuiper—a second baseman for the Cleveland Indians and San Francisco Giants from 1974 to 1985—told the San Francisco Chronicle, "I don't think any of us really appreciated Marvin until we all got older."
Before Miller, players had no rights to determine the conditions of their employment. They were tethered to their teams through the "reserve clause" in every player's contract. Those contracts were limited to one season. The contracts "reserved" the team's right to "retain" the player for the next season. Each year, the team owners told players: Take it or leave it.
The players had no leverage to negotiate better deals. Even superstars went hat-in-hand to owners at the end of the season, begging for a raise.
Two years after Miller took the union's reins, the players association negotiated its first collective bargaining agreement. It established players' rights to binding arbitration over salaries and grievances.
Players also won the right to have agents to negotiate their contracts. In 1976, they won the right to become free agents. This gave players the right to decide for themselves which employer they wanted to work for, to veto proposed trades, and to bargain for the best contract. The players association also won increased per-diem allowances, improvements in travel conditions and better training facilities, locker room conditions and medical treatment.
"The difference between a ballplayer's being required to accept whatever a club offered him, as had been the case almost from the beginning of professional baseball, and the new system of salary arbitration was like the difference between dictatorship and democracy," Miller wrote in his 1991 autobiography, A Whole Different Ball Game.
In 1980, the owners sought to regain control over the players by demanding that each team receive compensation for free agents, a move designed to weaken the free agency system. The owners knew that their demand would provoke a players strike, but they figured that they could outlast the players. They miscalculated. The players voted 967 to 1 in favor of a strike. After more than a year of negotiations, the owners refused to budge. So on June 12, 1981, the players walked out. With the Players Association keeping the players informed about the ongoing talks, they stuck together, from superstar outfielder Dave Winfield (who lost roughly $7,770 for each day of the strike) to players earning the minimum salary of $32,5000 (who lost about $180 a day). On August 10, after 50 days and 712 cancelled games, the owners caved in.
"From the standpoint of labor it was the most principled strike I've ever been associated with," recalled Miller, who took himself off the Players Association payroll during the strike to demonstrate his own solidarity. "Many of the players struck not for a better deal for themselves but for a better deal for their colleagues, and for the players who would be coming into baseball in the future…There were veterans on every team who remembered how it used to be and the role of union solidarity in changing things."
The Major League Baseball Players Association is now the most successful union in the country. In 1967, the minimum salary was $6,000 and the average salary was $19,000. The first collective bargaining agreement the next year raised the minimum to $10,000. By the time Miller retired, the average player salary had increased to $240,000. Today, the minimum salary is $480,000 and the average salary is $3.1 million.
Pro athletes in other major team sports—football, basketball and hockey—saw what Miller accomplished and eventually won the same bargaining rights as their baseball compatriots. No other figure in history comes close to Miller in terms of his role in revolutionizing the American sports business. So the petty baseball moguls, determined to win retribution, have kept him out of their Cooperstown shrine.
In an interview with us, Miller said he wasn't concerned about getting into the Hall. He was satisfied with his legacy of turning the players union into a powerful force and a model for what a strong labor movement could achieve. After being rejected five times, he said, "I told myself it wasn't going to happen."
But simple justice requires that Miller be admitted to the Hall of Fame. He was baseball's Moses, leading the players out of slavery.
If a significant number of Hall of Famers and rank-and-file players join the crusade, it will be difficult for the next selection committee to reject Miller for the sixth time. Every player who donned a major league uniform over the past 40 years owes a huge debt of gratitude to Miller. They can repay it by acting like union members and mobilizing a campaign to pressure the Hall of Fame to end its blacklist of this remarkable labor and sports pioneer.
Peter Dreier teaches politics at Occidental College and is the author of The 100 Greatest Americans of the 20th Century: A Social Justice Hall of Fame.
Kelly Candaele is a Los Angeles writer who produced the documentary A League of Their Own.
This post first appeared on the American Propsect and is republished with permission.
Filmmaker Adam McKay Talks About Dick Cheney and the Imperial Presidency
"Our democracy at its root is about the throne," says the creator of Vice. "But what Cheney tried to do was bring the power back to one person on that throne."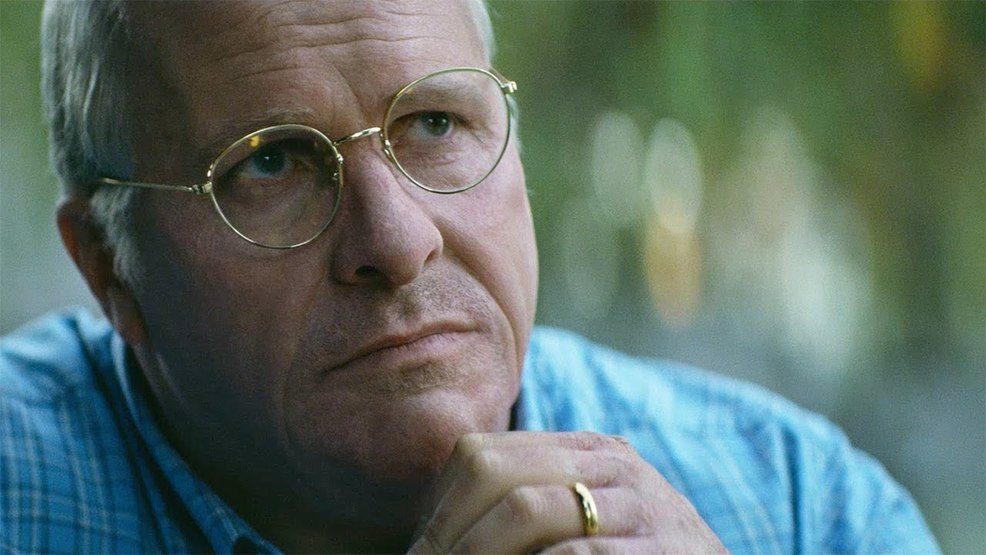 Vice President Dick Cheney quickly faded into the background after leaving the Bush White House in 2009. But while many may not remember the ins and outs of Cheney's record, the recent film Vice argues that he was one of the most powerful and influential architects of the current world, and that Cheney intensified the emergencies facing America today.
Capital & Main reporter David Sirota spoke with Vice screenwriter and director Adam McKay, who had taken on the project after winning an Academy Award for screenwriting on his previous movie, The Big Short.
Vice has been nominated for eight Oscars, including Best Picture — but has also generated its share of controversy. McKay discusses some of the criticism of the film here, along with the twists and turns of the life of Cheney, who rose to become arguably the most potent vice president in American history. The following interview excerpt has been edited for concision and clarity.
---
David Sirota: Do you believe that we are today living in the world that Dick Cheney created?
Adam McKay: Without a doubt, yeah. Trump is a force of charisma, but not in a good way. He's perfect for the 24-hour news cycle — no one knows how to dominate it better than him.
But the actual structural changes that happen to our government, to regulations, to the way we view democracy, to the way the American people interact with government … those changes happened under the hand [of] a grand master of bureaucratic knowledge, Dick Cheney. You look at the Middle East. You look into visions that were widened. I'd definitely go to that period and I say at the center of it, expanding executive power, was Dick Cheney.
There's a scene in the movie where a young Cheney is depicted as not all that partisan — it almost made it seem like him choosing a job with a Democratic or Republican lawmaker was completely random. Is that true to life?
It's not that far off. Cheney's dad was an FDR Democrat. [Dick Cheney] had no interest in politics at all through high school…The first time he really started getting any taste for feet-on-the-floor politics was when he was getting [his] master's up in the University of Wisconsin. He did intern for a Republican, handed out buttons and stuff. We interviewed some people from his early days. He was not an ideologically driven guy.
What he knew was that when he went to D.C. he needed a rocket ship. He needed to get something going. Lynne wasn't entirely happy about him taking this fellowship. She wanted him to get a Ph.D. and become a professor. That was what she always pictured that they would do. So he had to get something going quick when he got to D.C. because he wasn't making any money. And if you wanna get something going quick in the late '60s in Washington, D.C., Donald Rumsfeld was your guy.
What do you think radicalized Dick Cheney and made him such an ideologue?
The first radicalization was just the environment he kind of came of age in, which was the Nixon White House and the Ford White House, which were all about executive power — the imperial presidency. And then his conversation about the unitary executive theory with a young [Antonin] Scalia, who was a lawyer in the Justice Department.
Everything that I found with Cheney goes back to the unitary executive theory. You look at his minority opinion that he wrote on the Iran-Contra affair with David Addington. They actually have several lines in it where they say the president has monarchical-like powers.
The radicalization of Cheney, to me, is two steps. Number one is the political environment he grew up in, [and then] introduction to the unitary executive — [which] was weaponized by 9/11. Especially when he said, "Give me all the unfiltered intelligence." A lot of Washington insiders said, "Anyone who would do that — [it] would drive them crazy." One guy described it as like "listening to Led Zeppelin full volume, 24 hours a day."
So I think he was already an extreme right-winger who then came into collision course with this very traumatic event, 9/11.
Your movie depicts Cheney as motivated by the acquisition of power — but do you believe he had specific policy goals beyond that?
As far as policy goals go, war is the key to being able to use these sorts of unparalleled powers. Some legal scholars would call [these] insane powers. So I always felt like Cheney was putting together these pieces of power to expand his own power … which I do believe made him a power addict … His wife's desire for power, and by extension, America's desire for power, which did fit neatly with the neocons.
But I also think invading Iraq did two things. It activated the unitary executive theory — [if] writings from the DOJ [Department of Justice] that came about at that time were filled with references to the unitary executive theory.
And yes, the oil too, was a part of it. Cheney also is an oil guy. He grew up in an oil state, Wyoming That was his whole life. All his friends are oil guys. I always look at Cheney as a right-hand man, and I think that he serves power: Sometimes that power is oil barons, other times that power is a presidency — the notion of a powerful presidency.
So I think Iraq was sort of a mishmash of ideas. I think it was unitary executive and I think it was definitely oil, and I think it was most of all expansion of executive power and a show of force to the world.
What are the most significant and lasting parts of Cheney's legacy?
I would just say in general, those eight years of Bush and Cheney were so dispiriting that they made a lot of people kind of give up on government. And the fact that we can't fix something that really can be improved pretty easily and pretty quickly, like the opioid epidemic or like gun safety laws. Those are things that 30, 40 years ago we would've had bills passed on the issue. We would've seen fewer deaths within a year, within two years. Even the assault weapon ban, you saw deaths go down after that…
Then, obviously, the Middle East is just a wreck. Our friend, Adam Davidson, had a friend of his, a journalist, go to Iraq recently and come back and just say, "It's awful. It's completely undone." And obviously, with what happened in Syria, ISIS, all that kind of stuff. Those are the clear, kind of bad effects of Cheney and I would say the rise of this particular form of the Republican Party.
Much of your film resurrects events that have been forgotten in the American psyche, because we have this tendency to venerate leaders the moment they leave office. It's as if presidents and their administrations suddenly get immunity from retrospective scrutiny. Why do you think that is?
I feel a lot of this goes back to the pardoning of Nixon. That's a bad, bad thing. I think he should've done some time. I think it's important to not imbue these leaders with king-like mystical properties. Do you remember Jerry Lewis saying, "We should never criticize the president"?
I think we just like the idea of powerful people. We like the idea of a king. We like the idea of these celebrities that get treated like kings. Why did the Bushes keep getting elected to office? Why did the Kennedys keep getting elected to office after several of them did pretty terrible things? We just like that idea. We like the idea that some people's blood is more special than ours. I don't know why. It's really deranged…
Our democracy at its root is about the throne. What they tried to do with the Constitution, the original people that wrote it, was break up the power so you don't have one crazy guy sitting in the throne. But what Cheney tried to do was bring the power back to one person on that throne…
I guess my answer is democracy is still really new, and clearly it's not going well right now. And I think we're going to have to have a whole moment where we look at it and fix a bunch of stuff because parts of it aren't working too well.
Many people say Donald Trump's administration is the worst in American history. After doing a movie on Cheney and the Bush administration, do you agree?
Everyone wants things to be ranked and compared to each other. The real answer is that there is a safe that was filled with diamonds that represent our democracy and checks and balances. They couldn't get a goon like Donald Trump to go in and crack the safe because he doesn't even read books. Like he's not an educated guy.
So they had to go get an expert like Dick Cheney to go in there. Dick Cheney went in, he cracked the safe, he took all the jewels out of the safe, he exited the store, he left the front door wide open. Then after an hour some stray dogs wandered into the store and started crapping all over the place and peeing everywhere. And then when the owner went in, one of the dogs bit him and he said, "These dogs are the worst."
That, to me, is Cheney versus Trump. Yeah. Cheney cracked the safe, Trump is the strange bizarre dude who wandered in (and) took a crap in the store…The police arrest the street guy because look, he took a crap. He's in the store. Meanwhile, Cheney is across town giving W. Bush one diamond while he takes the other 99 and W. Bush is delighted with the one diamond.
---