Marvin Miller: Locked Out of Baseball's Hall of Fame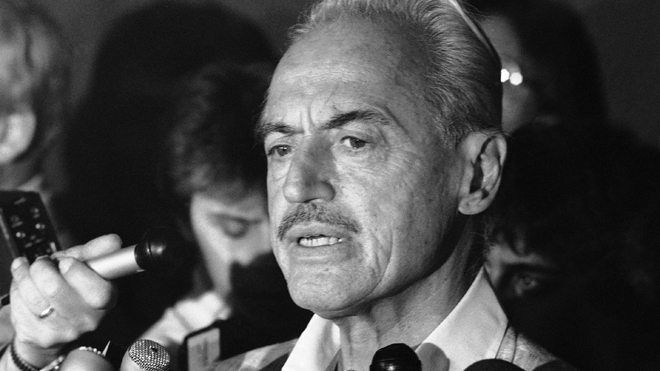 While he was alive, the baseball establishment five times rejected Marvin Miller, who freed players from indentured servitude, from its Hall of Fame. The Major League Baseball Players Association, which Miller headed from 1966 to 1983, sat on its hands, failing to raise a stink about this outrageous miscarriage of justice.
Miller, who died on Tuesday at 95, was never bitter about his exclusion from the Cooperstown shrine. As a staunch unionist, he knew which side he was on and understood that the baseball owners and executives who control the Hall of Fame would rig the rules to keep him out. The baseball moguls have always viewed their teams as personal fiefdoms and are among the most ferociously anti-union crowd around.
But what's appalling is the timidity of the Players Association to mount a campaign on Miller's behalf. Over the years, many Hall of Fame players—including Tom Seaver, Joe Morgan, Brooks Robinson, Bert Blyleven, Hank Aaron, Nolan Ryan, and Reggie Jackson—have expressed their belief that Miller deserves a place in the Hall. But they've failed to embrace a key lesson that Miller taught players after he took over the fledging union: Organize.
Miller's death should now spur the union to mobilize a crusade to get Miller the honor he clearly deserves. The union should bring together prominent Hall of Fame and rank-and-file players to hold a press conference, issue a statement, and lobby the selection committee demanding that when it next meets in December 2013, it vote Miller into Cooperstown.
Miller has been on the ballot five times, but never received enough votes, because the committees have been stacked with enough owners and executives, including some whom Miller tangled with as head of the players union, to assure his exclusion. During the last vote in 2010, for example, Miller received 11 out of 16 votes cast, one less than the 75 percent needed to gain entry. Although the votes are secret, it is likely that the committee's four baseball executives—Phillies owner Bill Giles, former Cubs and Orioles executive Andy MacPhail, White Sox owner Jerry Reinsdorf, and David Glass, the former Walmart CEO who owns the Kansas City Royals—voted against Miller. Veteran Hall of Fame observes believe that the fifth anti-Miller vote was probably Whitey Herzog, a former manager.
Over the years, the Hall of Fame has inducted many second-rate baseball owners and executives who had little impact on the game. Several former baseball commissioners—including the incompetent Bowie Kuhn, who lost every battle he fought with Miller—have their own plaques in Cooperstown.
In contrast to these midgets, Miller was a giant. Baseball experts overwhelmingly agree with the great Hall of Fame broadcaster Red Barber, who said that Miller was one of the three most important figures in baseball history, along with Babe Ruth and Jackie Robinson. Even Bud Selig, the former Milwaukee Brewers owner who has been the baseball commissioner since 1998, has said he agrees that Miller belongs in the Hall.
Under Miller's leadership—which included teaching players about labor history and labor law, giving them a sense of their own power, and training them how to outmaneuver the owners during negotiating sessions—the players won a democratic voice in their workplaces and dramatically improved their pay, pensions, and working conditions.
As part of his 1999 Hall of Fame induction speech, Nolan Ryan reminded the audience that when he broke into the major leagues in 1966, he had to spend the winter months working at a gas station from 3 p.m. to 9 p.m., while his wife worked at a local bookstore, to make ends meet. Because of Miller's efforts, Ryan said, "we brought that level up to where the players weren't put in that situation."
Until 1966, the players union was a toothless tiger. That year, future Hall of Fame pitchers Robin Roberts and Jim Bunning recruited Miller, an economist for the steelworkers union, to serve as the players association's first full-time director and help transform the sport's outdated labor relations. During his initial meetings with players, Miller explained: "If at any point the owners start singing my praises, there's only one thing for you to do, and that's fire me. And I'm not kidding."
Initially, even some players, glad just to be getting paid to put on a uniform, resisted the union idea. Most sportswriters at the time sided with the management, severely attacking Miller and the union.
The owners, and their hired commissioners, fought Miller at every turn. Like all business leaders, baseball's owners warned that the union, higher wages and stronger workplace rules would destroy the industry. In fact, baseball is more popular and prosperous than ever. Last year, Major League Baseball had over $6 billion in revenues and 74.8 million in attendance, the fifth highest in history. Rather than stifle baseball's prosperity, the union simply gave players the power to win a greater share of their employers' growing revenues.
Before the union could challenge the owners, however, Miller had to get the players to stand up for themselves. "People today don't understand how beaten down the players were back then," Miller told us last year. "The players had low self-esteem, as any people in their position would have—like baggage owned by the clubs."
Miller instructed ballplayers in the ABCs of trade unionism: fight for your rights to be treated as more than property, stick together against management, work on behalf of players who came before you and who would come after you, prepare yourself–professionally and financially–for life after your playing days are over, and don't allow owners to divide players by race, income or their place in the celebrity pecking order.
And like any good union negotiator, Miller helped the players focus on pension issues. Most professional athletes are lucky to have ten-year careers. The average stay in the big leagues for baseball players is 5.6 years—but less for pitchers. So increasing payments and shortening the number of years needed to qualify for a pension became critical issues.
The 1972 baseball strike was primarily about pensions for players. Today, even baseball players who had short and less-than-illustrious careers have good retirement benefits. Duane Kuiper—a second baseman for the Cleveland Indians and San Francisco Giants from 1974 to 1985—told the San Francisco Chronicle, "I don't think any of us really appreciated Marvin until we all got older."
Before Miller, players had no rights to determine the conditions of their employment. They were tethered to their teams through the "reserve clause" in every player's contract. Those contracts were limited to one season. The contracts "reserved" the team's right to "retain" the player for the next season. Each year, the team owners told players: Take it or leave it.
The players had no leverage to negotiate better deals. Even superstars went hat-in-hand to owners at the end of the season, begging for a raise.
Two years after Miller took the union's reins, the players association negotiated its first collective bargaining agreement. It established players' rights to binding arbitration over salaries and grievances.
Players also won the right to have agents to negotiate their contracts. In 1976, they won the right to become free agents. This gave players the right to decide for themselves which employer they wanted to work for, to veto proposed trades, and to bargain for the best contract. The players association also won increased per-diem allowances, improvements in travel conditions and better training facilities, locker room conditions and medical treatment.
"The difference between a ballplayer's being required to accept whatever a club offered him, as had been the case almost from the beginning of professional baseball, and the new system of salary arbitration was like the difference between dictatorship and democracy," Miller wrote in his 1991 autobiography, A Whole Different Ball Game.
In 1980, the owners sought to regain control over the players by demanding that each team receive compensation for free agents, a move designed to weaken the free agency system. The owners knew that their demand would provoke a players strike, but they figured that they could outlast the players. They miscalculated. The players voted 967 to 1 in favor of a strike. After more than a year of negotiations, the owners refused to budge. So on June 12, 1981, the players walked out. With the Players Association keeping the players informed about the ongoing talks, they stuck together, from superstar outfielder Dave Winfield (who lost roughly $7,770 for each day of the strike) to players earning the minimum salary of $32,5000 (who lost about $180 a day). On August 10, after 50 days and 712 cancelled games, the owners caved in.
"From the standpoint of labor it was the most principled strike I've ever been associated with," recalled Miller, who took himself off the Players Association payroll during the strike to demonstrate his own solidarity. "Many of the players struck not for a better deal for themselves but for a better deal for their colleagues, and for the players who would be coming into baseball in the future…There were veterans on every team who remembered how it used to be and the role of union solidarity in changing things."
The Major League Baseball Players Association is now the most successful union in the country. In 1967, the minimum salary was $6,000 and the average salary was $19,000. The first collective bargaining agreement the next year raised the minimum to $10,000. By the time Miller retired, the average player salary had increased to $240,000. Today, the minimum salary is $480,000 and the average salary is $3.1 million.
Pro athletes in other major team sports—football, basketball and hockey—saw what Miller accomplished and eventually won the same bargaining rights as their baseball compatriots. No other figure in history comes close to Miller in terms of his role in revolutionizing the American sports business. So the petty baseball moguls, determined to win retribution, have kept him out of their Cooperstown shrine.
In an interview with us, Miller said he wasn't concerned about getting into the Hall. He was satisfied with his legacy of turning the players union into a powerful force and a model for what a strong labor movement could achieve. After being rejected five times, he said, "I told myself it wasn't going to happen."
But simple justice requires that Miller be admitted to the Hall of Fame. He was baseball's Moses, leading the players out of slavery.
If a significant number of Hall of Famers and rank-and-file players join the crusade, it will be difficult for the next selection committee to reject Miller for the sixth time. Every player who donned a major league uniform over the past 40 years owes a huge debt of gratitude to Miller. They can repay it by acting like union members and mobilizing a campaign to pressure the Hall of Fame to end its blacklist of this remarkable labor and sports pioneer.
Peter Dreier teaches politics at Occidental College and is the author of The 100 Greatest Americans of the 20th Century: A Social Justice Hall of Fame.
Kelly Candaele is a Los Angeles writer who produced the documentary A League of Their Own.
This post first appeared on the American Propsect and is republished with permission.
The Power of the Poster
Carol Wells, the founder of the Center for the Study of Political Graphics in Los Angeles, talks to Capital & Main about the enduring power of political art.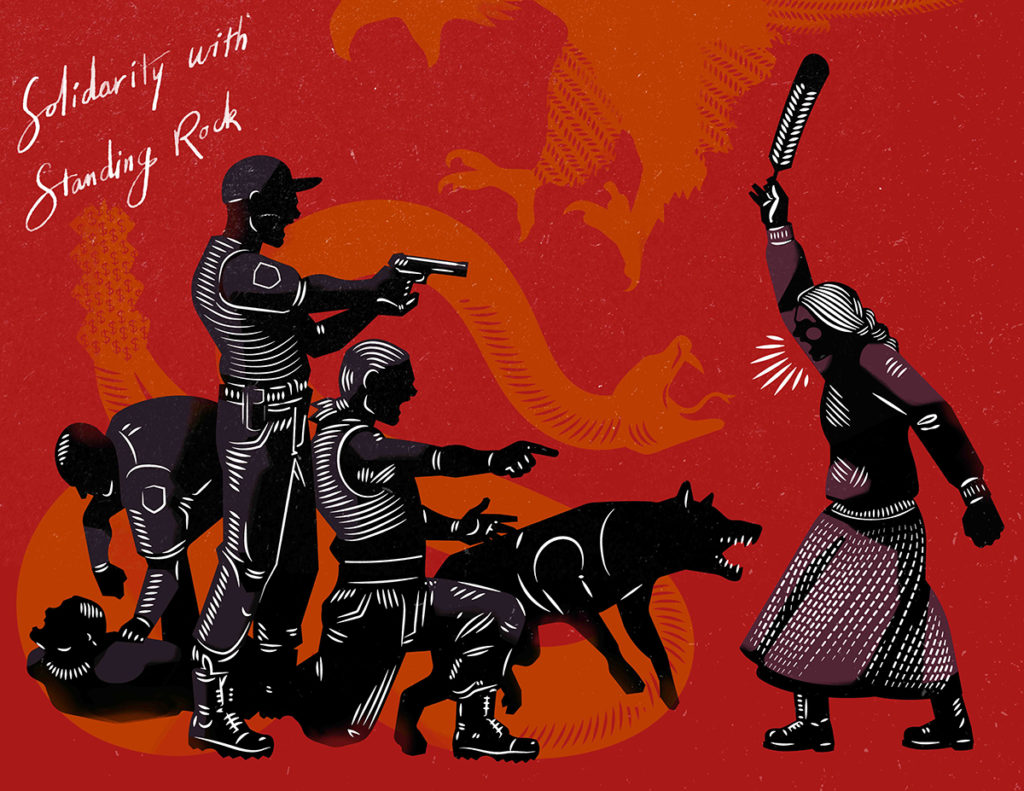 Carol Wells remembers the exact moment she discovered her calling. An art historian at the time, she was on a trip to Nicaragua with her friend David Kunzle, a UCLA art history professor, who was collecting political posters to add to his burgeoning collection. While staying with friends, Wells watched a neighbor's 8-year-old son approach a poster on the wall, stare at it intently, and then start to silently mouth the words. Wells was struck by how engaged the boy was. "In that moment I became obsessed with collecting posters."
Now over 40 years later, Wells is the founder and executive director of the Center for the Study of Political Graphics in Los Angeles. Wells has amassed approximately 90,000 posters, building one of the largest collections of its kind in the world. The Center shares its collection with the public in part through curated exhibits. This year the CSPG has produced Feminae: Typographic Voices of Women by Women and its latest is To Protect & Serve? Five Decades of Posters Protesting Police Violence, running through July 15 at the Mercado La Paloma in downtown Los Angeles.
Since that encounter in Nicaragua in 1981, Wells' obsession with collecting posters hasn't waned. In CSPG's nondescript West L.A. office space, Wells pulls out poster after poster, lecturing passionately on the backstory and cultural impact of each, including one that superimposes text from a New York Times interview with a shocking image of the My Lai massacre ("Q: And babies? A: And babies."). Recently, she managed to sit down with C&M to discuss her passion.
---
Capital & Main: So, you were an art history professor, you happen to see a kid on a trip, and suddenly your life was changed forever?
Carol Wells: Yeah, I'm in Nicaragua alone in the living room with this kid. He's looking around, and all of a sudden, he sees the poster. It was pretty big, bright green, a thick outlines of a woman holding a big basket of coffee beans. And the text in Spanish said, "In constructing the new country, we are becoming the new woman." I see him walk over to the poster and I'm watching him mouth the words. It was a pretty sophisticated concept, so I doubt he figured it out. But I literally had this epiphany: "Oh my God. That's how posters work." You're going about your daily life, and all of a sudden something breaks through the bubble, and it grabs your attention. It's the graphic, it's the color, it's the combination, and it pulls you out of your head and into that poster and it makes you ask a question. "Why is this here? What is this about? What does this mean?" And every time you ask a question, you're a different person than you were before you asked the question.
How many posters do you get a year?
We get between two to five thousand a year donated from all over the world. The bulk of our collection is [from] 1945 and later.
I assume technology has probably hurt the art form, but has it helped get the messages out?
Most people think that, and it's actually not true. Since the internet age started, there's actually a poster renaissance of works on paper. Because you can't walk with your computer monitor in a demonstration. You can't plant your monitor on your lawn.
And you can't put a laptop on the wall…
Exactly. You want to hear a really great story? Truthdig.org published a cartoon [made by] a political cartoonist named Mr. Fish. It was during the Arab spring, and he had superimposed Che Guevara with the stylized beard and King Tut's face, but it had Che's beret. And it [was titled], "Walk like an Egyptian." So, it was a reference to the music, but [it was also] a reference to what was going on the streets of Cairo. I sent it out as our poster of the week to 9,000 people. The very next day, somebody took a photograph on the street of Cairo, with somebody holding a piece of paper with that image on it. A poster can literally go around the world and people will print it out.
What struck me in viewing your exhibits is how many of these posters could still be used today, not only artistically but also, sadly, in the timeliness of their messages.
We had this fabulous poster by Yolanda Lopez, a Bay Area artist, which she first did in 1978. It depicts a young man in Aztec garb pointing a finger like Uncle Sam saying, "Who's the illegal alien, PILGRIM?" And it's a great poster, it's simple, not too many words, funny, provocative. So, we had an exhibit at UCLA in the mid '90s and there were 4 or 5 high school students standing around this poster saying, "Wow, you've got posters up to the minute." And I went over to them and I said, "Look at the date. This is before you were born."
Is that one of your goals with the exhibitions? To show the evergreen nature of this work?
Absolutely. I mean that's why we did the police abuse exhibition now. It basically goes back five decades. It's 50 years of posters protesting police abuse. Mainly in the United States, but also internationally.
What's the goal for CSPG?
Well the aim right now is really to digitize the collection and get it online. We have 10% of the collection digitized. But the mission is to collect and to document, because stories get lost. All the exhibitions, they're showing massacres, they're showing genocide, they're showing police abuse, they're showing all of these horrible things. And people often ask me, "How can you look at this stuff all day long?" I said, "Because the poster artists are optimists. They believe people can change if they have the information."
Yes, that's the reason why they're doing it, right?
That's why they're doing it, and that's why I'm doing this, because I believe that people can change if they knew the truth.
And what happens 20, 50 years from now?
Well, my goal is to stay independent, because the other option is to become part of the university. Universities, for all the fabulous things that they do, they also censor. We did an exhibition at USC in 1992 on the 500 years since Columbus, and how the legacy of racism and exploitation and genocide continues. And one of the board of trustees was Italian and took [the exhibit] as an affront to Columbus. It really wasn't about Columbus, it was about colonialism. And he ordered it down.
Do you have a favorite poster?
I'm always amazed at the creativity and vision of artists. Every week I'll say, "Oh my God, how do they think of that?" But it's always still going to be the poster I saw that kid trying to figure out. It has to be my favorite one because that one changed my life.
What makes a perfect poster?
The right balance between aesthetics and message. If you only rely on the corporate press, the New York Times and L.A. Times, for your information, you're not going to get the side from the street, from the movement, from the activists. The posters are primary historical documents that are recording the issues that were at the time, and the passions that were at the time, and the divisions that were at the time. You're not going to get it anyplace else.
---
Copyright Capital & Main