Marlon Brando: The Actor as Activist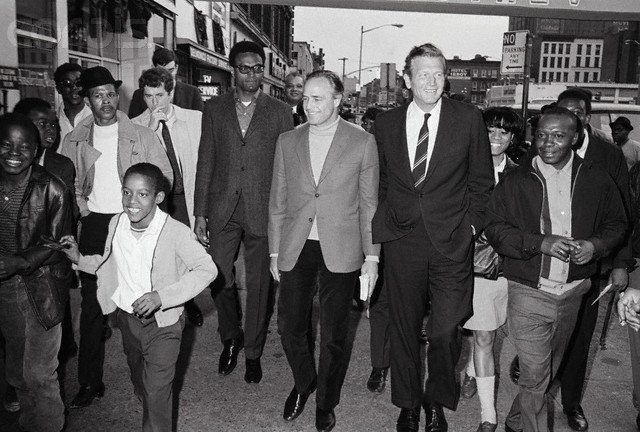 Walking the Walk: Marlon Brando, center, with NYC Mayor John Lindsay
"The enemy of the actor is the mind," Marlon Brando once wrote in notes he compiled for a 2001 series of acting seminars that he planned to film and distribute under the title, "Lying for a Living."
Brando, of course, meant that in performance, acting is an emotional rather than intellectual activity. But according to Brando's Smile: His Life, Thought, and Work, Susan Mizruchi's engaging, insightful and rigorously researched new biography of the man universally acclaimed as the 20th century's greatest actor, understanding the often antagonistic dichotomy between a capacious intellect and a vast, intuitive talent goes a long way to cracking the enduring enigma that is Marlon Brando.
"He modeled," Mizruchi tells Capital & Main, "a kind of social activism – the idea that actors were obligated in some sense to use their fame to help others."
By the late '60s, however, the actor's reputation was in decline. Nearly 15 years after his revolutionizing film performances as Stanley Kowalski in A Streetcar Named Desire (1951) and as Terry Malloy in On the Waterfront (1954), and on the eve of his artistic and box-office redemption with his Oscar-winning role as Don Corleone in The Godfather (1972), an emerging consensus defined Brando as a once-great but irrevocably squandered talent.
In between these two periods had come reams of negative publicity surrounding costly schedule overruns and dismissive reviews of both his sole directing effort, the Western epic One-Eyed Jacks (1961), and the budget-bloated and problem-plagued remake of Mutiny on the Bounty (1962).
Brando's acting genius and longstanding commitments to social issues such as civil rights had all but been eclipsed by a prevailing public image of an eccentric and overindulged troublemaker with a self-destructive contempt for his own profession and a fatal weakness for saying yes to a fat paycheck. This perception was perhaps most famously summed up in Terence Stamp's dissolute and thinly veiled Brando impersonation in Federico Fellini's Toby Dammit (1968).
Those dueling and seemingly irreconcilable images — the buffoonish, womanizing wastrel on the one hand, the deeply committed artist of conscience and integrity on the other — would continue to haunt Brando in press accounts for the remainder of his life.
For Mizruchi, a cultural historian and English literature professor at Boston University, the opportunity to probe the Brando mystique presented itself shortly after the actor's death in 2004, when rumors began to reach her of a previously unexamined cache of material from Brando's own archives. The treasure trove included carefully catalogued collections of script drafts and research materials from all of his films and, more significantly, a 4,000-volume, personally annotated library that had been sold off at auction. (Mizruchi says it took her six years of world travel to fully research and reconstruct the archive.)
"I found that there was kind of a gaping hole in our understanding of Brando," Mizruchi explains. "We just didn't know that he had the mind. And the kind of mind that he had is really the story of my book. This is someone with an insatiable curiosity. He really believed in a kind of ideal of independent thinking, which he got from Hannah Arendt, who was his favorite philosopher."
Mizruchi traces this independence and curiosity back to Brando's childhood in Omaha, Nebraska, and his intellectually and artistically supportive, albeit alcoholic mother, Dorothy Pennebaker Brando. A gifted amateur actor in her own right, Dorothy had famously encouraged a young Henry Fonda, her protégé at the Omaha Community Playhouse, to pursue acting professionally, and was likewise supportive of her son in the face of disapproval from Brando's stern father, Marlon Sr.
But just as significant, the author asserts, is the influence of Dorothy's passion for liberal causes on her son's lifelong commitment to social issues. "One thing I want to emphasize," says Mizruchi, "and, again, this is another research discovery, is that the social activism is an integral part of [his] career from the beginning to the end. It never stopped."
The actor's deeply rooted commitment to the civil rights movement (which earned him an honored place near the podium during Martin Luther King's 1963 "I Have a Dream" speech at the Lincoln Memorial) gets its own chapter, and is further illuminated in the book's extensive survey of Brando's reading list during the shooting of Arthur Penn's Southern potboiler, The Chase (1966).
Mizruchi also singles out Brando's long-neglected but sympathetic performance as the closeted Major Weldon Penderton in John Huston's Reflections in a Golden Eye (1967) as an unusually courageous and unprecedented portrayal by a major male Hollywood star during the rigidly homophobic 1960s.
The most widely known instance of Brando's activism came at the 1973 Academy Awards ceremony when 80 million television viewers witnessed a surrogate, the Apache Sacheen Littlefeather, take the dais to refuse the Best Actor Oscar on Brando's behalf to draw media attention to American Indian grievances.
But if that was the highpoint of Brando's three decades of support for the American Indian Movement, the low point came with his appearance 19 years later as Tomas de Torquemada in 1992's politically reprehensible Christopher Columbus: The Discovery, a decision that Mizruchi discusses at some length. Producer Alexander Salkind flatly rejected Brando's arguments for including historically accurate accounts of Columbus' brutally violent treatment and exploitation of the Indians. But rather than foregoing a multimillion-dollar salary by walking out on the project, the actor settled for telegraphing his disapproval in what Mizruchi calls "an embarrassingly bad performance."
This "protest" — the only time in Brando's career that he was deliberately ineffective in a role — was lost on movie audiences and critics, as well as on dismayed and outraged allies in the Indian movement.
Of the many surprises offered in Brando's Smile, the richest may be Mizruchi's sensitive and compelling descriptions of Brando's actual work in front of the camera — a task that is immeasurably deepened by her access to Brando's personal shooting scripts and the book's side-by-side comparisons with what emerged from the cutting room.
"Among the most important discoveries for me was that he worked so assiduously on his scripts," she says. "And he wrote so many of the best lines for his characters — he rewrote scenes, he wrote endless notes about the scripts and about the film projects. That was a revelation."
Through close reading and careful detective work, Mizruchi convincingly demonstrates that the most iconic scenes from the Brando filmography, from On the Waterfront through Apocalypse Now, owe their effectiveness directly to the actor's unerring dramatic ear, skillful paring of the language and unparalleled sense of poetic truth.
But the book is equally persuasive in its extensively supported arguments that Brando's enduring legacy goes beyond anything that can be streamed on Netflix.
"My last chapter is called 'Citizen of the Planet' — that was Brando's phrase," Mizruchi says. "I think that he believed [not only] that actors had to be citizens of the planet, but everyone had to be. I would say that one of my big discoveries was that Brando was someone with a big conscience. He was a really moral man."
The Power of the Poster
Carol Wells, the founder of the Center for the Study of Political Graphics in Los Angeles, talks to Capital & Main about the enduring power of political art.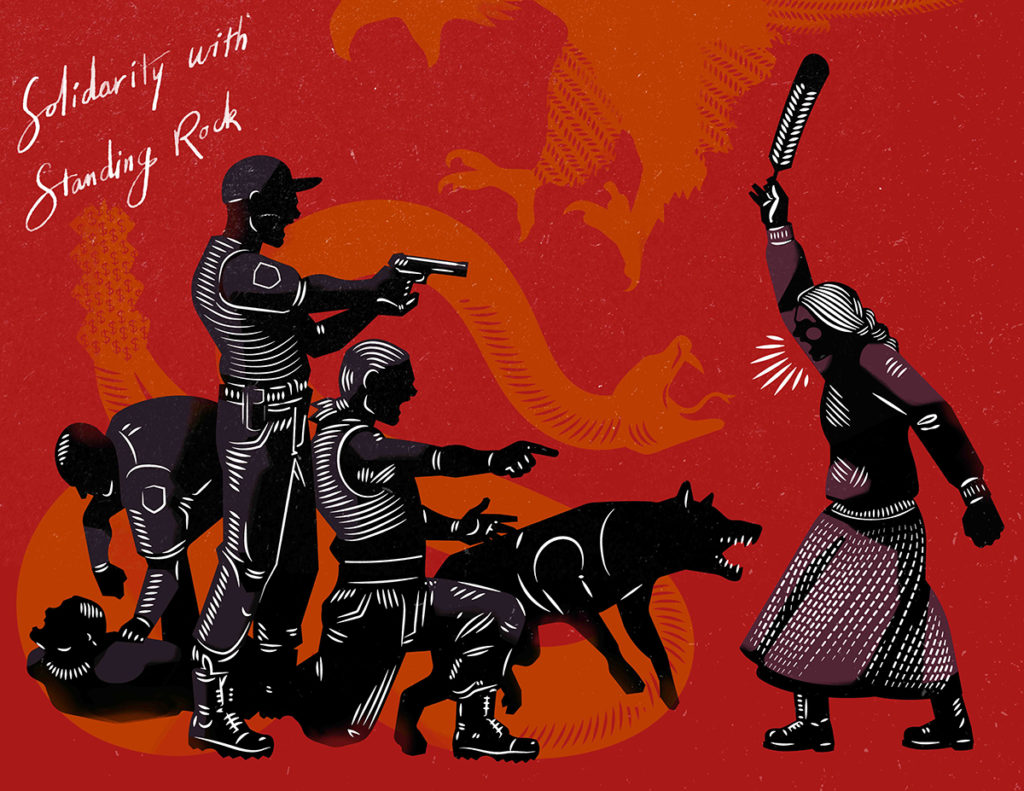 Carol Wells remembers the exact moment she discovered her calling. An art historian at the time, she was on a trip to Nicaragua with her friend David Kunzle, a UCLA art history professor, who was collecting political posters to add to his burgeoning collection. While staying with friends, Wells watched a neighbor's 8-year-old son approach a poster on the wall, stare at it intently, and then start to silently mouth the words. Wells was struck by how engaged the boy was. "In that moment I became obsessed with collecting posters."
Now over 40 years later, Wells is the founder and executive director of the Center for the Study of Political Graphics in Los Angeles. Wells has amassed approximately 90,000 posters, building one of the largest collections of its kind in the world. The Center shares its collection with the public in part through curated exhibits. This year the CSPG has produced Feminae: Typographic Voices of Women by Women and its latest is To Protect & Serve? Five Decades of Posters Protesting Police Violence, running through July 15 at the Mercado La Paloma in downtown Los Angeles.
Since that encounter in Nicaragua in 1981, Wells' obsession with collecting posters hasn't waned. In CSPG's nondescript West L.A. office space, Wells pulls out poster after poster, lecturing passionately on the backstory and cultural impact of each, including one that superimposes text from a New York Times interview with a shocking image of the My Lai massacre ("Q: And babies? A: And babies."). Recently, she managed to sit down with C&M to discuss her passion.
---
Capital & Main: So, you were an art history professor, you happen to see a kid on a trip, and suddenly your life was changed forever?
Carol Wells: Yeah, I'm in Nicaragua alone in the living room with this kid. He's looking around, and all of a sudden, he sees the poster. It was pretty big, bright green, a thick outlines of a woman holding a big basket of coffee beans. And the text in Spanish said, "In constructing the new country, we are becoming the new woman." I see him walk over to the poster and I'm watching him mouth the words. It was a pretty sophisticated concept, so I doubt he figured it out. But I literally had this epiphany: "Oh my God. That's how posters work." You're going about your daily life, and all of a sudden something breaks through the bubble, and it grabs your attention. It's the graphic, it's the color, it's the combination, and it pulls you out of your head and into that poster and it makes you ask a question. "Why is this here? What is this about? What does this mean?" And every time you ask a question, you're a different person than you were before you asked the question.
How many posters do you get a year?
We get between two to five thousand a year donated from all over the world. The bulk of our collection is [from] 1945 and later.
I assume technology has probably hurt the art form, but has it helped get the messages out?
Most people think that, and it's actually not true. Since the internet age started, there's actually a poster renaissance of works on paper. Because you can't walk with your computer monitor in a demonstration. You can't plant your monitor on your lawn.
And you can't put a laptop on the wall…
Exactly. You want to hear a really great story? Truthdig.org published a cartoon [made by] a political cartoonist named Mr. Fish. It was during the Arab spring, and he had superimposed Che Guevara with the stylized beard and King Tut's face, but it had Che's beret. And it [was titled], "Walk like an Egyptian." So, it was a reference to the music, but [it was also] a reference to what was going on the streets of Cairo. I sent it out as our poster of the week to 9,000 people. The very next day, somebody took a photograph on the street of Cairo, with somebody holding a piece of paper with that image on it. A poster can literally go around the world and people will print it out.
What struck me in viewing your exhibits is how many of these posters could still be used today, not only artistically but also, sadly, in the timeliness of their messages.
We had this fabulous poster by Yolanda Lopez, a Bay Area artist, which she first did in 1978. It depicts a young man in Aztec garb pointing a finger like Uncle Sam saying, "Who's the illegal alien, PILGRIM?" And it's a great poster, it's simple, not too many words, funny, provocative. So, we had an exhibit at UCLA in the mid '90s and there were 4 or 5 high school students standing around this poster saying, "Wow, you've got posters up to the minute." And I went over to them and I said, "Look at the date. This is before you were born."
Is that one of your goals with the exhibitions? To show the evergreen nature of this work?
Absolutely. I mean that's why we did the police abuse exhibition now. It basically goes back five decades. It's 50 years of posters protesting police abuse. Mainly in the United States, but also internationally.
What's the goal for CSPG?
Well the aim right now is really to digitize the collection and get it online. We have 10% of the collection digitized. But the mission is to collect and to document, because stories get lost. All the exhibitions, they're showing massacres, they're showing genocide, they're showing police abuse, they're showing all of these horrible things. And people often ask me, "How can you look at this stuff all day long?" I said, "Because the poster artists are optimists. They believe people can change if they have the information."
Yes, that's the reason why they're doing it, right?
That's why they're doing it, and that's why I'm doing this, because I believe that people can change if they knew the truth.
And what happens 20, 50 years from now?
Well, my goal is to stay independent, because the other option is to become part of the university. Universities, for all the fabulous things that they do, they also censor. We did an exhibition at USC in 1992 on the 500 years since Columbus, and how the legacy of racism and exploitation and genocide continues. And one of the board of trustees was Italian and took [the exhibit] as an affront to Columbus. It really wasn't about Columbus, it was about colonialism. And he ordered it down.
Do you have a favorite poster?
I'm always amazed at the creativity and vision of artists. Every week I'll say, "Oh my God, how do they think of that?" But it's always still going to be the poster I saw that kid trying to figure out. It has to be my favorite one because that one changed my life.
What makes a perfect poster?
The right balance between aesthetics and message. If you only rely on the corporate press, the New York Times and L.A. Times, for your information, you're not going to get the side from the street, from the movement, from the activists. The posters are primary historical documents that are recording the issues that were at the time, and the passions that were at the time, and the divisions that were at the time. You're not going to get it anyplace else.
---
Copyright Capital & Main