Mark Zuckerberg's Fwd.us Fail No Surprise
Photo: Guillaume Paumier/Wikimedia
Within about a month of the debut of Fwd.us, Mark Zuckerberg's new DC lobby outfit aimed at promoting immigration reform, the group is already falling apart. If this week is any indication, the meltdown will be as spectacular and ignoble as every other ill-conceived, overfunded start-up in the Valley.
Fwd.us' political problems began the way they usually do: with a cynical, too-cute-by-half strategy adopted by his Beltway proxies. Fwd.us' approach amounted to this: Buy the votes of key lawmakers by dumping money into ads in their home states on issues that are useful to them but that Mark Zuckerberg doesn't care about.
What that has meant in practice is running commercials supporting South Carolina Senator Lindsey Graham for his bold opposition to Obamacare and his support of the Keystone XL Pipeline, and applauding Alaska Senator Mark Begich for his support for drilling in the Arctic National Wildlife Refuge. Since Fwd.us doesn't want its own brand associated with such unsavory positions, it's done what "special interests" always do: It has set up ad hoc shell groups to front its ad buys, in this case, "Americans for a Conservative Direction" and the "Council for American Job Growth."
The problem with this approach, Zuckerberg is learning, is that when you pull together a coalition to fund your lobbying campaign, it's not enough just to grease your way into political influence in the Capitol. You also have to answer to the people who cut your checks. That's especially difficult when some of them have actual integrity.
On Friday, PayPal billionaire/Tesla founder Elon Musk pulled out of Fwd.us, objecting to the group's crass exploitation of "other important causes" in its myopic pursuit of its immigration policy agenda. He was joined by another PayPal alum, David Sacks.
It's incredible to conceive of Zuckerberg not seeing this coming. After the ANWR and Keystone Pipeline ads ran, the Sierra Club, the League of Conservation Voters, MoveOn.org and a number of other groups put out a joint statement condemning the tactic and announcing their suspension of ad buys on Facebook. Musk's entire business persona rests on his reputation as a visionary of sustainability and green entrepreneurialism. Even if he'd wanted to, it would have been all but impossible for Musk to continue participating in Fwd.us after it had been exposed for shoveling his money into ads supporting fossil fuels and Big Oil.
Another, more subtle design flaw in Fwd.us' cynical approach is noted by an anonymous "tech lobbyist" in an article in Fortune:
One tech lobbyist says the approach, by avoiding any mention of the immigration debate itself, sends the message that FWD.us is "afraid of its own issue. They're saying, 'We want you to vote for this, but we don't want to get you in trouble.'"
Of course, it may well be that Fwd.us is afraid of its own issue. Zuckerberg, after all, isn't interested in immigration reform as a human right; he's interested in facilitating Facebook's acquisition of work visas for foreign-born software engineers. Narrow as it is, that's not an objectionable policy goal in its own right. But nor is it a font of moral conviction burning in the heart of a champion for the nation's oppressed. This is Mark Zuckerberg we're talking about.
Fwd.us' lobbying approach reflects the worst of DC-style politics: it's cynical, it's transactional, and it's predicated on using critically important social and ecological issues as pawns in a chess game. Worse for Zuckerberg, it's ineffective. Filled with Silicon Valley hubris, Fwd.us boasts about its "innovative" and "disruptive" approach to politics. But so far, the crude tactics it has adopted are as old as politics itself, and clumsily handled at that. To pull off a strategy as calculated and risk-fraught as this one, at the very least you'd need an extremely dexterous hand. Instead, Fwd.us' sneaky back room dealmaking has been exposed to the world by every major news outlet from the New York Times to TechCrunch. Zuckerberg's hired political hands have fingers made of butter.
If Zuckerberg really wants to wield influence in the immigration debate, he needs to stop pretending he's a guest star on House of Cards and start getting serious about the issue. Though at this point, he's probably better off recognizing Fwd.us as the failed start-up it is, folding up shop and selling the office furniture on Craigslist.
(Leighton Woodhouse blogs at Dog Park Media, where this post first appeared. Republished with permission.)

Rick Scott Super PAC Donations Challenge Federal Anti-Corruption Rule
Co-published by Fast Company
The Florida governor led a group that raked in cash from Wall Street firms after Scott's administration gave them pension deals.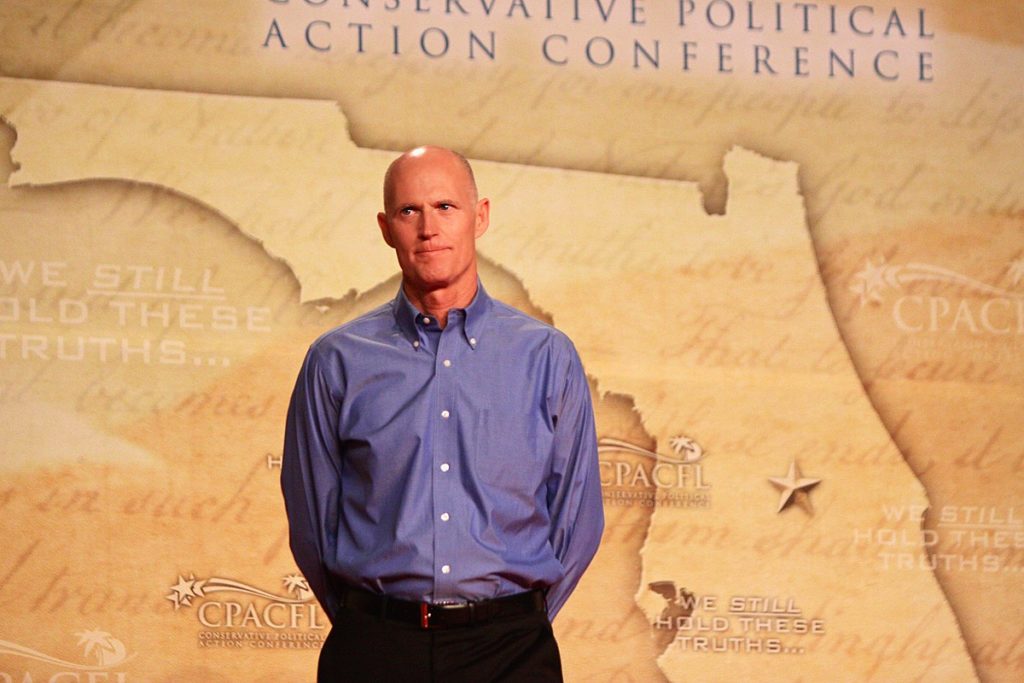 Co-published by Fast Company
A super PAC led by Florida Gov. Rick Scott raked in donations from two private equity executives after Scott's administration directed lucrative state pension investments to their firms, according to government records reviewed by MapLight and Capital & Main.
The donations were made to a committee that's now supporting Scott's U.S. Senate bid, despite a federal rule designed to prevent financial firms from bankrolling the election campaigns of public officials who oversee state pension investments.
Scott, a Republican, began chairing the New Republican PAC in May 2017 and announced his former campaign manager would serve as its executive director. Soon after, the group received $5,000 from New Mountain Capital Chief Executive Officer Steve Klinsky and $50,000 from Energy Capital Partners founder Douglas Kimmelman.
The contributions flowed to the super PAC after New Mountain Capital and Energy Capital Partners received a combined $250 million worth of new investment commitments from Florida's state pension system in 2014 and 2015. Scott is one of three state officials who oversee the $160 billion pension system. During the most recent fiscal year, the Florida investments generated more than $3 million in fees for the firms.
A 2010 Securities and Exchange Commission (SEC) rule prohibits firms from receiving investment fees from public pension systems if their executives donate campaign cash to pension overseers like Scott. SEC officials aimed to prevent investment decisions from being shaped by political influence.
But the commission didn't explicitly bar donations to "independent" political groups, unless the donations were deliberately designed to circumvent the restrictions. And it hasn't addressed whether a state official can lead a super PAC that received donations from firms with pension business and later be supported by the super PAC.
John Kuczwanski, a spokesperson for the Florida State Board of Administration, told MapLight/Capital & Main that Florida's first investments in the two private equity firms happened in 2005 and 2009, and he said Scott had nothing to do with new investments during his governorship, which started in 2011.
"The [state's] initial relationships with both managers predate Governor Scott's time in office," said Kuczwanski, whose agency manages the day-to-day operations of the pension system. "Neither the trustees, nor their appointed investment advisory council members are involved in the investment manager/fund selection process."
Scott's campaign and the super PAC did not respond to questions from MapLight/Capital & Main. New Mountain Capital and Energy Capital Partners did not return requests for comment.
Energy Capital recently completed the purchase of Calpine, whose natural gas power plant near Tampa is regulated by Scott's appointees at the Florida Public Service Commission. Kimmelman, who is now a director of Calpine, also donated $35,000 in 2017 to the National Republican Senatorial Committee, which is backing Scott's Senate campaign.
"A Very Clear Case"
Under the SEC rule — which GOP state parties have tried to overturn — investment executives are not prohibited from donating to independent political groups. But the rule allows regulators to apply restrictions to donations that are deliberately routed through third parties in order to support public officials — a situation that critics argue is happening with Scott and his super PAC.
After the governor announced his Senate bid last week, New Republican PAC's website began promoting his candidacy. End Citizens United, a Democratic-leaning political action committee based in Washington, DC, filed a complaint alleging that Scott has violated Federal Election Commission rules and is using the super PAC, which can accept unlimited donations, to evade contribution limits. Scott's campaign says he stepped down as New Republican PAC's chair in February.
In writing the original rule, SEC officials noted that while they could not restrict all donations to political action committees, contributions to third parties "may effectively operate as a funnel to the campaigns of the government officials." They said the final rule "prohibits acts done indirectly, which, if done directly, would violate the rule."
One ethics expert said that those anti-circumvention provisions should apply to the donations to Scott's super PAC.
"This appears to be a very clear case of close coordination and circumvention of the pay-to-play rule," said Craig Holman, an ethics lobbyist at the government watchdog group Public Citizen. "This is something that I'd like the SEC to pay attention to."
"No Loopholes"
The SEC has only occasionally enforced the pay-to-play rule, and the agency hasn't applied the provisions dealing with third parties to donations to super PACs. Because Scott is a sitting governor who can influence pension investments, he is covered by the rule, which has hampered the fundraising of past governors who tried to run for federal office.
A spokesman for former Texas Gov. Rick Perry's presidential campaign said the rule prevented him from raising enough money to be competitive in the 2012 race. Bloomberg reported that during the same election cycle, then-New Jersey Gov. Chris Christie was rejected as the vice presidential nominee, partly because Republicans feared the rule would prevent them from raising money from Wall Street firms that do business with his state's pension system.
"There is no way around it, and there are no loopholes," said Bill Palatucci, Christie's longtime advisor.
Even so, in recent years the rule has not deterred financial executives from donating to groups that help lawmakers who can influence pension investments. Financial executives whose firms received New Jersey and New Mexico investments continued to donate to the Republican Governors Association (RGA) when Christie and New Mexico Gov. Susana Martinez led the group. During the 2016 election cycle, executives at firms managing state pension money donated nearly $1.3 million to the GOP association, even as the group boosted the campaigns of Republican governors with power over state pension investments.
Last year, U.S. Sen. Tom Udall, D-N.M., called for the SEC to apply the pay-to-play rule to outside groups "to ensure that no one is able to circumvent these laws by using super PACs, dark money groups or other campaign spending vehicles." The RGA has argued that because it funds multiple candidates and does not allow donors to earmark contributions for particular races, it can accept donations from firms with investment business that can be influenced by individual governors. The SEC said in 2016 that donations to outside political groups "are independent expenditures that do not trigger" the rule.
"So long as the PAC faithfully observes the requirement to operate independently of candidates, a contribution to a super PAC will not trigger the [rule], even if the super PAC supports a covered official," Sam Brown, a former advisor to Federal Election Commissioner Ellen Weintraub, wrote in 2016. "Super PACs are increasingly being used in novel ways, and it remains to be seen whether these changes will result in increased circumvention risks."
---
This story is a collaboration between MapLight and Capital & Main.