Marathon Men: Class, Race and Races at the 1908 Olympics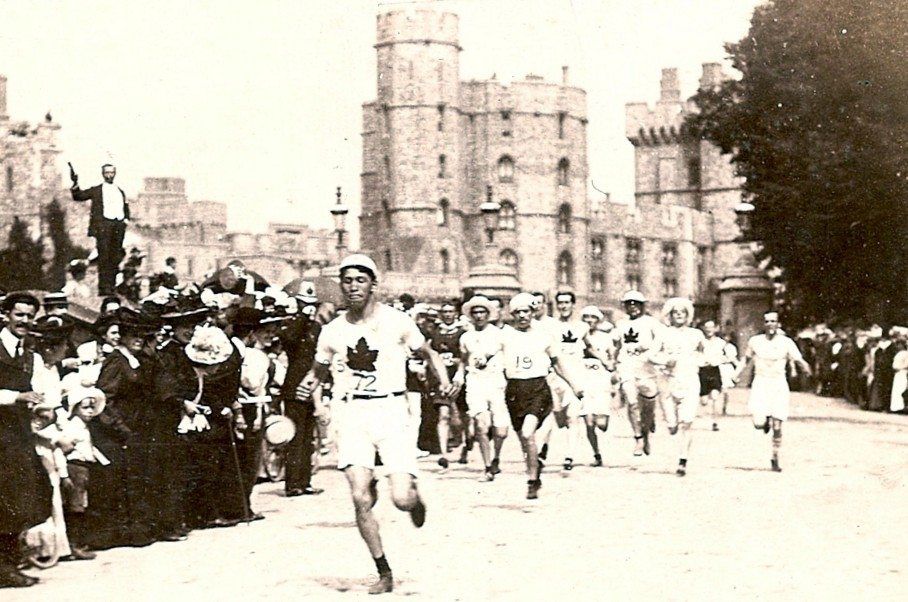 Leader of the Pack: Tom Longboat (72) and Dorando Pietri (19) leaving Windsor Castle
When Olympic marathon races first appeared in the 1896 Athens games, the route was a somewhat arbitrarily chosen 25 miles and, contrary to popular myth, had no authentic origin in Greek history. By the time of the 1908 London Olympiad, the length had been even more whimsically extended to 26 miles, 385 yards – the exact distance between its starting point at Windsor Castle and the course's terminus at a massive, barely completed stadium in Shepherd's Bush. Among other things, trainers in those days believed it was bad for their runners to drink water while running and instead kept them supplied with shots of brandy, whisky and – in a pinch – strychnine, which was used as a stimulant.
These are just some of the many revelations to be found in David Davis' Showdown at Shepherd's Bush: The 1908 Olympic Marathon and the Three Runners Who Launched a Sporting Craze, a compact book brimming with information about the outsized personalities and national neuroses that clashed at the eponymous race. We spoke with Davis, a master storyteller, who lives in Los Angeles, shortly before he left on a speaking tour.

Frying Pan News: What were some of the things that surprised you the most in your research?
David Davis: I certainly didn't know much about Tom Longboat, an Onondaga Indian from the Six Nations. He was internationally famous in his time – and controversial. He was in the papers every day, and not just in Canada but in New York, Boston, Ireland. Another thing I learned about was the role the Irish Question played in the 1908 Olympics.
FPN: But Ireland didn't have a team – it was still part of Britain.
Davis: Yes, and Irish members of the British team were embarrassed to have to wear British colors – even a British colony like South Africa had its own team and colors. Plus, a lot of the American athletes were born in Ireland, or their parents came over from there.
FPN: You write about the animosity toward Britain from the Irish Americans who were part of the U.S. team colored the games, which were marked by ferocious newspaper canards on both sides and protested victories – especially  the marathon's, which was ultimately awarded to Johnny Hayes, who'd been a New York slum kid.
Davis: People like Johnny Hayes were born with these stories about what happened to their relatives back in Ireland and it certainly entered into their feelings. Before the games Hayes is riding on a train going to Brighton when it passes a graveyard and an Irishman tells Hayes, "That's the finest sight I have seen since I struck England" – because it's filled with dead Englishmen. 

FPN: And yet your book reveals all kinds of other fractious divides within sports at the time, both economic and racial. Different sporting activities, for example, could be traced to different classes – between athletes, for example, who came from Ivy League schools and blue-collar workers who were printers and pressmen.
Davis: Football was a big-time college sport, and rowing, archery and equestrian events were a bit on the snobby side. Baseball crossed all boundaries, though, and track and field went both ways.
FPN: I was surprised to learn of the participation of African American and Native Indian athletes in the 1908 games — wasn't American segregation enforced strictly enough to keep teams all-white?
Davis: There were loopholes, especially for collegiate athletes like John Baxter Taylor, who had been a University of Pennsylvania student and who ran in the 1908 marathon. But there was no way African American athletes from the South would be allowed to emerge, and when Teddy Roosevelt shook John Taylor's hand, the newspaper captions would describe Taylor as "the colored sprinter."
FPN: The 1908 games seem much more enlightened, say, than the St. Louis Olympics four years before.
Davis: James Sullivan [president of the Amateur Athletic Union] organized an "Anthropology Day"  in St. Louis, in which nonwhites who weren't even trained athletes were allowed to compete in special games. It was to prove that the white man was a better athlete.
FPN: Were the early Olympics as commercialized as today's?
Davis: The 1904 games in St. Louis were tied to that city's World's Fair – as were the 1900 Olympics in Paris. The Paris games were completely usurped by the fair and featured some events that were not part of the Olympic program – croquet, ballooning, fish-catching. In 1908 the Olympics were staged in conjunction with the Franco-British Exhibition in Shepherd's Bush.
FPN: How did the extension of the marathon from 25 to 26.2 miles affect the runners at the 1908 Olympics?
Davis: It was an important change. The psychology then wasn't, "Oh my god – we've got to run another mile!" They just thought it's going to be a little longer. But when you add the heat of the day and everything else it did mean a lot and it took a toll. Many runners didn't even finish that marathon – they didn't know how to pace themselves.
FPN: You have that great scene with Dorando Pietri, whose Italian team had traveled to England by train third class, confined to one meal a day. He had already run two marathons in the previous month, and was now completely drained, dazed and dehydrated, and he staggered into the stadium at the head of the marathon – but had to be held up.
Davis: Eighty thousand spectators were shocked speechless – was Dorando going to die in front of the Queen of England?
FPN: It seems that back then runners could stop and eat, drink and take pretty much whatever they wanted during a race. What was considered to be proper training food and drink?
Davis: Certainly for New York's "Irish Whales" [the team's muscle contingent] you wanted to be big and hefty. It was very prescribed: You had your steaks and toast in the morning, followed by mutton. Then you took a nap!

'Skeleton Crew' Is a Play With a Moral Spine
Set in a Detroit automobile outfitting plant, Dominique Morisseau's drama grabs you from the start with its focus on blue-collar men and women, and their struggle for dignity and self-respect.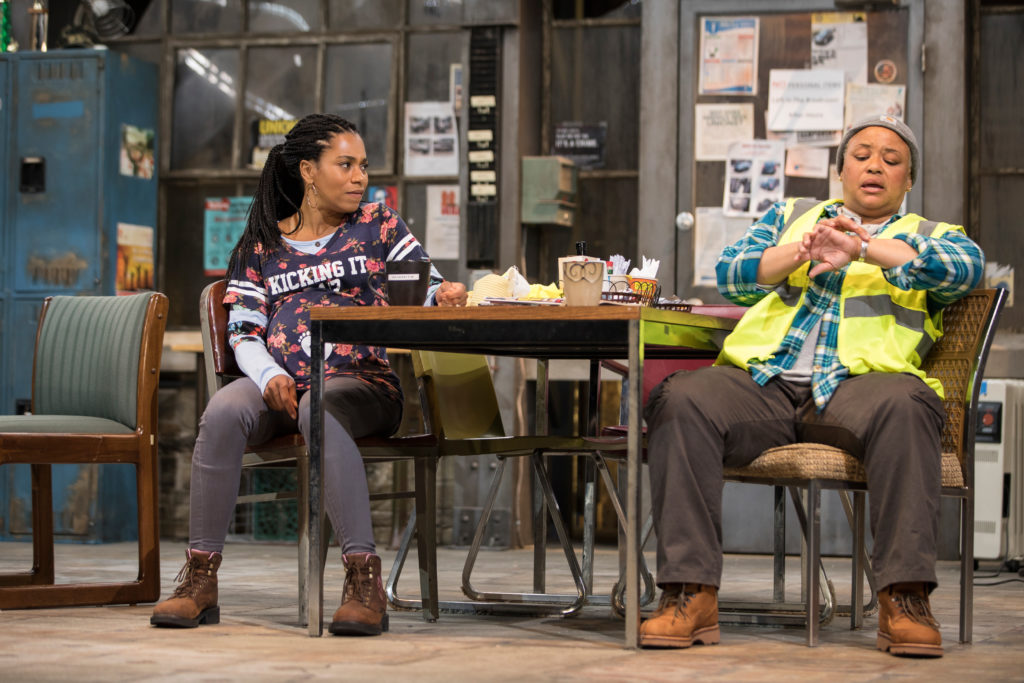 Working-class men and women of color are rarely front and center in today's media and, likewise, are presented all too occasionally on the American stage. So it's buoying to see that trend bucked in playwright Dominique Morisseau's percipient and well-crafted drama, Skeleton Crew. The play is the final installment in her Detroit  Project Trilogy; the first, Paradise Blue, is set in the 1940s amidst displacement caused by urban renewal and gentrification, while the second, Detroit '67, transpires on the eve of the 1967 Detroit riots sparked by a police action.
Directed by Patricia McGregor at Los Angeles' Geffen Playhouse, Skeleton Crew is a play with a moral spine. It takes place in 2008, when the shrinking U.S. auto industry is being further downsized. Morisseau's engaging quartet of characters — Faye (Caroline Stefanie Clay), Dez (Armari Cheatom), Shanita (Kelly McCreary) and Reggie (DB Woodside) – are employed at an automobile outfitting plant. Faye, Dez and Shanita are workers on the line while Reggie (who has a wife and kids, and has pulled himself together after a troubled youth) is their supervisor.
The first three customarily mingle in their break room (designer Rachel Myers' impressively cluttered, dingy and detailed set), trading the sort of familiar barbs and genuine concern for each other common among longtime co-workers. They also face off on philosophy: Upper-middle-aged Faye and the younger, pregnant Shanita take pride in their labor, while Dez, though a good worker, is a malcontent scornful of management and firm in the belief that everyone needs to watch out for himself. He's a thorn in Reggie's side, for while Reggie wants to be supportive of his workers, he must act at the behest of higher management. For his part, Dez resents Reggie's authority, and a palpable unease exists between them.
Besides this male matchup, we're made privy to Dez's attraction to Shanita, who mostly turns away his advances, but every now and then displays a hint of interest. Most poignant is Reggie's regard and affection for the lesbian Faye, which has roots in his boyhood when she loved, and lived, with his now-deceased mom.
These people's various predicaments intensify when rumors spread of the plant's shutdown — a disaster for all, but a particular calamity for the already near-broke Faye who, one year short of retirement, would lose her pension. The crisis forces each of these people to make a choice.
A sound piece of social realism, Skeleton Crew grabs you from the start in its focus on blue-collar men and women, and their struggle against odds for dignity and self-respect. Morisseau not only furnishes these characters a platform for their travails, she endows them with strong values, big hearts and the opportunity to choose between right and wrong.
Unfortunately, the performance I attended did not soar. Many exchanges lacked a fresh edge. The actors certainly had their characters down, but too often they appeared to be coasting on technique. (This seemed particularly true of Clay, who performed the role to great accolades in Washington, DC in 2017, also under McGregor's direction). Additionally, some of the stage movement was not entirely fluid; in confrontations, actors sometimes would just stand and face each other in an artificial way. And Cheatom's interpretation of Dez struck me as a bit overly churlish and depressive: I needed more glimpses of the intelligence and edge that would secretly attract the strong, self-directed Shanita.
The most compelling moments belong to Woodside, well-cast as a man trying his best in difficult circumstances to do the right thing.
---
Gil Cates Theater at the Geffen Playhouse, 10886 Le Conte Ave., Westwood Village; Tues.-Fri., 8 p.m.; Sat., 3 & 8 p.m. Sun., 2 & 7 p.m.; through July 8. (310) 208-5454 or www.geffenplayhouse.org