Marathon Men: Class, Race and Races at the 1908 Olympics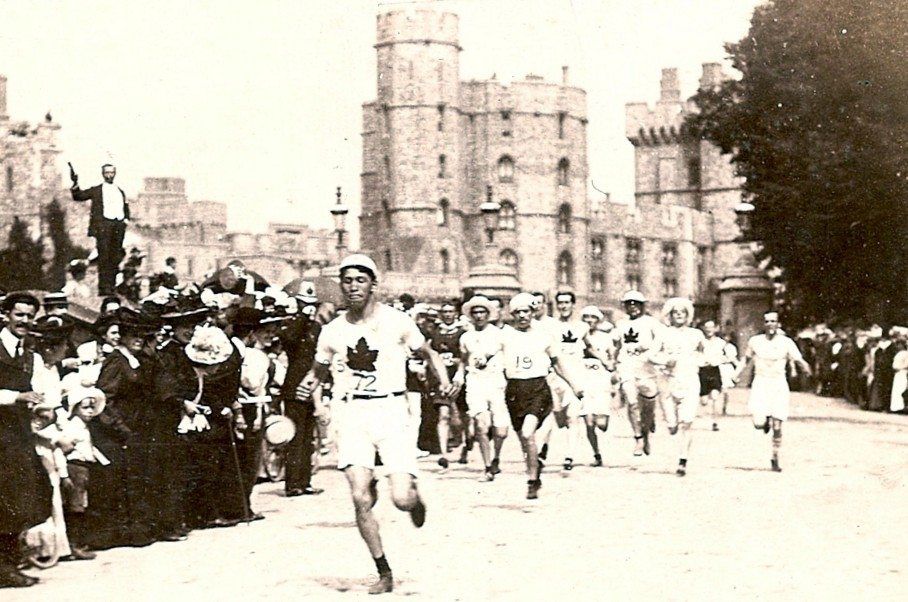 Leader of the Pack: Tom Longboat (72) and Dorando Pietri (19) leaving Windsor Castle
When Olympic marathon races first appeared in the 1896 Athens games, the route was a somewhat arbitrarily chosen 25 miles and, contrary to popular myth, had no authentic origin in Greek history. By the time of the 1908 London Olympiad, the length had been even more whimsically extended to 26 miles, 385 yards – the exact distance between its starting point at Windsor Castle and the course's terminus at a massive, barely completed stadium in Shepherd's Bush. Among other things, trainers in those days believed it was bad for their runners to drink water while running and instead kept them supplied with shots of brandy, whisky and – in a pinch – strychnine, which was used as a stimulant.
These are just some of the many revelations to be found in David Davis' Showdown at Shepherd's Bush: The 1908 Olympic Marathon and the Three Runners Who Launched a Sporting Craze, a compact book brimming with information about the outsized personalities and national neuroses that clashed at the eponymous race. We spoke with Davis, a master storyteller, who lives in Los Angeles, shortly before he left on a speaking tour.

Frying Pan News: What were some of the things that surprised you the most in your research?
David Davis: I certainly didn't know much about Tom Longboat, an Onondaga Indian from the Six Nations. He was internationally famous in his time – and controversial. He was in the papers every day, and not just in Canada but in New York, Boston, Ireland. Another thing I learned about was the role the Irish Question played in the 1908 Olympics.
FPN: But Ireland didn't have a team – it was still part of Britain.
Davis: Yes, and Irish members of the British team were embarrassed to have to wear British colors – even a British colony like South Africa had its own team and colors. Plus, a lot of the American athletes were born in Ireland, or their parents came over from there.
FPN: You write about the animosity toward Britain from the Irish Americans who were part of the U.S. team colored the games, which were marked by ferocious newspaper canards on both sides and protested victories – especially  the marathon's, which was ultimately awarded to Johnny Hayes, who'd been a New York slum kid.
Davis: People like Johnny Hayes were born with these stories about what happened to their relatives back in Ireland and it certainly entered into their feelings. Before the games Hayes is riding on a train going to Brighton when it passes a graveyard and an Irishman tells Hayes, "That's the finest sight I have seen since I struck England" – because it's filled with dead Englishmen. 

FPN: And yet your book reveals all kinds of other fractious divides within sports at the time, both economic and racial. Different sporting activities, for example, could be traced to different classes – between athletes, for example, who came from Ivy League schools and blue-collar workers who were printers and pressmen.
Davis: Football was a big-time college sport, and rowing, archery and equestrian events were a bit on the snobby side. Baseball crossed all boundaries, though, and track and field went both ways.
FPN: I was surprised to learn of the participation of African American and Native Indian athletes in the 1908 games — wasn't American segregation enforced strictly enough to keep teams all-white?
Davis: There were loopholes, especially for collegiate athletes like John Baxter Taylor, who had been a University of Pennsylvania student and who ran in the 1908 marathon. But there was no way African American athletes from the South would be allowed to emerge, and when Teddy Roosevelt shook John Taylor's hand, the newspaper captions would describe Taylor as "the colored sprinter."
FPN: The 1908 games seem much more enlightened, say, than the St. Louis Olympics four years before.
Davis: James Sullivan [president of the Amateur Athletic Union] organized an "Anthropology Day"  in St. Louis, in which nonwhites who weren't even trained athletes were allowed to compete in special games. It was to prove that the white man was a better athlete.
FPN: Were the early Olympics as commercialized as today's?
Davis: The 1904 games in St. Louis were tied to that city's World's Fair – as were the 1900 Olympics in Paris. The Paris games were completely usurped by the fair and featured some events that were not part of the Olympic program – croquet, ballooning, fish-catching. In 1908 the Olympics were staged in conjunction with the Franco-British Exhibition in Shepherd's Bush.
FPN: How did the extension of the marathon from 25 to 26.2 miles affect the runners at the 1908 Olympics?
Davis: It was an important change. The psychology then wasn't, "Oh my god – we've got to run another mile!" They just thought it's going to be a little longer. But when you add the heat of the day and everything else it did mean a lot and it took a toll. Many runners didn't even finish that marathon – they didn't know how to pace themselves.
FPN: You have that great scene with Dorando Pietri, whose Italian team had traveled to England by train third class, confined to one meal a day. He had already run two marathons in the previous month, and was now completely drained, dazed and dehydrated, and he staggered into the stadium at the head of the marathon – but had to be held up.
Davis: Eighty thousand spectators were shocked speechless – was Dorando going to die in front of the Queen of England?
FPN: It seems that back then runners could stop and eat, drink and take pretty much whatever they wanted during a race. What was considered to be proper training food and drink?
Davis: Certainly for New York's "Irish Whales" [the team's muscle contingent] you wanted to be big and hefty. It was very prescribed: You had your steaks and toast in the morning, followed by mutton. Then you took a nap!

A Woman's Art Is Never Done: The Feminae Exhibition
A striking juxtaposition between the past and present courses throughout the small gallery. Celia Blomberg's "International Women's Day March 8" can't help but make one think of 2017's Women's March, which occurred 37 years after the print's first appearance.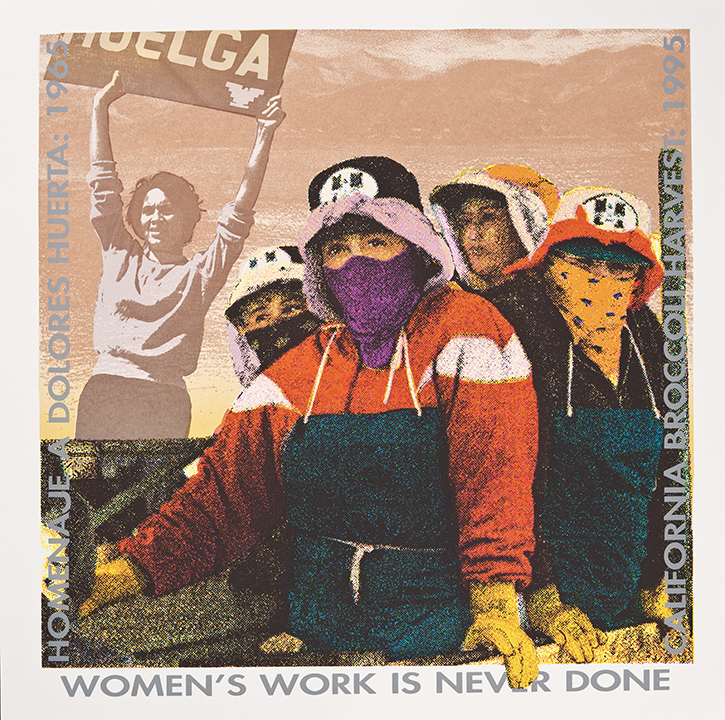 Among the 50-plus works in the Feminae: Typographic Voices of Women By Women exhibit is Yolanda Lopez's "Women's Work is Never Done." Lopez's title is particularly ironic, given the exhibit's gender-based subject matter. The show spans work from the past 50 years, making it easy to understand how much society is still grappling with its themes of gender inequality. Culled from the archives of the Center for the Study of Political Graphics, the graphic images of protest, persuasion and empowerment are truly works of art in their own right.
However, political posters aren't made to merely spruce up walls, but to help figuratively bring barriers down as well.
Two silkscreens from the 1970s, Liliana Porter and John Schneider's "This Woman is Vietnamese" and See Red Woman's Workshop's "So Long As Women Are Not Free People Are Not Free," are particularly powerful, underscoring, as they do, the fact that the subjugation and persecution of women crosses borders and cultures as an unfortunate shared global experience. These two pieces' stark simplicity exemplifies most of the work in the exhibit. In the former, a New York Times photo of a distraught Vietnamese woman with a gun held to her head is centered above these basic words typed out in a typewriter font: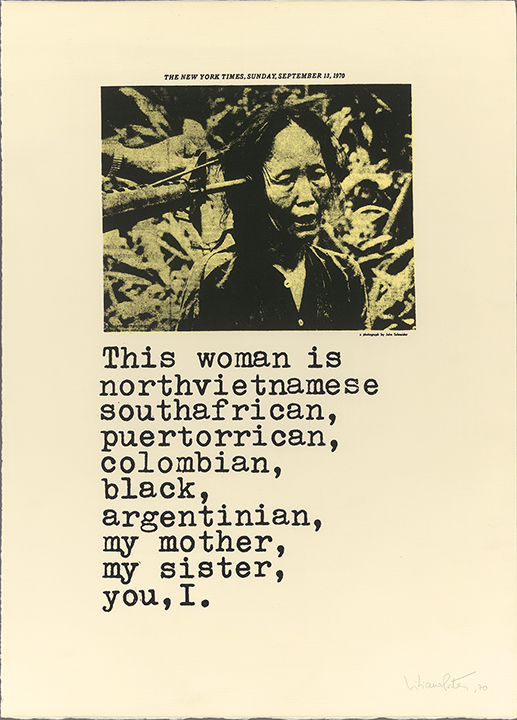 This woman is
northvietnamese
southafrican
puertorrican,
colombian,
black,
argentinian,
my mother,
my sister,
you, I.
By juxtaposing the photo with these words, the creators take the plight of this woman and immediately globalize her pain. In the latter, three female demonstrators are silkscreened in red onto a yellow background. They are marginalized by being stuck in the lower left third of the poster, but two of them are raising their fists skyward and their mouths are open, screaming in defiance. Its non-serif, eponymous type reads: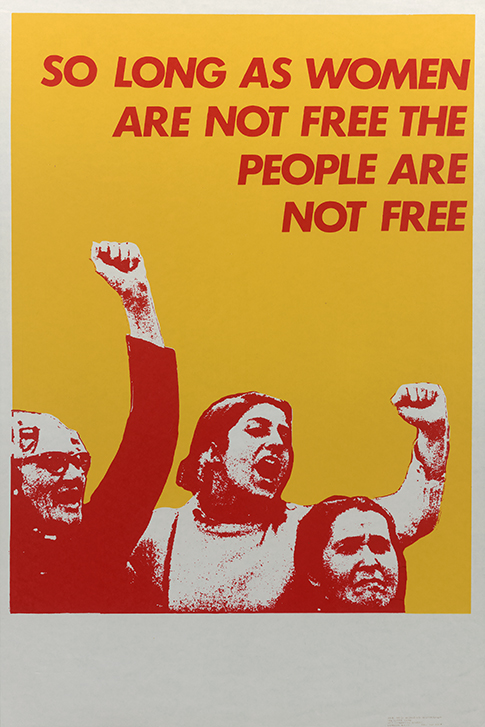 SO LONG AS WOMEN
ARE NOT FREE THE
PEOPLE ARE
NOT FREE
This piece's message takes the global message even farther, making the plight of women a human one — a common theme in the exhibition.
There is also a striking juxtaposition between the past and present that seethes throughout the small gallery. Celia Blomberg's "International Women's Day March 8" can't help but make one think of 2017's Women's March that would take place 37 years later. See Red Woman's Workshop's 1977 "Black Women Will Not Be Intimidated" could easily be repurposed to address the recent spate of blue-on-black brutality. Notable works by Barbara Kruger, Sister Corita Kent and the Guerilla Girls are also included.
Ironically , while it can be surmised that most of these works were made as populist posters to be distributed at the time as banners of protest, their beautiful simplicity and nostalgic elegance probably have resulted in the originals (mostly now found in art museums) sporting hefty vintage-resale prices.
But it is not just the art that has stood the test of time. The fact that the issues addressed in the show — feminism, choice, gender equality, war, immigration, police brutality or violence against women — are all issues at the forefront of debate in 2018 ultimately engenders conflicting feelings.
On one the hand, it is inspiring to see a vibrant exhibit that showcases such diversity in artistic styles, no doubt spawned by the diversity of the artists' own backgrounds. On the other hand, there is a realization that while there has been some progress over the past half century, there is so much work to be done.
Art Center's Hoffmitz Milken Center for Typography, 950 South Raymond Ave., Pasadena; through May 15.
---
Copyright Capital & Main