'Manifest: Justice' Art Show Explores Inequality and Reform
Jesse Hazelip: "God Answer Me," mixed media and wood salvaged from abandoned jail
The power of art to effect fundamental social change will be on display in Los Angeles this week as a major 10-day "pop-up" exhibit of visual art and accompanying performances, and workshops opens Friday at a former movie theater in the city's Baldwin Hills neighborhood.
Called Manifest: Justice, the event will showcase over 250 works from more than 150 artists, along with 30 community events that focus on race and criminal justice reform, inequality, healthy communities and immigration reform. It is being produced with support from the California Endowment and Amnesty International.
Drawn from across the country, the list of participants includes such marquee artist-activists as the godfather of guerilla poster caricaturists, Robbie Conal, and Obama 'HOPE' agit-provocateur Shepard Fairey, as well as a host of up-and-coming street muralists and wheatpaste artists, inducling the likes of Tatyana Fazlalizadeh, Favianna Rodriguez and Jesse Hazelip. Also on hand will be big-league gallerists such as collagist-photographer Lyle Ashton Harris and painter-sculptor Eric Fischl.
Other highlights include solo-performer Roger Guenveur Smith, who will be reprising Rodney King, his acclaimed commemoration of the black construction worker whose 1991 beating at the hands of white police officers culminated in the Los Angeles riots the following year; appearances by Sybrina Fulton, the mother of Trayvon Martin, who'll be interviewed by California Endowment president Robert K. Ross; and a staging of Power: Mouths of the Occupied, artist and #BlackLivesMatters originator Patrisse Cullors' multimedia evening of short monologues by black students based on their personal experiences with state violence.
The show is the brainchild of Yosi Sergant, who may be best known as the promoter behind Fairey's iconic 'HOPE' poster created for Barack Obama's 2008 presidential campaign.
According to programming director Wyatt Closs, who is is a veteran Los Angeles labor organizer, the roots of Manifest: Justice go back to Sergant and Fairey's Manifest Hope gallery that was installed at the 2008 Democratic National Convention in Denver, as well as Manifest Equality, a 2010 pop-up exhibit in Hollywood focused on LGBT rights organized as a response to the passage of California's gay-marriage ban, Proposition 8.
Manifest: Justice, Closs says, will be both broader and more ambitious in scope by focusing on criminal justice reform and race, economic inequality and its disproportionate impact on immigrants and communities of color, and by raising questions about what it means to have opportunity and equality in America, and what is keeping that from happening?
"The idea [really] started from the influence of several different events from the last year-and-half to two years," Closs told Capital & Main, "from all of the various assaults with respect to young black men, whether it was the case of Trayvon Martin to Ferguson to Eric Garner to, you know, Ezell Ford here in Los Angeles, which brought into question a number of issues about criminal justice reform and race."
Unlike previous Manifest shows, Closs explained that the Justice edition will use the art as the centerpiece to a wider forum for "discussion and provocation."
"So even if you came here because you were interested in, let's say, immigration rights issues," he said, "we hope that you leave making the connection between that and what's happening with movements like Black Lives Matter, or the connection with the Fight for $15."
Closs also sees Manifest: Justice as a showcase for a kind of cultural organizing that he believes has become essential to engaging younger people and marginalized communities in political campaigns.
New York-based wheatpaste muralist Jesse Hazelip may be typical of the new generation of artist-activist represented at Manifest: Justice. Hazelip, who is contributing several pieces from an ongoing series on mass incarceration and the state of the prison-industrial complex, grew up in Santa Barbara and began as a traditional tagger and freeway graffiti artist before graduating to more politically articulate and less destructive work. Those outlaw origins continue to imbue his work with a credibility that is largely absent in studio art.
"It's kind of like the allure of the vandal and the street artist," Hazelip agreed. "It's like, 'Oh, you're a cowboy.' And so that's another tool to bring people into the conversation. I make sure that everything I do is very well thought out, and I'm really trying to talk about issues that are important to all of us. Everything I do is about human rights. And I think it's very important to bring people in through whatever platform I can."
Closs' ulterior hope for Manifest: Justice is that it will convince community and labor organizers to harness that kind of power.
"It kind of shows folks what's possible," he explained. "It's happening year-round, but increasingly, I hope, it's something that the progressive community and certainly the labor community is embracing more and not just using as window dressing, but actually seeing it as a viable part of their strategy — that it's on the organizer's checklist of things that we need in order to have a successful campaign."
Manifest: Justice, runs May 1-10 at 3741 S. La Brea Ave., Los Angeles.
Years of Infamy: A New Documentary About the Japanese-American Internment
And Then They Came For Us is not the first film to tell the story of Executive Order 9066. Rarely, however, has any account of this shameful history been presented with such persuasively contemporary urgency.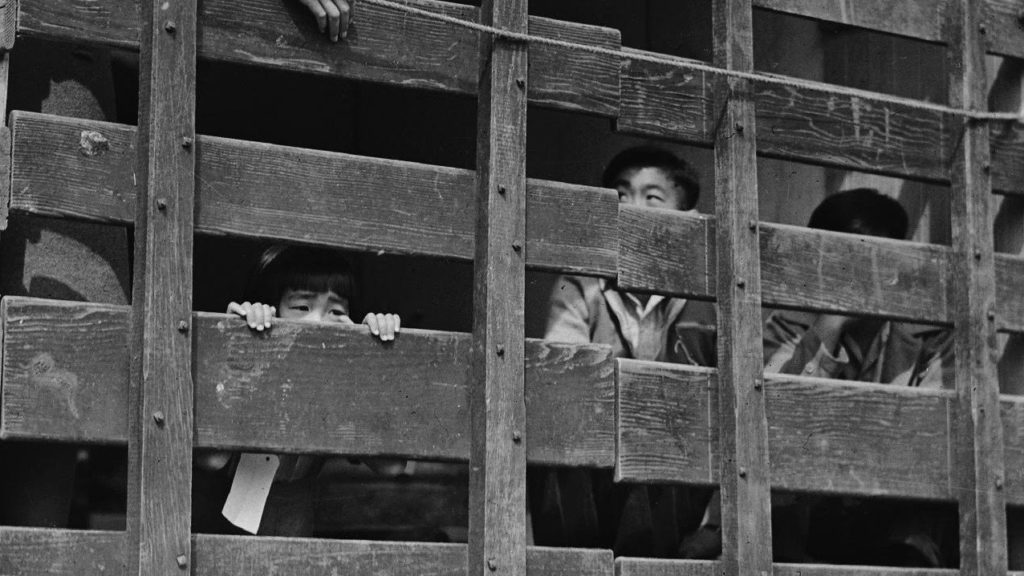 On February 19, 1942, President Franklin D. Roosevelt signed Executive Order 9066, which authorized the War Department to declare much of the West Coast to be military exclusion zones, resulting in the arrest, removal and incarceration of 120,000 law-abiding residents — including roughly 70,000 birthright American citizens — for the offense of being of the wrong race during wartime. Civil rights vanished for Americans of Japanese descent who were forcibly uprooted and deprived of their property without due process.
Social justice filmmakers Abby Ginzberg and Ken Schneider's powerful new documentary, And Then They Came For Us, is not the first to tell the story of one of modern America's most ignominious mass violations of civil rights. Rarely, however, has any account of this shameful history been presented with such persuasively contemporary urgency.
From Ginzberg's opening shots of protest at San Francisco Japantown's February 19th Day of Remembrance march, to the film's concluding call for solidarity between the survivors of 9066 and the Muslim immigrants who now find themselves targeted by yet another baldly racist executive action, it is always harrowingly apparent who is behind today's clear and present danger to bedrock civil liberties.
In fact, as Ginzberg explained to Capital & Main, it wasn't until the days following Donald Trump's 2016 election victory that she became convinced she had a compelling enough hook on which to hang an otherwise oft-told tale. That's when she saw Trump surrogate Carl Higbie appear on TV and cite the wartime internment as a precedent for candidate Trump's calls for a "complete shutdown of Muslims entering the United States," which included surveillance against mosques and establishing a database for all U.S. Muslims.
"I could suddenly see the politics of the film, I could understand its importance to today," she recalled. "It didn't become [a] dry history based on post-World War II analysis. It made me get very excited about it and decide that this film had to be done. We needed to find a way to get it out into the world as quickly as possible."
Her idea was to approach the internment as if it were a breaking news story. By keeping it lean, forgoing lengthy fundraising or complicated locations, the film might get from script to screen while the headlines were still fresh enough to have an impact. That's when the Jonathan Logan Family Foundation, which funds progressive investigative journalism, ponied up for the entire budget — a rare stroke of fortune in the social justice filmmaking world: "I was able to create a budget, give it to them and say, 'I will do this film if you pay the bills.' And they did. We started filming in October of 2016. And we finished it kind of mid- to end-of-April, 2017. For me that is record time." (Disclosure: The foundation is a financial supporter of this website.)
The heart of And Then They Came for Us lies in the trauma and unreconciled anger of the incarcerated — including the articulate testimony of former camp children like actor-activist George Takei. The experiences of now-deceased adults survive in an extraordinary trove of documentary images taken by photographers hired as government propagandists by the War Relocation Authority (WRA). The photographers, among them Ansel Adams and the magnificent Dorothea Lange, were carefully monitored by minders lest they violate rules against taking photos of camp barbed wire, guard towers and heavily armed military police. The prisoners themselves were forbidden cameras of any kind, and it is ironic that the only images of the Japanese-Americans behind barbed wire are those taken by internee Toyo Miyatake, using smuggled equipment and film.
"We tapped into a reservoir of stories," said Ginzberg, "and we were able to kind of cobble the film from everybody contributing something. But the two people who lead the film are George Takei and Satsuki Ina, who really have spent a lot of their lives working on this. … A third person, who's not related at all to George, is Barbara Takei, who's part of the Tule Lake Committee." Local authorities, she added, "are now threatening to build an airfield sorta smack in the middle of the Tule Lake camp, which would mean that any notion of sacred space, or being able to [honor] it as a historical site, will go to hell."
Eschewing the usual newsreel footage, Ginzberg sought — and was given — unrestricted access to recently unearthed and previously unpublished photographs, and research culled by photo historians Richard Cahan and Michael Williams for their 2016 coffee-table tome Un-American: The Incarceration of Japanese Americans During World War II. The book includes 170 images drawn from a 7,000-shot archive of the "evacuation." Ginzberg mostly narrows that to the work of Adams and Lange. And it is the unwavering gaze of the Lange portraits — part of an almost legendary, 800-image cache that was immediately impounded and "lost" for 60 years by the U.S. Army — that drives home the human scale of the tragedy. Many of Lange's photos were impounded for too truly reflecting the emotional reality of the camps.
"We try to let the photos in a certain way speak for themselves," Ginzberg pointed out. "We're letting people sort of read it in the faces of the Dorothea Lange [images], and something — "magical" is not the right word — but something deep happens in the experience of looking at those photos that are up there a little bit longer than they might be in some other setting. [Audiences are] able to read, as Takei says, the resilience and the stress. And so there's something happening that becomes a first-person experience."
In one of the most haunting scenes, internment historian and filmmaker Satsuki Ina, who was born in 1944 at the Tule Lake Segregation Camp near the Oregon border, a maximum security facility reserved for "troublemaker" activists, pensively encounters a Lange portrait of her mother, Shizuko, taken in 1942. Capturing an attractive, immaculately dressed young woman, the picture freezes a moment when her features are visibly drawn in worry as she waits with other first- and second-generation Japanese-Americans on a long sidewalk queue underneath government posters announcing their imminent removal.
Other speakers describe remarkably similar memories of the pain of witnessing their parents undergo the humiliation of gradually being shorn of their freedom and independence. Within a matter of weeks, the WRA froze bank accounts, limited movement and finally stripped internees of their automobiles and other property through forced sales. Los Angeles families were shipped to the Santa Anita racetrack and housed in horse stalls. Orwellian euphemisms ran through a government narrative that spoke soothingly of "evacuations" and "relocation centers," rather than forced removals and concentration camps.
According to Ginzberg the film has been well received by audiences at the handful of film festivals it has entered since its May premiere. She's been offering it for sale on the movie's website for activist groups that have already hosted a number of screenings around the country, and it has played particularly well with teachers. Ginzberg's strategy is to market the film as a classroom-friendly component (the runtime is 46 minutes) to lesson plans about the incarceration.
"Let's see if we can't educate people, organize people and have this film be as relevant as possible to what is going on, particularly with the Muslim travel ban, and then with other really repressive immigration policies."
---
The November 27 Los Angeles premiere for And Then They Came for Us, at the Downtown Independent Theater, is sold out.  Other screenings can be found at thentheycamedoc.com.
Copyright Capital & Main