'Manifest: Justice' Art Show Explores Inequality and Reform
Jesse Hazelip: "God Answer Me," mixed media and wood salvaged from abandoned jail
The power of art to effect fundamental social change will be on display in Los Angeles this week as a major 10-day "pop-up" exhibit of visual art and accompanying performances, and workshops opens Friday at a former movie theater in the city's Baldwin Hills neighborhood.
Called Manifest: Justice, the event will showcase over 250 works from more than 150 artists, along with 30 community events that focus on race and criminal justice reform, inequality, healthy communities and immigration reform. It is being produced with support from the California Endowment and Amnesty International.
Drawn from across the country, the list of participants includes such marquee artist-activists as the godfather of guerilla poster caricaturists, Robbie Conal, and Obama 'HOPE' agit-provocateur Shepard Fairey, as well as a host of up-and-coming street muralists and wheatpaste artists, inducling the likes of Tatyana Fazlalizadeh, Favianna Rodriguez and Jesse Hazelip. Also on hand will be big-league gallerists such as collagist-photographer Lyle Ashton Harris and painter-sculptor Eric Fischl.
Other highlights include solo-performer Roger Guenveur Smith, who will be reprising Rodney King, his acclaimed commemoration of the black construction worker whose 1991 beating at the hands of white police officers culminated in the Los Angeles riots the following year; appearances by Sybrina Fulton, the mother of Trayvon Martin, who'll be interviewed by California Endowment president Robert K. Ross; and a staging of Power: Mouths of the Occupied, artist and #BlackLivesMatters originator Patrisse Cullors' multimedia evening of short monologues by black students based on their personal experiences with state violence.
The show is the brainchild of Yosi Sergant, who may be best known as the promoter behind Fairey's iconic 'HOPE' poster created for Barack Obama's 2008 presidential campaign.
According to programming director Wyatt Closs, who is is a veteran Los Angeles labor organizer, the roots of Manifest: Justice go back to Sergant and Fairey's Manifest Hope gallery that was installed at the 2008 Democratic National Convention in Denver, as well as Manifest Equality, a 2010 pop-up exhibit in Hollywood focused on LGBT rights organized as a response to the passage of California's gay-marriage ban, Proposition 8.
Manifest: Justice, Closs says, will be both broader and more ambitious in scope by focusing on criminal justice reform and race, economic inequality and its disproportionate impact on immigrants and communities of color, and by raising questions about what it means to have opportunity and equality in America, and what is keeping that from happening?
"The idea [really] started from the influence of several different events from the last year-and-half to two years," Closs told Capital & Main, "from all of the various assaults with respect to young black men, whether it was the case of Trayvon Martin to Ferguson to Eric Garner to, you know, Ezell Ford here in Los Angeles, which brought into question a number of issues about criminal justice reform and race."
Unlike previous Manifest shows, Closs explained that the Justice edition will use the art as the centerpiece to a wider forum for "discussion and provocation."
"So even if you came here because you were interested in, let's say, immigration rights issues," he said, "we hope that you leave making the connection between that and what's happening with movements like Black Lives Matter, or the connection with the Fight for $15."
Closs also sees Manifest: Justice as a showcase for a kind of cultural organizing that he believes has become essential to engaging younger people and marginalized communities in political campaigns.
New York-based wheatpaste muralist Jesse Hazelip may be typical of the new generation of artist-activist represented at Manifest: Justice. Hazelip, who is contributing several pieces from an ongoing series on mass incarceration and the state of the prison-industrial complex, grew up in Santa Barbara and began as a traditional tagger and freeway graffiti artist before graduating to more politically articulate and less destructive work. Those outlaw origins continue to imbue his work with a credibility that is largely absent in studio art.
"It's kind of like the allure of the vandal and the street artist," Hazelip agreed. "It's like, 'Oh, you're a cowboy.' And so that's another tool to bring people into the conversation. I make sure that everything I do is very well thought out, and I'm really trying to talk about issues that are important to all of us. Everything I do is about human rights. And I think it's very important to bring people in through whatever platform I can."
Closs' ulterior hope for Manifest: Justice is that it will convince community and labor organizers to harness that kind of power.
"It kind of shows folks what's possible," he explained. "It's happening year-round, but increasingly, I hope, it's something that the progressive community and certainly the labor community is embracing more and not just using as window dressing, but actually seeing it as a viable part of their strategy — that it's on the organizer's checklist of things that we need in order to have a successful campaign."
Manifest: Justice, runs May 1-10 at 3741 S. La Brea Ave., Los Angeles.

'Skeleton Crew' Is a Play With a Moral Spine
Set in a Detroit automobile outfitting plant, Dominique Morisseau's drama grabs you from the start with its focus on blue-collar men and women, and their struggle for dignity and self-respect.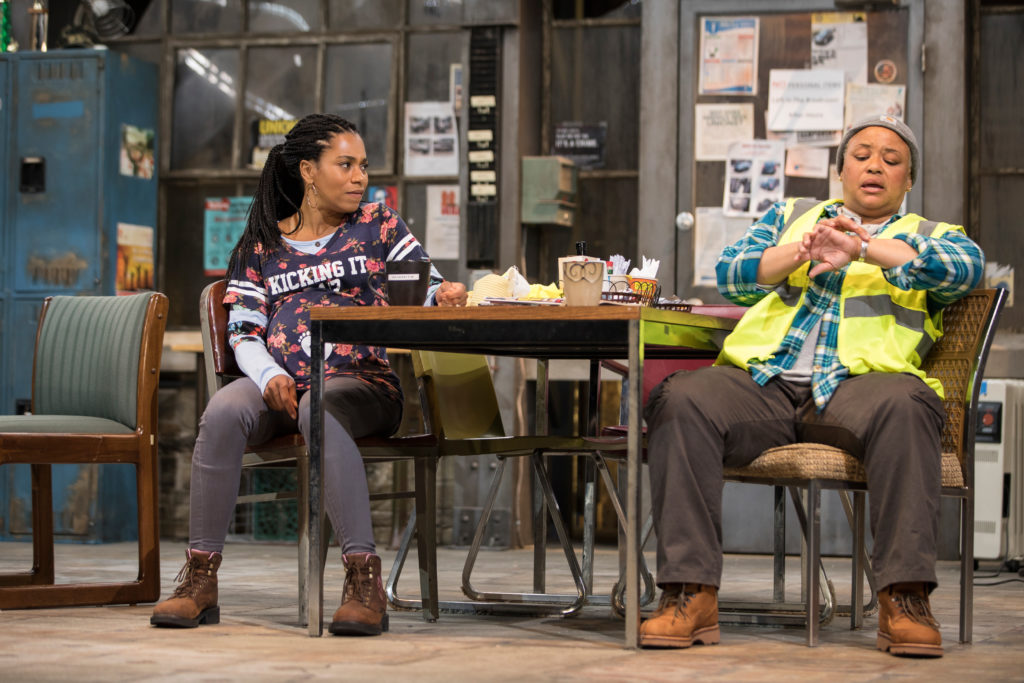 Working-class men and women of color are rarely front and center in today's media and, likewise, are presented all too occasionally on the American stage. So it's buoying to see that trend bucked in playwright Dominique Morisseau's percipient and well-crafted drama, Skeleton Crew. The play is the final installment in her Detroit  Project Trilogy; the first, Paradise Blue, is set in the 1940s amidst displacement caused by urban renewal and gentrification, while the second, Detroit '67, transpires on the eve of the 1967 Detroit riots sparked by a police action.
Directed by Patricia McGregor at Los Angeles' Geffen Playhouse, Skeleton Crew is a play with a moral spine. It takes place in 2008, when the shrinking U.S. auto industry is being further downsized. Morisseau's engaging quartet of characters — Faye (Caroline Stefanie Clay), Dez (Armari Cheatom), Shanita (Kelly McCreary) and Reggie (DB Woodside) – are employed at an automobile outfitting plant. Faye, Dez and Shanita are workers on the line while Reggie (who has a wife and kids, and has pulled himself together after a troubled youth) is their supervisor.
The first three customarily mingle in their break room (designer Rachel Myers' impressively cluttered, dingy and detailed set), trading the sort of familiar barbs and genuine concern for each other common among longtime co-workers. They also face off on philosophy: Upper-middle-aged Faye and the younger, pregnant Shanita take pride in their labor, while Dez, though a good worker, is a malcontent scornful of management and firm in the belief that everyone needs to watch out for himself. He's a thorn in Reggie's side, for while Reggie wants to be supportive of his workers, he must act at the behest of higher management. For his part, Dez resents Reggie's authority, and a palpable unease exists between them.
Besides this male matchup, we're made privy to Dez's attraction to Shanita, who mostly turns away his advances, but every now and then displays a hint of interest. Most poignant is Reggie's regard and affection for the lesbian Faye, which has roots in his boyhood when she loved, and lived, with his now-deceased mom.
These people's various predicaments intensify when rumors spread of the plant's shutdown — a disaster for all, but a particular calamity for the already near-broke Faye who, one year short of retirement, would lose her pension. The crisis forces each of these people to make a choice.
A sound piece of social realism, Skeleton Crew grabs you from the start in its focus on blue-collar men and women, and their struggle against odds for dignity and self-respect. Morisseau not only furnishes these characters a platform for their travails, she endows them with strong values, big hearts and the opportunity to choose between right and wrong.
Unfortunately, the performance I attended did not soar. Many exchanges lacked a fresh edge. The actors certainly had their characters down, but too often they appeared to be coasting on technique. (This seemed particularly true of Clay, who performed the role to great accolades in Washington, DC in 2017, also under McGregor's direction). Additionally, some of the stage movement was not entirely fluid; in confrontations, actors sometimes would just stand and face each other in an artificial way. And Cheatom's interpretation of Dez struck me as a bit overly churlish and depressive: I needed more glimpses of the intelligence and edge that would secretly attract the strong, self-directed Shanita.
The most compelling moments belong to Woodside, well-cast as a man trying his best in difficult circumstances to do the right thing.
---
Gil Cates Theater at the Geffen Playhouse, 10886 Le Conte Ave., Westwood Village; Tues.-Fri., 8 p.m.; Sat., 3 & 8 p.m. Sun., 2 & 7 p.m.; through July 8. (310) 208-5454 or www.geffenplayhouse.org