'Manifest: Justice' Art Show Explores Inequality and Reform
Jesse Hazelip: "God Answer Me," mixed media and wood salvaged from abandoned jail
The power of art to effect fundamental social change will be on display in Los Angeles this week as a major 10-day "pop-up" exhibit of visual art and accompanying performances, and workshops opens Friday at a former movie theater in the city's Baldwin Hills neighborhood.
Called Manifest: Justice, the event will showcase over 250 works from more than 150 artists, along with 30 community events that focus on race and criminal justice reform, inequality, healthy communities and immigration reform. It is being produced with support from the California Endowment and Amnesty International.
Drawn from across the country, the list of participants includes such marquee artist-activists as the godfather of guerilla poster caricaturists, Robbie Conal, and Obama 'HOPE' agit-provocateur Shepard Fairey, as well as a host of up-and-coming street muralists and wheatpaste artists, inducling the likes of Tatyana Fazlalizadeh, Favianna Rodriguez and Jesse Hazelip. Also on hand will be big-league gallerists such as collagist-photographer Lyle Ashton Harris and painter-sculptor Eric Fischl.
Other highlights include solo-performer Roger Guenveur Smith, who will be reprising Rodney King, his acclaimed commemoration of the black construction worker whose 1991 beating at the hands of white police officers culminated in the Los Angeles riots the following year; appearances by Sybrina Fulton, the mother of Trayvon Martin, who'll be interviewed by California Endowment president Robert K. Ross; and a staging of Power: Mouths of the Occupied, artist and #BlackLivesMatters originator Patrisse Cullors' multimedia evening of short monologues by black students based on their personal experiences with state violence.
The show is the brainchild of Yosi Sergant, who may be best known as the promoter behind Fairey's iconic 'HOPE' poster created for Barack Obama's 2008 presidential campaign.
According to programming director Wyatt Closs, who is is a veteran Los Angeles labor organizer, the roots of Manifest: Justice go back to Sergant and Fairey's Manifest Hope gallery that was installed at the 2008 Democratic National Convention in Denver, as well as Manifest Equality, a 2010 pop-up exhibit in Hollywood focused on LGBT rights organized as a response to the passage of California's gay-marriage ban, Proposition 8.
Manifest: Justice, Closs says, will be both broader and more ambitious in scope by focusing on criminal justice reform and race, economic inequality and its disproportionate impact on immigrants and communities of color, and by raising questions about what it means to have opportunity and equality in America, and what is keeping that from happening?
"The idea [really] started from the influence of several different events from the last year-and-half to two years," Closs told Capital & Main, "from all of the various assaults with respect to young black men, whether it was the case of Trayvon Martin to Ferguson to Eric Garner to, you know, Ezell Ford here in Los Angeles, which brought into question a number of issues about criminal justice reform and race."
Unlike previous Manifest shows, Closs explained that the Justice edition will use the art as the centerpiece to a wider forum for "discussion and provocation."
"So even if you came here because you were interested in, let's say, immigration rights issues," he said, "we hope that you leave making the connection between that and what's happening with movements like Black Lives Matter, or the connection with the Fight for $15."
Closs also sees Manifest: Justice as a showcase for a kind of cultural organizing that he believes has become essential to engaging younger people and marginalized communities in political campaigns.
New York-based wheatpaste muralist Jesse Hazelip may be typical of the new generation of artist-activist represented at Manifest: Justice. Hazelip, who is contributing several pieces from an ongoing series on mass incarceration and the state of the prison-industrial complex, grew up in Santa Barbara and began as a traditional tagger and freeway graffiti artist before graduating to more politically articulate and less destructive work. Those outlaw origins continue to imbue his work with a credibility that is largely absent in studio art.
"It's kind of like the allure of the vandal and the street artist," Hazelip agreed. "It's like, 'Oh, you're a cowboy.' And so that's another tool to bring people into the conversation. I make sure that everything I do is very well thought out, and I'm really trying to talk about issues that are important to all of us. Everything I do is about human rights. And I think it's very important to bring people in through whatever platform I can."
Closs' ulterior hope for Manifest: Justice is that it will convince community and labor organizers to harness that kind of power.
"It kind of shows folks what's possible," he explained. "It's happening year-round, but increasingly, I hope, it's something that the progressive community and certainly the labor community is embracing more and not just using as window dressing, but actually seeing it as a viable part of their strategy — that it's on the organizer's checklist of things that we need in order to have a successful campaign."
Manifest: Justice, runs May 1-10 at 3741 S. La Brea Ave., Los Angeles.
The Power of the Poster
Carol Wells, the founder of the Center for the Study of Political Graphics in Los Angeles, talks to Capital & Main about the enduring power of political art.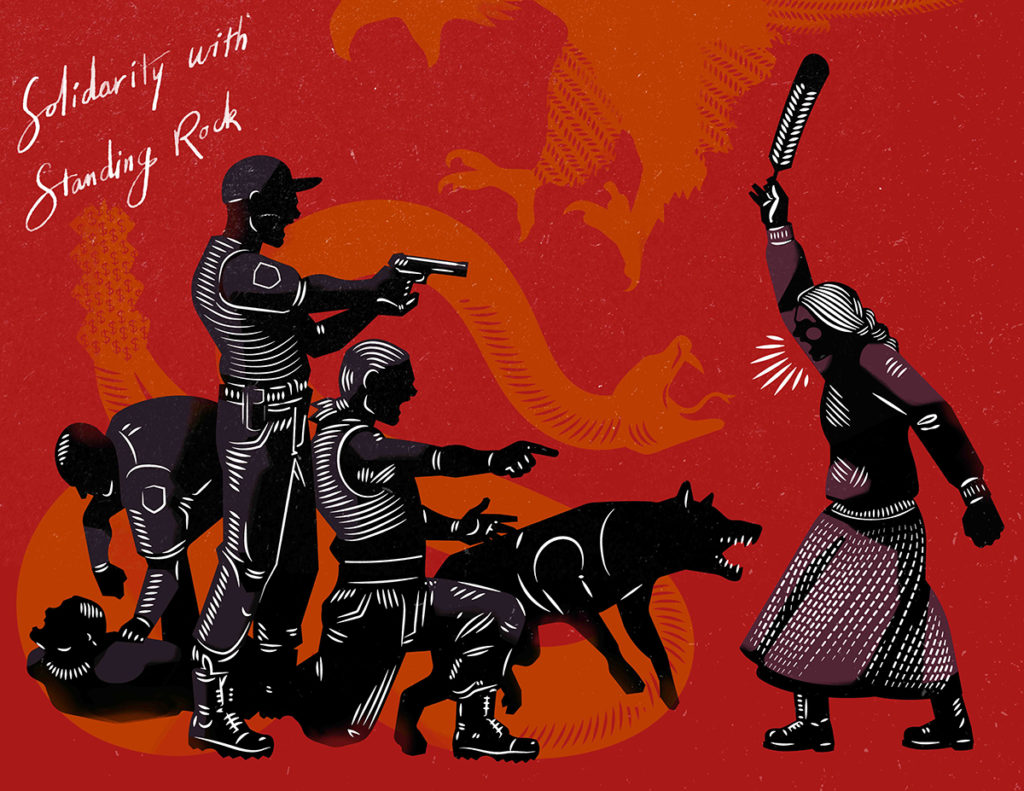 Carol Wells remembers the exact moment she discovered her calling. An art historian at the time, she was on a trip to Nicaragua with her friend David Kunzle, a UCLA art history professor, who was collecting political posters to add to his burgeoning collection. While staying with friends, Wells watched a neighbor's 8-year-old son approach a poster on the wall, stare at it intently, and then start to silently mouth the words. Wells was struck by how engaged the boy was. "In that moment I became obsessed with collecting posters."
Now over 40 years later, Wells is the founder and executive director of the Center for the Study of Political Graphics in Los Angeles. Wells has amassed approximately 90,000 posters, building one of the largest collections of its kind in the world. The Center shares its collection with the public in part through curated exhibits. This year the CSPG has produced Feminae: Typographic Voices of Women by Women and its latest is To Protect & Serve? Five Decades of Posters Protesting Police Violence, running through July 15 at the Mercado La Paloma in downtown Los Angeles.
Since that encounter in Nicaragua in 1981, Wells' obsession with collecting posters hasn't waned. In CSPG's nondescript West L.A. office space, Wells pulls out poster after poster, lecturing passionately on the backstory and cultural impact of each, including one that superimposes text from a New York Times interview with a shocking image of the My Lai massacre ("Q: And babies? A: And babies."). Recently, she managed to sit down with C&M to discuss her passion.
---
Capital & Main: So, you were an art history professor, you happen to see a kid on a trip, and suddenly your life was changed forever?
Carol Wells: Yeah, I'm in Nicaragua alone in the living room with this kid. He's looking around, and all of a sudden, he sees the poster. It was pretty big, bright green, a thick outlines of a woman holding a big basket of coffee beans. And the text in Spanish said, "In constructing the new country, we are becoming the new woman." I see him walk over to the poster and I'm watching him mouth the words. It was a pretty sophisticated concept, so I doubt he figured it out. But I literally had this epiphany: "Oh my God. That's how posters work." You're going about your daily life, and all of a sudden something breaks through the bubble, and it grabs your attention. It's the graphic, it's the color, it's the combination, and it pulls you out of your head and into that poster and it makes you ask a question. "Why is this here? What is this about? What does this mean?" And every time you ask a question, you're a different person than you were before you asked the question.
How many posters do you get a year?
We get between two to five thousand a year donated from all over the world. The bulk of our collection is [from] 1945 and later.
I assume technology has probably hurt the art form, but has it helped get the messages out?
Most people think that, and it's actually not true. Since the internet age started, there's actually a poster renaissance of works on paper. Because you can't walk with your computer monitor in a demonstration. You can't plant your monitor on your lawn.
And you can't put a laptop on the wall…
Exactly. You want to hear a really great story? Truthdig.org published a cartoon [made by] a political cartoonist named Mr. Fish. It was during the Arab spring, and he had superimposed Che Guevara with the stylized beard and King Tut's face, but it had Che's beret. And it [was titled], "Walk like an Egyptian." So, it was a reference to the music, but [it was also] a reference to what was going on the streets of Cairo. I sent it out as our poster of the week to 9,000 people. The very next day, somebody took a photograph on the street of Cairo, with somebody holding a piece of paper with that image on it. A poster can literally go around the world and people will print it out.
What struck me in viewing your exhibits is how many of these posters could still be used today, not only artistically but also, sadly, in the timeliness of their messages.
We had this fabulous poster by Yolanda Lopez, a Bay Area artist, which she first did in 1978. It depicts a young man in Aztec garb pointing a finger like Uncle Sam saying, "Who's the illegal alien, PILGRIM?" And it's a great poster, it's simple, not too many words, funny, provocative. So, we had an exhibit at UCLA in the mid '90s and there were 4 or 5 high school students standing around this poster saying, "Wow, you've got posters up to the minute." And I went over to them and I said, "Look at the date. This is before you were born."
Is that one of your goals with the exhibitions? To show the evergreen nature of this work?
Absolutely. I mean that's why we did the police abuse exhibition now. It basically goes back five decades. It's 50 years of posters protesting police abuse. Mainly in the United States, but also internationally.
What's the goal for CSPG?
Well the aim right now is really to digitize the collection and get it online. We have 10% of the collection digitized. But the mission is to collect and to document, because stories get lost. All the exhibitions, they're showing massacres, they're showing genocide, they're showing police abuse, they're showing all of these horrible things. And people often ask me, "How can you look at this stuff all day long?" I said, "Because the poster artists are optimists. They believe people can change if they have the information."
Yes, that's the reason why they're doing it, right?
That's why they're doing it, and that's why I'm doing this, because I believe that people can change if they knew the truth.
And what happens 20, 50 years from now?
Well, my goal is to stay independent, because the other option is to become part of the university. Universities, for all the fabulous things that they do, they also censor. We did an exhibition at USC in 1992 on the 500 years since Columbus, and how the legacy of racism and exploitation and genocide continues. And one of the board of trustees was Italian and took [the exhibit] as an affront to Columbus. It really wasn't about Columbus, it was about colonialism. And he ordered it down.
Do you have a favorite poster?
I'm always amazed at the creativity and vision of artists. Every week I'll say, "Oh my God, how do they think of that?" But it's always still going to be the poster I saw that kid trying to figure out. It has to be my favorite one because that one changed my life.
What makes a perfect poster?
The right balance between aesthetics and message. If you only rely on the corporate press, the New York Times and L.A. Times, for your information, you're not going to get the side from the street, from the movement, from the activists. The posters are primary historical documents that are recording the issues that were at the time, and the passions that were at the time, and the divisions that were at the time. You're not going to get it anyplace else.
---
Copyright Capital & Main