Man in Black: "J. Edgar" Remembered
First my boss at the suburban YMCA told me I was fired as a youth worker. Then he said he had been visited by a federal agent who told him I had an FBI file that was a file-drawer deep.  It was 1968 Chicago, and the Democratic Convention was around the corner; parents were freaked that their teenagers would participate.
As good as Clint Eastwood's new film, J. Edgar is, it neglects to portray the climate of fear that Hoover's FBI historically created for ordinary American activists, particularly from the 1950s until his death in 1972.  From visits to homes by suited men trying to "get information," to intimations of "subversion" to employers, landlords  and colleagues, the FBI wreaked havoc on the lives of thousands of law-abiding Americans in its single-minded campaign to weaken dissent within American society.  As explained by Wikipedia, its methods included infiltration, burglaries, illegal wiretaps, planting forged documents and spreading false rumors about key members of targeted organizations.´
In the 1960s, activists like myself learned to suspect people who advocated the most extreme and violent tactics as potential FBI plants, and history has shown that many of the organizations we founded did have government-sponsored agents in them.
Still, I basically loved the film.  Besides its humane and touching depiction of the relationship between Hoover and his life companion Clyde Tolson, it expertly shows how Hoover essentially blackmailed a series of U.S. presidents with his secretly held, damaging information, and became an untouchable as a result.  The film also shows how courage and conviction, in the example of Martin Luther King Jr., was the only defense against Hoover's attempted subversion.  That held true for the many Americans he attempted to bring down.
In our new age of "homeland security" this film couldn't be more relevant.  While we can't pinpoint one power-hungry individual behind it, we can feel the pall that today's government surveillance attempts to cast on dissent and independent action.  Americans beware.  Those suited men are back at the door.
(Curious to know if the FBI has a file on you? Go to the bureau's Freedom of Information Act site.)

'Skeleton Crew' Is a Play With a Moral Spine
Set in a Detroit automobile outfitting plant, Dominique Morisseau's drama grabs you from the start with its focus on blue-collar men and women, and their struggle for dignity and self-respect.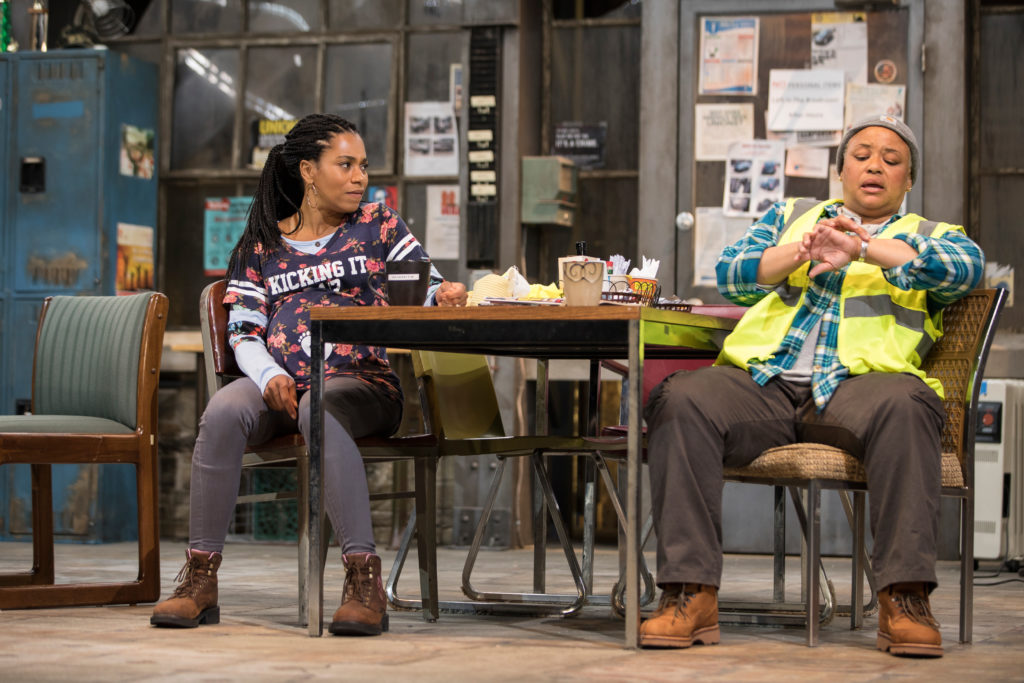 Working-class men and women of color are rarely front and center in today's media and, likewise, are presented all too occasionally on the American stage. So it's buoying to see that trend bucked in playwright Dominique Morisseau's percipient and well-crafted drama, Skeleton Crew. The play is the final installment in her Detroit  Project Trilogy; the first, Paradise Blue, is set in the 1940s amidst displacement caused by urban renewal and gentrification, while the second, Detroit '67, transpires on the eve of the 1967 Detroit riots sparked by a police action.
Directed by Patricia McGregor at Los Angeles' Geffen Playhouse, Skeleton Crew is a play with a moral spine. It takes place in 2008, when the shrinking U.S. auto industry is being further downsized. Morisseau's engaging quartet of characters — Faye (Caroline Stefanie Clay), Dez (Armari Cheatom), Shanita (Kelly McCreary) and Reggie (DB Woodside) – are employed at an automobile outfitting plant. Faye, Dez and Shanita are workers on the line while Reggie (who has a wife and kids, and has pulled himself together after a troubled youth) is their supervisor.
The first three customarily mingle in their break room (designer Rachel Myers' impressively cluttered, dingy and detailed set), trading the sort of familiar barbs and genuine concern for each other common among longtime co-workers. They also face off on philosophy: Upper-middle-aged Faye and the younger, pregnant Shanita take pride in their labor, while Dez, though a good worker, is a malcontent scornful of management and firm in the belief that everyone needs to watch out for himself. He's a thorn in Reggie's side, for while Reggie wants to be supportive of his workers, he must act at the behest of higher management. For his part, Dez resents Reggie's authority, and a palpable unease exists between them.
Besides this male matchup, we're made privy to Dez's attraction to Shanita, who mostly turns away his advances, but every now and then displays a hint of interest. Most poignant is Reggie's regard and affection for the lesbian Faye, which has roots in his boyhood when she loved, and lived, with his now-deceased mom.
These people's various predicaments intensify when rumors spread of the plant's shutdown — a disaster for all, but a particular calamity for the already near-broke Faye who, one year short of retirement, would lose her pension. The crisis forces each of these people to make a choice.
A sound piece of social realism, Skeleton Crew grabs you from the start in its focus on blue-collar men and women, and their struggle against odds for dignity and self-respect. Morisseau not only furnishes these characters a platform for their travails, she endows them with strong values, big hearts and the opportunity to choose between right and wrong.
Unfortunately, the performance I attended did not soar. Many exchanges lacked a fresh edge. The actors certainly had their characters down, but too often they appeared to be coasting on technique. (This seemed particularly true of Clay, who performed the role to great accolades in Washington, DC in 2017, also under McGregor's direction). Additionally, some of the stage movement was not entirely fluid; in confrontations, actors sometimes would just stand and face each other in an artificial way. And Cheatom's interpretation of Dez struck me as a bit overly churlish and depressive: I needed more glimpses of the intelligence and edge that would secretly attract the strong, self-directed Shanita.
The most compelling moments belong to Woodside, well-cast as a man trying his best in difficult circumstances to do the right thing.
---
Gil Cates Theater at the Geffen Playhouse, 10886 Le Conte Ave., Westwood Village; Tues.-Fri., 8 p.m.; Sat., 3 & 8 p.m. Sun., 2 & 7 p.m.; through July 8. (310) 208-5454 or www.geffenplayhouse.org