Making History: Remembering Jeff Stansbury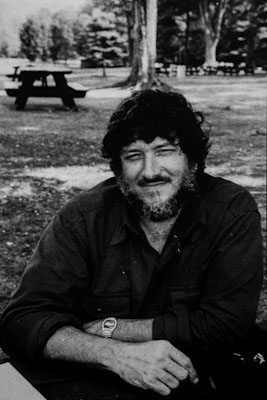 I wrote this post for The Stansbury Forum, a site honoring the work and spirit of union activist, writer, friend and mentor Jeff Stansbury, who died in 2008.
Five years in Los Angeles and I was still suffering from the region's alienating social atmosphere. I had a few good friends, a new relationship and some interesting work under my belt in sales, journalism and PR. But I couldn't shake the sensation that people in L.A. keep their distance and that there was something innately "asocial" about this place.
As I've explained, the labor movement was the tonic for my personal crisis. Southern California's sprawl, materialism and hyper-individualism became less of a preoccupation when I started working with unions. I was finally giving up my fantasy of heading back to Vermont and could concentrate my mind on universal themes: big stuff like ethnic and class roots, human identity and history. I'd found an institution with a mission I could run with and a cast of characters I could relate to, learn from, like and admire….
None more than Jeff Stansbury, who I met in the late 1980s at the International Ladies Garment Workers Union (ILGWU) hall across from MacArthur Park near downtown L.A. Jeff and his cohorts were busy trying to figure out how to revive a union which was bleeding members and losing contracts.
Organizing Latino immigrant workers and pressuring employers was a central challenge and one which the L.A. labor movement was beginning to take on. Among other things, Jeff was running a citizenship campaign. But the ILG – hampered by the decentralized garment industry and capital flight – would not share in that larger service-sector success story.
On first impression, Stansbury – black beard, suspenders – looked like a lumberjack. The conversation I can't remember but I bet it touched on our roles as labor "writers." I would soon find out how much that title applied to big Jeff.
Stansbury, I would learn, was extraordinarily gifted in blending and personifying working-class and progressive values. During the '60s and '70s when unions and environmentalists were battling over air and water pollution from manufacturing, Jeff was writing about coalitional strategies. He worked successfully to mobilize broad-based opposition to "right to work" politics in Missouri in 1977. And he was instrumental in expanding coverage of a UAW newspaper to include cross-border issues.
In fact, Jeff would bring me into a union newsletter project in the early '90s. By then, he had made another of his legendary segues across the labor spectrum. Stansbury had joined the western region research staff of HERE (Hotel Employees Restaurant Employees) which was doing excellent work decoding the complex hospitality industry of Southern California and beyond. (Many of these "researchers" would go on to become central players in developing the union's national organizing campaigns).
I had already picked up a few assignments to develop publications and was delighted when asked by the new regime at HERE Local 11 in Los Angeles to start-up, write and edit a bi-lingual union newspaper. An innovative feature of Noticias del Local 11 News — which caught Jeff's eye – was how English and Spanish were seamlessly integrated onto each page (I worked with a professional translator).
Stansbury liked what had been done at Local 11 and invited me to work with him on a prototype newsletter for HERE's Las Vegas local. For the next year or so, he and I made several trips together, flying Southwest from Burbank to Vegas, meeting with elected leaders, staff and activists to enlist buy-in for what would be called Union Pride. Our travels together gave me the chance to listen to Jeff's stories about his work and life and to learn first-hand from this brilliant, dedicated and endearing guy.
I was in my 40s and a new parent. Seventeen years older with adult children, Stansbury had some thoughts on how to maintain a commitment to the movement and your family. Jeff also gave perspective to my political views and "radicalism" which was rooted in 60s and 70s protests and counter culture. Stansbury's working-class consciousness was earnest and authentic and helped me re-locate my own.
He had been active in the movement when ideological divisions over the cold war and the role of the labor left were still being fought-out. But I never saw Stansbury become strident or condescending. His temperament and demeanor were remarkably steady. His eye was on the big picture. He understood that history moves in long sweeping curves. And Jeff knew his history.
He and I collaborated on a chapter of a 1992 book called The New Labor Press – Journalism for a Changing Union Movement (published by Cornell's ILR Press).
Our article was titled Beyond English: The Labor Press in a Multicultural Environment.
I gave the piece some punch. He gave it its depth:
In the 1920s and 1930s, when unions were central to the lives of immigrant workers, it would have been inconceivable for the garment workers not to have published their newspaper in Yiddish, the granite workers not to have published theirs in Italian, or the butchers not to have published in Polish.
Yet today, with millions of union members and potential members in the United States who have emigrated from Mexico, Central America, the Caribbean, Korea, China, Vietnam, the Philippines, India and other countries, the newspapers and newsletters published by U.S. unions appear, with isolated exceptions, only in English.
That pre-Internet assessment of labor communication expressed Jeff's belief that unions must be inclusive and expansive; and that to see into the future, we must look back to the past.
Jeff's "retirement" plan, as we know, involved an extraordinary project: a PhD in history from UCLA and a colossal dissertation focused on the workers – and their unions – who built the L.A. Aqueduct and operated the city's municipal water supply and electrical system in the first years of the 20th Century.
When finished, he wanted to teach labor history in community college.
Sadly, he didn't get that chance.
I've been lucky over the past few years to teach a course through L.A. Trade Tech's Labor Center called "Labor in America" aimed at students with no union background. It would have been great if Stansbury had been around to inspire them as he did me.
Finally, Jeff and I had in common a history and deep affection for Vermont. He spent his last years chopping wood and shoveling snow in Middleton Springs where he and his wife Gretzel lived in a beautiful house designed by their son.
My kids and I visited a couple years after they moved East. Here was my friend and mentor – the guy who had helped me come of age in L.A. – finishing up his last great project in a state we both loved.

'Ameryka' a Biting Commentary on Our National Psyche
A new staging of Nancy Keystone's award-winning political play comes to the Kirk Douglas Theatre in Culver City.

In 2009, Ameryka's writer/director Nancy Keystone was perusing a catalogue, Western Amerykański: Polish Poster Art and the Western, when she spotted a 1989 poster that celebrated the first democratic elections in Poland since World War II. The central image was a black-and white-photo of Gary Cooper in the 1957 film High Noon. Keystone's curiosity piqued over the odd connection between Polish elections and classic American cinema, and her subsequent research helped spark this sprawling political piece that spans two countries — the U.S. and Poland —and several historical time periods.
A collaborative effort of Keystone's Critical Mass Performance Group, the play speaks to the struggle of ordinary citizens for a voice in their destiny and the tactics and hypocrisy of the powerful forces that would silence them. Originally staged in 2016 at the Shakespeare Center Los Angeles, here it's played out on a large spare proscenium (set by Keystone) at the Kirk Douglas Theatre (as part of Center Theatre Group's "Block Party" project, which supports smaller LA. Companies). The patchwork narrative shifts among the American Revolutionary War period; the 1950s under the influence of McCarthy; the 1980s, in which a two-faced Reagan Administration undermined its workers at home (the firing of air traffic controllers after they struck) while supporting the Polish Solidarity movement abroad; and the early years of this century when the CIA, obsessed with the war on terror, established a base in Poland, sweetening their presence with American dollars.
These scenarios are peopled with both fictional and historical personages, including Tadeusz Kosciuszko (Jeff Lorch), a Polish military officer and passionate democrat who fought with the colonists against the British, his friend Thomas Jefferson (Curt Bonnem), who spoke against slavery but kept his slaves, and Kosciuszko's military aide during the Revolutionary War, Agrippa Hull (Lorne Green), a free black man and soldier whose accomplishments inspired Kosciuszko to champion abolitionism, in contrast to Jefferson (who was charged by Kosciuszko to use his estate after he died to help free slaves, and promised to do so but never did). A scene where Kosciuszko and Jefferson dine at Monticello and discuss the evils of slavery, while being catered to by Jefferson's slave (Ford), is only one of the pungently ironical moments the play serves up.
Twentieth century personages include a pious William Casey (Russell Edge), who leads a prayer vigil with his underlings before plotting to implement a national directive challenging the Soviets through Poland ("Fuck Yalta"), Anna Walentynowicz (Valerie Spencer), a colleague of Lech Walesa, and Father Jerzy Popieluszko (Lorch), the pro-Solidarity priest assassinated in 1984.
After opening with the rough-handed arrest of Walentynowicz by Polish security agents, the play harks back to 1959. (Fictional) jazz musician Gene Jefferson (Ray Ford) visits Poland, where he discovers that Poles love jazz and other things American, including Westerns and Gary Cooper. An African-American who steels himself daily against condescending racism (illustrated by his prior interview with a State Department official) he's taken aback at their rah-rah America enthusiasm. That same cultural disconnect manifests in a scene from the 80s; a gay American man named Ray (Ford) recounts meeting this terrific Polish guy in a bar, only to be put off when the Pole sings Reagan's praises for supporting Solidarity. To Ray, Reagan's legacy are the thousands of victims of AIDS.
A complex entangled piece, Ameryka packed at punch when it was staged at the Shakespeare Center nearly 18 months ago (winning the Stage Raw award for Production of the Year) but loses some of its edge in the larger space at the Kirk Douglas. Less than optimal acoustics seem to be part of the problem. Many of the original ensemble members are reprising their roles; one exception is Lorch, recently brought in to replace the original actor. His work is fine, as is everyone's, but I did wish for more distinctive and distinguished ardor from this character in particular.
Still, Ameryka remains a substantive, historically informative work, a biting commentary on the contradictions and illusions that bedevil not only our own national psyche but others. It's the sort of drama we need more of.
Critical Mass Performance Group, Kirk Douglas Theatre, 9820 Washington Blvd., Culver City; 213) 628-2772, online at www.CenterTheatreGroup.org; Wed.-Sat., 8 p.m.; Sat., 2 p/m;, Sun., 1p.m.; through April 29.
---
Copyright Capital & Main