Making History: Remembering Jeff Stansbury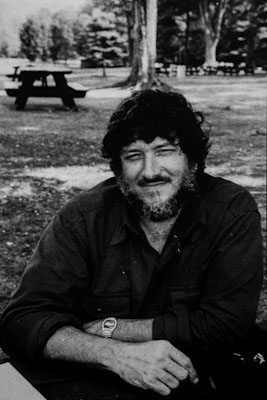 I wrote this post for The Stansbury Forum, a site honoring the work and spirit of union activist, writer, friend and mentor Jeff Stansbury, who died in 2008.
Five years in Los Angeles and I was still suffering from the region's alienating social atmosphere. I had a few good friends, a new relationship and some interesting work under my belt in sales, journalism and PR. But I couldn't shake the sensation that people in L.A. keep their distance and that there was something innately "asocial" about this place.
As I've explained, the labor movement was the tonic for my personal crisis. Southern California's sprawl, materialism and hyper-individualism became less of a preoccupation when I started working with unions. I was finally giving up my fantasy of heading back to Vermont and could concentrate my mind on universal themes: big stuff like ethnic and class roots, human identity and history. I'd found an institution with a mission I could run with and a cast of characters I could relate to, learn from, like and admire….
None more than Jeff Stansbury, who I met in the late 1980s at the International Ladies Garment Workers Union (ILGWU) hall across from MacArthur Park near downtown L.A. Jeff and his cohorts were busy trying to figure out how to revive a union which was bleeding members and losing contracts.
Organizing Latino immigrant workers and pressuring employers was a central challenge and one which the L.A. labor movement was beginning to take on. Among other things, Jeff was running a citizenship campaign. But the ILG – hampered by the decentralized garment industry and capital flight – would not share in that larger service-sector success story.
On first impression, Stansbury – black beard, suspenders – looked like a lumberjack. The conversation I can't remember but I bet it touched on our roles as labor "writers." I would soon find out how much that title applied to big Jeff.
Stansbury, I would learn, was extraordinarily gifted in blending and personifying working-class and progressive values. During the '60s and '70s when unions and environmentalists were battling over air and water pollution from manufacturing, Jeff was writing about coalitional strategies. He worked successfully to mobilize broad-based opposition to "right to work" politics in Missouri in 1977. And he was instrumental in expanding coverage of a UAW newspaper to include cross-border issues.
In fact, Jeff would bring me into a union newsletter project in the early '90s. By then, he had made another of his legendary segues across the labor spectrum. Stansbury had joined the western region research staff of HERE (Hotel Employees Restaurant Employees) which was doing excellent work decoding the complex hospitality industry of Southern California and beyond. (Many of these "researchers" would go on to become central players in developing the union's national organizing campaigns).
I had already picked up a few assignments to develop publications and was delighted when asked by the new regime at HERE Local 11 in Los Angeles to start-up, write and edit a bi-lingual union newspaper. An innovative feature of Noticias del Local 11 News — which caught Jeff's eye – was how English and Spanish were seamlessly integrated onto each page (I worked with a professional translator).
Stansbury liked what had been done at Local 11 and invited me to work with him on a prototype newsletter for HERE's Las Vegas local. For the next year or so, he and I made several trips together, flying Southwest from Burbank to Vegas, meeting with elected leaders, staff and activists to enlist buy-in for what would be called Union Pride. Our travels together gave me the chance to listen to Jeff's stories about his work and life and to learn first-hand from this brilliant, dedicated and endearing guy.
I was in my 40s and a new parent. Seventeen years older with adult children, Stansbury had some thoughts on how to maintain a commitment to the movement and your family. Jeff also gave perspective to my political views and "radicalism" which was rooted in 60s and 70s protests and counter culture. Stansbury's working-class consciousness was earnest and authentic and helped me re-locate my own.
He had been active in the movement when ideological divisions over the cold war and the role of the labor left were still being fought-out. But I never saw Stansbury become strident or condescending. His temperament and demeanor were remarkably steady. His eye was on the big picture. He understood that history moves in long sweeping curves. And Jeff knew his history.
He and I collaborated on a chapter of a 1992 book called The New Labor Press – Journalism for a Changing Union Movement (published by Cornell's ILR Press).
Our article was titled Beyond English: The Labor Press in a Multicultural Environment.
I gave the piece some punch. He gave it its depth:
In the 1920s and 1930s, when unions were central to the lives of immigrant workers, it would have been inconceivable for the garment workers not to have published their newspaper in Yiddish, the granite workers not to have published theirs in Italian, or the butchers not to have published in Polish.
Yet today, with millions of union members and potential members in the United States who have emigrated from Mexico, Central America, the Caribbean, Korea, China, Vietnam, the Philippines, India and other countries, the newspapers and newsletters published by U.S. unions appear, with isolated exceptions, only in English.
That pre-Internet assessment of labor communication expressed Jeff's belief that unions must be inclusive and expansive; and that to see into the future, we must look back to the past.
Jeff's "retirement" plan, as we know, involved an extraordinary project: a PhD in history from UCLA and a colossal dissertation focused on the workers – and their unions – who built the L.A. Aqueduct and operated the city's municipal water supply and electrical system in the first years of the 20th Century.
When finished, he wanted to teach labor history in community college.
Sadly, he didn't get that chance.
I've been lucky over the past few years to teach a course through L.A. Trade Tech's Labor Center called "Labor in America" aimed at students with no union background. It would have been great if Stansbury had been around to inspire them as he did me.
Finally, Jeff and I had in common a history and deep affection for Vermont. He spent his last years chopping wood and shoveling snow in Middleton Springs where he and his wife Gretzel lived in a beautiful house designed by their son.
My kids and I visited a couple years after they moved East. Here was my friend and mentor – the guy who had helped me come of age in L.A. – finishing up his last great project in a state we both loved.
The Power of the Poster
Carol Wells, the founder of the Center for the Study of Political Graphics in Los Angeles, talks to Capital & Main about the enduring power of political art.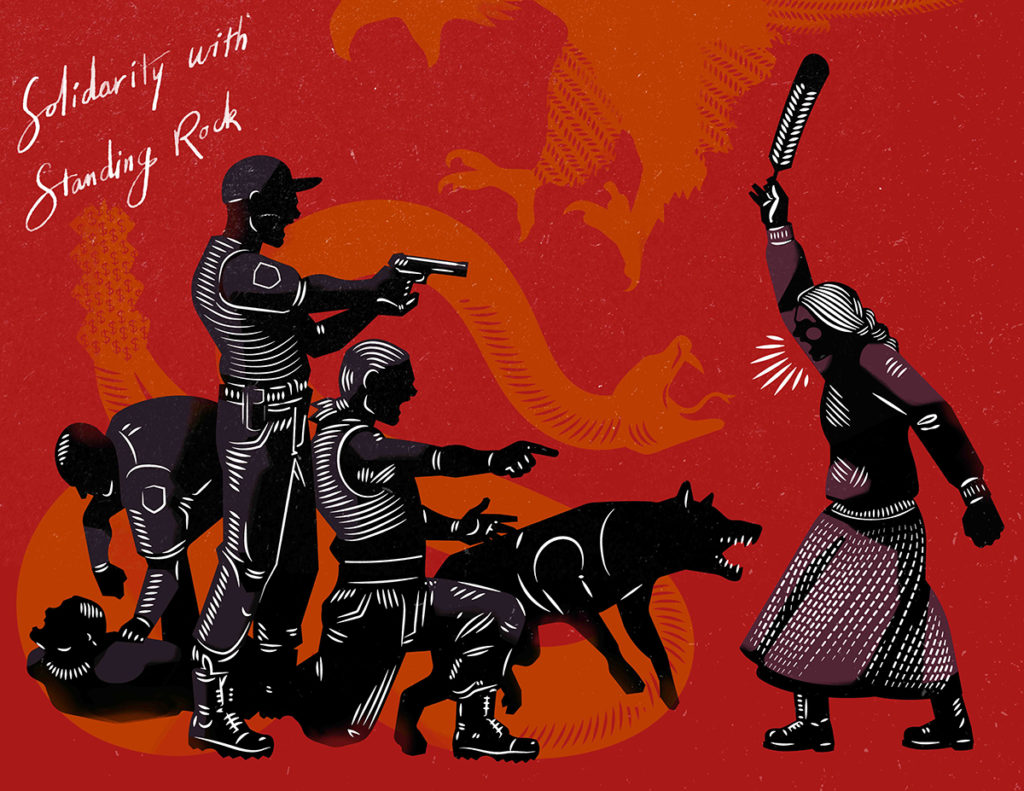 Carol Wells remembers the exact moment she discovered her calling. An art historian at the time, she was on a trip to Nicaragua with her friend David Kunzle, a UCLA art history professor, who was collecting political posters to add to his burgeoning collection. While staying with friends, Wells watched a neighbor's 8-year-old son approach a poster on the wall, stare at it intently, and then start to silently mouth the words. Wells was struck by how engaged the boy was. "In that moment I became obsessed with collecting posters."
Now over 40 years later, Wells is the founder and executive director of the Center for the Study of Political Graphics in Los Angeles. Wells has amassed approximately 90,000 posters, building one of the largest collections of its kind in the world. The Center shares its collection with the public in part through curated exhibits. This year the CSPG has produced Feminae: Typographic Voices of Women by Women and its latest is To Protect & Serve? Five Decades of Posters Protesting Police Violence, running through July 15 at the Mercado La Paloma in downtown Los Angeles.
Since that encounter in Nicaragua in 1981, Wells' obsession with collecting posters hasn't waned. In CSPG's nondescript West L.A. office space, Wells pulls out poster after poster, lecturing passionately on the backstory and cultural impact of each, including one that superimposes text from a New York Times interview with a shocking image of the My Lai massacre ("Q: And babies? A: And babies."). Recently, she managed to sit down with C&M to discuss her passion.
---
Capital & Main: So, you were an art history professor, you happen to see a kid on a trip, and suddenly your life was changed forever?
Carol Wells: Yeah, I'm in Nicaragua alone in the living room with this kid. He's looking around, and all of a sudden, he sees the poster. It was pretty big, bright green, a thick outlines of a woman holding a big basket of coffee beans. And the text in Spanish said, "In constructing the new country, we are becoming the new woman." I see him walk over to the poster and I'm watching him mouth the words. It was a pretty sophisticated concept, so I doubt he figured it out. But I literally had this epiphany: "Oh my God. That's how posters work." You're going about your daily life, and all of a sudden something breaks through the bubble, and it grabs your attention. It's the graphic, it's the color, it's the combination, and it pulls you out of your head and into that poster and it makes you ask a question. "Why is this here? What is this about? What does this mean?" And every time you ask a question, you're a different person than you were before you asked the question.
How many posters do you get a year?
We get between two to five thousand a year donated from all over the world. The bulk of our collection is [from] 1945 and later.
I assume technology has probably hurt the art form, but has it helped get the messages out?
Most people think that, and it's actually not true. Since the internet age started, there's actually a poster renaissance of works on paper. Because you can't walk with your computer monitor in a demonstration. You can't plant your monitor on your lawn.
And you can't put a laptop on the wall…
Exactly. You want to hear a really great story? Truthdig.org published a cartoon [made by] a political cartoonist named Mr. Fish. It was during the Arab spring, and he had superimposed Che Guevara with the stylized beard and King Tut's face, but it had Che's beret. And it [was titled], "Walk like an Egyptian." So, it was a reference to the music, but [it was also] a reference to what was going on the streets of Cairo. I sent it out as our poster of the week to 9,000 people. The very next day, somebody took a photograph on the street of Cairo, with somebody holding a piece of paper with that image on it. A poster can literally go around the world and people will print it out.
What struck me in viewing your exhibits is how many of these posters could still be used today, not only artistically but also, sadly, in the timeliness of their messages.
We had this fabulous poster by Yolanda Lopez, a Bay Area artist, which she first did in 1978. It depicts a young man in Aztec garb pointing a finger like Uncle Sam saying, "Who's the illegal alien, PILGRIM?" And it's a great poster, it's simple, not too many words, funny, provocative. So, we had an exhibit at UCLA in the mid '90s and there were 4 or 5 high school students standing around this poster saying, "Wow, you've got posters up to the minute." And I went over to them and I said, "Look at the date. This is before you were born."
Is that one of your goals with the exhibitions? To show the evergreen nature of this work?
Absolutely. I mean that's why we did the police abuse exhibition now. It basically goes back five decades. It's 50 years of posters protesting police abuse. Mainly in the United States, but also internationally.
What's the goal for CSPG?
Well the aim right now is really to digitize the collection and get it online. We have 10% of the collection digitized. But the mission is to collect and to document, because stories get lost. All the exhibitions, they're showing massacres, they're showing genocide, they're showing police abuse, they're showing all of these horrible things. And people often ask me, "How can you look at this stuff all day long?" I said, "Because the poster artists are optimists. They believe people can change if they have the information."
Yes, that's the reason why they're doing it, right?
That's why they're doing it, and that's why I'm doing this, because I believe that people can change if they knew the truth.
And what happens 20, 50 years from now?
Well, my goal is to stay independent, because the other option is to become part of the university. Universities, for all the fabulous things that they do, they also censor. We did an exhibition at USC in 1992 on the 500 years since Columbus, and how the legacy of racism and exploitation and genocide continues. And one of the board of trustees was Italian and took [the exhibit] as an affront to Columbus. It really wasn't about Columbus, it was about colonialism. And he ordered it down.
Do you have a favorite poster?
I'm always amazed at the creativity and vision of artists. Every week I'll say, "Oh my God, how do they think of that?" But it's always still going to be the poster I saw that kid trying to figure out. It has to be my favorite one because that one changed my life.
What makes a perfect poster?
The right balance between aesthetics and message. If you only rely on the corporate press, the New York Times and L.A. Times, for your information, you're not going to get the side from the street, from the movement, from the activists. The posters are primary historical documents that are recording the issues that were at the time, and the passions that were at the time, and the divisions that were at the time. You're not going to get it anyplace else.
---
Copyright Capital & Main