'Lyrics From Lockdown' Is a Powerful, Poetic Reflection on Incarceration
Somewhere in the middle of Bryonn Bain's soulful one-of-a-kind show, the playwright/poet/performer recounts an interview between himself and a public defender.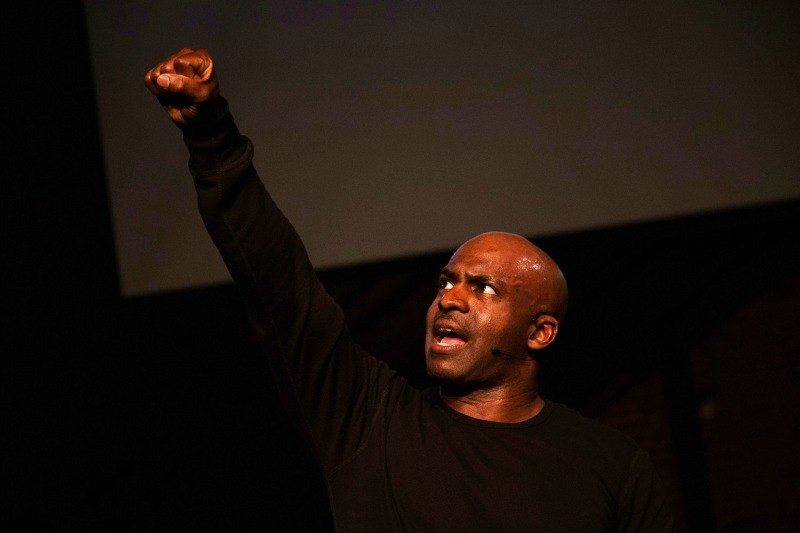 Somewhere in the middle of Bryonn Bain's soulful one-of-a-kind show, the playwright/poet/performer recounts an interview between himself and a public defender. Their talk takes place in an interrogation room in a New York City police precinct, where Bain has been wrongly detained on criminal charges. The Nuyorican Grand Slam Poetry champion and teacher of incarcerated youth explains to the legal aid attorney that the situation at hand is a case of mistaken identity, and patiently introduces himself as a professional individual — a graduate of Columbia, teaching at NYU and studying law at Harvard.
The attorney — the second he's spoken to after the first one brusquely and indifferently dismissed his claims — seems empathetic, but wears a surgical mask and gloves, and identifies herself as a professional nurse (a certification she holds in addition to her law degree). Instead of accepting Bain's word, she suggests that he is lying about his degrees, or that he may be confusing reality and fantasy, and needs help.
Bain's tale of this run-in with New York City law enforcement is a single thread in a multilayered multimedia work that highlights racial profiling and the unjust incarceration of hundreds of thousands of Americans — the majority of whom are poor and people of color. The show, a fusion of music and spoken word against a backdrop of stunning images, illuminates this national stain in a profound way. It's at once a personal story and an all-embracing one.
Directed by Gina Belafonte, Lyrics From Lockdown starts out low-key — on a proscenium, absent the performer, but with the melancholic refrain of Sting's "How Fragile We Are" reverberating as the statistics of incarceration in the U.S. (which have mounted from decade to decade) are projected onto an overhead scrim. Then Bain appears, descending from a high balcony, voicing his own lyrics to Sting's haunting score.
Once face to face with the audience, he begins a parable about Beauty and Ugliness. (The latter once stole Beauty's garments and wore them, leaving Beauty bereft — and ever since some people have confused the two.) The tale is a preface to his theme that "things are not what they seem" — and to a subsequent parade of hip-hop and spoken word that juxtaposes personal anecdotes, anthropomorphic parables (reflecting his Trinidadian heritage) and social and political commentary that speak to the empowerment of people of color, the importance of personal freedom, and the distinction between religion and spirituality.
One of his most vivid portrayals is of his mom, a dedicated church–goer whom he describes as "the tallest 4' 11" tree in the forest." She once threatened a bully with knife in defense of her elder sister, and her notion of following in Jesus' footsteps was to take up a sword rather than turn the other cheek.
The most heartrending element of the show are the "death row" letters of Nanon Williams, now a writer and prison activist, whose open, handsome face we observe on a back screen, as we listen to his words in voice-over. Williams, aged 17, was convicted of murder in 1992 and placed on Death Row in Texas, where he remains, despite numerous legal appeals, the vacating of his death sentence in 2005 and a judge having ordered his release on the grounds of ineffective counsel. (Amnesty International had cast doubt on his guilt in a report issued in 2004.)
Though I can tell you what Bain's show is about and what he strives to share, it's more difficult to convey the combined artistry of this production, its skillful blend of poetry, music and image, constructed around this singular talent. The live band — Isaiah Gage on cello, Click tha Supa Latin on beatbox and John B. Williams on bass — are integral to the performance, best described as art, in the service of justice, at its best.
---
The Actors Gang, 9070 Venice Blvd., Culver City; Thurs., 8 p.m. (pay-what-you-can; arrive before 7:30 p.m.); Fri., 9 p.m., Sat., 8 p.m.; through February 25. (310) 838-4264 or theactorsgang.com

Two Cousins and a Magical Ice Cream Truck Figure in Leon Martell's New Play
Although not all of ICE's comedy clicks, Martell's story has both weight and charm. The production's overriding plus is its successful rendering, fashioned with humor and craft, of the difficulties immigrants face.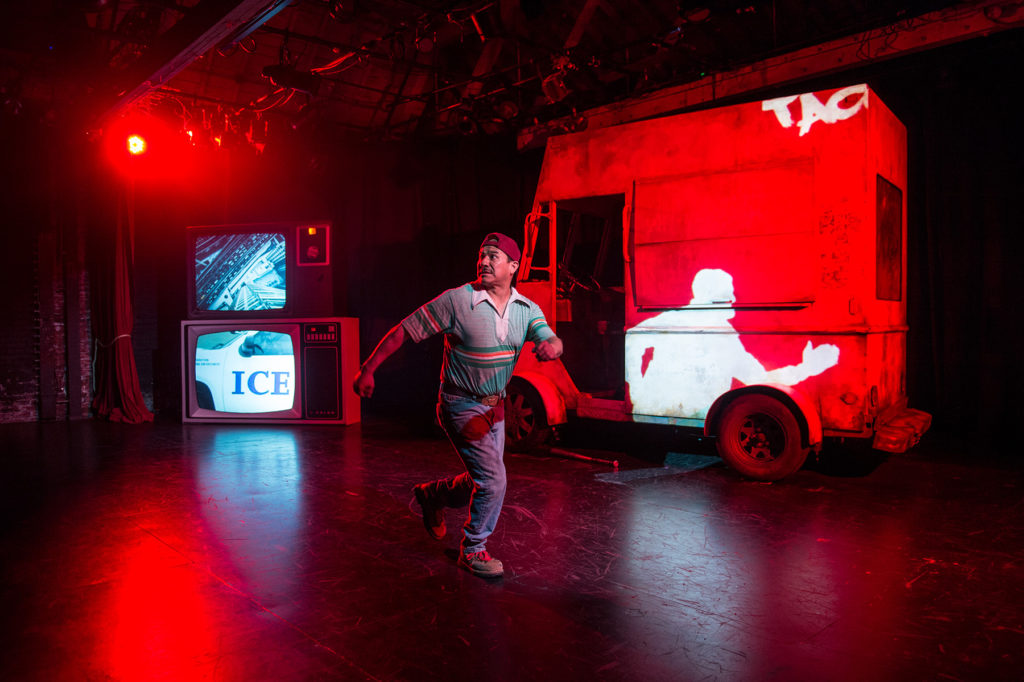 ICE, Leon Martell's family friendly play, takes place in 1988 and follows the misadventures of two undocumented immigrants: Chepe (Jesús Castaños-Chima), an avid baseball fan who dreams of making a fortune selling gourmet tacos; and his cousin Nacho (Tony Dúran), whom the beleaguered Chepe summons from Mexico to assist him in setting up his business. Directed by Debbie Devine at 24th Street Theatre, the show displays plenty of heart, not all of it realized in this premiere production. Despite this, there's enough political relevancy, moral truth and human comedy packed into the show's 65-minute time frame to overlook its shortcomings.
The core of the humor is the difference in personality between the two cousins. The ambitious Chepe is bitter and frustrated about his experience in America, where he's been cheated and lied to by bosses who exploit his labor and pay him next to nothing. Yet he's bought into the American Dream of money and fame, and to achieve that he's purchased a dilapidated old ice cream van to convert into a taco truck. It doesn't run, though, and the secret family salsa recipe is with his kin in Mexico. So, he phones home and implores his mechanic cousin to head north, bringing the salsa recipe as well as his skills.
Cousin Nacho, by contrast, is a sweet old-fashioned guy. He wants success too, but making money isn't the only thing he thinks about. He juggles tomatoes to make kids laugh and indignantly admonishes Chepe for his desperate inclination to do what it takes (steal tomatoes, for example) to score success.
Into the mix Martell tosses a blind, disgruntled priest (Davitt Felder), who plays guitar and wants to launch English classes for children in his parish (the archdiocese turns him down). Then there's Chepe's truck, which has opinions of its own. It breaks out in jingles at random intervals; later, it communicates with Nacho via blinking red letters that eerily appear on the side of the vehicle, furnishing the two men with simple directives and essential advice. When ICE (Immigration and Customs Enforcement) shows up, it alerts them to run.
Although not all of the comedy clicks, Martell's story has both weight and charm. The production's overriding plus is its successful rendering, fashioned with humor and craft, of the difficulties immigrants face. Its main weakness is Castaños-Chima's technically skilled but somewhat chilly depiction of his character, which leaves us wishing for more warmth and complexity. Felder appears awkward in his role of the blind priest, but proves versatile on video as Chepe's various nemeses. Dúran's naïve Nacho is a lovable presence from first to last.
Displayed on a monitor, Matthew G. Hill's video slides add historical and social perspective, and his backwall projections, in tandem with Dan Weingarten's lighting and Chris Moscatiello's sound, help conjure a magical aura to this parabolic piece.
24th Street Theatre, 1117 West 24th St., Los Angeles; Sat., 3 & 7:30 p.m.; Sun., 3 p.m.; through June 10, (213) 745-6516 or 24thstreet.org.
---
Copyright Capital & Main