'Lyrics From Lockdown' Is a Powerful, Poetic Reflection on Incarceration
Somewhere in the middle of Bryonn Bain's soulful one-of-a-kind show, the playwright/poet/performer recounts an interview between himself and a public defender.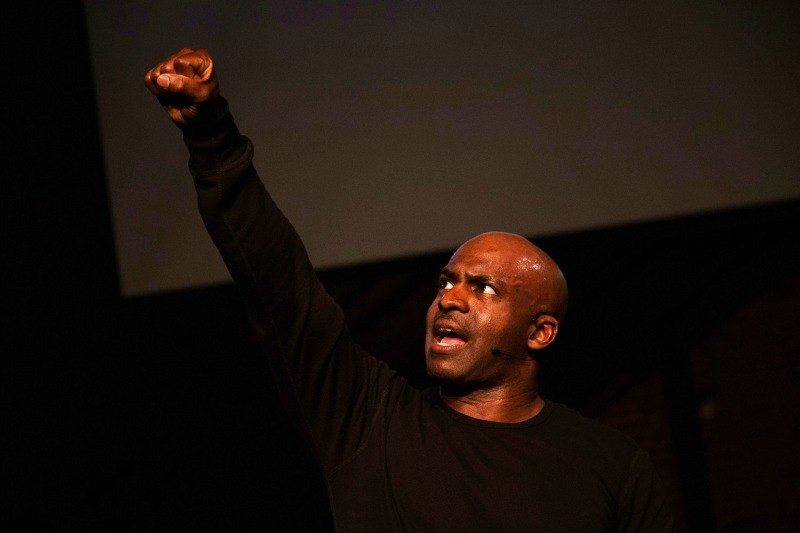 Somewhere in the middle of Bryonn Bain's soulful one-of-a-kind show, the playwright/poet/performer recounts an interview between himself and a public defender. Their talk takes place in an interrogation room in a New York City police precinct, where Bain has been wrongly detained on criminal charges. The Nuyorican Grand Slam Poetry champion and teacher of incarcerated youth explains to the legal aid attorney that the situation at hand is a case of mistaken identity, and patiently introduces himself as a professional individual — a graduate of Columbia, teaching at NYU and studying law at Harvard.
The attorney — the second he's spoken to after the first one brusquely and indifferently dismissed his claims — seems empathetic, but wears a surgical mask and gloves, and identifies herself as a professional nurse (a certification she holds in addition to her law degree). Instead of accepting Bain's word, she suggests that he is lying about his degrees, or that he may be confusing reality and fantasy, and needs help.
Bain's tale of this run-in with New York City law enforcement is a single thread in a multilayered multimedia work that highlights racial profiling and the unjust incarceration of hundreds of thousands of Americans — the majority of whom are poor and people of color. The show, a fusion of music and spoken word against a backdrop of stunning images, illuminates this national stain in a profound way. It's at once a personal story and an all-embracing one.
Directed by Gina Belafonte, Lyrics From Lockdown starts out low-key — on a proscenium, absent the performer, but with the melancholic refrain of Sting's "How Fragile We Are" reverberating as the statistics of incarceration in the U.S. (which have mounted from decade to decade) are projected onto an overhead scrim. Then Bain appears, descending from a high balcony, voicing his own lyrics to Sting's haunting score.
Once face to face with the audience, he begins a parable about Beauty and Ugliness. (The latter once stole Beauty's garments and wore them, leaving Beauty bereft — and ever since some people have confused the two.) The tale is a preface to his theme that "things are not what they seem" — and to a subsequent parade of hip-hop and spoken word that juxtaposes personal anecdotes, anthropomorphic parables (reflecting his Trinidadian heritage) and social and political commentary that speak to the empowerment of people of color, the importance of personal freedom, and the distinction between religion and spirituality.
One of his most vivid portrayals is of his mom, a dedicated church–goer whom he describes as "the tallest 4' 11" tree in the forest." She once threatened a bully with knife in defense of her elder sister, and her notion of following in Jesus' footsteps was to take up a sword rather than turn the other cheek.
The most heartrending element of the show are the "death row" letters of Nanon Williams, now a writer and prison activist, whose open, handsome face we observe on a back screen, as we listen to his words in voice-over. Williams, aged 17, was convicted of murder in 1992 and placed on Death Row in Texas, where he remains, despite numerous legal appeals, the vacating of his death sentence in 2005 and a judge having ordered his release on the grounds of ineffective counsel. (Amnesty International had cast doubt on his guilt in a report issued in 2004.)
Though I can tell you what Bain's show is about and what he strives to share, it's more difficult to convey the combined artistry of this production, its skillful blend of poetry, music and image, constructed around this singular talent. The live band — Isaiah Gage on cello, Click tha Supa Latin on beatbox and John B. Williams on bass — are integral to the performance, best described as art, in the service of justice, at its best.
---
The Actors Gang, 9070 Venice Blvd., Culver City; Thurs., 8 p.m. (pay-what-you-can; arrive before 7:30 p.m.); Fri., 9 p.m., Sat., 8 p.m.; through February 25. (310) 838-4264 or theactorsgang.com

'Skeleton Crew' Is a Play With a Moral Spine
Set in a Detroit automobile outfitting plant, Dominique Morisseau's drama grabs you from the start with its focus on blue-collar men and women, and their struggle for dignity and self-respect.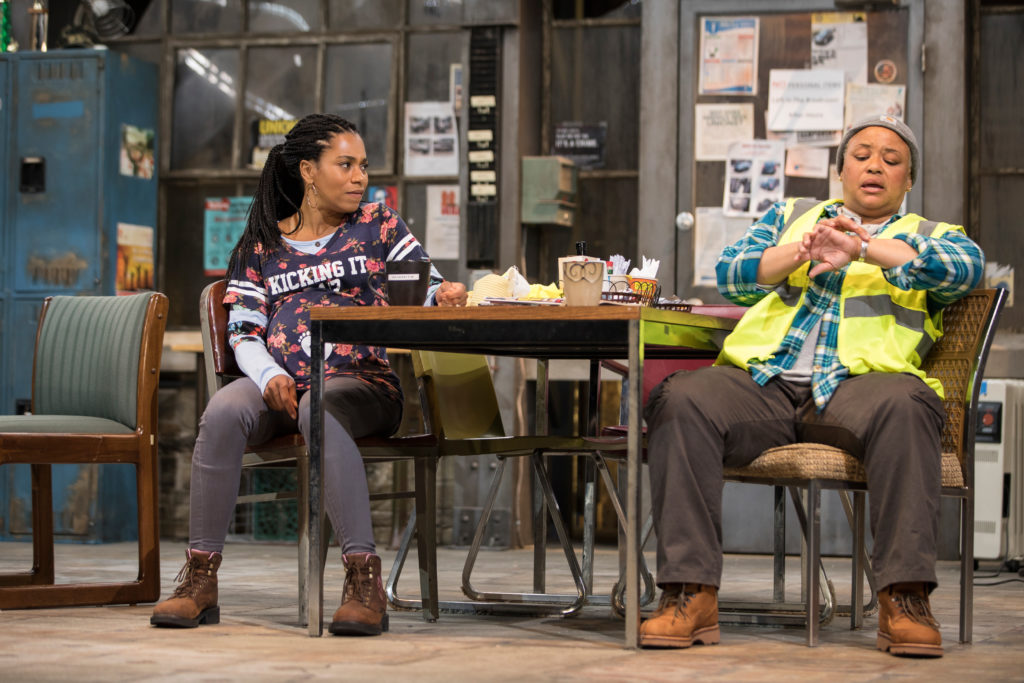 Working-class men and women of color are rarely front and center in today's media and, likewise, are presented all too occasionally on the American stage. So it's buoying to see that trend bucked in playwright Dominique Morisseau's percipient and well-crafted drama, Skeleton Crew. The play is the final installment in her Detroit  Project Trilogy; the first, Paradise Blue, is set in the 1940s amidst displacement caused by urban renewal and gentrification, while the second, Detroit '67, transpires on the eve of the 1967 Detroit riots sparked by a police action.
Directed by Patricia McGregor at Los Angeles' Geffen Playhouse, Skeleton Crew is a play with a moral spine. It takes place in 2008, when the shrinking U.S. auto industry is being further downsized. Morisseau's engaging quartet of characters — Faye (Caroline Stefanie Clay), Dez (Armari Cheatom), Shanita (Kelly McCreary) and Reggie (DB Woodside) – are employed at an automobile outfitting plant. Faye, Dez and Shanita are workers on the line while Reggie (who has a wife and kids, and has pulled himself together after a troubled youth) is their supervisor.
The first three customarily mingle in their break room (designer Rachel Myers' impressively cluttered, dingy and detailed set), trading the sort of familiar barbs and genuine concern for each other common among longtime co-workers. They also face off on philosophy: Upper-middle-aged Faye and the younger, pregnant Shanita take pride in their labor, while Dez, though a good worker, is a malcontent scornful of management and firm in the belief that everyone needs to watch out for himself. He's a thorn in Reggie's side, for while Reggie wants to be supportive of his workers, he must act at the behest of higher management. For his part, Dez resents Reggie's authority, and a palpable unease exists between them.
Besides this male matchup, we're made privy to Dez's attraction to Shanita, who mostly turns away his advances, but every now and then displays a hint of interest. Most poignant is Reggie's regard and affection for the lesbian Faye, which has roots in his boyhood when she loved, and lived, with his now-deceased mom.
These people's various predicaments intensify when rumors spread of the plant's shutdown — a disaster for all, but a particular calamity for the already near-broke Faye who, one year short of retirement, would lose her pension. The crisis forces each of these people to make a choice.
A sound piece of social realism, Skeleton Crew grabs you from the start in its focus on blue-collar men and women, and their struggle against odds for dignity and self-respect. Morisseau not only furnishes these characters a platform for their travails, she endows them with strong values, big hearts and the opportunity to choose between right and wrong.
Unfortunately, the performance I attended did not soar. Many exchanges lacked a fresh edge. The actors certainly had their characters down, but too often they appeared to be coasting on technique. (This seemed particularly true of Clay, who performed the role to great accolades in Washington, DC in 2017, also under McGregor's direction). Additionally, some of the stage movement was not entirely fluid; in confrontations, actors sometimes would just stand and face each other in an artificial way. And Cheatom's interpretation of Dez struck me as a bit overly churlish and depressive: I needed more glimpses of the intelligence and edge that would secretly attract the strong, self-directed Shanita.
The most compelling moments belong to Woodside, well-cast as a man trying his best in difficult circumstances to do the right thing.
---
Gil Cates Theater at the Geffen Playhouse, 10886 Le Conte Ave., Westwood Village; Tues.-Fri., 8 p.m.; Sat., 3 & 8 p.m. Sun., 2 & 7 p.m.; through July 8. (310) 208-5454 or www.geffenplayhouse.org