Loyalty Down: Rick Wartzman Discusses How Business Leaders Betrayed the American Workforce
The biggest reason for the decline of unions, says author Rick Wartzman, is because "companies have set out to beat the hell out of them. Corporate America has really ground down organized labor through means both legal and illegal."

Rick Wartzman photo by Joanne Kim
Copyright Capital & Main
---
Publisher's Note: The premise of Rick Wartzman's new book is a provocative one—that the long, painful decline of the American middle class can be traced in large part to business leaders' betrayal of their own workers. In The End of Loyalty: The Rise and Fall of Good Jobs in America, Wartzman explores his thesis through the lens of four iconic U.S. companies: General Motors, General Electric, Kodak and Coca-Cola.
But Wartzman, a contributor to Fortune, the former business editor of the Los Angeles Times and a director at the Drucker Institute (as well as a board member of this publication and host of our podcast, The Bottom Line), is hardly an anti-capitalist flame-thrower. He gives full consideration to all the other factors that have eroded the middle class, from automation to the weakening of unions. His scrupulously fair and comprehensive analysis lends all the more power to his conclusion that a narrow-minded embrace of shareholder interests has perilously frayed the nation's social contract.
Wartzman, who was recently featured on NPR's Fresh Air with Terry Gross, also sat down for a conversation with historian and business owner Darryl Holter.
— Danny Feingold
---
Darryl Holter: You begin your narrative with a meeting of American business leaders, who were part of the Committee for Economic Development, at the Harvard Club in 1943. There was a consensus on a new social compact between employers and employees. What were the factors that brought these people together at this moment and what did they really hope to achieve?
Rick Wartzman: There were several things going on. First of all, there was great fear. There were tens of millions of servicemen about to return home from war. And there was concern that there wouldn't be enough jobs for them and that America might tumble back into a depression even worse than the Great Depression of the 1930s. There was, in turn, the fear that if we had another Great Depression that the country might tip into socialism or, God forbid, even into communism. It was Harrison Jones, the chairman of Coca-Cola, who said, "A great unemployment wave becomes a sea bed for -isms."
I think the other thing, though, is that there was a feeling of responsibility that corporate leaders then exhibited toward their workers and toward their workers' families, wanting to provide for them a decent life. This extended all the way through things like health care and retirement security, as well as good job security. Some of this could be chalked up to paternalism. But there was also an ethic that, "We're all in this together." America had just come through the Depression and the war, and it was more of a "we" culture than an "I" culture back then.
DH: Don't you also think that the enhanced position of organized labor was a big difference? They won the right to do union shop agreements in exchange for the no-strike pledge during the war. They were really in a new position.
RW: Absolutely. At the beginning of the book, I focus on organized labor, especially the United Auto Workers led by Walter Reuther, and the Electrical Workers led by Jim Carey. I focus on labor so much not because I wanted this to be a labor versus management book. It transcends that. I focus on unions because they were so important in forging the social contract in this postwar Golden Age.
The lesson, I think, is that when we reached a tipping point of 25 percent to 35 percent of the private sector workforce being union members, there was a tremendous spillover effect through the rest of the economy. The upshot was that even those who didn't carry union cards benefited greatly from what unions were able to win at the bargaining table. Even white-collar workers' benefit structures were patterned after what unions were able to win. The gains by the big industrial unions really helped lift everybody's boat.
DH: I detect that there was also the business antipathy to government—they feared if we don't provide these programs, the government will do it, and that would be worse.
RW: That's right. This really was an effort among business leaders to set up a private welfare state. They wanted the government to have some role, but they wanted it to be limited. Marion Folsom at Kodak, for example, was instrumental in the founding of Social Security back in 1935. He wanted some government safety net, but that was meant to be minimal. Companies really saw it in their own interests to provide for their workers. They did this in part for ideological reasons where they didn't want too much of a government footprint in the economy.
Union election at Ford, 1941. (Library of Congress)
DH: You describe in the book these strikes—at General Motors, at GE—that really challenged the notion of labor-management cooperation. They were resolved, but they were volatile.
RW: I think what that shows is that while there was a brief period of industrial peace, signified by the so-called Treaty of Detroit between General Motors and the Auto Workers in 1950, companies were always uneasy about organized labor. Some didn't like unions cutting into their profits. Others didn't want this third party intruding on their ability to communicate directly with their workers.
During this brief period of labor peace, which lasted only about a decade, there were certainly some advantages to business. Some companies, for instance, began to appreciate that five-year contracts could bring about stability, allowing them to plan a little more easily. Grievance systems were set up so that workers could have an outlet for their frustrations.
Ultimately, though, those positives weren't enough to overcome a deep distrust and disdain for organized labor that most of management has always had. And by the late 1950s, management began to take a hard line against unions—and it would only get harder over time. Today, fewer than seven percent of private-sector workers are union members. And while some of this can be blamed on organized labor's own missteps, the biggest reason for the decline of unions is that companies have set out to beat the hell out of them. Corporate America has really ground down organized labor through means both legal and illegal.
Today's car industry: Tesla's nonunion Fremont Plant. (Photo: Cindy Chew)
DH: It seemed to me also that labor itself was somewhat more institutionalized and somewhat tamed in a sense that now there was a structure for its grievances. I think a lot of people were happy to get back to work.
RW: There is an argument that in the '30s and '40s, this formative period for these big unions, they had a lot to fight for. Conditions were terrible. Pay was terrible. Inflation was actually running high at the end of the war, and workers needed to catch up with high prices. So people were literally willing to spill blood to get the kinds of gains that they and their families needed. Once a lot of those things began to be won, unions got a little fat and happy. Their very clear raison d'etre disappeared in some way, and even Walter Reuther would fret, "Maybe we've lost our soul a little bit." You become a victim of your own success.
I think that happened to corporate America, as well, by the way. For a few decades after the war, we had no global competition; we had bombed the Japanese and Germans largely out of existence. But by the 1970s, that caught up with U.S. companies. They became victims of their own success. They got lazy and stopped investing. You could say the same for unions, which really stopped investing in membership drives and doing some of the spadework that they needed to do. They were slow to recognize changes in the economy.
DH: I wanted to ask you this question, and maybe this is in your book and I missed it. Who first coined the phrase, "We're all Keynesians now"?
RW: I don't know about the phrase. But there is an interesting Keynesian element to the postwar Golden Age. It was very much a Keynesian notion that if we pump higher wages into the pockets of our front-line laborers, guess what they're going to do? They're going to spend, and it's going to create this virtuous cycle and keep the economy humming. This was Henry Ford's great insight about raising his workers' pay in a single day in 1914 from one dollar to five dollars. Suddenly, they could afford to buy his cars. That same Keynesian notion drove a lot of executives in this postwar period. They explicitly wanted to provide decent pay to their workers so as to fuel this virtuous cycle. And it fascinates me today how far companies have gotten from that. There are some very smart people, like Larry Summers, the former Treasury secretary, who say that this is a major weakness in the American economy right now. There just isn't enough consumer spending to fuel economic growth. And that's because front-line workers—low-wage service workers in particular—don't have enough money in their pockets.
DH: In your book, you note that some of the better wages and benefits of that Golden Age didn't really accrue to all segments of the working class equally. I especially like the comment, "Women and people of color were invited to the party, but they were put at the worst table."
RW: Well, they weren't invited for a long time. Finally, women and blacks entered the workforce in much greater numbers in the 1960s. But it still wasn't easy. The level of bald-faced discrimination that blacks and women faced at major companies—the four companies I write about—was astonishing. Just awful.
DH: Postwar America and Europe, particularly Western Europe, departed ways when it came to building a social welfare system versus our private employer-based welfare system. I think we understand the sources of it, but what about the consequences of it, particularly in respect to health care?
RW: That's the big one. Through the Golden Age, when companies could afford it, there was just an astonishing rise of employer-provided health care. This was one of those things where companies very explicitly didn't want too much government intrusion into the system. It was a benefit that they could offer to attract workers, and sometimes the best workers. This was certainly true through the war where the government kept a lid on higher wages to hold down inflation but allowed more generous benefits, and so health care became one means for companies to attract labor.
It set up this precedent where you got your health care through your employer. It rose dramatically from the '40s, when something like 16 percent of workers had basic medical coverage, to the 1970s, when more than 70 percent did. The result is that today, most Americans have health care through this employer-based system. Over the last 30 years or so, however, more and more of the costs of that system have been shifted from companies onto the shoulders of their workers and their families. In other words, the employer-provided health system has been slowly bleeding to death for 30 years—with shrinking benefits, higher premiums and higher deductibles.
DH: I always assumed that there were big differences in the economic policies between Democrats and Republicans during the '60s and '70s. Your treatment of economic policy suggests a surprising similarity of concerns and responses, especially with respect to inflation.
RW: Another way to say it is that Richard Nixon was the last great liberal president in America. This was a guy who raised the minimum wage. He created the EPA.
DH: And OSHA.
RW: He pushed for universal health coverage in some form.
DH: He looks pretty good nowadays.
RW: Yes, in some ways, I guess. With respect to trying to tame inflation, he intervened directly in the market with wage and price controls. Can you imagine? Some called Barack Obama a socialist. Imagine if he had done half the things that Richard Nixon actually did. I think what that illustrates is that from the 1930s until Ronald Reagan, politically and ideologically, America played on the Roosevelt playing field. Republicans pushed the ball more to the right side of the field, and Democrats pushed it more to the left, but it was the FDR playing field. Ronald Reagan ripped up the field and moved to a different stadium. Suddenly, even Democrats were playing on the Reagan playing field, with much more of a nod toward the marketplace having solutions as opposed to government having solutions. And that's still our dominant orientation today.
DH: One of the things that your work shows is that the social compact that we talked about at the [1943] Committee for Economic Development meeting was built on a foundation where business leaders saw the mission of business in a certain sense to provide value to shareholders, employees, customers and communities. As you show, over the course of several decades the interest of shareholders steadily pushed its way to the top of the heap. The rest of them were pushed to the side. Even customers have got the short end of the stick. It's a long, complicated evolution, but give us a couple of the high points of this shift.
RW: What you're talking about can't be overstated. There are all kinds of reasons that the social contract has fallen apart. We touched on one major one, the decline of unions. Automation has also had a huge effect. So have globalization and trade. You also have a really important shift from a blue-collar-centered economy, where people with limited education and skills could find a path to the middle class. Now, as we've moved to a knowledge economy, people without education and skills don't have a clear path to the middle class anymore.
All of these giant forces—globalization, automation, the shift to knowledge work—are beyond anyone's control. If you're an executive, you can't really control them.
But one thing that corporate leaders can control is whether or not they embrace a stakeholder model—a model that says we're going to take care of our shareholders, sure, but also the communities in which we operate, our customers and our workers. Instead, corporate leaders have embraced a very different model: "maximizing shareholder value." Under this paradigm, executives aren't trying to balance the interests of all of their stakeholders. They cast themselves as agents of the shareholders, and their only goal is drive up the value of the company's stock. As much as anything else, corporate America's adherence to this philosophy, which emerged in the mid-1970s, has been absolutely devastating for workers.
DH: Is there a legal basis for that?
RW: No. You will hear a lot of very smart people and very sincere executives say, "Oh, it is our fiduciary duty to maximize shareholder value." But that's a myth. I've looked at case law from the Chancery Court in Delaware, where a lot of corporations are incorporated, and this "fiduciary duty" idea just isn't true. Some of the leading scholars in this area, like Lynn Stout from Cornell Law School, also completely demolish the idea that there's any legal basis for this.
Nonetheless, this belief that executives have a legal obligation to maximize shareholder value is something that has become standard thinking in business schools. And it's perpetuated by the fact that companies now link a huge percentage of CEO compensation to share price. So it is in the interest of these executives to drive up their company's stock. But this often comes at the expense of investing for the long term, including investing in their workers. Suddenly, job security and higher compensation and training all just look like costs. And so you cut these things because that drives up profits—which, in turn, lifts the company's shares and fattens your own paycheck—at least in the short term. But that's not very good for most companies in the long term, and it's certainly not good for society.
DH: Do you think there's any chance that any of that will reverse?
RW: It's not going to be easy. But one thing that I learned from researching this book is that sometimes counterforces begin very quietly under the surface. One counterforce that may be developing today is that more and more companies are beginning to realize that they do need to put more money into people's pockets or they're just going to kill the goose that laid the golden egg. You can only grind your workers into the ground so much before it actually does hurt their ability to serve your customers well, and, in turn, you lose business. This is at least some of the impulse behind Walmart finally raising its workers' wages and instituting some training for them. I still think Walmart can do way more, but if Walmart's starting to get it, maybe it's a sign that others will come along.
There are also some counterforces building in terms of socially responsible investing, where dollars are being directed to those companies that think more in a long-term way and treat both the planet and their people well. That's now a $9 trillion market—one of every five investment dollars under management in the U.S.
These trends are all very early, and there's a lot pushing back against them, but at least some positive things are happening.
DH: Some of the policies that you described that might lead to a return to good jobs—things like raising the minimum wage, paid family leave, enforcement of labor standards, an expanded earned income tax credit—really can be only implemented by government.
RW: That's right. And I'd add another one to that list by the way, which is portable benefits, which are becoming really important because now the fastest-growing segment of the national labor force are independent workers. This fissuring of the workforce into temp jobs and "gig" jobs is something that we also need to account for by restructuring a lot of our laws and benefit systems to try and lift up those workers, many of whom are really struggling. Obviously, it isn't going to happen with this administration or this Congress, so we're at least out of luck for several more years and maybe longer.
At the same time, one of the underlying premises to my book is that government is hugely important, but ultimately its role is limited. It sets the guardrails and provides a base safety net. But companies are the main actors. They are the ones that really have to shift their culture and practices, and we have to push them through our actions as investors and as consumers—shopping at companies that share our values and staying away from those that don't, if we can afford to do so. You also see a lot of college-educated Millennials who want to take their talent to companies that share their values, who only want to work for those employers. We've got to put pressure on companies in all of these ways, pushing them to recognize that they need to share their prosperity more broadly. It's important to note that corporate profits across America have been at record highs in recent years. The pie is not tiny. Companies across the board are just not sharing it the way they used to. They have to start sharing gains more broadly again.
DH: I think that just as we shouldn't think of working people as being homogeneous, the same is true of business.
RW: You make a really good point. Certainly, not all business leaders think the same way. Alan Murray, who was until recently the editor of Fortune magazine and is now the chief content officer at Time Inc., is a really keen observer of all of this, and he says there are more and more CEOs who are concerned about these issues. They're concerned in some of the same ways that those leaders at the Committee for Economic Development were concerned after World War II. There's so much distrust of capitalism now, they realize that unless we figure out how to turn people's perceptions from feeling like the system is rigged, and I can't get ahead, and my kids are going to live worse off than I do, business as an institution may not survive. There's a great Peter Drucker quote where he says, "A healthy business cannot exist in a sick society." I think there is at least a growing recognition among some corporate leaders that this is the case.

Home, Shared Home: Renters Watch as Their Buildings Become Apartels
The displacement of renters by large-scale operators who turn apartment buildings into de facto hotels has hit urban areas like Greater Los Angeles hard.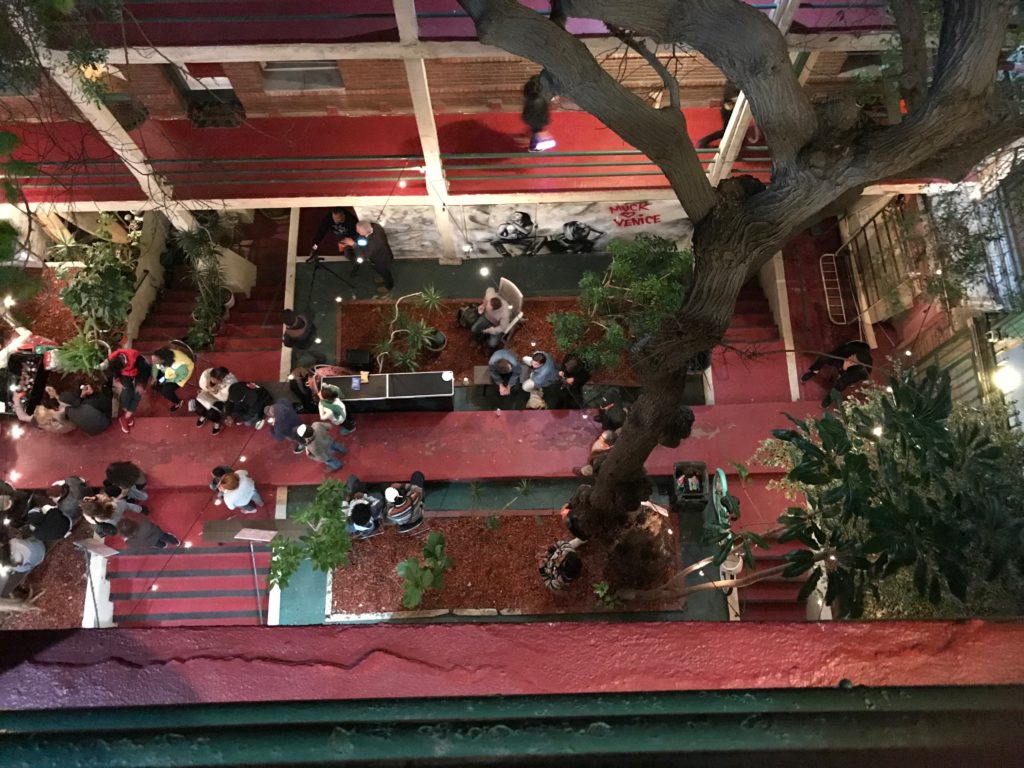 ---
Apartment Renter: Short-term guests begin lining up around 11 a.m., spilling out onto the street as other guests check out.
---
Home-sharing

. This cozy phrase once conjured images of a homeowner generously opening up a room to out-of-towners—while the fee charged by the owner helped him with mortgage payments. Or perhaps we pictured an apartment dweller who left for the weekend and made a little extra cash letting someone else use the premises.
But the present reality of home-sharing is not so cozy for single-family residential neighborhoods, where out-of-town guests may feel no social pressure to allow the neighbors a peaceful night's sleep or to not trash the rental home.
To see today's home-sharing up close, visit the Ellison Suites in coastal Venice, just a block from the famed Venice Boardwalk. Built in 1913 and covered with gigantic murals of Jim Morrison, Marilyn Monroe, John Hurt and Lana Del Rey, it boasts 58 units—but only 12 apartments are occupied by permanent tenants, according to one resident.
---
"We used to have neighbors for 20 years—now we have them for 20 hours."
---
Beyond the Ellison's courtyard, people bump wheeled suitcases up the building's front steps and, on Fridays, signs advertise the night's upcoming party. It might offer a fire dancer, but most parties will at least include free beer and wine — and music that reverberates up through the courtyard.
"We used to have neighbors for 20 years—now we have them for 20 hours," said Bruce Kijewski, one of the remaining tenants, who has lived here since 1977. In the summer, he said, guests begin lining up around 11 a.m., spilling out onto Paloma Avenue as other guests check out.
An online search for The Ellison Suites yields a number of home-sharing and lodging platforms—Booking.com and Expedia among them–advertising its amenities as a short-term beachside rental. The building's own website promotes it as a vacation destination, extolling Jonas Never's murals as "Venice Masterpieces."
The displacement of tenants by large-scale operators who turn their buildings into de facto hotels hit hard in urban areas like Greater Los Angeles, which is plagued by a nearly three percent rental vacancy rate.
While mom and pop are in on some of the home-sharing, today its booming business model most benefits commercial operators who can make more on short-term rentals (STRs) than on permanent residents.
STRs are promoted by a slew of home-sharing platforms, including Airbnb, now valued at $31 billion as it moves toward being publicly traded; and HomeAway and subsidiary VRBO, valued around $3 billion in 2015. The platforms profit by collecting a percentage on every rental offered on their sites by home-sharers.
Local municipalities are scrambling to figure out and ameliorate STR impacts on their neighborhoods and housing stock. In May, a Los Angeles City Council measure was sent to the city attorney's office for language changes and is expected to go before the city planning commission in September. The proposed ordinance would set up a permitting system for short-term rentals and establish a 120-day yearly limit for home-sharing. Two nuisance violations—enforced by a city agency—could get an operator's permit revoked.
The Ellison Suites, zoned as a rent-stabilized apartment building, in effect operates as a hotel.
The lowest nightly rate listed on the website is $149. That apartment, when rented to vacationers, could yield $4,470 monthly.
With the Ellison's current rent-stabilized protections, it's hard to straight-up evict someone, but there are ways of persuading them to flee their apartments to make them available for tourists and other visitors.
Michael and Susanne Detto, Ellison residents for 14 years, rented their apartment for $2,000 a month before they moved out in May. All-night parties in the courtyard below their apartment made it impossible to sleep—both work 12-hour shifts as nurses. "It was so loud we couldn't even talk to each other," Susanne Detto said.
Breakdowns in maintenance–power outages, faulty plumbing, leaking ceilings—plus an altercation with management during one of the raucous parties were all part of what the Dettos claim drove them out.
"Especially in summer, he makes three times the money if he rents out every day," Michael Detto said of the Ellison's landlord.
Kijewski and other Ellison tenants say landlord investment goes into creating a hotel entertainment experience rather than supporting habitable apartments. Residents have filed dozens of complaints with the city against building owner Lance Jay Robbins' Paloma Partnership LLC, citing bad plumbing, inadequate water supply, construction without permits and change of use/occupancy without a building permit. (Multiple attempts to get a response from Robbins for this story were unsuccessful.)
---
Michael spoke wistfully of a community where neighbors once shared poetry readings, art discussions and fundraisers in the courtyard now occupied by high-octane weekend parties.
---
The company appealed the building's status to Los Angeles' Building and Safety Commission, arguing that short-term rentals should be allowed because the city's initial certificate of occupancy designating the Ellison a residential apartment was in error and that the building is a hotel.
The company lost. Another appeal is headed for the city planning department.
Meanwhile the Ellison continues to advertise online as a hotel.
With today's lucrative rates of return, it's easy to see why, for large-scale operators, short-term stays make for a more attractive business model than permanent housing. Customers staying for a few nights might do some hating online, but won't be there to press on long-playing maintenance issues.
Tenants at the Metropolitan in Hollywood experience the same push-out climate as Ellison residents, according to Susan Hunter, a case worker with the LA Tenants Union, which is part of a coalition that includes representatives from Los Angeles' hotel industry, labor unions and community groups.
Hunter counts a dozen permanent residents remaining in the sleek, 12-story high-rise that boasts sweeping views of Hollywood and sits within walking distance of Hollywood Boulevard sites.
The website for Apartments.com says there are no apartments presently available.
Zoned as a residential building, the 52-unit Sunset Boulevard property owned by the Harridge Development Group is advertised online as an "apartel." Tenants approached for this story didn't want to speak, they said, for fear of retaliation, but they have complained to Hunter of loud parties, with fighting in the halls and kicked-in doors.
Apart from creating chaotic conditions for tenants sharing space with STRs, the home-sharing model leaves an even larger social footprint. The incentive for large-scale operators everywhere to acquire units—including entire homes — and move them off the permanent housing market places upward price pressure on housing.
From Seattle to New Orleans to Barcelona and beyond, housing advocates are assessing the effects of short-term rentals on housing markets and figuring out how to respond.
In New York City, short-term rentals have resulted in a loss of as many as 13,500 rental housing units, according to a January 2018 report from the School of Urban Planning at McGill University. (The study was commissioned by a labor group opposed to home-sharing.) New York has passed legislation requiring registration and other monitoring measures.
A 2015 San Francisco Board of Supervisors Budget and Legislative Analyst report estimated that Airbnb short-term rentals alone had removed between 925 and 1,960 units from the city's housing market. These, along with 8,000 units already being used for short-term rentals, add up to an 11 percent reduction in rental housing.
Like other cities, San Francisco has aimed to define and enforce the number of nights STRs are permitted. Studies based on data from insideairbnb.com show that, in Los Angeles, renting out a property as a short-term rental for 83 nights or more annually produces more profit than the property could earn as a long-term rental.
In San Francisco, the cradle of Airbnb and adjacent to tech hubs, municipal leaders face an affordable housing shortage and a vacancy rate below three percent, and have established a registration process for short-term rental hosts. Regulations set a cap of 90 days per year for hosts that don't live on the property. Violators are subject to stiff fines.
Seattle, headquarters of several tech giants, took an approach that attacks the short-term rental issue as part of the affordable housing problem. The city defines a short-term rental as a maximum stay of 29 nights and sets up a licensing system.
Using a wider lens on the affordable housing crunch, the city council in May approved an "Amazon tax" that charges the larger employers such as Groupon and Amazon $275 per worker annually to support housing and homeless services. (The city council repealed the tax in August.) Seattle comes in third, behind only New York and Los Angeles, in the numbers of homeless, while boasting only a fraction of those cities' total populations.
Joan Ling, an urban policy analyst who has worked in affordable housing and mixed-use development for over 30 years, supports short-term rental regulation but sees it as only a piece of the larger question of creating affordable housing to support working families. Los Angeles, she said, "has a ways to go . . . Anything is better than nothing. What [regulation] can do is reduce the harm that can be done [by] removing units. The affordability crisis is so pervasive, so deep—we need a huge number of policies to address the crisis."
Michael and Susanne Detto are happy living in their new apartment in Santa Monica—no all-night parties, the plumbing works and it's a 10-minute walk to work. But before the Ellison got pieced out for short term-rentals, the couple also liked their Venice home.
Michael spoke wistfully of the community where neighbors once shared poetry readings, art discussions and fundraisers in the courtyard now occupied by high-octane weekend parties.
Susanne likes where the couple landed, but reflected on the overall cost as tenants got pushed out by the STR model.
"We lost a lot. We lost a lot of our neighbors. We're still kind of recovering."
---
Copyright Capital & Main